To go along with Part I and II of "Dealing with Food Intolerances", I felt that talking more specifically about what a paleo AND low FODMAP diet looks like would be appropriate.  What better way than to show you some of my own personal favorite go-to low FODMAP paleo meal ideas?  Not that you've never seen my food before, oh yes I realize that you probably have…and if you keep reading you will definitely be seeing more of it, oops?
Regarding the low FODMAP diet ONLY versus low FODMAP + Paleo, if you are ONLY following low FODMAP and not paleo, gluten free grains are most definitely included.  It's not the gluten (protein) we're avoiding in wheat, rye, and barley specifically, but rather the fructans (carbohydrate) found in wheat, rye, and barley that are difficult for many people to break down and digest.
I've found that I feel better when I limit grains, with the exception of white rice and occasional corn.  I'm not sure if it's the higher fiber content or something else, but too many grains cause me to feel gassy, bloated, and gross, similarly to when I eat cauliflower or brussels sprouts.  It seems that paleo plus low FODMAP makes me feel my best! For an informative and easily broken down explanation of FODMAPs, click on this "what can I eat" food list or check out the Whole30 low FODMAP shopping list.
Now, I'll get started with some of my favorite, TASTY, low FODMAP and paleo friendly meals for breakfast, lunch, and dinner!  Why does this excite me so much?  Because I can eat good food and experience no tummy troubles.  Happy mouth, happy gut, happy life 🙂
Breakfast (or anytime, let's be real)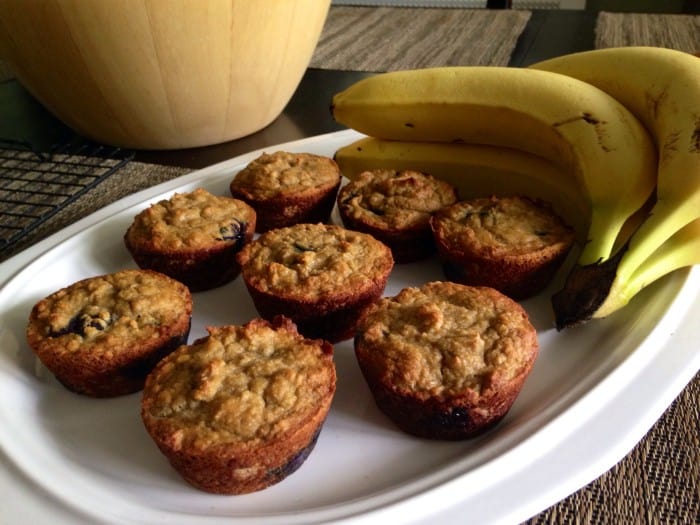 Banana Blueberry Muffins – If you're sensitive to even a small amount of honey, sub maple syrup for honey in this recipe.  I find that I can tolerate small amounts of honey well in baked goods.  As long as I don't eat 4 muffins at a time.  These are that good so be warned!  Have one as a quick breakfast to-go with a banana or smoothie, or alongside eggs and bacon.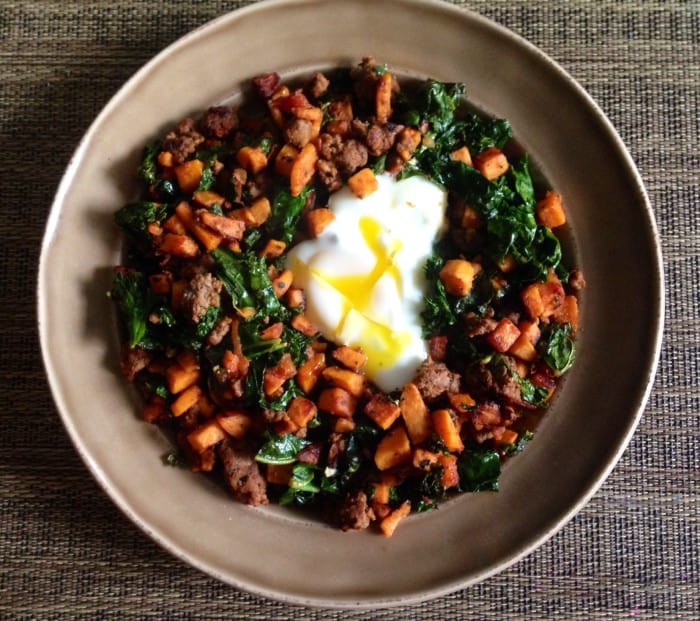 Basic sweet potato hash with ground meat and greens.  Topped with an egg, of course!  If you're using sausage, make sure it doesn't contain garlic and onion.  I love sausage seasoned with just salt, pepper, sage and fennel, or a poultry seasoning mix!
Mini Frittatas with Sundried Tomatoes, Broccolini and Bacon.  Since sundried tomatoes are dried and therefore concentrated, many people have trouble with larger amounts.  Unless you're eating 4 of these (again, be warned!) you won't be getting a large amount at once.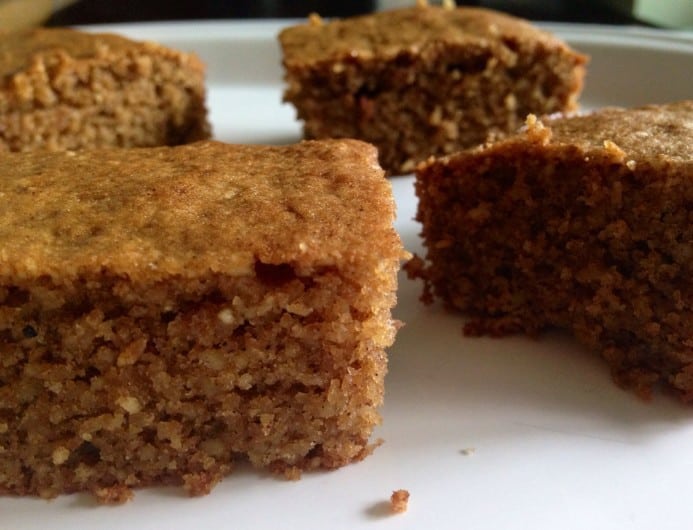 Lemon Almond Spiced Snack Cake.  Coconut sugar is a great low FODMAP sweetener!  This is perfect as part of a make ahead, on the go breakfast.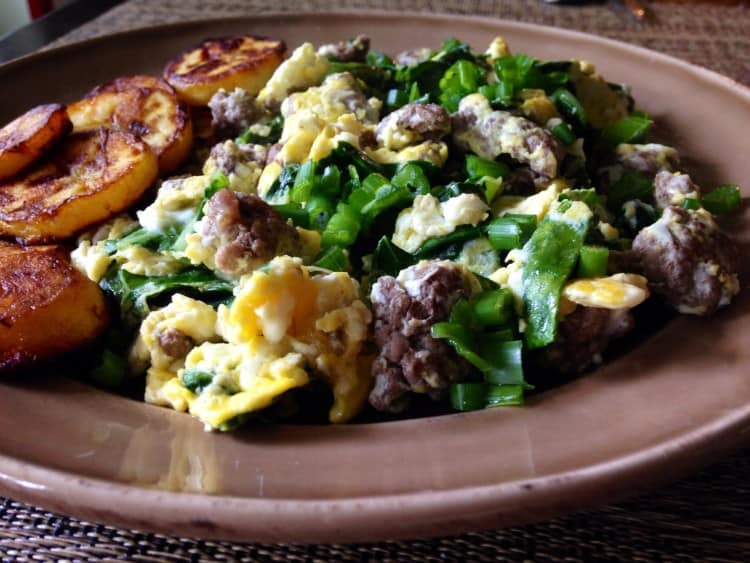 A simple egg scramble with coconut oil fried sweet plantains.  Another go-to favorite of mine, eggs and plantains are a win and great as a post run meal too.
Homemade pork breakfast sausage with eggs and cooked greens.  I love that all my favorite greens are low FODMAP!  Spinach, swiss chard, collards, and kale are frequent flyers around here, cooked in ghee, coconut oil, or bacon fat.
Lunch/Dinner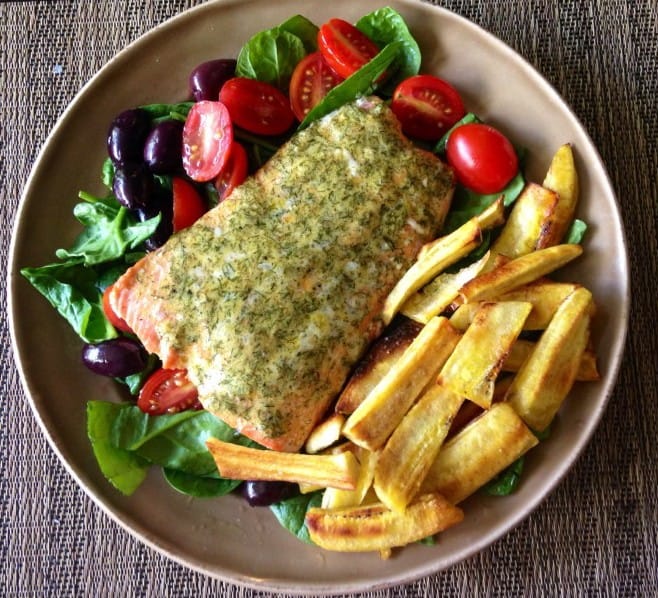 Buttery Dill Mustard Baked Salmon over a salad with baby spinach, tomatoes, and kalamata olives (yes!) And a side of fried green plantains, because I just can't resist.  Always seasoned with sea salt.
Low FODMAP meatloaf with maple chipotle ketchup and baked japanese sweet potato fries.  Add some cooked greens in there too 🙂  Not my best photo, but trust me this is a good one to try!
Homemade bacon scallion chicken salad – just add some fresh greens and tomatoes for a complete meal!  This stuff is the best, and worth the effort.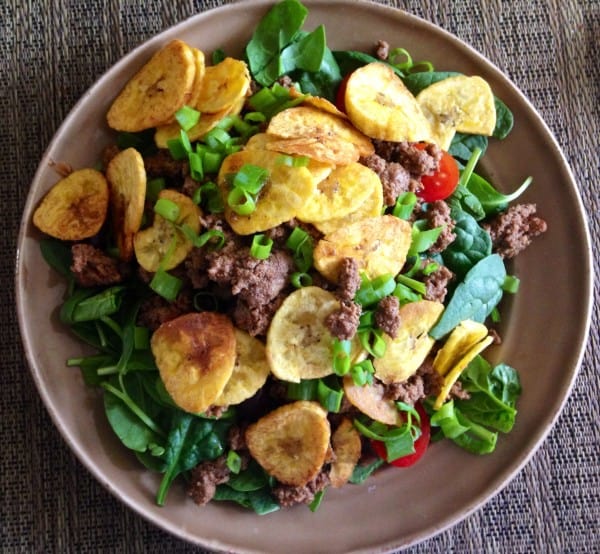 Paleo and low FODMAP taco salad.  For some reason I haven't made this an official "recipe", probably because it's just so simple!  I spice grass fed ground beef with smoked paprika, chipotle chili pepper, cumin, and sea salt and cook in either ghee or coconut oil.  I layer the salad with baby spinach, tomatoes and olives, beef mixture, homemade plantain chips, and lots of green onions.  Sometimes I add half an avocado which usually is fine for me.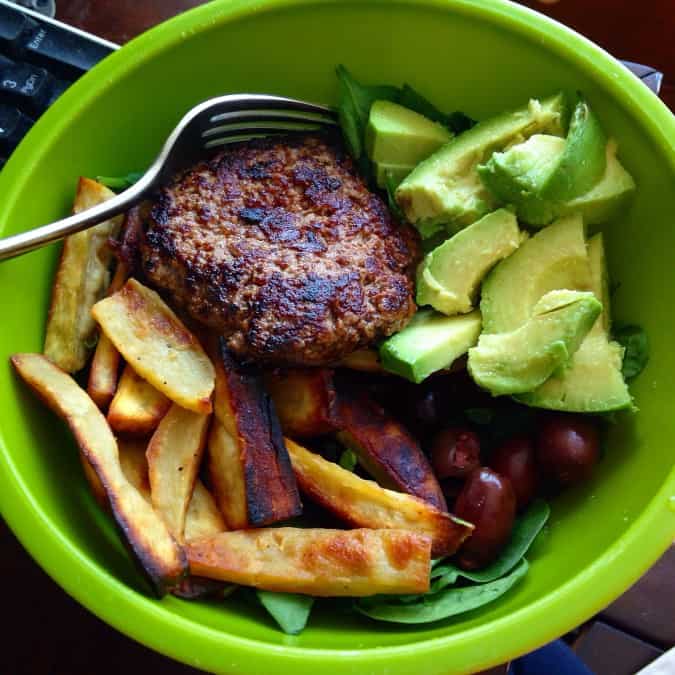 Basic burger with sweet potato fries.  This might be my number one go to lunch/dinner meal.  Grass fed beef or organic lamb or pork, roasted japanese sweet potato fries (these are leftover!) usually over spinach with olives and avocado or homemade mayo.  If I stick to half a small avocado I don't notice any ill effects at all, this makes me happy!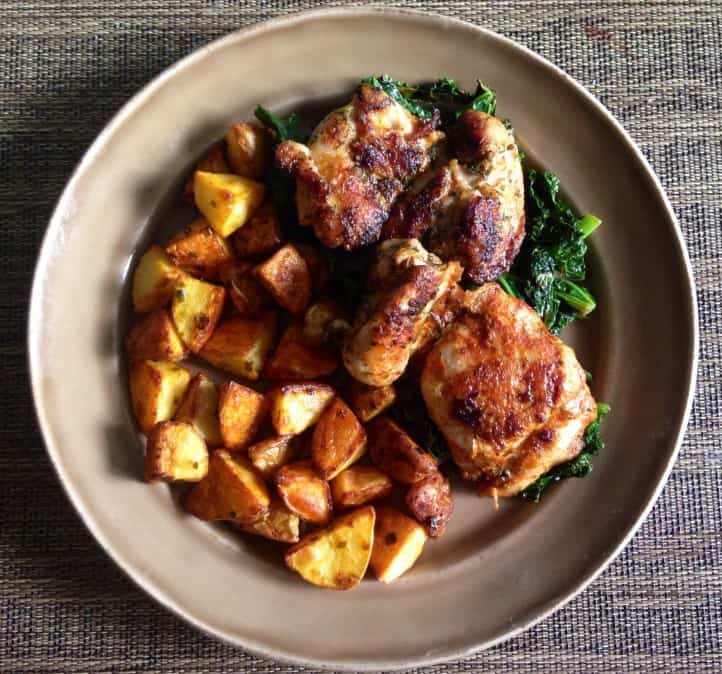 Boneless chicken thighs, seasoned with sea salt and smoked paprika and fried in ghee or bacon fat, over cooked greens, alongside spicy roasted potatoes.  What I love most about this dinner is that minus the spices and greens for the kids, this is one that everyone really loves.   Instead of greens I give them whatever raw veggie we have on hand, peppers and carrots are two favorites.  It's fun to play around with low FODMAP friendly  spices and figure out what blends you love most.  I'm still experimenting and finding some great ones I never would've thought of.
Okay I've gotten myself all exhausted AND hungry now, so I think I'll break for lunch 🙂 Definitely will be using the go-to burger option for myself today!
What's are your favorite low FODMAP paleo meals?
What are some of your favorite herb and spice blends?