A super tasty paleo & low FODMAP easy taco salad to add into your dinner rotation!  Fresh greens are topped with simple spiced ground meat, tomatoes, avocado, and plantain chips.  A low FODMAP diet does not have to result in the sacrifice of flavor!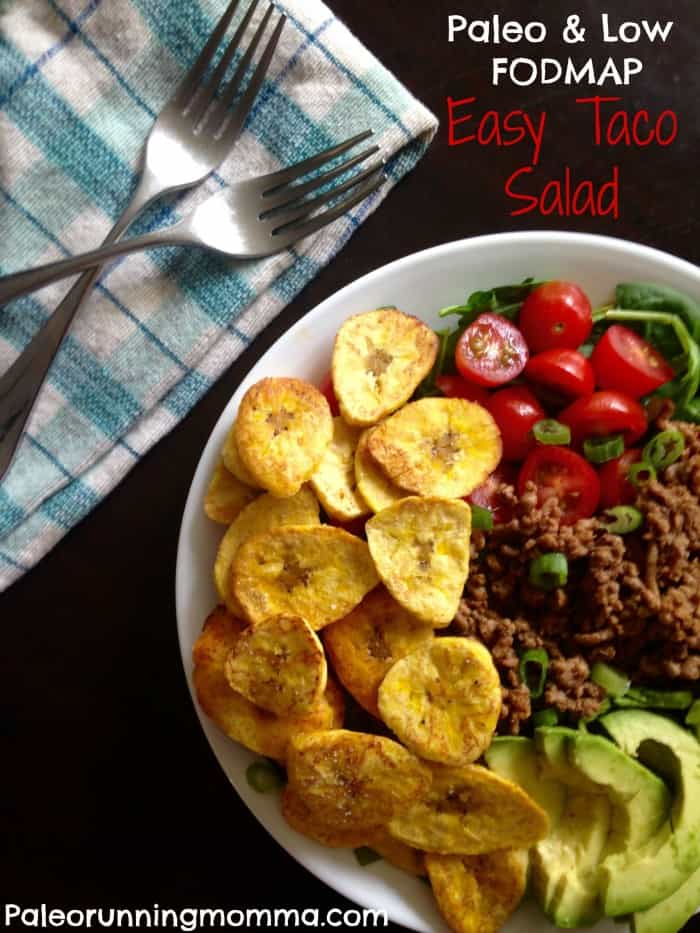 It's hashtag tacotuesday and I'm finally getting around to sharing the taco salad I've been making every week for several months!  I've totally slacked on posting dinner recipes recently since cleaning play doh, silly putty, and kinetic sand off the dinner table usually takes precedence over photographing my dinner plate, or even just putting together a plate worthy of photographing.  Well, one recent evening I pushed the sand and slime aside, said "it's time", and dove in iPhone first.  All in the name of sharing this super easy and tasty recipe with you all 🙂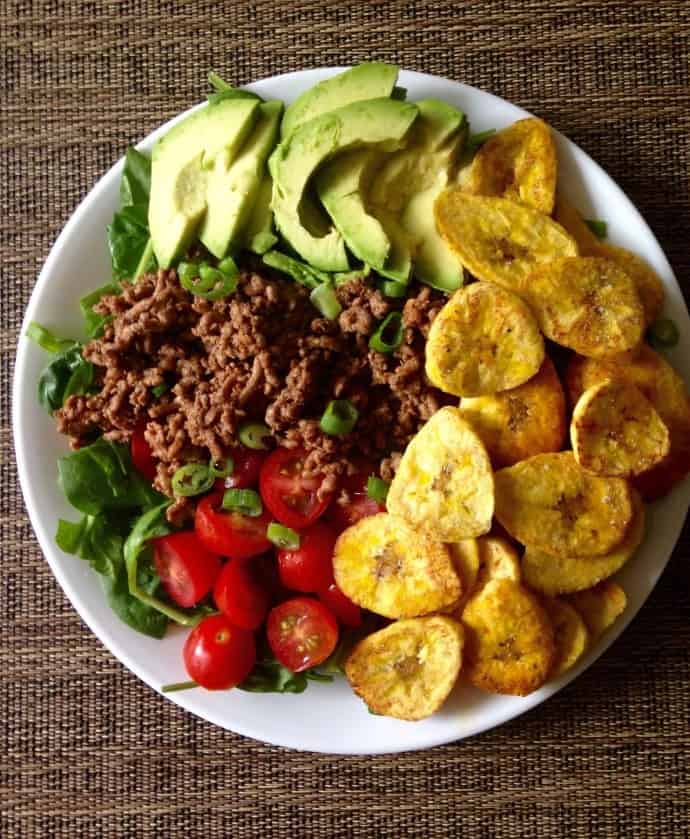 I've noticed that my recipes have gotten much simpler as I've realized that 1) It's not realistic to attempt to make elaborate meals 6 or 7 days per week and 2) You can eat tasty and healthy low FODMAP and paleo meals without a lot of fuss.  Look, aren't we fussing enough?  Especially when children are involved?  Just to put plates out and cut raw veggies into thin strips while screaming "clean up and set the table" is quite enough for me at the 6pm hour, and that does not take cooking into account at all.
Besides less chaos, fewer ingredients also means less to buy at the store and less $$ spent.  Not that onions are expensive or anything, but now you can see how I rationalize things when I need to.   I probably spend too much energy rationalizing, now that I think of it.  Let's just say this would be delicious either way, and simple can be a very good thing!
As for the plantain chips, I have to admit that I used my plantain chip recipe for this salad, but to make this truly quick and easy you can absolutely use store bought plantain chips from Whole Foods, Trader Joe's, or any other market that sells them without a lot of added junk.  But, if you have an extra 30 minutes one day and can get a couple of green plantains, definitely try the chip recipe!  They're really a treat all on their own.
Paleo & Low FODMAP Easy Taco Salad
A paleo and low FODMAP easy taco salad using your choice of ground meat mixed with simple spices along with fresh greens, tomatoes, avocado, green onion, and plantain chips!
Prep Time: 10 minutes
Cook Time: 5 minutes
Total Time: 15 minutes
Course: Lunch/Dinner
Cuisine: Paleo/Low FODMAP
Servings: 4 salads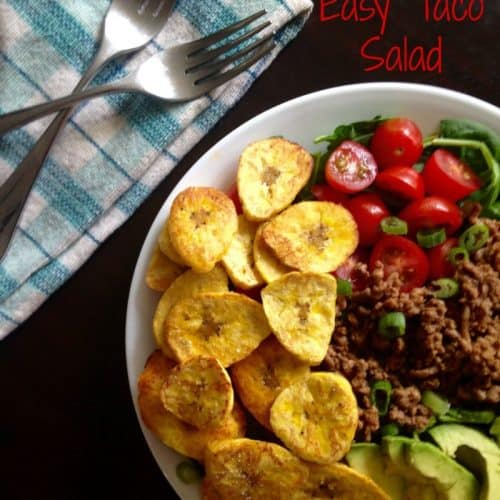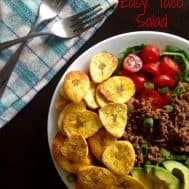 Ingredients
For the taco meat
1 lb your choice of ground meat - fattier works best I use ground lamb, veal, or beef
1 tbsp bacon fat or cooking fat of your choice
1/2 tsp sea salt or to taste
1/2 tsp ground cumin
1/2 tsp ground chipotle pepper - less if you want it mild
1/2 tsp smoked paprika
For the salad
4 large handfuls of baby spinach or salad greens
1 cup cherry or grape tomatoes halved
1 medium avocado
A few tbsp thinly sliced green onion - green part only
Instructions
To make the taco meat, heat a large heavy skillet over medium - medium hi heat and add your cooking fat.

Once the pan is very hot, add the ground meat and break up lumps with a wooden spoon so it cooks evenly. Add the spices and salt and cook a couple of minutes, stirring, until browned. Remove from heat.

To arrange the salads in either bowls or plates, add the greens first, then 1/4 of the taco meat, 1/4 of the tomatoes, 1/4 of the avocado, sliced, plantain chips, and garnish with sliced green onion.

Now sit back and enjoy this easy and delicious meal!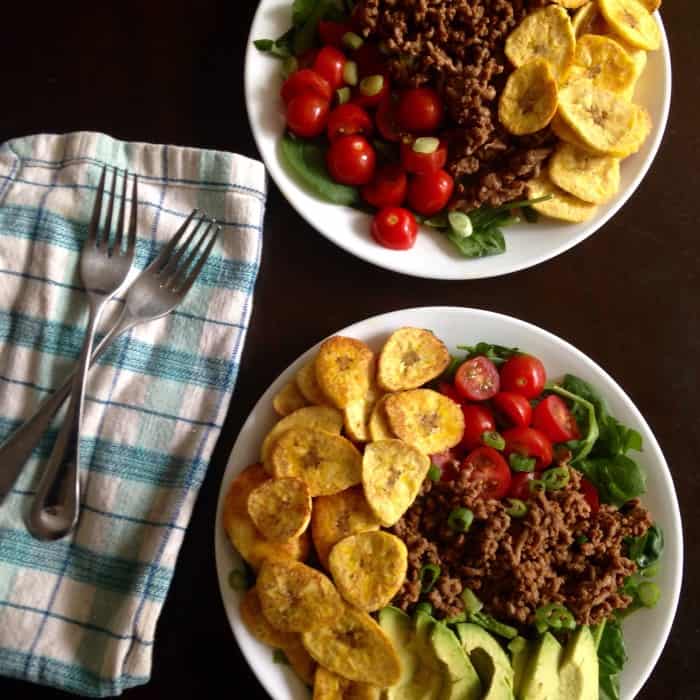 Aw, look at that – it's like date night except Adam wasn't coming home for another 2+ hours.  But his dinner DID look pretty (even sans avocado since he dislikes) and he is always very happy with reheated food.  Not that I would know about it if he wasn't, of course.  Unless it's salmon, remember that?
How How many times per week do you go "all out" with dinner?  How often do you opt for super quick meals?
What's your favorite quick or "semi homemade" healthy meal?