Paleo running fuel – a subject I'm asked about often!  And it's funny, because even now that I've been eating paleo for almost two years and am currently training for my third "paleo marathon", I still feel confused discussing this topic.  Probably because I know that no two people are the same when it comes to nutrition in general, let alone fueling for marathon training with a way of eating that's relatively new to them.
That said, I am very happy to share what currently works for me and what has worked for me over the past couple of years or so when it comes to paleo running fuel.   I've changed my preferences over time and have experimented a lot, and at this point I have a good sense of eating in a way that keeps me replenished and feeling well during my runs and in general.  I don't believe paleo, or any diet, is a "magic pill" for running well, keeping weight off, or even maintaining optimal health.  But, I do think it can help some people feel their best, just as it has for me!
I think that above all else, the most important thing to remember when training, is that if something doesn't feel right, it's probably not right FOR YOU.   There are plenty of runners who feel fine and run to their potential eating all sorts of diets and there is certainly no one "right" way to fuel.  We ask A LOT of our bodies when we train for and then complete a marathon, and we need to be mindful to treat them how they are asking to be treated, regardless if it fits into "guidelines" or "rules" of any kind.   I'm only preaching because I feel like I'm constantly facing this and learning it for myself, again and again!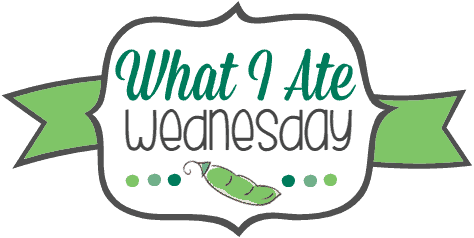 Today for WIAW I'll walk through meals and snacks that are typical for me on any random day during marathon training (this was Monday), plus show you some of my choices for long run fuel recently.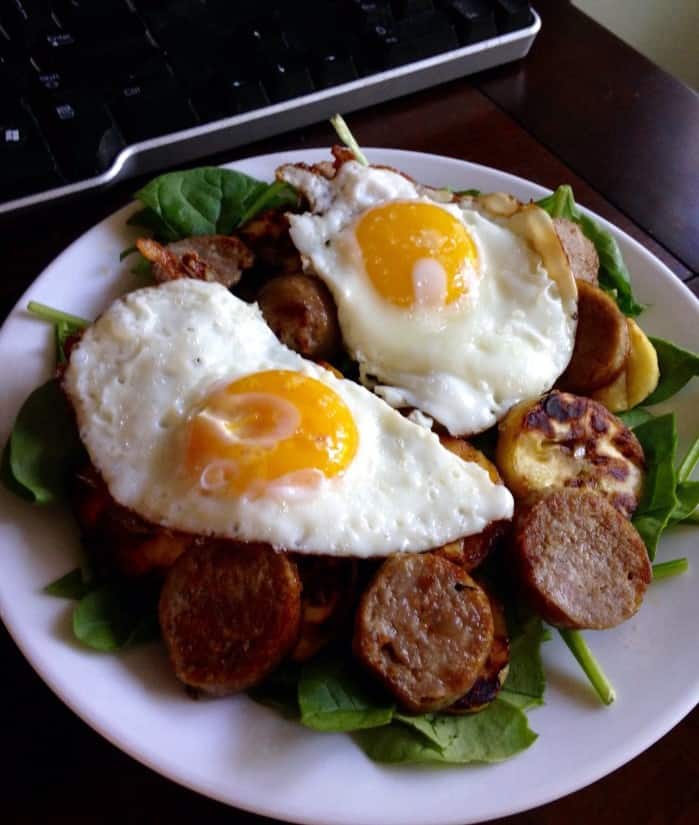 If I'm not heading out for a long run I don't eat at all before running.  I run at about 5:45am and my stomach is not ready for food at that time.  In the summer, I usually drink water or coconut water (if I have it) to replenish fluids when I walk in the door, then shower, then eat breakfast around 7:45.
Breakfast is sometimes my biggest meal of the day and by 7:45 I'm really hungry.  This was some fresh spinach topped with about 3-4 oz pork sausage (leftover from dinner Sunday) with half a plantain fried in coconut oil and two eggs also fried in coconut oil.  Lots of fat, protein, and some carbs here to round out the meal.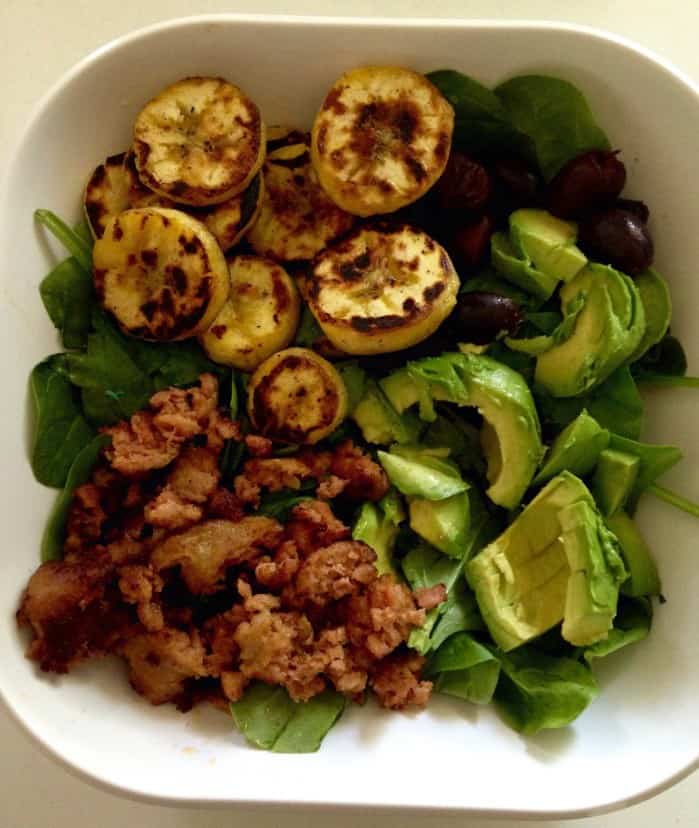 That breakfast keeps me full for 4-5 hours pretty easily.  For lunch, I fried the second half of the plantain, threw in some spiced ground pork (maybe 3-4 oz again?) a small avocado, kalamata olives, and more spinach.  Spinach and I are good friends lately as I said last week.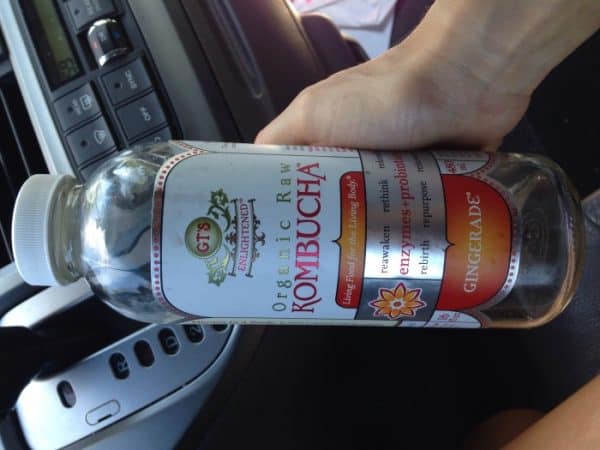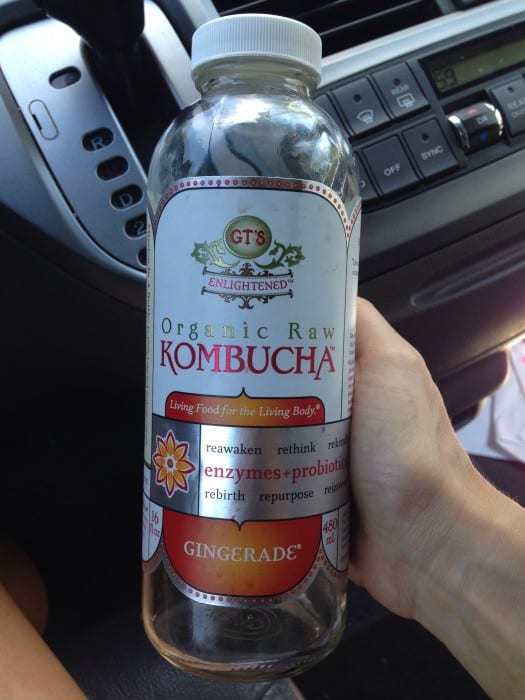 Of course this has zero to do with fueling, but I drank my kombucha as usual because it's just awesome.  I'm also in the midst of brewing my own and crossing my fingers that it will come out well!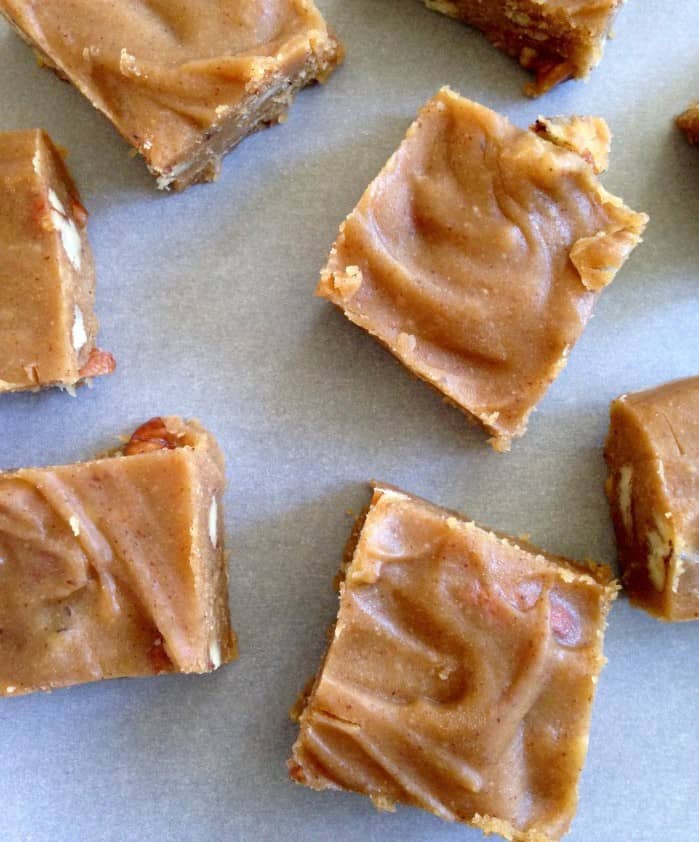 Of course I made a new flavor of fudge!  This one is vanilla maple nut and it's a winner.  I ate one square of this while taking pictures in the afternoon.  I also had a banana but forgot to take a picture.  Bananas are eaten daily when marathon training, usually more than just once too.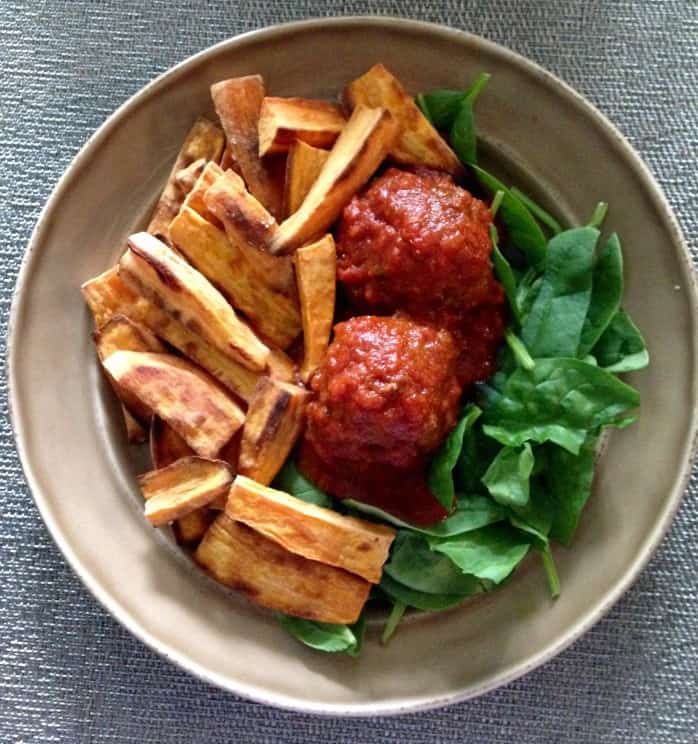 For dinner I roasted a bunch of sweet potatoes, made beef and lamb low FODMAP meatballs and cooked them in my favorite sauce – Rao's Homemade Sensitive Formula Marinara Sauce
 after browning in bacon fat.  I could probably just be happy eating nothing but bacon, ground meat, and various potatoes while marathon training – those are my biggest cravings!
Laura said the basically the same thing in a comment earlier in the week, which completely validated these cravings for me!  Salt cravings seem to take over and I definitely find myself "generously sprinkling" my sea salt all over the dang place lately.  That need for salt would also explain me standing over the pan eating leftover oil and sauce with a spoon while cleaning up the kitchen!  Followed by that "OMG I'm thirsty and need water now" feeling.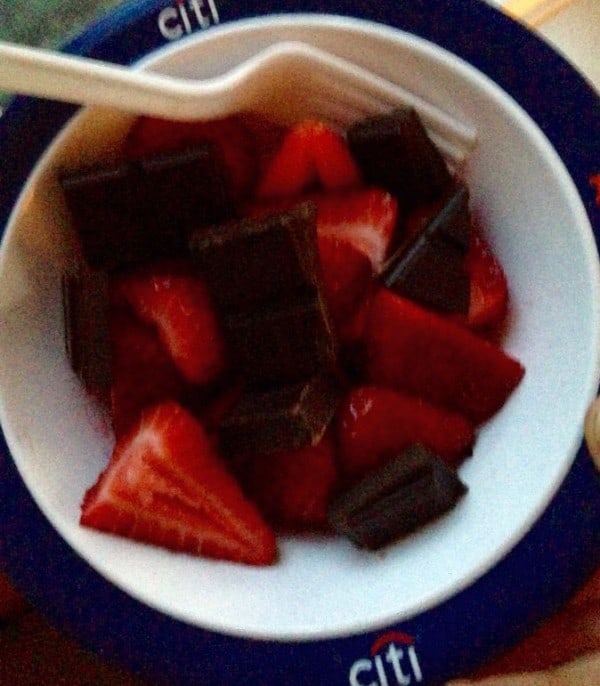 A blurry picture of my "dessert", eaten at about 8:30 – super exciting strawberries and dark chocolate.  Actually, the strawberries were particularly sweet and delicious and that did excite me at the time.  Happy at bedtime is a good thing 🙂
Paleo fuel on the run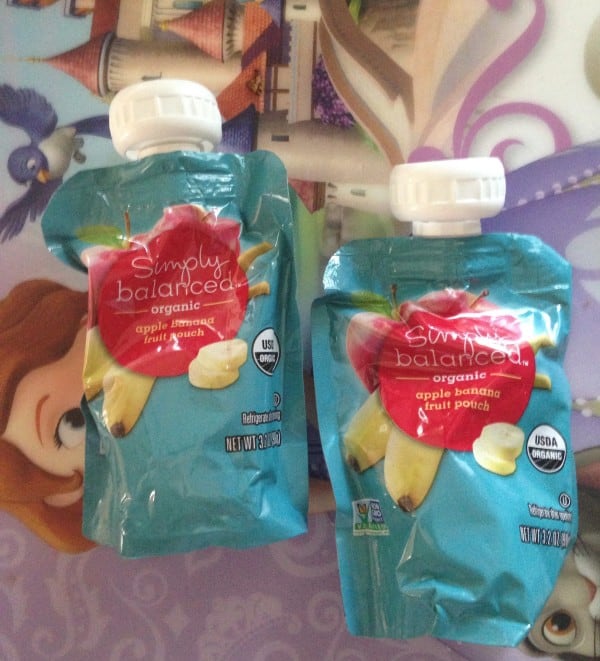 A few of my favorite fueling options for long runs are:
1) Baby/toddler squeeze pouches! – yes, seems a bit odd, but they are awesome and really my go-to now.   There are TONS of varieties nowadays since they've become super popular and there are even some with superfoods like chia added.  Plus my kids think it's hilARious that mommy eats these while running.
2) Bananas.  Bananas are a runner's best friend I think.  I learned the hard way though that mine need to be pretty ripe to be digestible enough before a long run.
3) Coconut water.  I think you either love or hate this.  I love it!  I usually drink some before a long run and then after, I don't bring it with me since I don't want it messing up my hydration pack.
4) Dates or raisins.  If you can digest these well during a run they are awesome and easy fuel!
5) Quick bites like Yummari can work for some people especially on very easy paced long runs.  For "technically paleo" bites larabars can be good – I ate these on my long runs while training for Boston 2014.
Right now the squeeze pouches are my favorite long-run fuel since they digest quickly and don't taste too sweet or give me heartburn. They're also super easy to twist open which is something I highly value on a long run!  I stick to the basics and go with sweet potato or banana flavors.
What's your best piece of fueling or nutrition advice for marathon training?