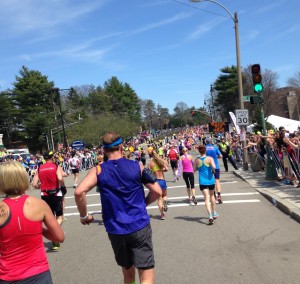 Yes you are correct.  That is a photo I took with my iPhone while running the Boston Marathon after I told you last week that messing with your phone (and other things I did that I'll get into soon) will ruin your race.  Oops.  To my credit this was not a PR'in kinda race for a few reasons I'll get into and so I flipped a switch in my head to approach the experience from a new perspective.
Prior to the start I knew it was supposed to go up to about 65 degrees and sunny but this didn't worry me as I thought it would remain in the 50s for most of the race.  Plus I somehow forgot that I did all my training in cold winter weather and mainly in the dark/dawn.  I majorly underestimated the impact of the harsh sun and warmer temperatures.   Not that I could have done much besides mental prep work, but mental prep is half the marathon in my opinion, and although there are always challenges along the way, big surprises are never welcome!
So the race went something like this.  I ran the first mile way too fast, like 40 sec too fast.  I was totally seduced by the downhill and the excitement.  When I realized this I got nervous and slowed down, but was still doing 8 min/mile when it should have been 8:20ish.  Around mile 3 I realized it was getting warm and there was no shade.  By mile 5 I was really feeling the heat and taking water at every stop, which I've never done.  I also realized I needed to pee and frankly I started feeling panicky since it was so early and I could not see myself going on like this!
Miles 5-10 were very rough mentally as I was having to accept the heat, the fact that I would have to stop to pee, and that I would have to let go of my time goal, which was sub 3:40.  But somewhere between miles 10 and 12, after dumping several cups of water over my head, I accepted my fate.  I made a dash for an open bathroom on the roadside and ran back out in under a minute and with a new outlook.  I have always been stubborn and scared about stopping during a race, so once I did it the fear was gone and I felt a million times better physically and mentally!  I DID drop one of my gels in the process, but figured I could grab one at mile 17 (who is this girl?) Now I was really living on the edge.
For a stubbornly self-sufficient runner like me, allowing myself to accept help on the course was surprisingly refreshing and really liberating!  As in I'm kicking myself for not removing the stick up my a– sooner!  Although the heat was getting worse and I was coming upon the tough hills, the second half was where I fully surrendered and enjoyed myself.  I high-fived the crowd, waved, accepted water, ice, and even ran through a sprinkler (serious thanks to the guy spraying that water!).  I knew I had slowed down, but I was giving everything I had both physically and mentally at that point and it just felt great.  Running the hills between 16 and 21 was a trip, I knew I HAD to take pictures at the top.  I didn't look at my watch anymore.  I just kept dumping water over my head at every mile and let the love from the crowd sink in.  I still really can't believe the amazing support coming from all those people for all of us runners.  It's humbling and inspiring to watch and I'm glad I got out of my own head long enough to appreciate it.
The final stretch up to the finish was the greatest rush of pain, joy, and raw emotion.  Sorta like the final push of childbirth.  In similar spirits, I burst into tears as I crossed the finish line.  It's that feeling of crossing the finish line that keeps me coming back, despite all those long cold mornings when I doubt my decision to run these things.  And this time, with all I had been through to get to that end point, it was even more incredible.
My official time was 3:46:20.  And though I did not meet my time goal and did several things I thought I never would, (like running the beginning too fast, rubbing ice all over as I ran, snapping photos, and using the bathroom), I'm cool with it, and actually really excited to go for my first post-marathon run.  I figure once I can go up and down the steps on my feet I'm good to go!
As a bonus and since this is also a food blog, here was my post-race breakfast:
Anyone have any Boston stories/experiences? Would love to hear them all 🙂