I'm about to document what I ate on a Tuesday, which probably has never happened since I always write these posts Tuesday morning.  But, there's a summer fever/sore throat virus over here this week which means all three kids were home, and I'm writing this post Tuesday night.  Strange.  If I don't sound like myself at all it's because I'm not – I have a split personality and the second one takes over around 5pm.
Just kidding.  That's not my personal brand of mental illness (not to discriminate or anything) but  I really do FEEL like a different person after 5pm most days.   Any SAHMs out there relate?  5pm is one thing, after 8pm my brain clocks out and I'm responsible for none of the nonsensical pseudo-sentences that come out of my mouth.  "Bedtime. Now.  Upstairs. Potty time.  Mommy's tired.  Go go now now yes that's what I said.  Because, let's go."  Some variation of that is all I'm able to say after 8pm.  So good thing all I need to do now is show/tell you what I ate.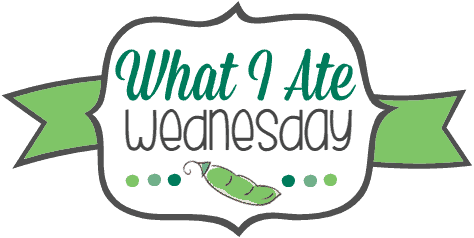 WIAW.  Let's go.  Quiet.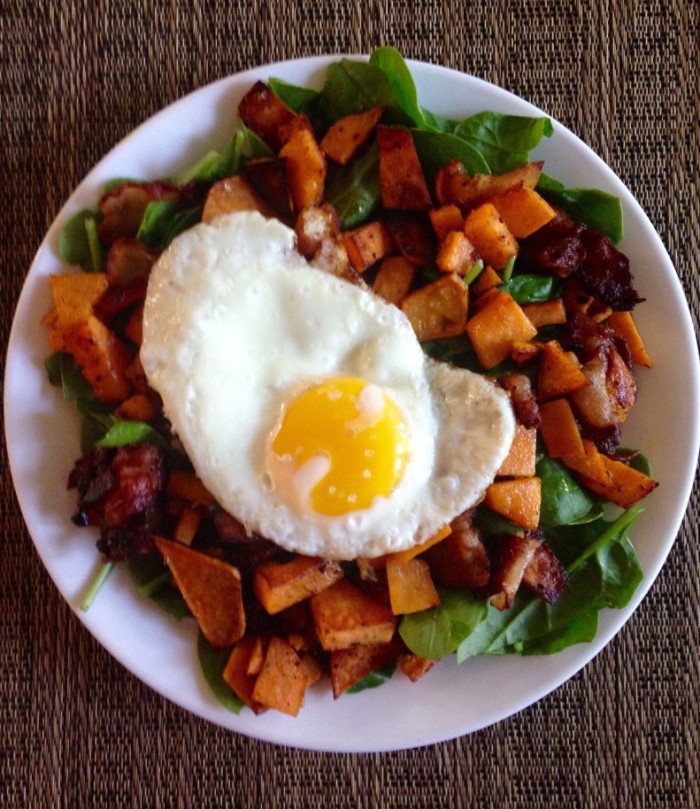 Breakfast after my 7 mile run with 5 goal pace miles.  I was hungry and for some dumb reason failed to fry a second egg.  I had to make up for that later on as you'll see.  This was spinach topped with three slices nitrate free bacon, chopped and fried with chopped sweet potatoes (covered the pan so they cooked faster.)  I think this qualifies as a "breakfast salad" since the spinach was raw.   Is that how it works?  If so I've been doing breakfast salads every day for at least a week.
After breakfast I had my coffee and realized the missing egg had left me hungry still.  I got out a tupperware of leftover avocado (don't ask.) (Okay fine it was a child-reject from the day before.  Still good enough for me.) The avocado looked sad so I took out a slice of ham and fried that with an egg in the leftover breakfast pan. Success.  No longer hungry!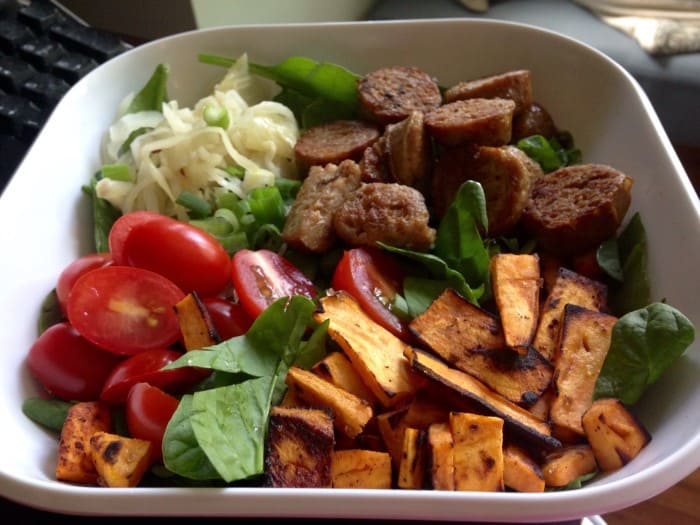 Lunch was more sweet potatoes, pan fried in bacon fat, with leftover sweet Italian pork sausage from last night's dinner, tomatoes, raw sauerkraut, scallions and fresh spinach.   Followed by my one true love: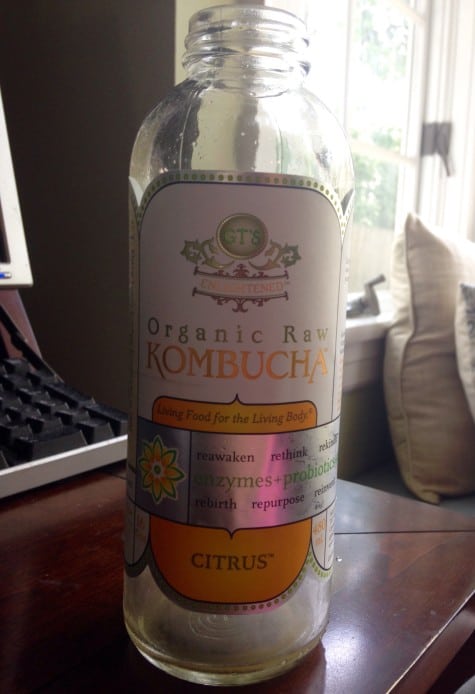 Citrus flavor today 🙂 I FINALLY, just yesterday, purchased a Kombucha Kamp SCOBY + Starter liquid
 starter kit from Amazon and am excitedly awaiting its arrival so I can finally attempt to make this stuff on my own.  It's been long enough and I have high hopes based on the reviews.  I will definitely keep you posted!
Snack time and photo time go hand in hand when fudge is the subject at hand.  No, I didn't eat the whole stack. Just the top piece actually.  Stay tuned this Friday for the recipe!  It's mocha almond fudge.  I'm into my paleo fudge lately, can you tell?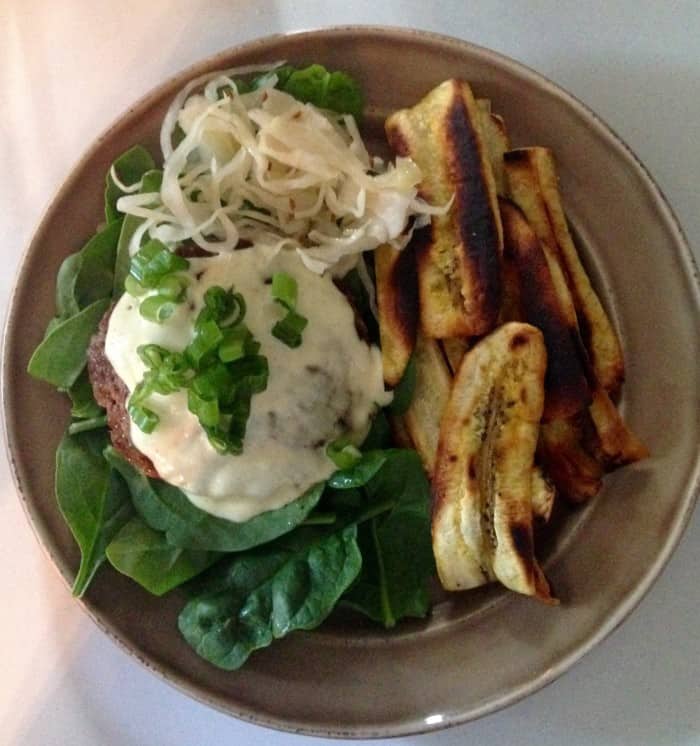 Is my love for Popeye showing?  Because I ate no green besides spinach today.  Spinach is the only green I like eating raw, so that might be a better explanation.  Except I really was obsessed with Popeye as a kid and was into spinach ever since.  Especially in Greek spinach pie – yum.  Can we make that paleo?
Anyway it was 90 degrees today and I spend enough time in front of a hot stove as it is, so raw spinach it was. Topped with a lamb burger, homemade mayo, scallions, more sauerkraut, and roasted green plantains.  They burned a little, don't judge 😉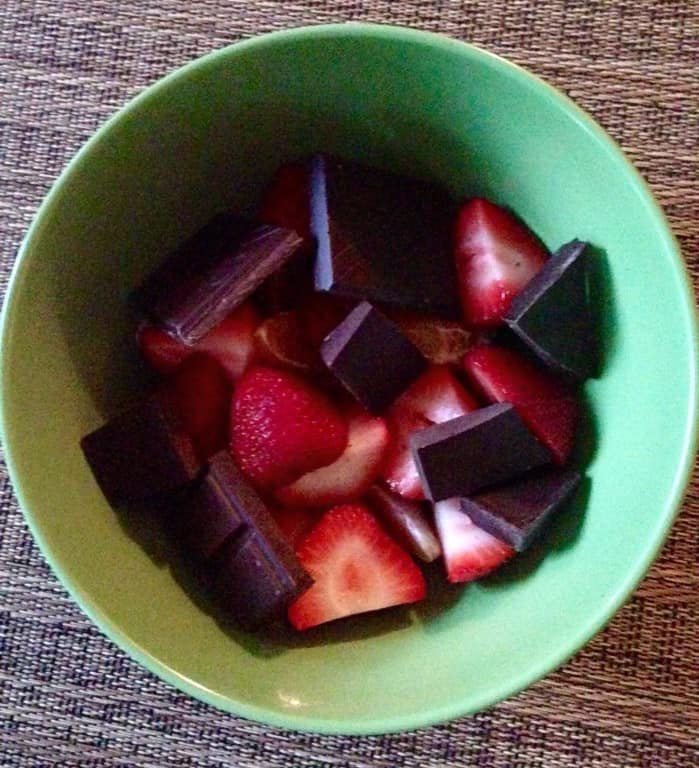 Well now this leads me up to about 5 minutes ago, dessert.   Strawberries and dark chocolate, my go-to lately, and by lately I mean the past 6 months at least.  I guess that's not totally true.  Sometimes oranges, blueberries and bananas are involved.  #wildthing.  When it's been at least 5 years I'll start to think about a new dessert bowl, promise. Remember, I was the girl who ate PB&J for lunch for nearly 10 years.
Do you eat breakfast salads?  What is the definition of a breakfast salad anyway?  Raw greens necessary?
What time does your brain clock out for the day typically?