Delicious and easy Paleo low FODMAP meatloaf with an optional maple chipotle glaze.  Gluten free, grain free, soy free, just real, whole food ingredients for this go-to dinner everyone will love!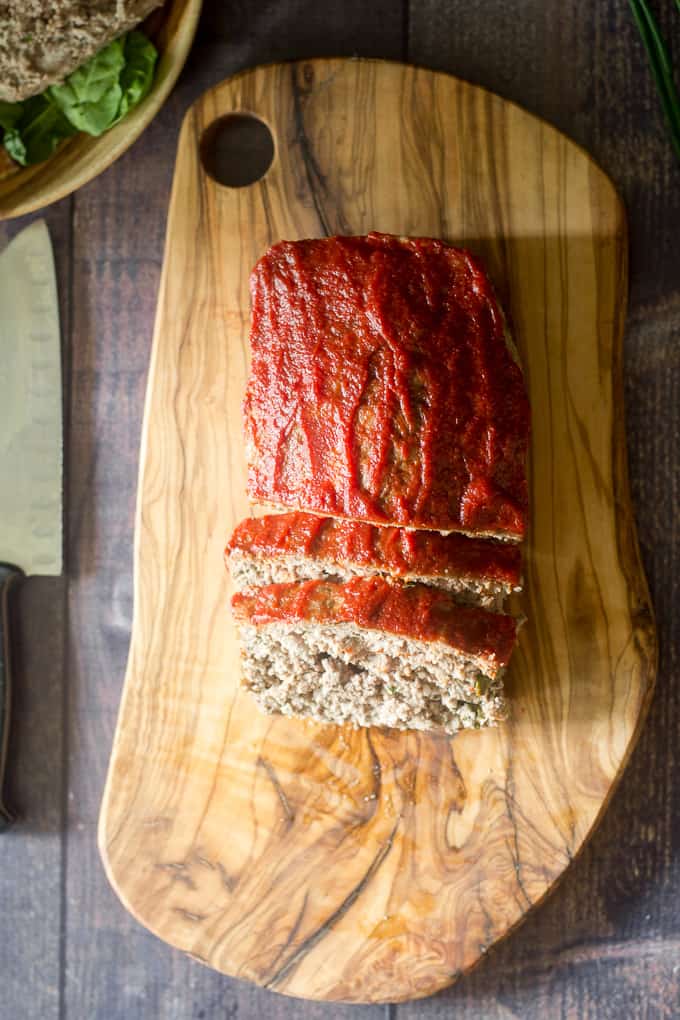 Before a race or long run, I generally pay a bit more attention to what I'm eating, mainly to do whatever I can to avoid feeling sick during the run.  Anyone who's had stomach problems during a run or race knows it's an experience you don't want to repeat, ever, ever again.  In fact, in spite of significant IBS symptoms since childhood, it wasn't until IBS killed my running that I "hit rock bottom" and decided to figure it out once and for all.
If we're talking a really long run, like a 20 miler or a full marathon, I completely avoid anything high FODMAP for at least 4 days in addition to eating strict paleo.  I increase carbs through starchy veggies and low FODMAP fruits, and limit greens to spinach and well cooked collards or kale in smaller amounts than usual.  With a half marathon I really just pay attention to what I'm eating the day before the race, assuming I've been feeling well up until then.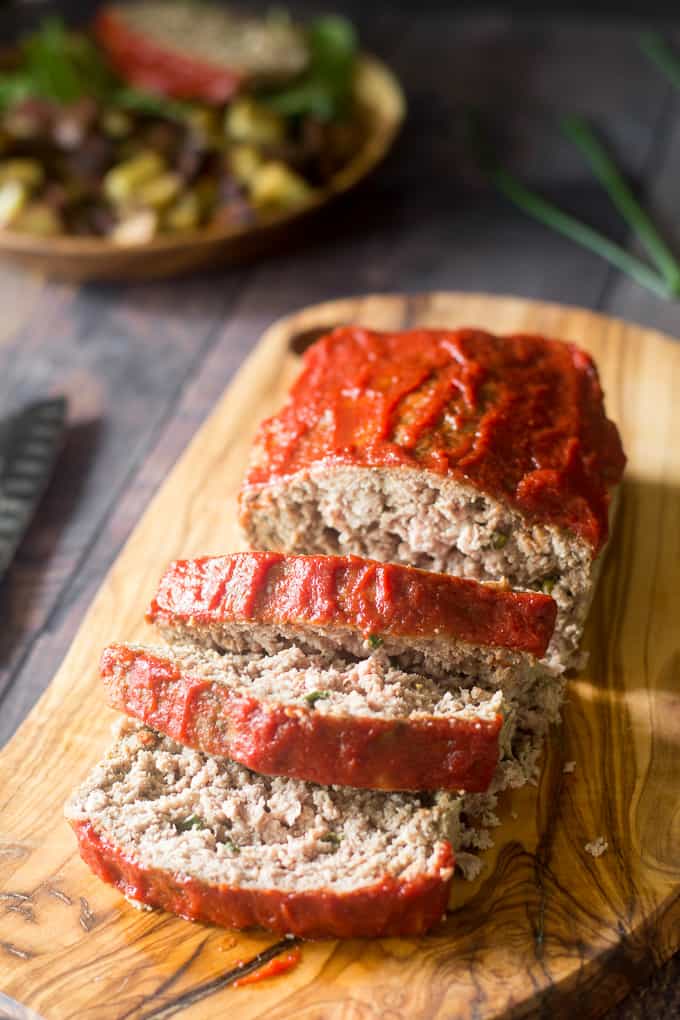 It can be tricky to eat strictly low FODMAP and I have to say, there are times I'm not perfect with it and I wind up feeling the effects after a few days.
Because nothing with IBS is 100% straightforward, I don't really understand why there's a delay, or why it seems that a "build up" leads to more symptoms, but, for the most part I feel my best when eating as low FODMAP as possible, and knowing which foods seem to be the worst triggers.  For me those are apples, pears, stone fruits, raw onions, garlic, cauliflower, gluten containing grains and most legumes.  I suppose there are many many more, but far too many to list here!
If you're new to low FODMAP eating, definitely read through my post here and check out this comprehensive low FODMAP diet list  as well as a combined low FODMAP/Paleo list.  I've found both of these extremely helpful in understanding what seems to trigger my own symptoms.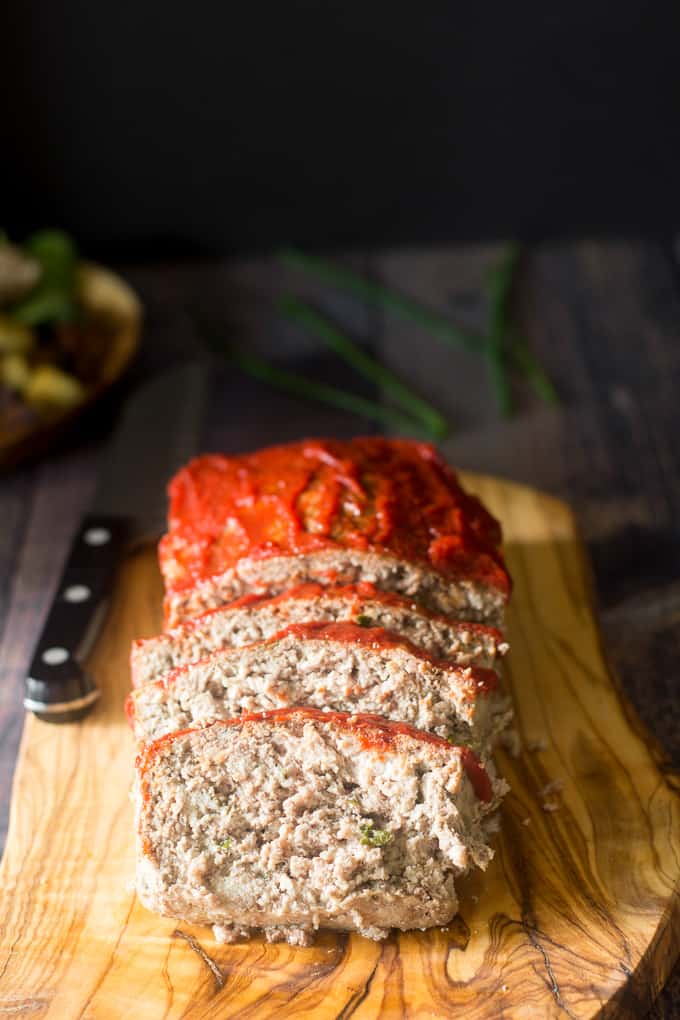 But now back to my Paleo Low FODMAP meatloaf!  This is the easiest and most gut-friendly meatloaf that I've ever made.  Too simple yet really delicious and even the picky eaters will do well with this!  It's actually the same basic recipe that I use for making meatballs, only this is in loaf form, I find the flavors work well together and I don't miss the garlic or onion.  To top it off, I like the addition of my maple chipotle ketchup which is also low FODMAP!
Easy Paleo Low FODMAP Meatloaf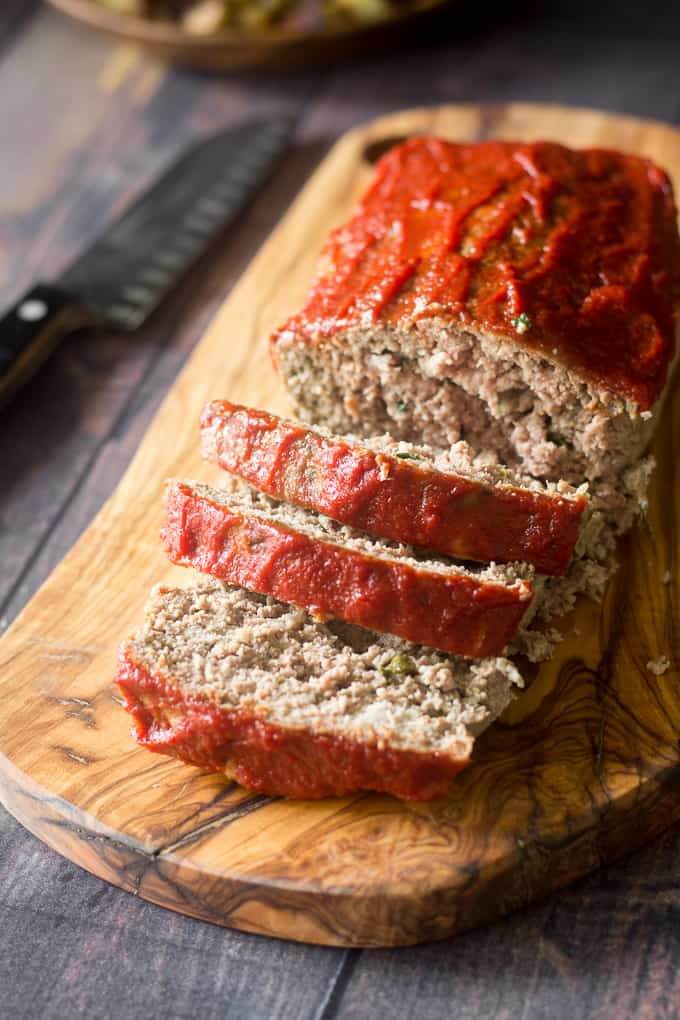 Easy Paleo Meatloaf - Low FODMAP
The easiest paleo and low FODMAP meatloaf recipe yet! Free of grains, gluten, dairy, and soy and Whole30 approved.
Prep Time: 10 minutes
Cook Time: 45 minutes
Total Time: 55 minutes
Course: Main Entree
Cuisine: low FODMAP, Paleo
Servings: 6 servings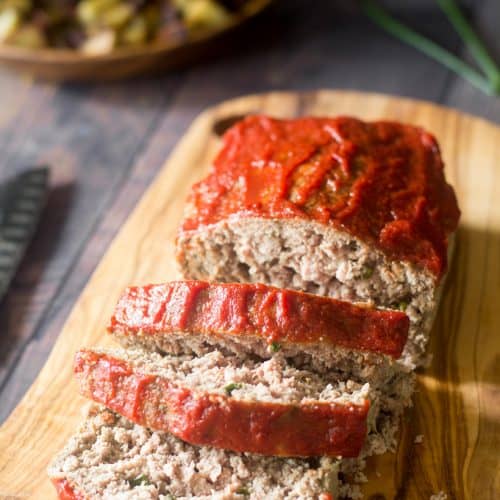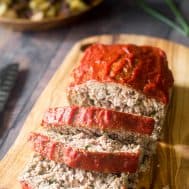 Ingredients
1 lb grassfed ground beef
1 lb ground pork
1 whole egg
3/4 tsp salt
2 tsp Poultry Seasoning - I used McCormick which includes thyme sage, marjoram, rosemary, black pepper and nutmeg
1/2 tsp dried oregano or 2 tbsp fresh chopped
1/4 tsp dried basil or 1 tbsp fresh chopped
1 tsp dried chives
1/4 cup maple chipotle ketchup*
Instructions
Preheat your oven to 400 degrees. In a large bowl, mix the ground meat with the rest of the ingredients until fully combined.

Put the entire mixture in a 9 x 5 loaf pan and press down so its evenly distributed, pressing down a bit more in the center for more even baking.

Bake in the preheated oven for about 45 minutes or until just no longer pink in the center. Do not overcook! You can test by making a small cut in the very center.

Let sit for 5 minutes before slicing and serving over cooked greens or with a side of potatoes. Or both!
Recipe Notes
*Optional as a glaze/topping


Do you pay attention to your food more in the days leading up to a long run or race?  
Thoughts/experiences with the low FODMAP diet for IBS?