Make this your new go-to grain and dairy free cupcake recipe and you're set for life! These Paleo Double Chocolate Frosted Cupcakes with Chocolate Ganache are soft and moist with great chocolate flavor and a thick, creamy icing.  Paleo with a nut free option.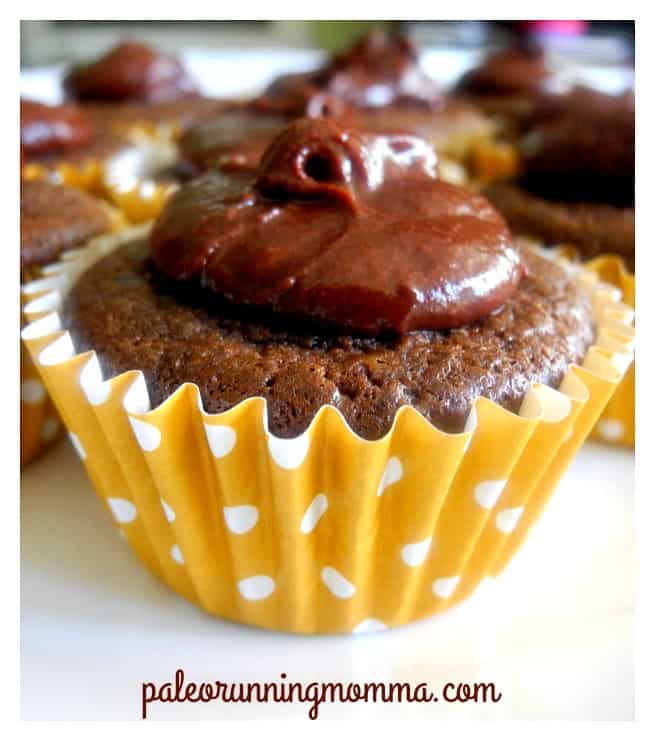 It didn't occur to me until just now that my timing on these with Valentines Day next week was pretty spot on!  Go me. These were not intended as a V-Day treat but rather for Adam's birthday, which was earlier this week.  Between that and the snow day we had there was no excuse NOT to try my luck on a chocolate cupcake recipe.  Paleo double chocolate cupcakes?  Don't mind if I knock myself out trying.
Do you know why these are special?  Because the icing is magical.  You WILL have extra and you WILL freeze it to make chocolate candy.   Really, you can't not do this if you make this recipe.  It's chocolate ganache heaven.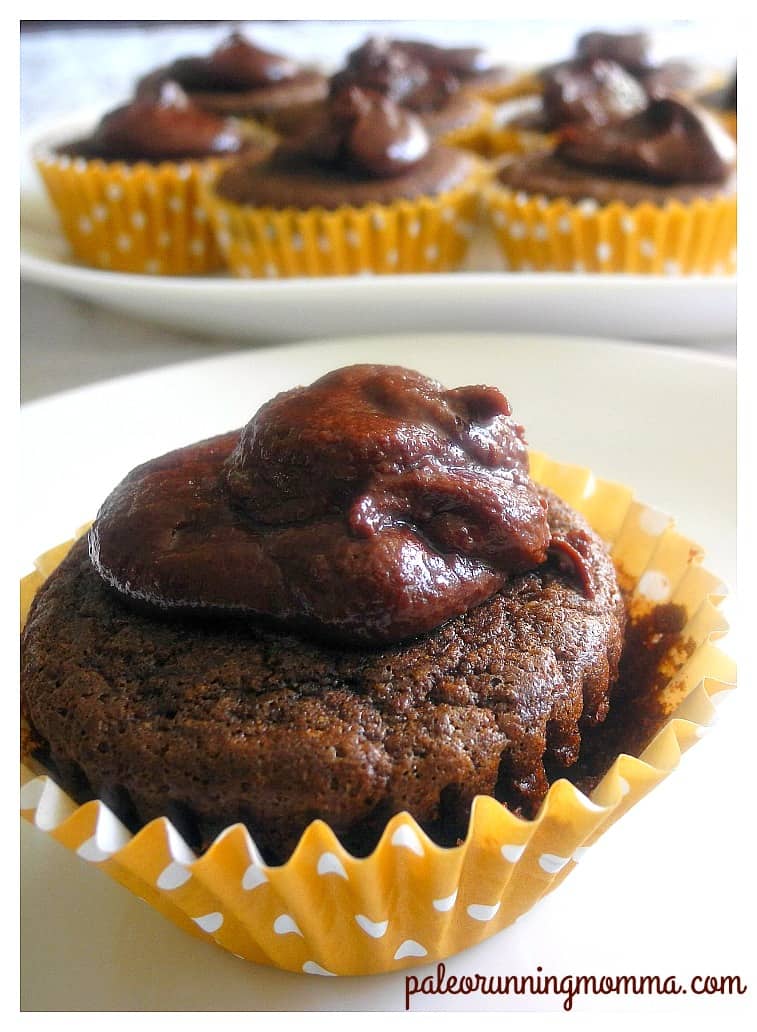 I just had to get that part out of the way because it was a really exciting light bulb moment for me when considering what to do with my extra icing.  Not that anyone would actually get MAD at me if I left them with some extra icing and no instructions.  You wouldn't, would you?  In any case, you will have instructions if you choose this route!
Speaking of V-Day, is everyone excited for it?  I'm pretty sure the only reason I've ever been excited for this holiday is the whole chocolate theme.  I dislike receiving flowers (not my thing plus a hassle to keep them alive) and I am also one of those women who will say "PLEASE!  For the love of God, don't get me anything!" and it probably only took one time of getting me something for Adam to realize that I actually mean this for real.  It is not a trick.  If you must get me something, make it some good dark chocolate that's not too expensive and call it a day.  I promise that I will do the same for you.
Paleo Double Chocolate Frosted Cupcakes (Nut-Free Option)
Rich and flavorful yet delicate Paleo friendly chocolate cupcakes with chocolate icing - nut free option, dairy free, gluten free, grain free
Prep Time: 20 minutes
Cook Time: 20 minutes
Total Time: 40 minutes
Course: Dessert
Cuisine: Paleo
Servings: 10 cupcakes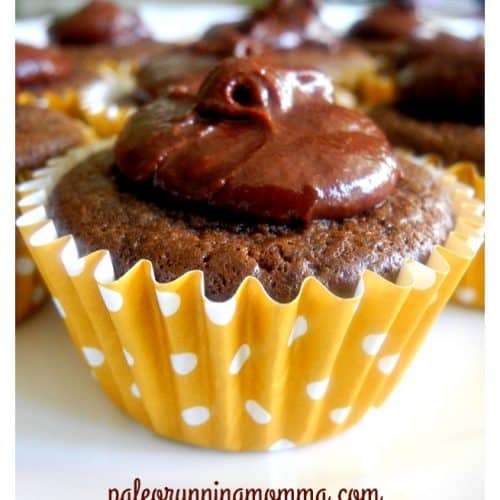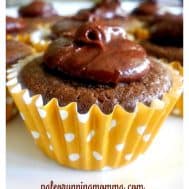 Instructions
Preheat your oven to 350 degrees. Make sure your wet ingredients are at room temp to start, and prepare a cupcake pan either will liners or by greasing the cups with coconut oil.

In a large bowl, whisk together the eggs, coconut milk, melted coconut oil, maple syrup, and vanilla extract until well combined.

In a separate medium bowl, combine the coconut flour, cocoa powder, arrowroot powder, baking soda and powder and salt.

Slowly whisk the dry ingredients into the wet, and then use an electric hand blender or whisk to make the batter smooth, if needed.

Fill 10 cupcake liners/cups about 3/4 full (they won't rise much) until the batter is used up. Bake in the preheated oven for 20 minutes, or just until a toothpick inserted in the center of one comes out clean. After a minute, remove the cupcakes from the pan and cool on a wire rack.

To Make the Ganache Icing:

In a small saucepan over very low heat, combine the icing ingredients until melted and smooth. Remove from heat and let cool.

When the cupcakes have cooled about halfway (they can be a bit warm still) spoon icing evenly over each cupcake. The icing will become more solid as it cools but will still be creamy at room temp.

If you have extra chocolate icing, pour the remainder into cupcake liners about 1/4 of the way, and put in the freezer. Once they're solid, you have a chocolate almond butter cup!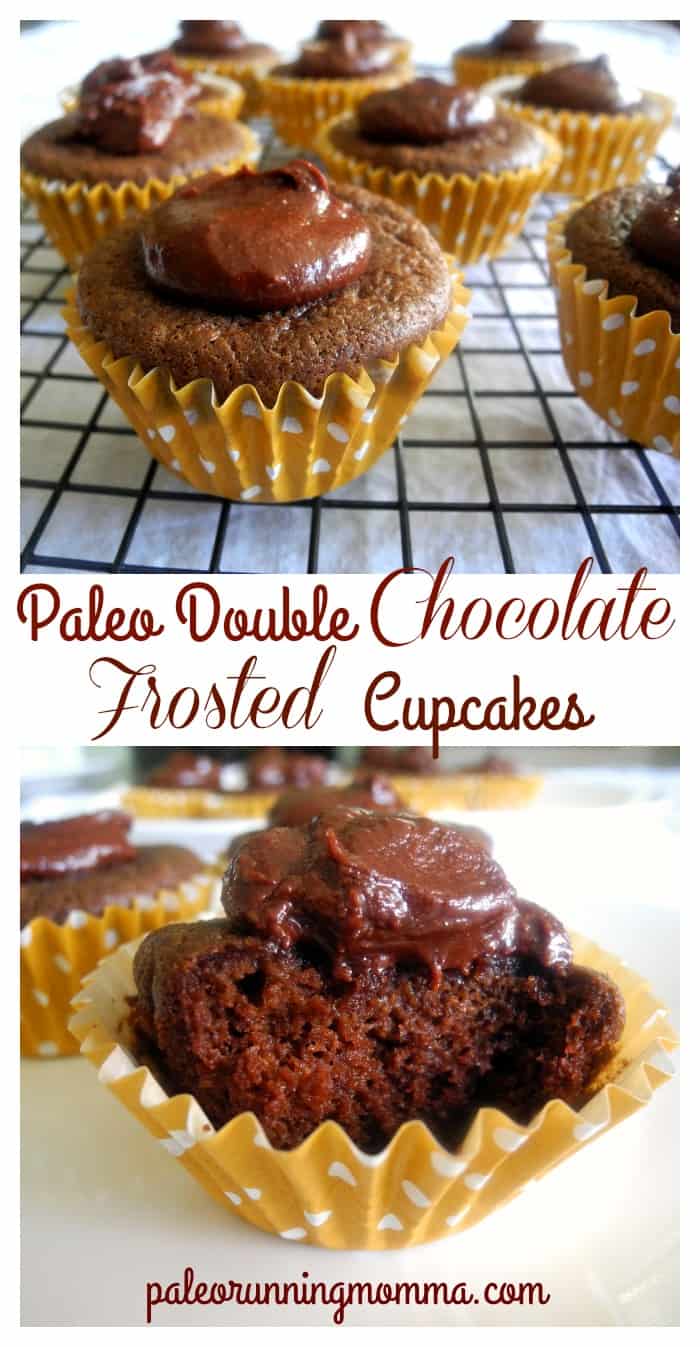 What's your favorite part of Valentines Day?
Have you ever told someone NOT to get you a gift when you actually wanted one?
What's your favorite chocolate candy?
Have a fabulous Friday and enjoy your weekend!