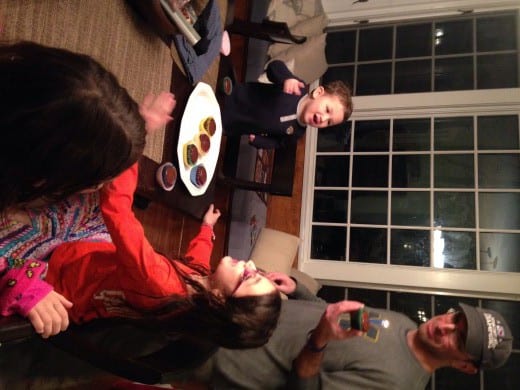 I definitely had a little 30-second dance party in my car this morning after the last of the kids were dropped off.  The past week has brought on two snow days plus a couple of sick days off of preschool and I am fully ready to enjoy my two hours to myself today.  It's only 2 because of the whole delayed opening thing but I'll happily take it.
For today's What I Ate Wednesday, I'll show you what I ate this past Monday, our snow day that I spent entirely at home, as in did not step outside of my door.  Adam took care of all the shoveling and I cooked all day long.  Alright, I totally didn't cook all day long but for some reason when everyone is home it just feels that way.
Adam's birthday was on Tuesday, and, mainly because the kids were begging for cupcakes we decided to celebrate it on Monday.  Made sense because we were all home anyway (at least this was their argument) so I took my chances on a chocolate cupcake recipe which (thank goodness) turned out really, really delicious!  BUT you'll have to wait until Friday for that recipe, since today your job is to look at all the regular boring stuff I always eat and ooh and ahh.  Oh it's not really that bad.  Happy WIAW!  Thanks for the link-up Jenn!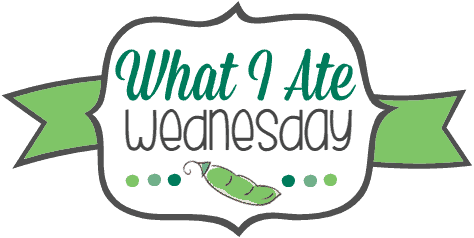 My breakfast involved eggs and bacon and sausage.  Say what?!  Yes, it did.  I've never eaten any of those things before as you all know.  It surprises me just as much as it's surprising you right now.  If Adam is reading this he's shaking his head at my sarcasm.  It just never quits.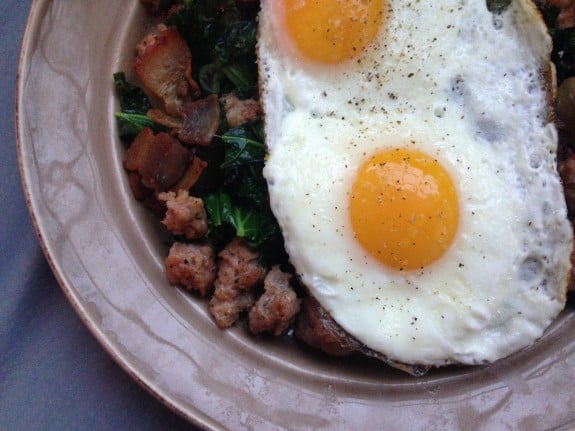 Seriously though, I did actually eat all of those things in the same meal.  I wasn't feeling particularly "carby" (if that's a feeling) this morning so I just doubled up on the meat.  Threw some kale in there and called it "thank goodness for paleo as an excuse to eat this much meat in the morning."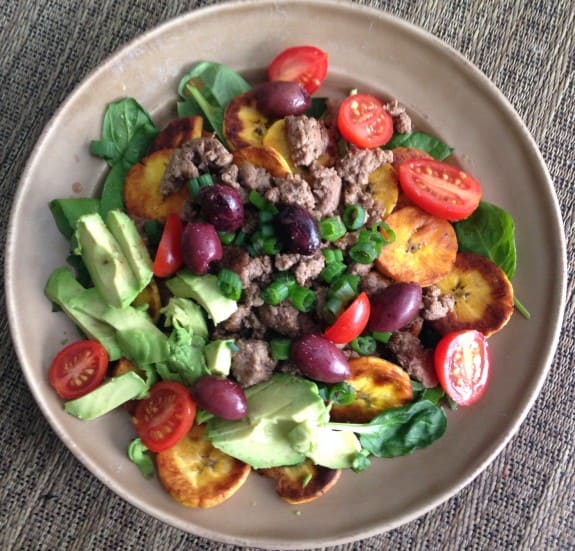 I worked on blog stuff all morning and drank coffee with coconut milk while Adam shoveled snow and the kids chased each other around the house screaming both happily and unhappily.  After so many snow days it's even hard to get them to watch TV.  That is how you know you've reached that point in the winter!
My lunch was a "creative" combo of ground beef cooked in the liquid from our pulled pork leftovers (Diana ate the leftovers) with kalamata olives, fried plantains, tomatoes, avocado and spinach.  The beef was more delicious than I thought it would be and this was really good!
I was being asked to make smoothies since lunchtime, and finally said yes around 3pm.  Not the thing I would have chosen for a freezing cold snow day but then again it wasn't my idea.  I combined frozen mangoes and berries with a banana and almond milk and it definitely tasted "healthy" but good enough for everyone.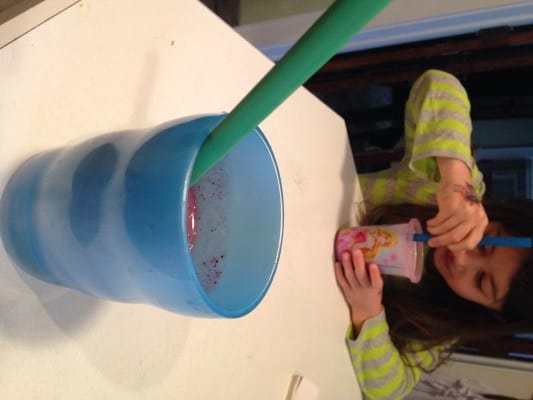 Smoothies are not the prettiest thing to photograph especially in my plastic cups with big smoothie straws, but here it is.
After our afternoon snack I made the birthday cupcakes!  I always taste test my batter because I am not about to put something in the oven if the batter tastes bad.  I also made icing and sampled that as well.  Why take chances?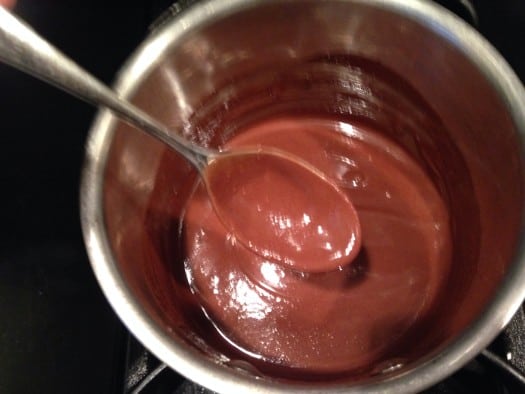 After the cupcakes were baked, my oven started giving me problems again.  There is a problem with the wiring and the power has been flickering on and off driving me completely insane.  We had someone come over to fix it and that lasted a week before the problem set in again.  This put a huge damper on my dinner-making since it meant cooking everything I had planned to on stove-top, a messy and tiring experience.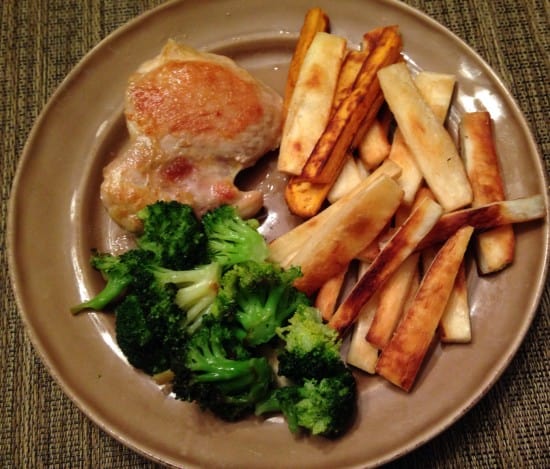 Here we have a boneless skinless chicken thigh, yuca and sweet potato fries, and broccoli, all cooked in coconut oil.  I felt like I got a workout cooking these three things on the stove and was sweating like it too.  And then of course my girls didn't like the fries because they're used to baked ones.  My son happily inhaled them so at least I had that!  The yuca fries were not as good as the ones I've made in the oven, so I'll have to wait on giving you guys the recipe for these.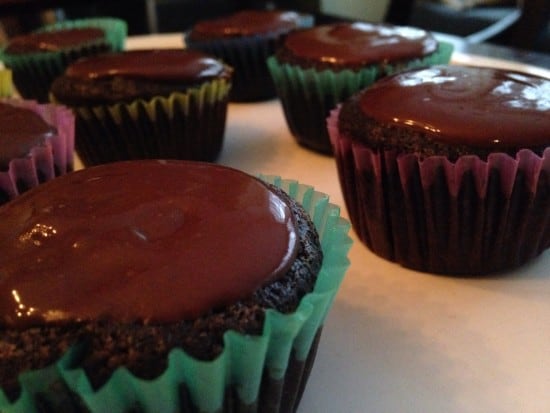 After we cleaned up and the kids got bathed/showered it was birthday treat time!  For me this was the moment of truth for my day.   The cupcakes were great, but, always true to my frazzled-mommy state of being I promptly choked on my first bite.  I didn't care, these were awesome!
You know what else is really cool about these cupcakes?  The leftover icing can be put into cupcake liners and frozen into candy.  Adam very much appreciated this bonus birthday treat and even dipped it in peanut butter, because he's all about optimization.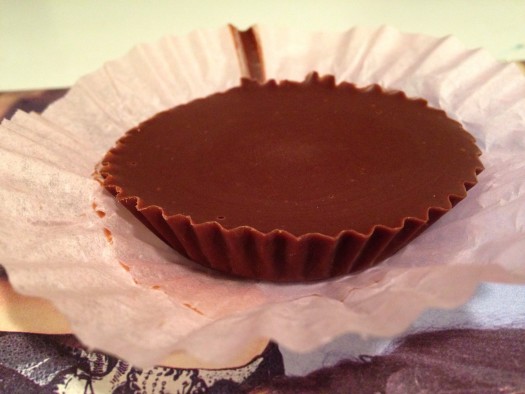 And that was all.  I drank some water after the kids went to bed, ruminated over my probably-broken oven and then practiced my headstand to forget about it.  And now moving on, my 2 hours is almost up! This has been fun, be well, stay warm, and eat something delicious today!
Do you usually bake/make something special on a snow day?