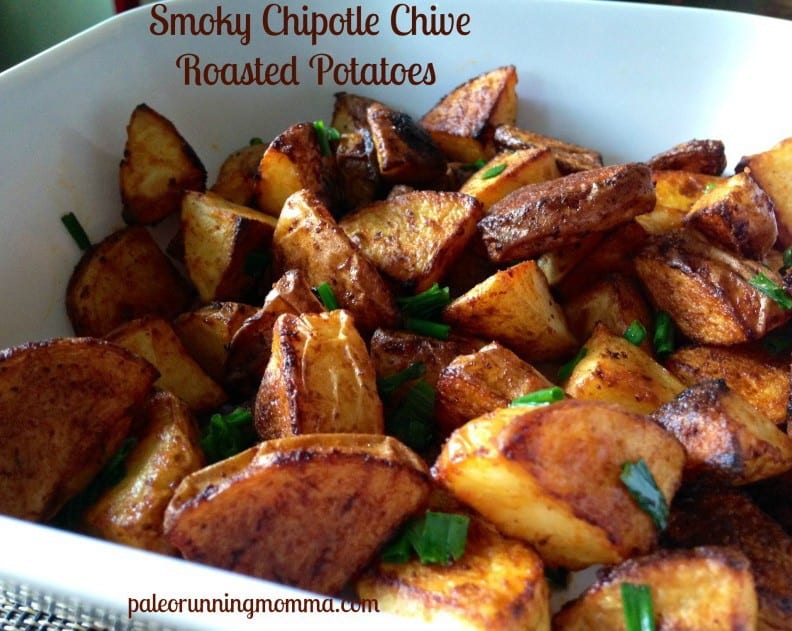 My kids (the girls at least) have gotten old enough that they'd likely do a better job of editing photos than I can at this point.  Photography is not my strong suit, and looking at photos on a screen for too long makes me feel like my eyes are swimming, or rather drowning, and I start to get sea sick.
Let it be known to the internet that the above image of my smoky chipotle chive roasted potatoes was NOT the photo chosen by my children.  My bad for asking them once it I had no intention of going back and changing anything.  "Um and what are those green things?" asked the little one, with crinkled nose.  "Don't worry about it.  Grown ups like green things.  Kids do too sometimes."
On a serious note though, since landing on the fifth stage of grieving garlic (very high FODMAP) my one real issue is how the hell do I flavor my food in any meaningful, worthwhile way without the use of some form of garlic?  Anyone who's ever cooked anything, or even who's ever eaten food in his/her life, will know well that you'll find garlic in most savory foods that taste good, and especially in the memorable ones you want to eat over and over.
I won't get into all of these foods because it's just painful to talk about and it would take up the whole post.  But I will say this – scallions, chives, smoked paprika, and chipotle chili pepper have shed a beam of light on my sad, dark, garlic-free cooking.   One of these days I will make garlic infused oil because I'm very curious about this low FODMAP option. Don't worry, you guys will be the first to know when it happens.  Until then, be still my beating heart, and stay tuned for my must-try roasted potato recipe!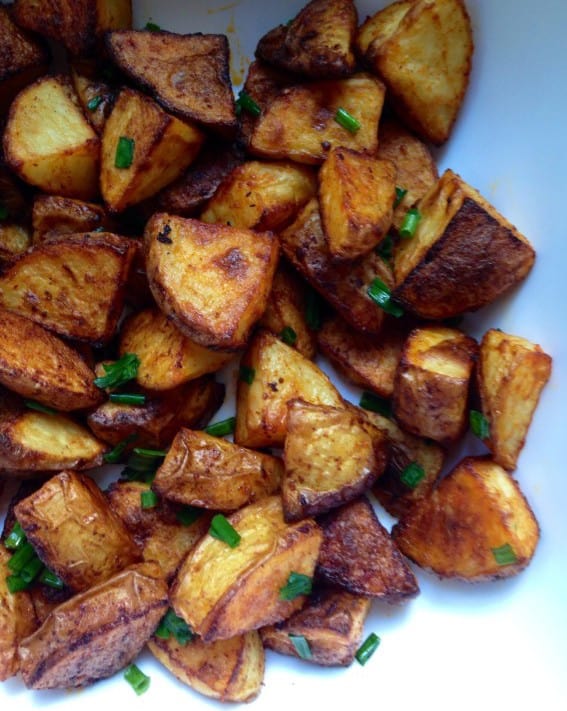 Smoky Chipotle Chive Roasted Potatoes - Low FODMAP
Savory, smoky, chipotle roasted potatoes with fresh chives makes the perfect side dish for any meal. They are gluten and grain free, dairy free, paleo, vegan and low FODMAP.
Prep Time: 10 minutes
Cook Time: 40 minutes
Total Time: 50 minutes
Course: Side Dish
Cuisine: Paleo and Low FODMAP
Servings: 4 servings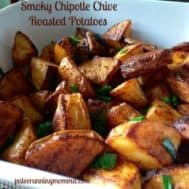 Ingredients
2 lbs red or white baby potatoes scrubbed
1 tbsp + 2 tsp olive oil
1 tsp fine grain sea salt
2 tsp smoked paprika
1/2 tsp ground chipotle pepper
3 tbsp chopped fresh chives
Instructions
Preheat your oven to 425 degrees and line two large baking sheets with parchment paper.

Cut your potatoes into quarters, or small chunks about 3/4 inch thick and put them in a large bowl. Toss them with the olive oil to completely coat.

In a small bowl combine the salt, paprika and chipotle pepper. Sprinkle the mixture over the potatoes and again, toss to coat them completely.

Transfer the potatoes to the baking sheets, arranging in a single layer and not allowing them to touch each other, which will keep them crispy.

Roast for a total of 35-40 minutes in the preheated oven, turning over once around 20 minutes so they brown evenly.

Remove from oven and transfer to a serving bowl. Sprinkle all the fresh chives over the potatoes and toss a bit to allow the flavors to blend.

Serve as a side dish with breakfast, brunch, lunch or dinner! Enjoy!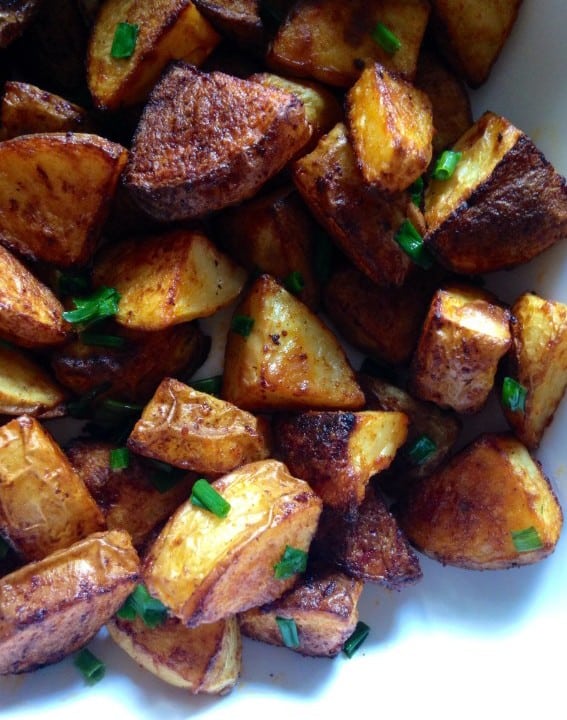 Is a garlic-free life even worth living?  Probably not, but I choose my moments.
Do you enjoy editing photos?  
Best food photo advice?