These rich Chocolate Chip Blondies with Cashew Butter will be your favorite easy fix when a sweet craving hits!  With the perfect combination of creamy nut butter and chocolate chips, these blondies are sweetened with pure maple syrup and are gluten free, grain free, dairy free, and Paleo.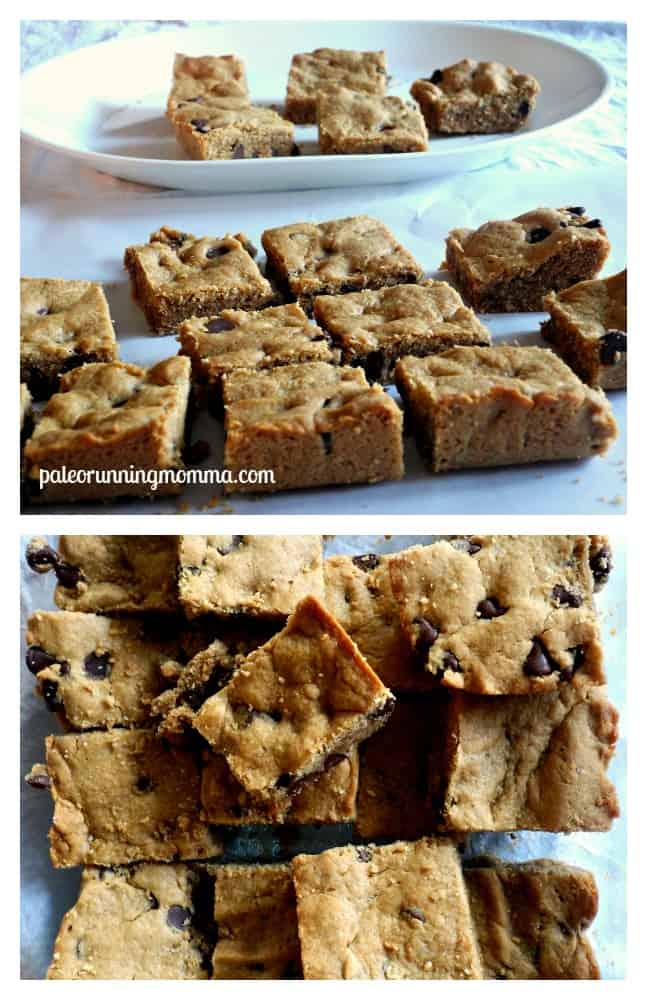 Any Pippin fans out there?  An unlikely intro to a paleo treat recipe post, but, for some reason editing photos led to the song "Corner of the Sky" popping into my head after at least 10 years of dormancy.
I just linked to the original version, but was pleasantly surprised to find through my Google search that there was a broadway revival in 2013.  Where the heck have I been?  Well, a little obsessed with running and paleo as my blog would suggest.  I was introduced to the show in 6th grade, and, although I'm still in some ways trying to find my corner, wherever it may be I'm sure as hell taking these incredible paleo chocolate chip blondies with me!
I love how thinking in song lyrics is the only way to think sometimes.  That all those little sound bites that your brain has collected over the years actually mean something and pop up when you least expect it, in order to communicate something to you.  Is this blog my corner of the sky?  I have a feeling that I'm the type of person who will always feel the itch to search for more, new, or better.   That said I think if you're that type, a blog is a pretty perfect place to do all of those things!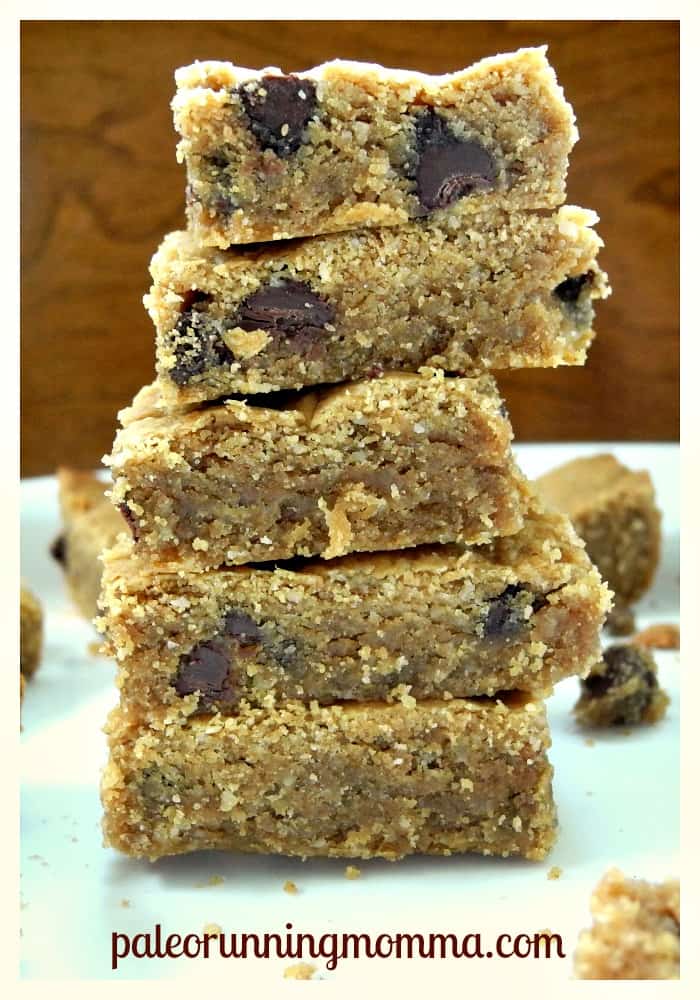 Um, where was I?  I somehow got caught up with trying to find the meaning of my existence again, pardon me for that.  You'll love these blondies, trust me, you will.  Paleo or not they're just good, and you can use your favorite creamy nut butter so don't feel tied down to the cashew.
These sweet, fudgey, nut buttery bars were very much kid and husband approved – heck, Adam even suggested that I should start selling my baked goods after trying these.  I mean I obviously told him he was insane for thinking I had time, energy, or interest in doing such a thing, since most days I struggle just to get everyone in our own family fed. But still, the blondies and I took it as a compliment 🙂
Chocolate Chip Cashew Butter Blondies
Rich chocolate chip cashew butter blondies - dairy, soy, gluten, grain free
Prep Time: 10 minutes
Cook Time: 15 minutes
Total Time: 25 minutes
Course: Dessert, Snack, Treat
Cuisine: Paleo
Servings: 8 x 8 inch pan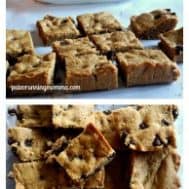 Ingredients
1 egg
1 cup creamycashew butter or a preferred creamy nut butter
1/4 cup grade A dark amberpure maple syrup
2 tbsp coconut oil melted
1 tsp pure vanilla extract
3/4 blanched almond flour - use 1 cup if you want cakier texture
1/2 tsp baking soda
generous pinch fine grain sea salt
1/3 cup Enjoy Life brand dark chocolate chips or preferred brand
Instructions
Preheat your oven to 350 degrees and grease an 8x8 inch baking dish with coconut oil all over, or line with parchment paper.

In a large bowl combine the egg, cashew butter, maple syrup, coconut oil and vanilla, and beat well until smooth.

Add the almond flour, baking soda, and salt and mix to fully combine into a thick, sticky batter. Lastly, stir in the chocolate chips evenly.

Transfer the entire mixture to the prepared baking dish (you'll need to scrape the bowl!) and using a piece of wax paper or parchment paper, press the mixture down evenly into the baking dish (the wax or parchment paper helps because it will be sticky)

Bake in the preheated oven for 15 minutes or until the edges just begin to brown, do not overbake!

Let cool completely before cutting into squares and serving!

Enjoy!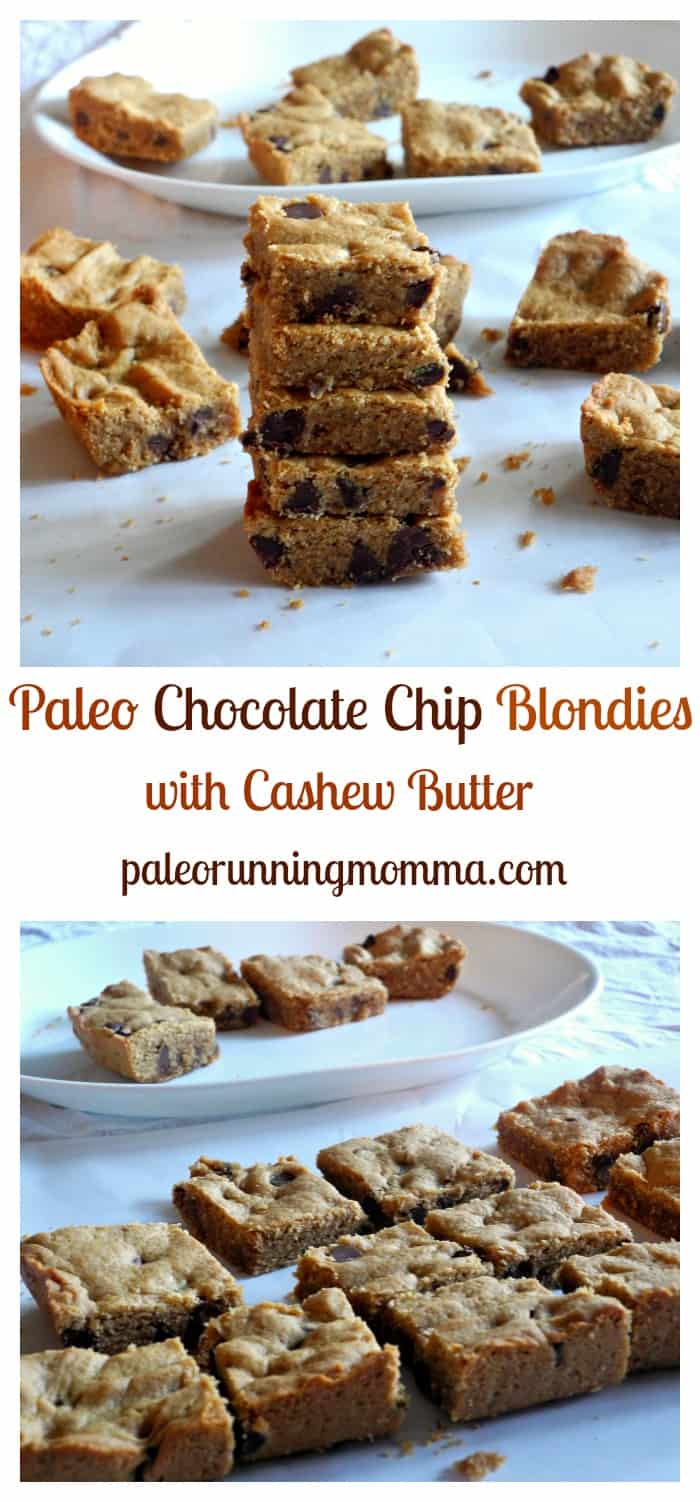 Do songs or song lyrics pop into your head to tell you something?
Favorite nut butter?  Chunky or smooth?  
Have you found your corner of the sky?