Even the most discerning palates won't be able to tell that this decadent dessert is gluten free, grain free, dairy free and soy free.  This rich, moist, and chewy Paleo Chocolate Chip Cookie Cake is topped with chocolate cashew butter fudge and mini chocolate chips for the ultimate paleo treat!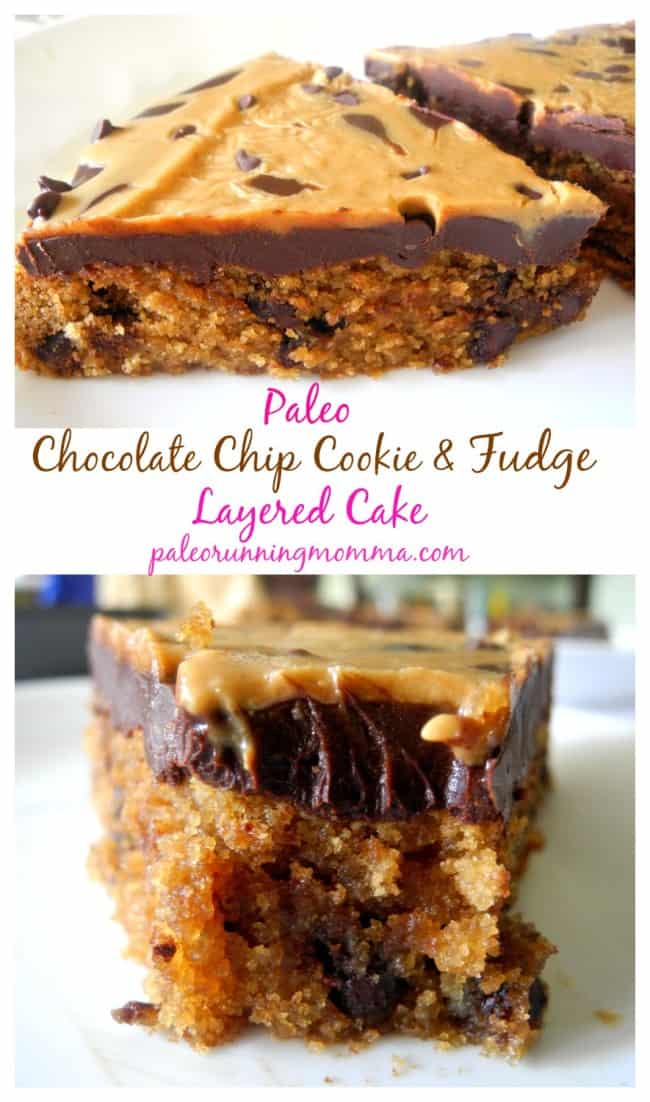 Here's my story today: you must make this dessert.  There, that's all I have!
But really, I don't care if you think Paleo is a joke or if you think that I'm a joke for calling this dessert "Paleo."  For any and all judgements, I'm still telling you that you simply MUST make this dessert.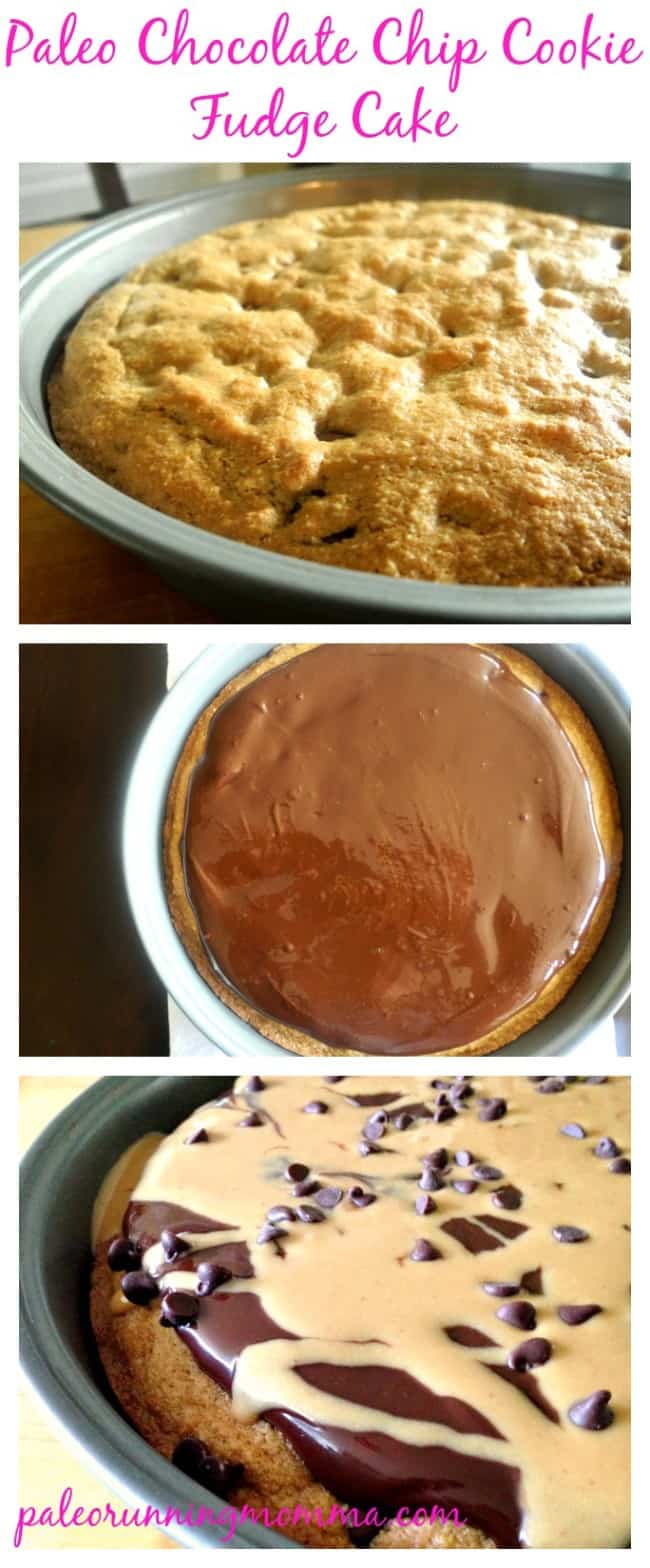 See?  Sugar makes me sassy.  But, my birthday is this Sunday, and so I can eat all the paleo chocolate chip cookie cake topped with ooey gooey chocolate and cashew butter fudge that I want to – and if I want to share with you guys, you WILL allow me to!
Plus, as of Monday I'll likely be avoiding sugar to prep my body for "the marathon" next Sunday, so, let me have my moment with this now.  And, since I'm giving you the recipe and all, I wouldn't be mad if someone (anyone) made this for me to plant my face in after the race.  Just saying!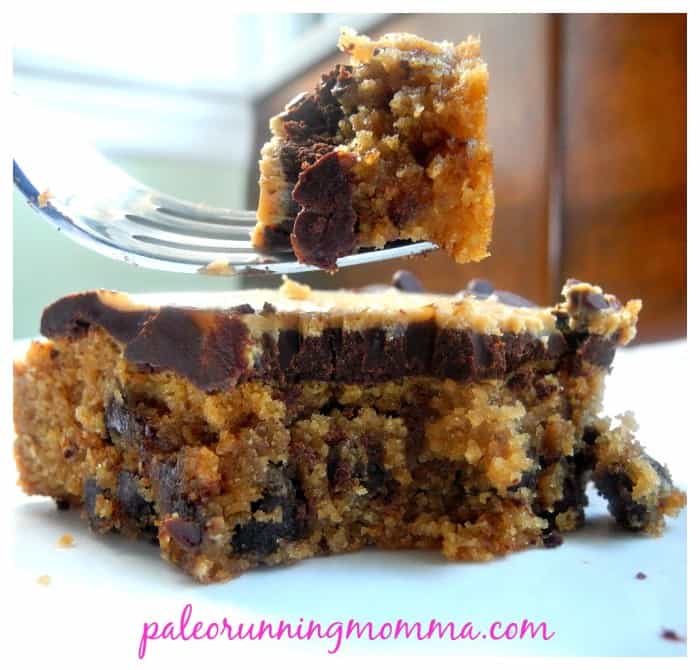 Putting together this recipe was easy, thankfully.  I adapted the "cake" layer from my tried and true Cranberry Chocolate Chip Cookies, and the fudge layers from last winter's Chocolate Cashew Butter Hearts (need to retake those photos!)
All in an effort to make things as delicious as possibly by combining two of my favorite sweet treat recipes, and making something bigger and better.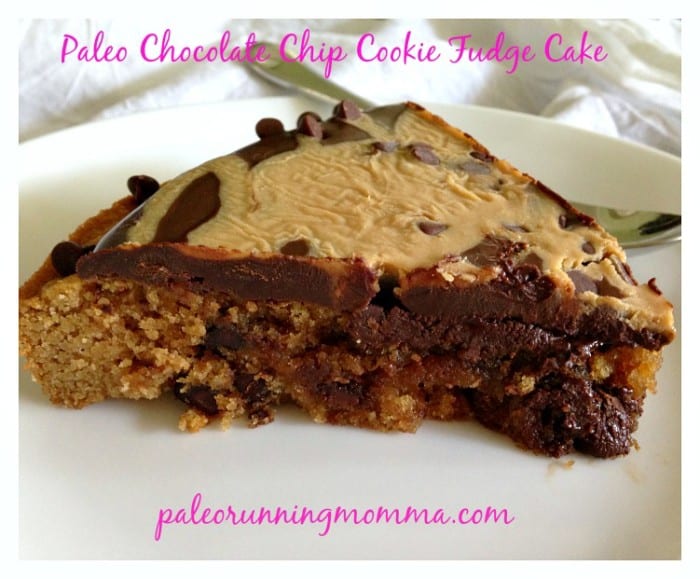 As for my birthday, I don't have much to say about it this year, besides that I'm happy it's here, again.
Every year, since the beginning, my mom has asked me the same question: "How does it feel to be (blank) age?" And of course every year I say the same thing "the same as it felt to be the other age." I think I was over that question after turning 10.
Although now, I'm at the point where I can just say "old, older, oldest" and it would likely be accurate no matter what age I am.  We are not going backwards, after all, and my kids getting older and alarmingly taller as the months pass seems to enhance the feeling 😉
Feeling older is most certainly not a bad thing though, for me.  I realize I'm in a phase where I'm learning a lot, seeing things from the perspective of having had many experiences, and it feels good to no longer be young and narrow minded.  As I age, the world expands, and I become smaller in the very best way possible.
Okay, that's super wonderful and all, but back to the paleo chocolate chip cookie cake. Have I told you that you NEED to make this?  Well, now's really your chance, the recipe is here!
Paleo Chocolate Chip Cookie Cake with Chocolate Cashew Fudge
A Paleo Chocolate Chip Cookie Cake topped with chocolate and cashew butter fudge! This decadent dessert will be loved by all whether paleo or not. Gluten free, grain free, dairy free, soy free.
Prep Time: 15 minutes
Cook Time: 30 minutes
Total Time: 45 minutes
Course: Dessert
Cuisine: Paleo
Servings: 9 inch cake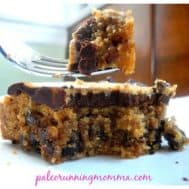 Ingredients
For the "Cake" Layer
1 egg plus 1 egg-yolk room temp
1/2 cup coconut oil melted and cooled to nearly room temp
1/2 cup organic coconut sugar
2 tsp pure vanilla extract I love this kind
2 cups blanched almond flour
1/4 cup tapioca flour/starch
1 tsp baking soda
1/8 tsp fine grain sea salt
2/3 cup dairy free dark chocolate chips I used Enjoy Life
For the Chocolate Fudge Layer
3/4 cup dairy free dark chocolate chips I used Enjoy Life
2 tbsp coconut oil
1/4 cup nut butter of choice
1 tsp maple syrup raw honey, or favorite sweetener (optional)
For the Cashew Butter Fudge Layer
1/4 cup + 2 tbsp creamy cashew butter or other smooth nut butter
3 tbsp coconut oil melted
1 tsp pure vanilla extract
1 tbsp raw honey or pure maple syrup
Mini dairy free chocolate chips
Instructions
Make the cookie cake layer:

Preheat the oven to 350 degrees and grease a 9 inch cake pan with coconut oil.

Combine the eggs, coconut sugar, coconut oil, and vanilla and beat until very smooth.

In a separate bowl, combine all the dry ingredients, then slowly beat into the wet mixture to form a sticky dough.

Stir the chocolate chip in, and transfer the mixture to the greased cake pan. Bake in the preheated oven for 15 minutes, or until set, remove from oven and set aside to cool.

For the Chocolate Fudge Layer:

In a small saucepan over very low heat, stir & melt the chocolate chips and coconut oil until smooth. Remove from heat and stir in the nut butter and sweetener until satiny smooth, set aside to cool.

For the Cashew Butter Fudge Layer

In a mixing bowl, combine the melted coconut oil with the creamy nut butter, and beat until smooth. Stir in the honey (or maple syrup) and vanilla.

Once the cookie cake is mostly cooled, spread the chocolate fudge layer on generously, followed by the cashew butter layer. If you want to create pretty designs (I tried but got impatient!) you can refrigerate between fudge layers, otherwise, any way you want to top this cake will work.

Top with mini chocolate chips if desired, and refrigerate for 1-2 hours to set the top. Store leftovers in the fridge, removing about 30 minutes before serving to soften the fudge layers.

Enjoy!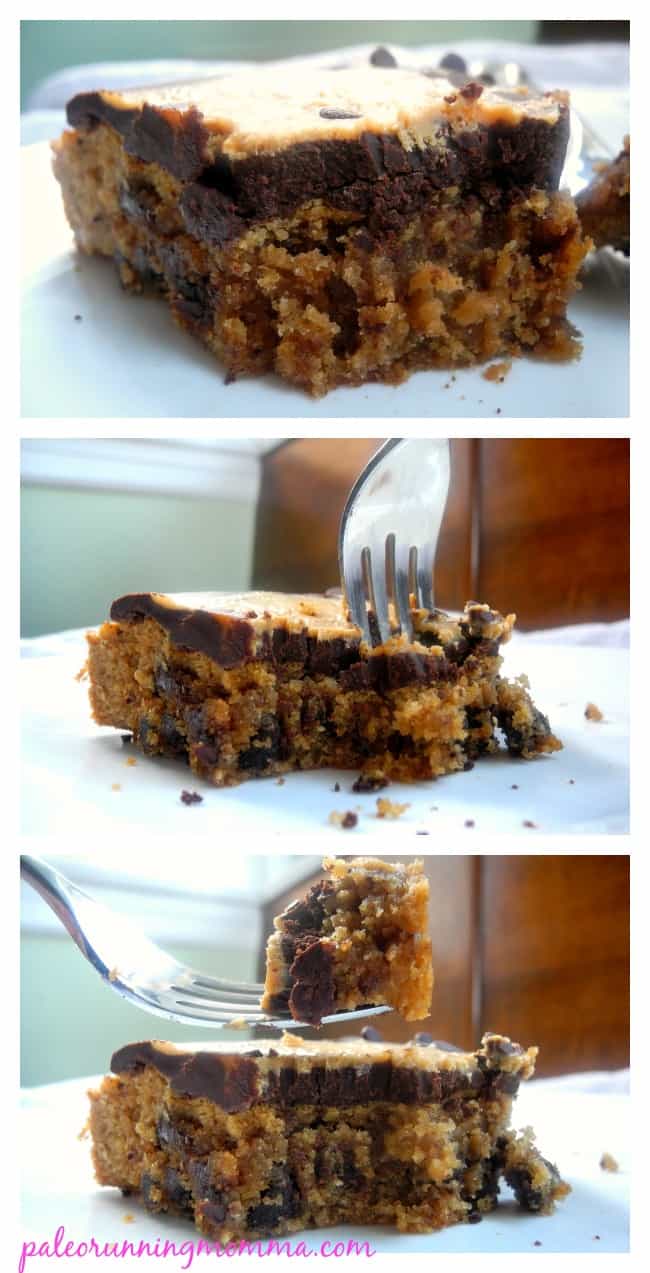 Any thoughts on feeling older?
I know you're thinking "who cares" and "let's eat dessert!" 
At least I am right now…
Have a great weekend!  I'll be back Monday with training & weekend/birthday recap!