These Paleo Chocolate Chip Cookie Cupcakes contain nothing but real, whole food ingredients yet taste like the ultimate deep dish chocolate chip cookie!  Topped with thick chocolate fudge and coconut whipped cream.  Gluten free, grain free, dairy free and Paleo.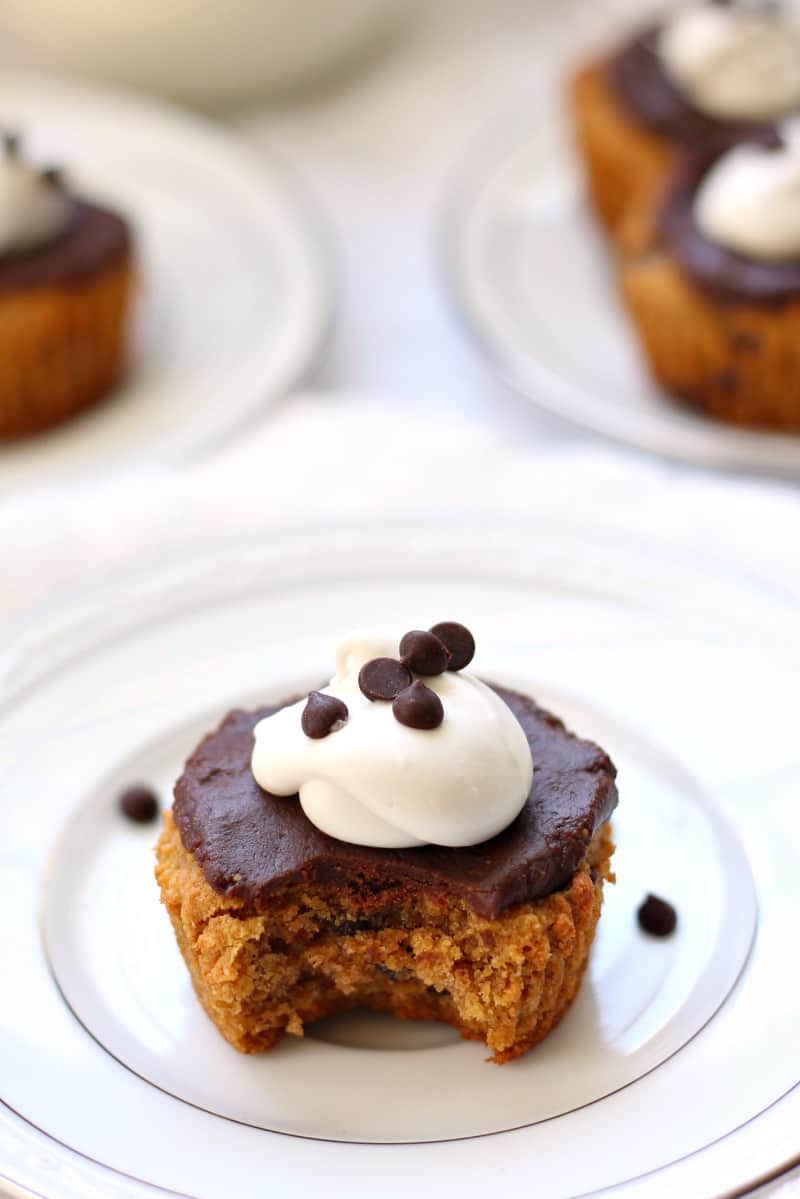 I've always had a thing for cookie cakes – does anyone NOT?!  I kind of wish ALL cakes could be just like chocolate chip cookies – I'm a much bigger fan of cookie texture than cake texture to tell you the truth.
Back in the days before Paleo baking, my favorite things to bake were chocolate chip cookies, cheesecakes, and the ultimate combo – a chocolate chip cookie dough cheesecake.  And oh yes – cookie pizzas.  I like fun foods and it doesn't get more fun than making cookies into pizzas and cakes.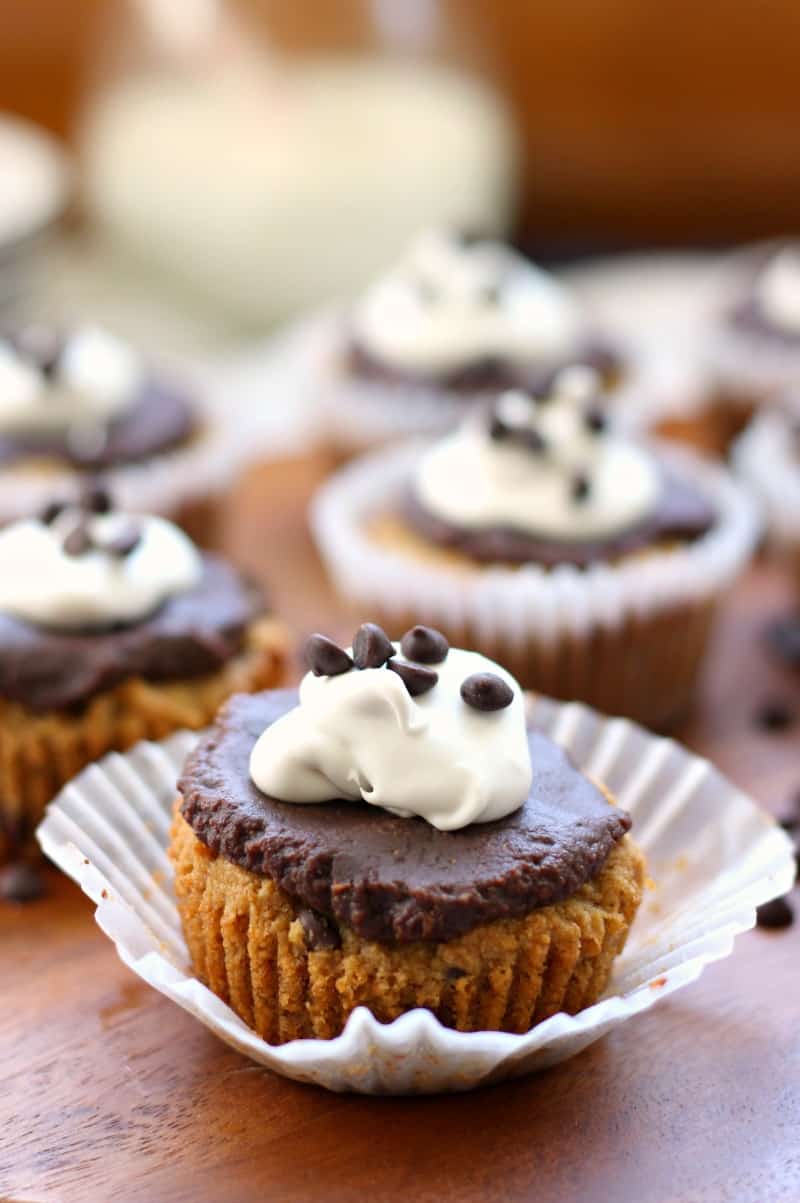 But anyway.  Oddly, even though I made a chocolate chip cookie cake back in October for my birthday, it did not occur to me until a few weeks ago to create a cookie cupcake recipe.
What happened, was that I decided to bake that fudge topped paleo chocolate chip cookie cake (link above) for my family for Passover, yet since I have trouble sticking to recipes, I totally changed it and made something that I consider even better.
I didn't want to post a recipe that was so similar to the last (and the first one was GOOD!) so, I decided to turn this one into cupcakes!  YES!  And, ditch the cashew butter topping and add coconut whipped cream – since I'm obsessed with putting it on basically everything lately.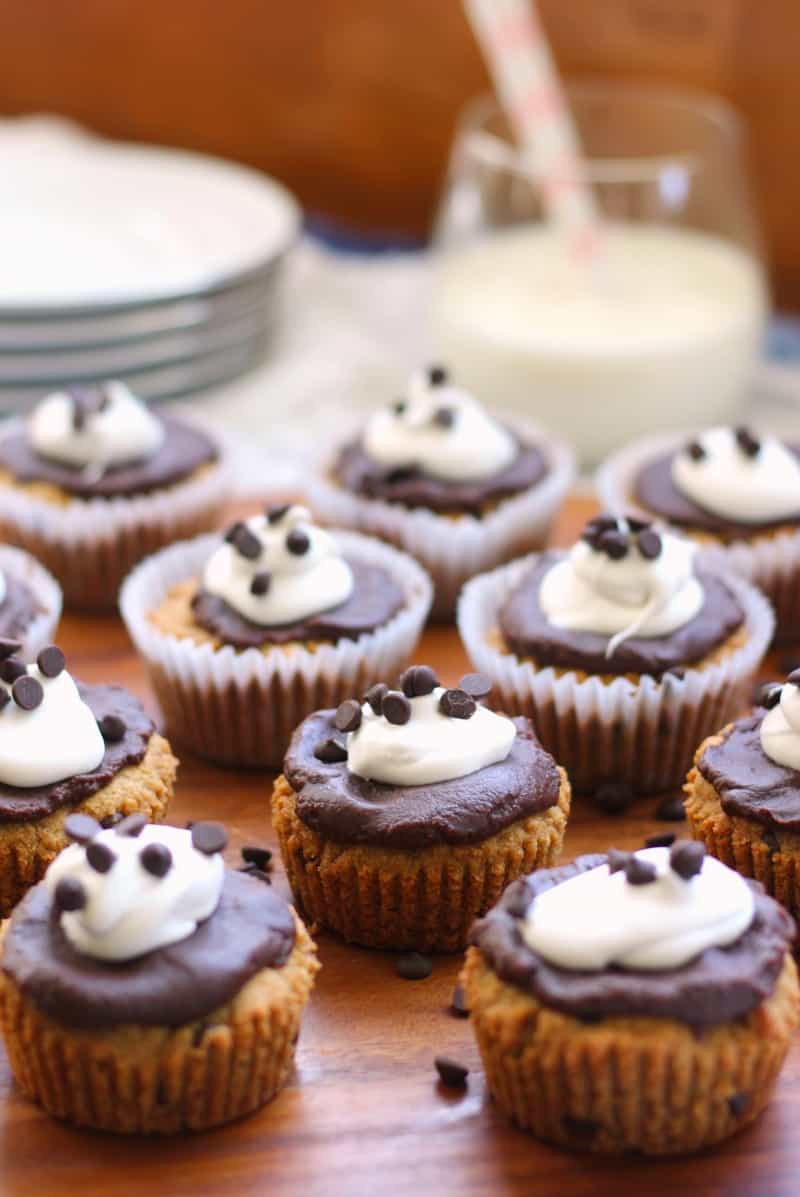 Remember my key lime pie and lemon bars?  It's like a coconut whipped cream factory in my kitchen and really, who can complain?  I have to say, it's hard to stop making it once you start, and even harder to not put it on every treat you make!
The best part about these cookie cupcakes, in my opinion, is not the coconut whipped cream though.  It's that the entire cupcake is really like your own personal deep dish chocolate chip cookie, so, instead of finishing a cookie and feeling like you need 6 more, you'll feel VERY satisfied after this one.  Make them, trust me!  You'll finish it feeling like you just did something special.  Who doesn't love that feeling?
Oh, and whoever you share them with will love you like 10x more than they do now, and that's even before you tell them that they're actually good for you.  Magic cookie cupcakes, really.  And now onto the recipe!
Paleo Chocolate Chip Cookie Cupcakes with Fudge Frosting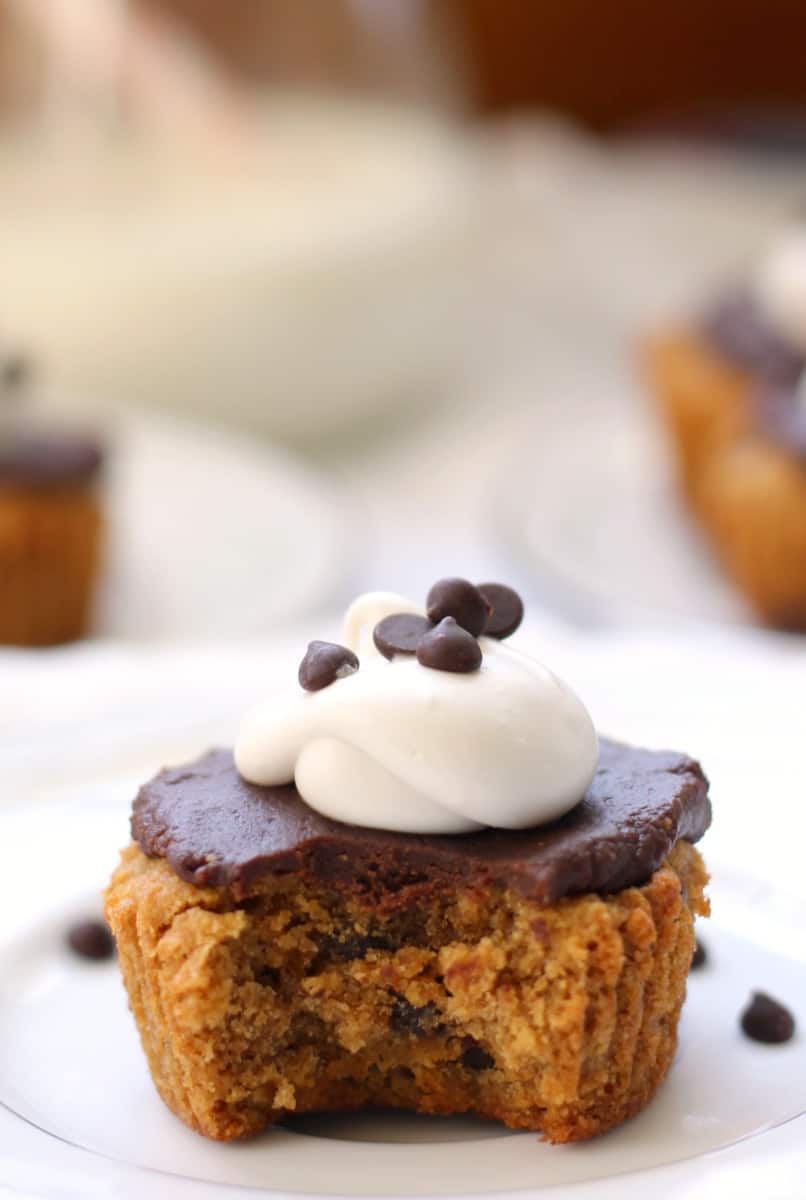 Paleo Chocolate Chip Cookie Cupcakes with Fudge Frosting
Chocolate Chip Cookie Cupcakes with Chocolate fudge frosting and coconut whipped cream that are gluten free, grain free, dairy free, paleo and taste amazingly decadent!
Prep Time: 20 minutes
Cook Time: 15 minutes
Total Time: 35 minutes
Course: Dessert
Cuisine: Paleo
Servings: 12 servings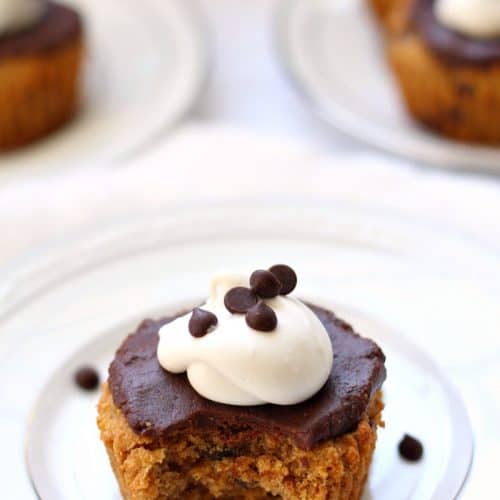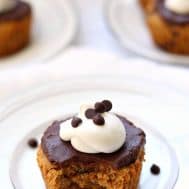 Ingredients
For the Coconut Whipped Cream
Instructions
Line a 12 cup muffin/cupcake pan with liners and preheat your oven to 350 degrees

In a large bowl, whisk together the egg and yolks, coconut sugar, coconut oil and vanilla

In another bowl, combine the almond flour, coconut flour, tapioca, baking soda and salt.

Add the dry mixture to the wet and mix well until fully combined and smooth, then stir in the mini chocolate chips. Fill the 12 cupcake liners equally with the cookie cupcake mixture and bake in the preheated oven for 13-15 minutes, until just set, being careful not to over bake**

Remove from oven, transfer to wire racks and allow to cool completely before frosting.
For the Frosting
In a small saucepan over very low heat, melt the chocolate chips while stirring, then stir in the almond butter. Remove from heat and whisk in the almond milk, maple syrup and vanilla until smooth, set aside to cool.
For the Coconut Whipped Cream
With a blender or a whisk, beat the coconut cream until light and creamy, then add the maple syrup and vanilla.

Once cupcakes have cooled, top with a layer of fudge, a dollop of whipped cream, and extra mini chocolate chips! Serve and enjoy! These taste even better after being refrigerated in my opinion! Stop in the refrigerator for up to 3 days.
Recipe Notes
*You can also purchase canned coconut cream - use 1/2 cup
**Check them at 12 minutes for signs of doneness, just to be sure

Favorite type of cake?
Favorite dessert topping/dip?
What would you make a cookie into if you could?