This creamy, tart and sweet Paleo Key Lime Pie has the perfect balance of flavors with a crisp and nutty coconut pecan crust.  A great healthy yet decadent tasting dessert for spring and summer!  Gluten free, dairy free, soy free, Paleo.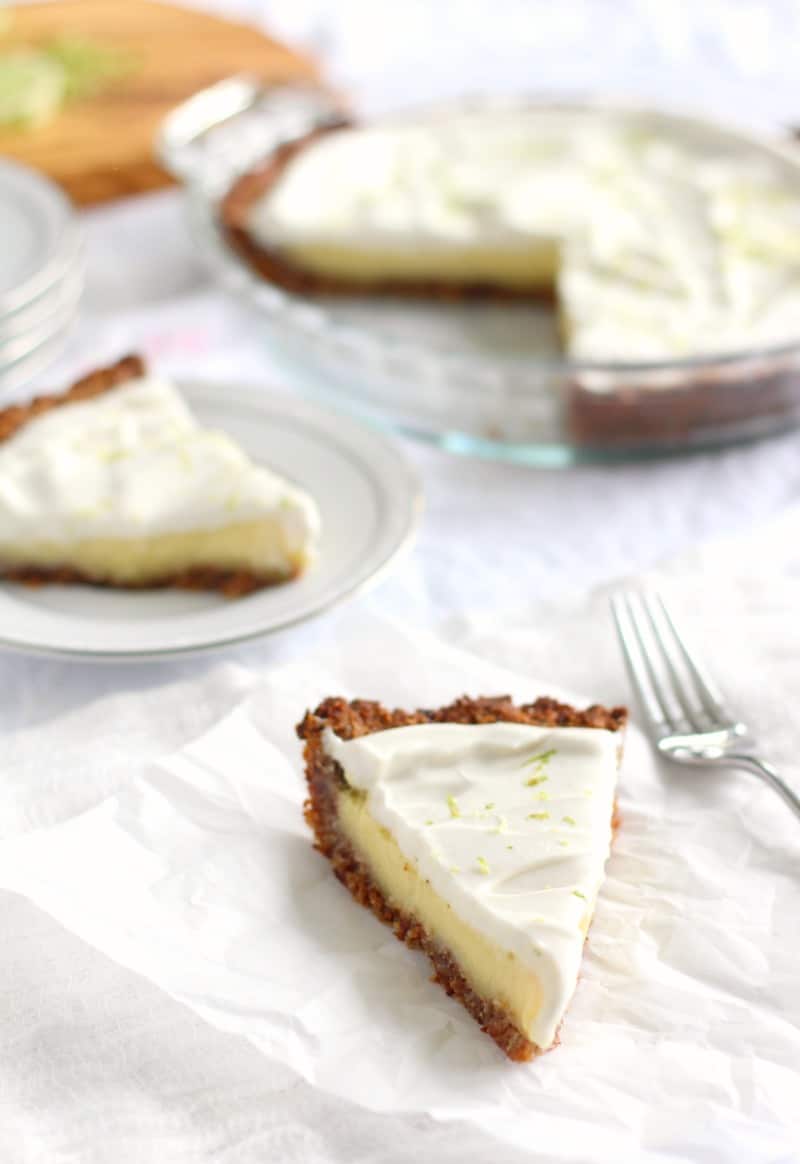 I think basically everything about this Paleo key lime pie tested my sanity last week when I decided to dive in head first and experiment.  From deciding what type of crust to make, to the filling, to whether the darn pie would actually use key limes, or key lime juice, or regular limes.  So much to consider.
Do I attempt to make it raw and vegan or do a custard and use eggs?  Do I just do a lime version of my lemon bars and call it a day?  Do I put whipped cream on it?  Honey or maple?  How much zest?  And then back around to the beginning where I freak out about the crust.  I was particularly indecisive last Friday and there was so much drama surrounding this pie that I'm sort of surprised we came out alive on the other end.  With, luckily, a really flipping awesome Paleo key lime pie to make again and again!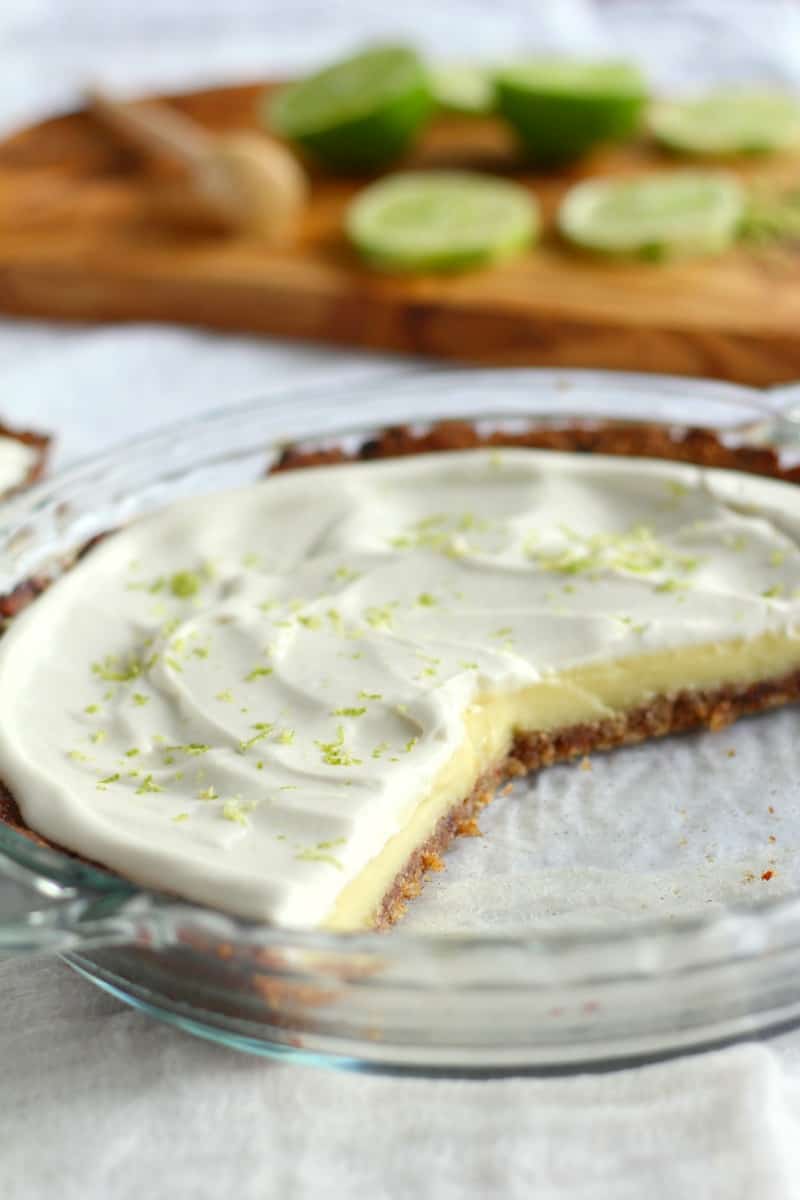 What wound up happening with this recipe was a whole lot of compromising!  With me, myself, and the pie.  To start, this pie wanted to be more than just a spinoff of its older-by-a-week sibling (the lemon bars) so the crust had to be something totally different.
I went with a coconut pecan crust that turned out to be the star of the pie, if you ask Diana and Adam.  I don't blame them because you could just eat the crust and feel like it was a good dessert.  I happen to love key lime pie though, so for me, the star of this pie was the filling which I would've happily eaten all day long with a spoon.  And yes, I went with a creamy custard filling, I guess because I'm just an egg lover at heart 🙂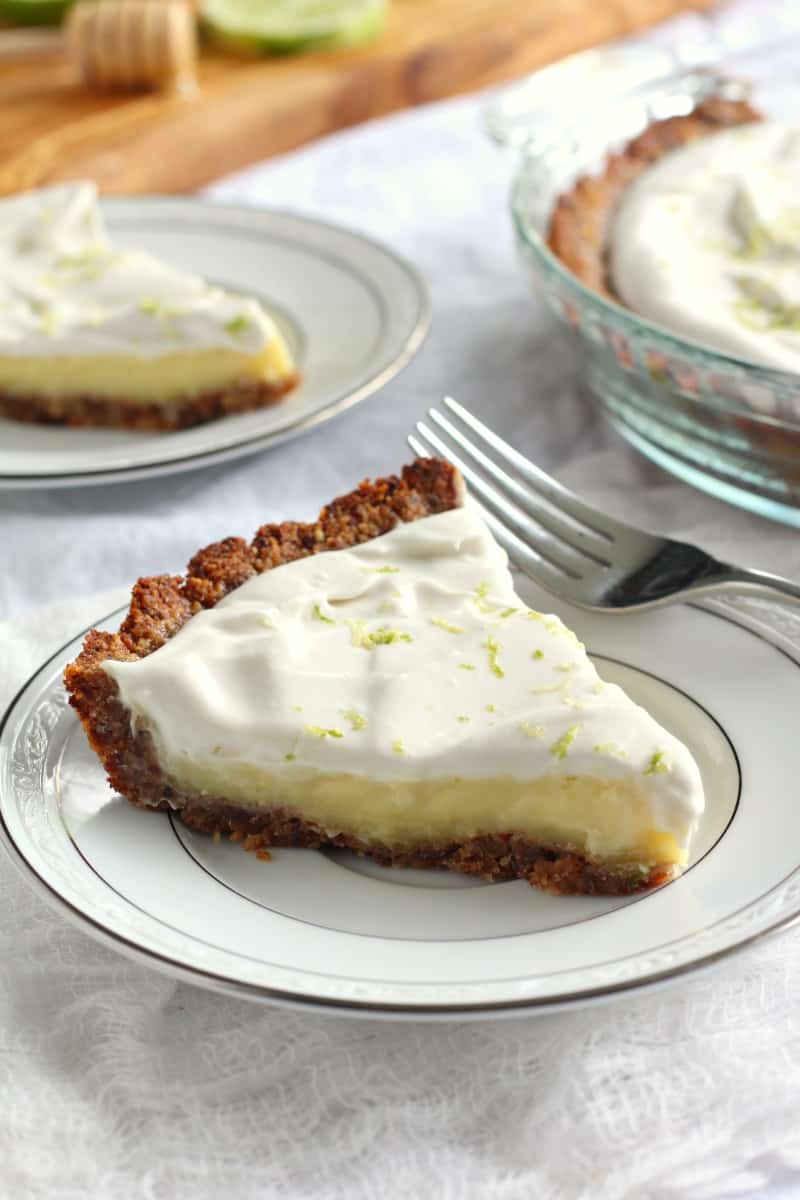 As for the lime versus key lime debate, I compromised there, too.  I used half bottled key lime juice  and half regular fresh squeezed lime juice.  I needed limes anyway for the zest, and I didn't want to go ALL bottled juice.  I do believe you can use whatever lime juice suits your fancy and still want to bury your face in this pie.  Unless you are a major foodie who needs key lime to be legit Florida key lime, but then I'm not sure you'd be reading this if you fit that profile.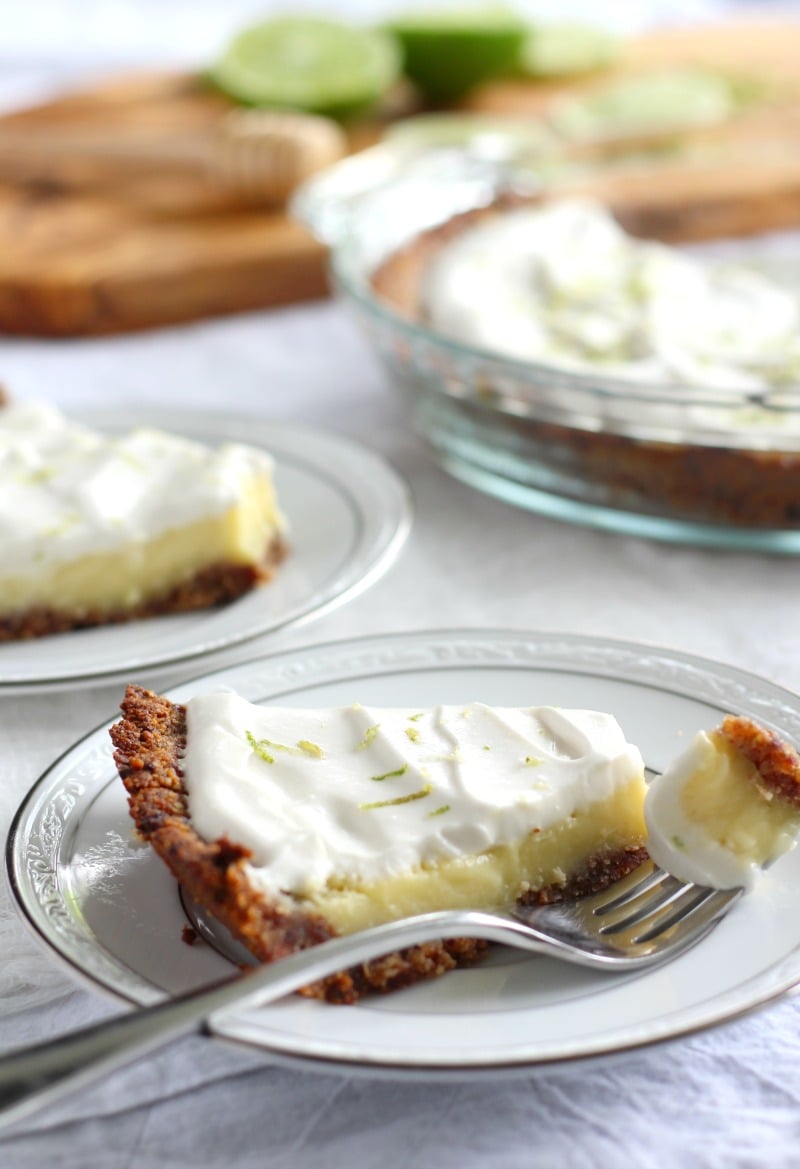 As for the coconut whipped cream layer, I just had to, mainly because I wanted it to be purrrrdy and custard pies tend to crack a bit on top, or at least mine do, probably because I'm keeping the baking simple.  I used to bake cheesecakes in water baths but those times are 10 years in the past.  The coconut whipped cream also just happens to taste amazing and balance out the tartness of the lime, so there's that, and THAT is a very sweet, creamy, good dairy free thing.
But now, the recipe!  Everything you've always wanted in a healthy key lime pie is right here at your fingertips.  I've already done the freaking out for you, so you have nothing to worry about – just make the pie and try to convince everyone it's actually healthy!
Paleo Key Lime Pie with Coconut Pecan Crust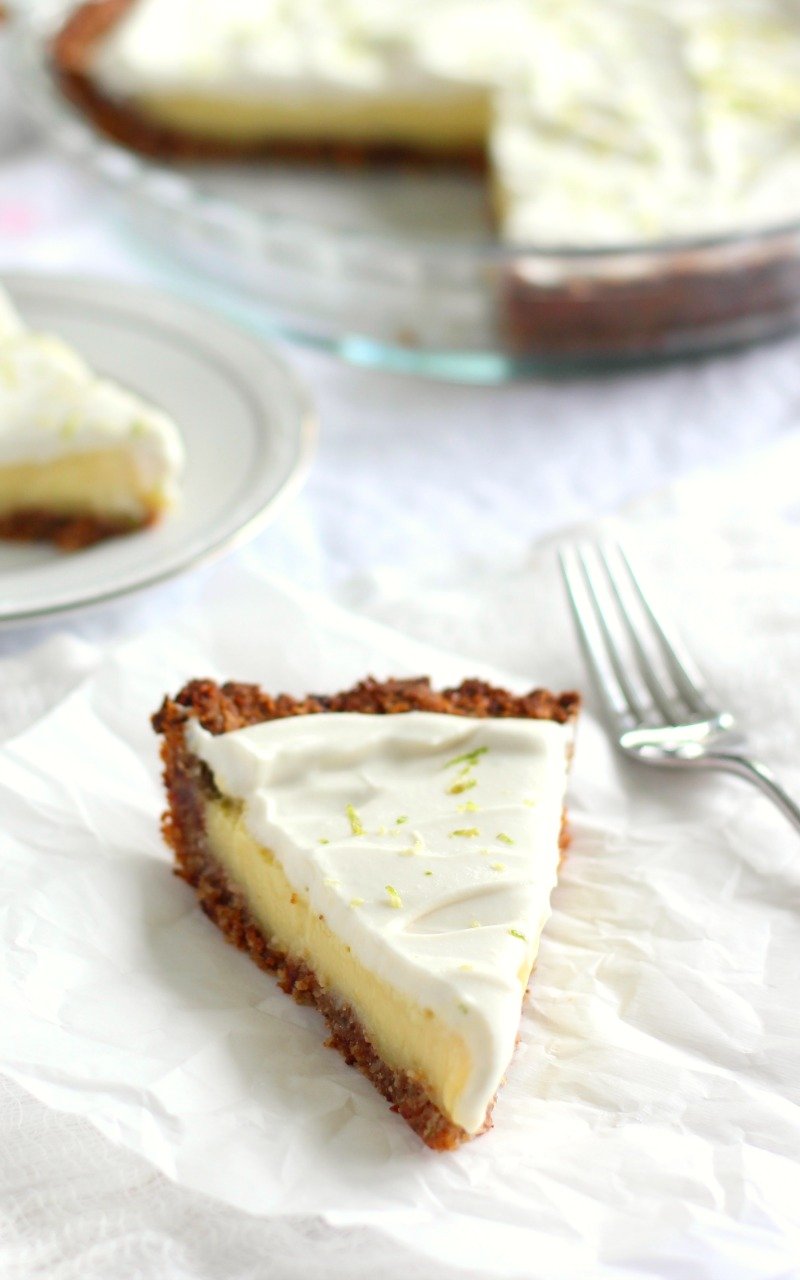 Paleo Key Lime Pie with Coconut Pecan Crust
This creamy, tart and sweet Paleo Key Lime Pie has the perfect balance of flavors with a crisp and chewy coconut pecan crust. A great healthy yet decadent tasting dessert for summer! Gluten free, dairy free, soy free, Paleo.
Prep Time: 40 minutes
Cook Time: 30 minutes
Total Time: 1 hour 10 minutes
Course: Dessert
Cuisine: Paleo
Servings: 8 -10 servings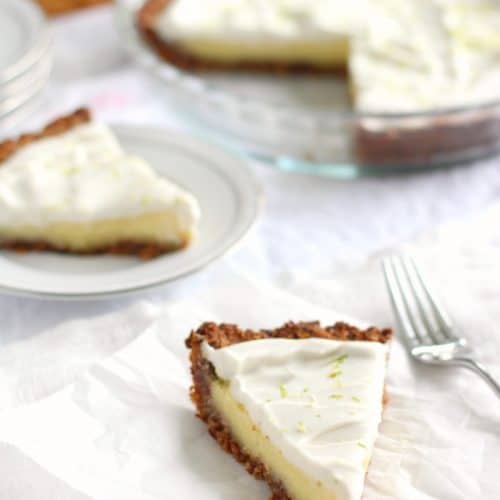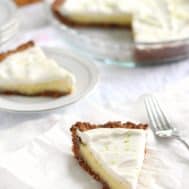 Ingredients
For the Crust
Coconut oil for greasing
1 cup raw pecan halves
1 cup dates softened (microwave in a bit of water to soften)
3/4 cup shredded unsweetened coconut
2 tsp raw honey
For the Filling
2 large eggs + 1 egg yolk
1/3 cup + 2 tbsp key lime or fresh lime juice I used a mix of both, just under 1/2 cup total
1/4 cup + 2 tbsp raw honey*
1/2 cup or one small can organic coconut cream (you can also use just the solid part of a can of full fat coconut milk)
1 tbsp finely grated lime zest
2 tbsp tapioca flour
For the Coconut Whipped Cream
1 can organic coconut milk - separated - thick part only** OR 1 small can coconut cream
1 tbsp grade b pure maple syrup OR raw honey
1/2 tsp pure vanilla extract
Instructions
Prepare the Crust
Grease a 9.5 inch pie dish with coconut oil

In a food processor, combine all crust ingredients and process on high about a minute, until you get a thick pasty mixture. Press this mixture into the bottom and up the sides of the pie dish and set aside while you prepare the filling.
Prepare the Filling
Preheat your oven to 350 degrees. In a large bowl, (or in the bowl of a mixer) whisk or blend together the eggs and yolk with the honey*. Then whisk in the coconut cream, lime juice and zest, and tapioca and mix well until very smooth.

Pour the filling into the crust (I made a 9.5 pie so if yours is smaller, you may not use all the filling) and bake in the preheated oven for 15 minutes. After 15 minutes, cover the top of the pie loosely with aluminum foil to prevent the crust from browning too much. Continue to bake another 10-15 minutes until just set (the center will still jiggle a bit) for a total of 25-30 minutes.

Remove from oven and cool completely at room temp, then refrigerate for at least 30 minutes before topping with whipped cream.
For the Coconut Whipped Cream
Beat or whisk the coconut cream until light and creamy (you can use an electric mixer or do it by hand) and lumps are removed, then whisk in the sweetener (honey or maple) and vanilla.

Top the chilled pie with the whipped cream and garnish with extra lime zest if desired. Cut into pieces and enjoy!
Recipe Notes
*Add an extra 2 tsp - 1tbsp honey if you prefer a sweeter pie filling, mine was on the tart side
**Refrigerate canned full fat milk coconut to get it to separate into water and cream, then discard the water and use only the cream. Alternatively, you can purchase canned coconut cream.

Does making decisions torture you sometimes?
Are you making any Mother's Day treats this weekend?
Favorite spring/summer themed pie?  (I think mine is cherry.  Better work on that.)