These Triple Layer Paleo Lemon Bars with Coconut Whipped Cream are surprisingly easy to make and taste incredible – sweet and creamy with the perfect blend of textures and flavor.  A great dessert for any occasion!  Grain free, dairy free, and Paleo.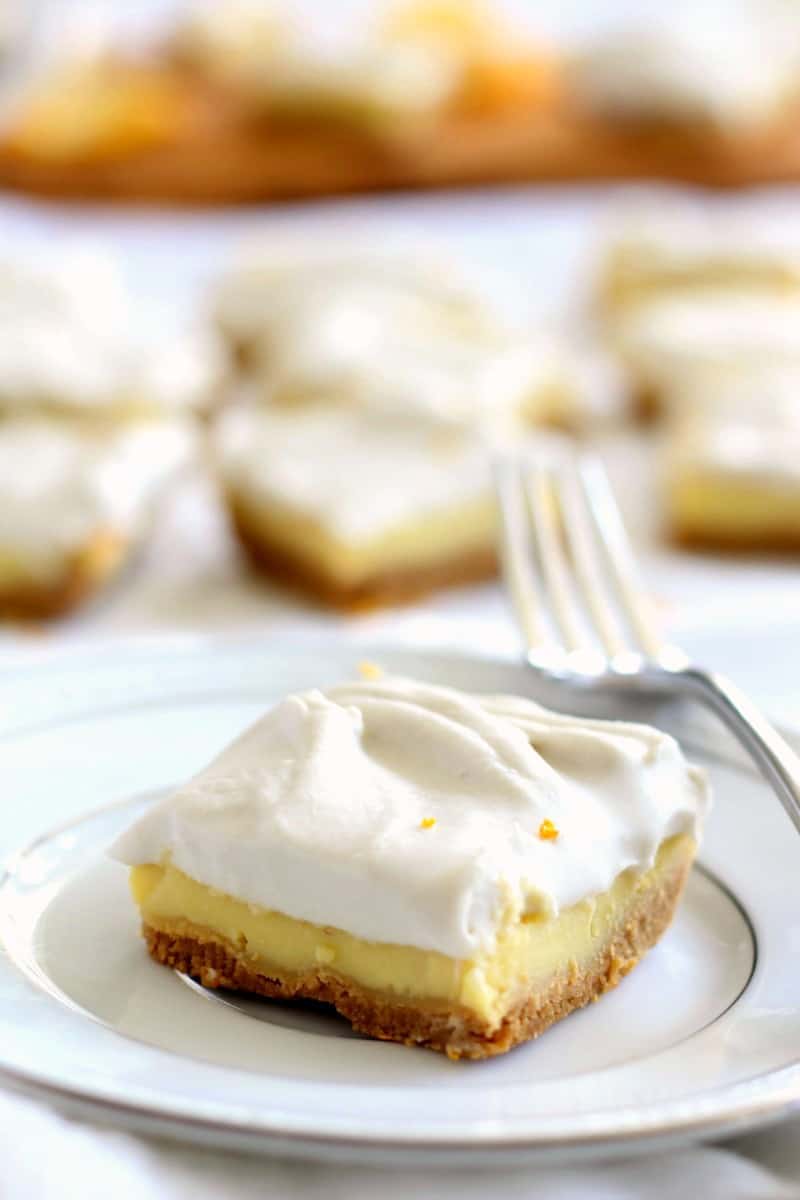 I'm all about coconut whipped cream lately!  From my coffee, to these dreamy Paleo lemon bars, to sandwich cookies, to cookie cupcakes (coming soon!) it's sort of my favorite thing to have on hand.  Next stop might be ice cream, but for now I'm enjoying all the uses for this delicious dairy free whipped cream.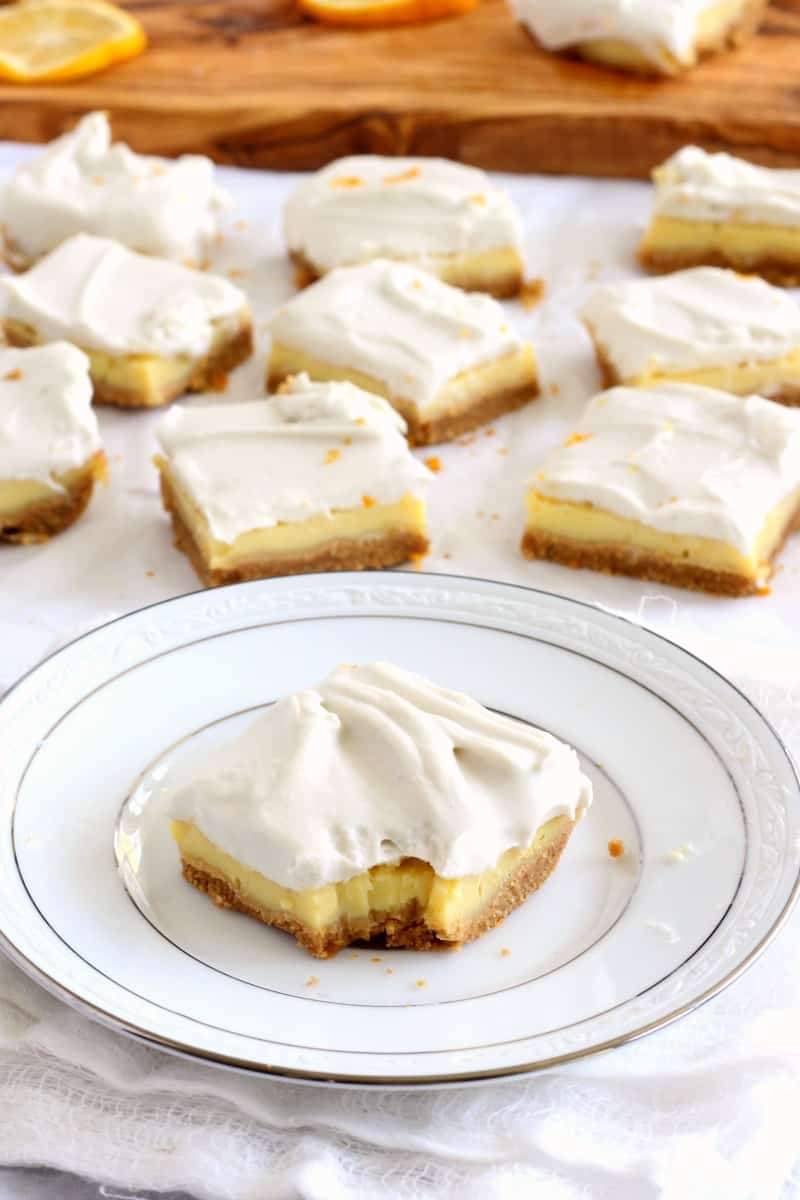 Honestly, I wasn't even completely sold on the lemon layer of these triple layer bars before I made them, but I wanted something to complement the other two layers, and 'tis the season for lemon.  Besides, once I actually made them, I was shocked and surprised at how simple and insanely delicious the lemon layer turned out!
Lemon bars, where have you been all my life?  In someone else's mouth I guess, but that's all in the past.  I'm just waiting for Mother's Day now to make these again for whoever can get to them the fastest.  Which will be me, because I'm the one making them.  That's how it works, y'all!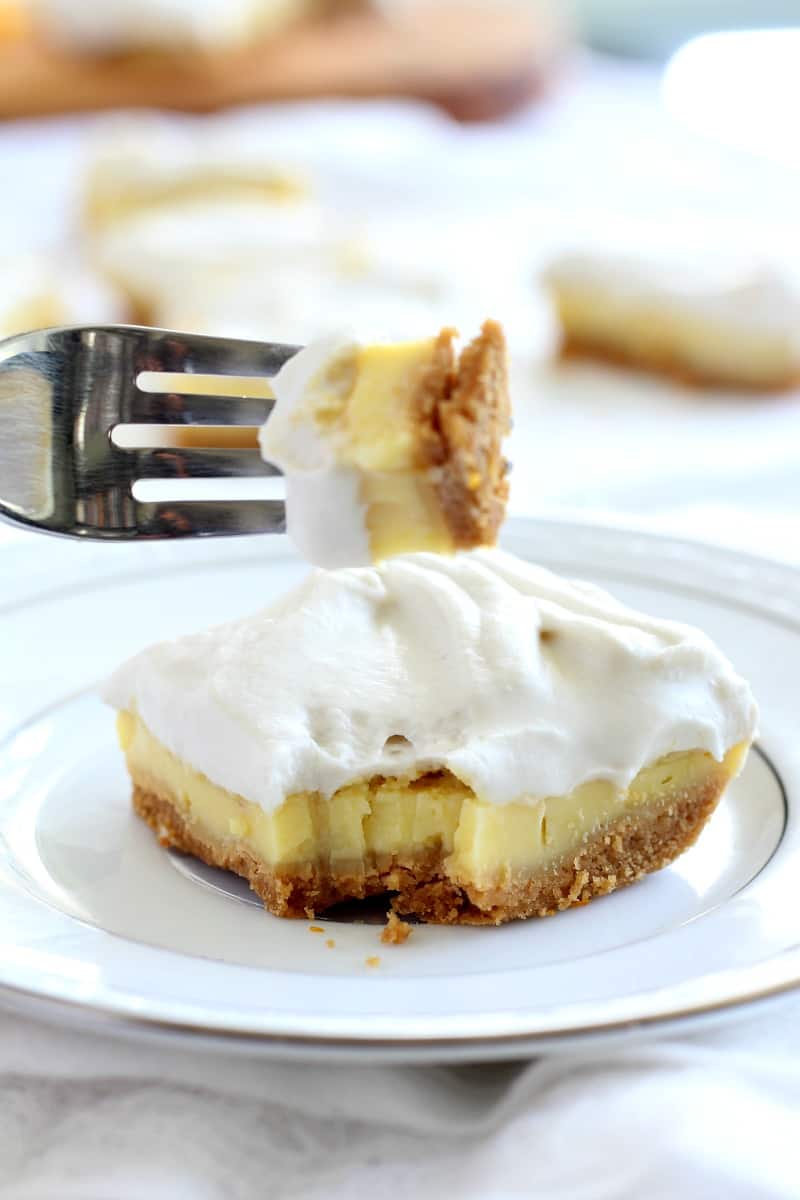 Always something to look forward to.   But enough about me, the little guy (Drew) has a birthday tomorrow and he's turning 5.  My youngest and last child is 5 years old – this should be a real and legit milestone to cross, don't you think?  That, and when your oldest child grows taller than you.  I'm thinking I have at least 2-3 more years before that happens, but I know it will.  Diana is already wearing some of my old tops and continues to dominate the height chart for her age  – she'll be 9 this summer and is 55 inches already.
Drew is surprisingly keen on this coconut whipped cream too, which makes me wonder if I put a bit too much maple syrup in it.  Although, for his birthday cupcakes, he's requested to make real buttercream frosting with real powdered sugar (Youtube teaches him these things) on top of chocolate cupcakes.  They can be gluten free but not Paleo, he says, and you can tell I've taken notes.  The shopping trip took place this morning, and the cupcakes are just hours from creation.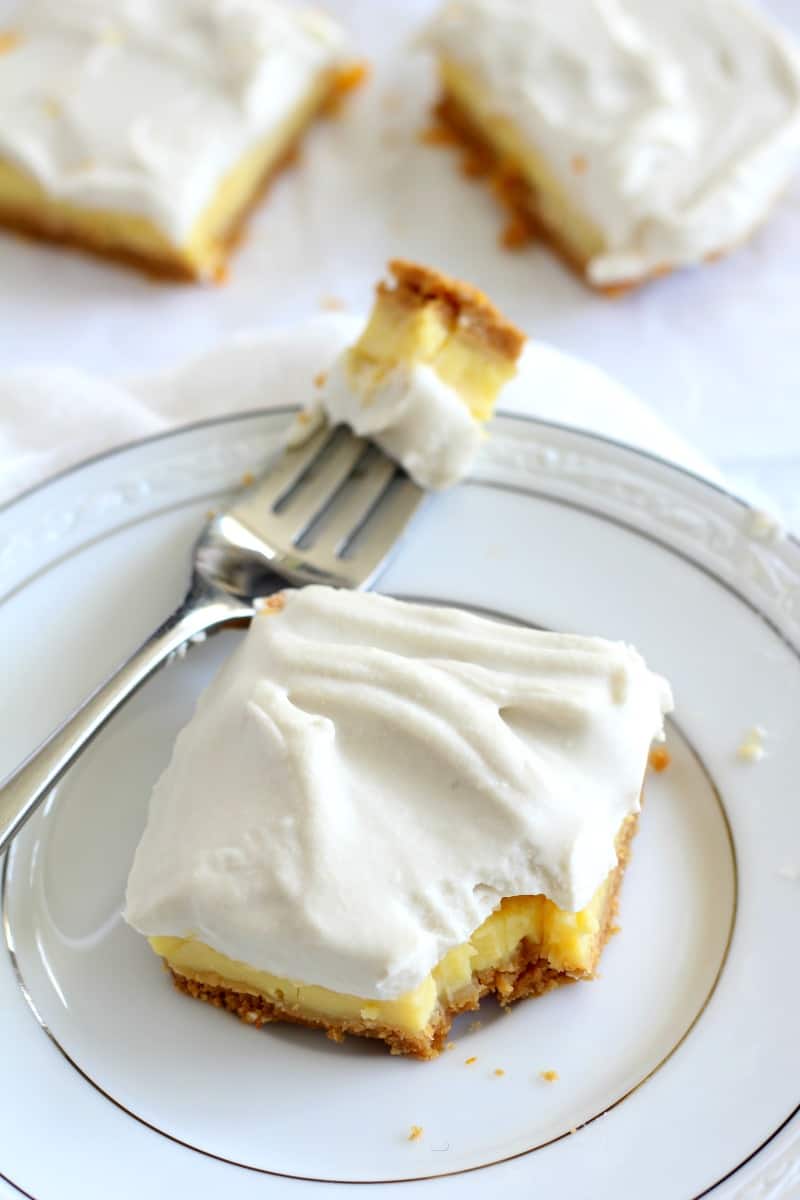 But back to the lemon bars, here's the deal.  The bottom layer is actually a spin on a cookie recipe from months back that uses coconut flour and nut butter.  I used cashew for its mild flavor and it came out perfect.  For the lemon layer, I used Meyer lemons, but I'm certain you can use any lemon juice you like for this to turn out well.  It's sweetened with raw honey but maple syrup would also be a great option.  Okay, you don't want a narrative for a recipe, so let's get down to the details, then – go make it!
Triple Layer Paleo Lemon Bars with Coconut Whipped Cream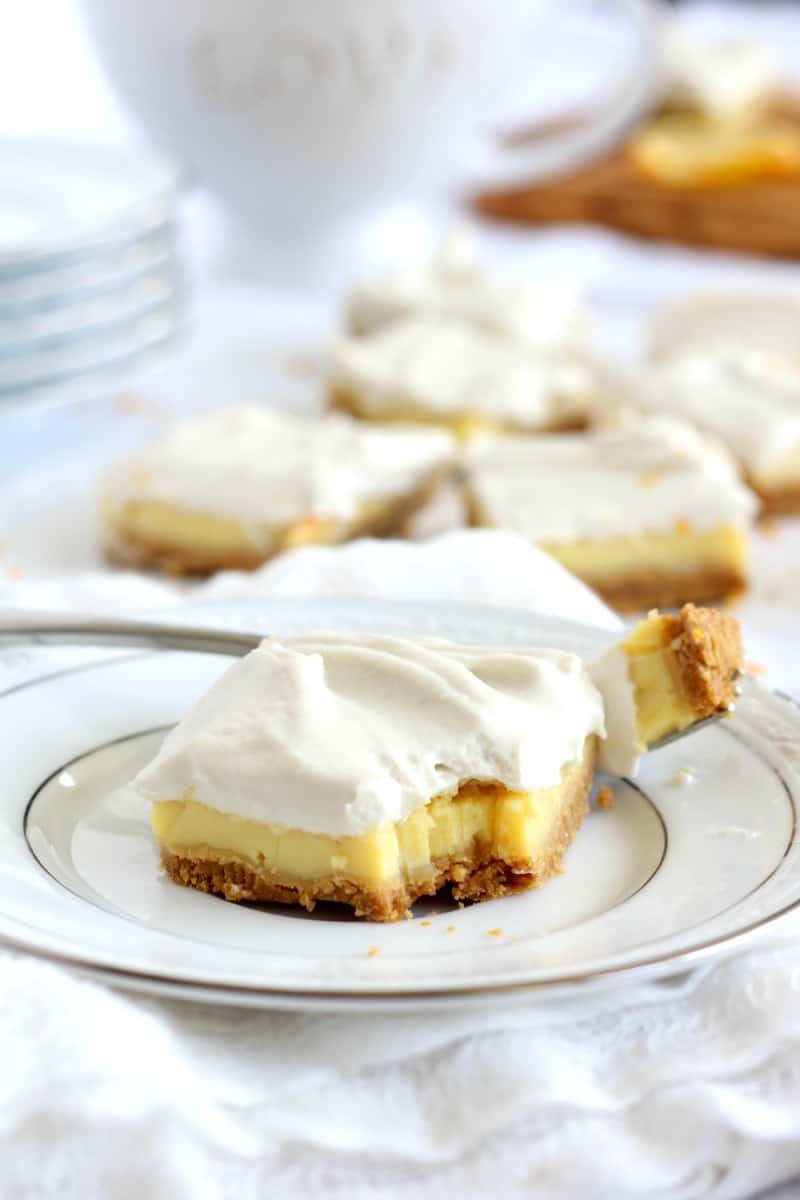 Triple Layer Paleo Lemon Bars with Coconut Whipped Cream
Triple Layer Paleo Lemon Bars with a cookie crust, lemon custard filling and coconut whipped cream topping. Dairy free, gluten free, grain free, and Paleo
Prep Time: 30 minutes
Cook Time: 30 minutes
Total Time: 1 hour
Course: Dessert
Cuisine: Paleo
Servings: 16 servings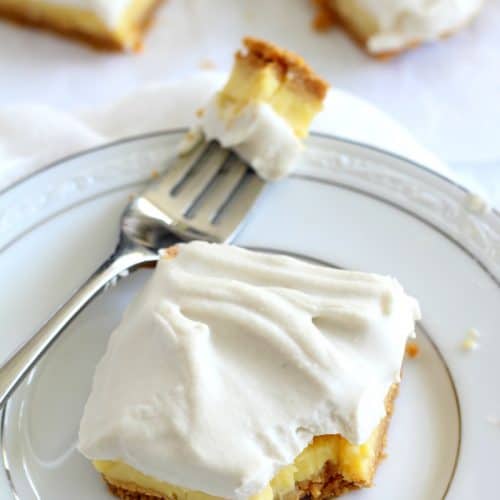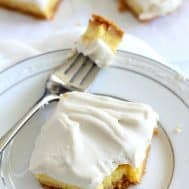 Ingredients
For the Coconut Whipped Cream
1 can coconut cream or the thick part of full fat coconut milk
1 tbsp pure maple syrup or raw honey
1/2 tsp pure vanilla extract
1/2 tsp fresh lemon juice*
Instructions
Make the Crust First:
Preheat your oven to 350 degrees.

In one bowl, whisk the egg, coconut sugar, nut butter, lemon juice, zest and vanilla until smooth. Then stir in the coconut flour until a sticky cookie dough forms.

Grease the bottom of an 8 x 8 inch baking dish to prevent sticking, or line with parchment paper on the bottom and up the sides. Spread the crust out evenly on the bottom of the dish and just slightly up the sides. Bake in the preheated oven for 10 minutes until just set, then remove.
For the Filling:
While the crust bakes, whisk together the tapioca and coconut flour in a small bowl. In a larger bowl, combine the honey and lemon, then slowly add the flour mixture to incorporate until well combined and smooth. Whisk in each of the eggs one by one, do not overbeat the eggs to avoid the top cracking after baking.

Pour this mixture over the baked crust, then bake another 20 minutes in the preheated oven until the lemon layer is set and just beginning to turn light brown**

Remove from the oven and allow to cool completely at room temp before refrigerating to prevent the lemon layer from cracking.
For the Coconut Whipped Cream
To make the whipped cream layer, in a large bowl, beat the coconut cream (or thick part of separated canned coconut milk) until light and creamy, then beat in the maple syrup or honey, vanilla, and lemon juice (if using)

Refrigerate the whipped cream until ready to use. Once the lemon bars are totally cooled, spread the whipped cream evenly over the top of the bars, then cut into squares and serve, garnishing with a bit of grated lemon zest if you want. Store leftovers covered in the refrigerator for 3-4 days. Enjoy!
Recipe Notes
*Optional but recommended for extra flavor
**Watch around 15 minutes to make sure you don't overbake


What's your ultimate triple (or more) layer dessert?
Have you had lemon bars? Do you like them?
What are your weekend plans?