Butternut Apple Salad with Maple Vinaigrette and Hemp Hearts can be a sweet refreshing side dish or a light meal.  Raisins, apples, maple and butternut squash make it naturally sweet and hemp seeds pack in protein and healthy fats. A nutritious fall inspired dish packed with fresh flavor, this salad is Paleo, vegan, gluten free and dairy free.
Butternut Apple Salad with Maple Vinaigrette and Hemp Hearts is a sweet and flavorful salad. My sweet side has been taking over lately (in food, not personality) and it's apparent in several of my recipes over the past month!  This one is no exception – as you can see loud and clear in the title!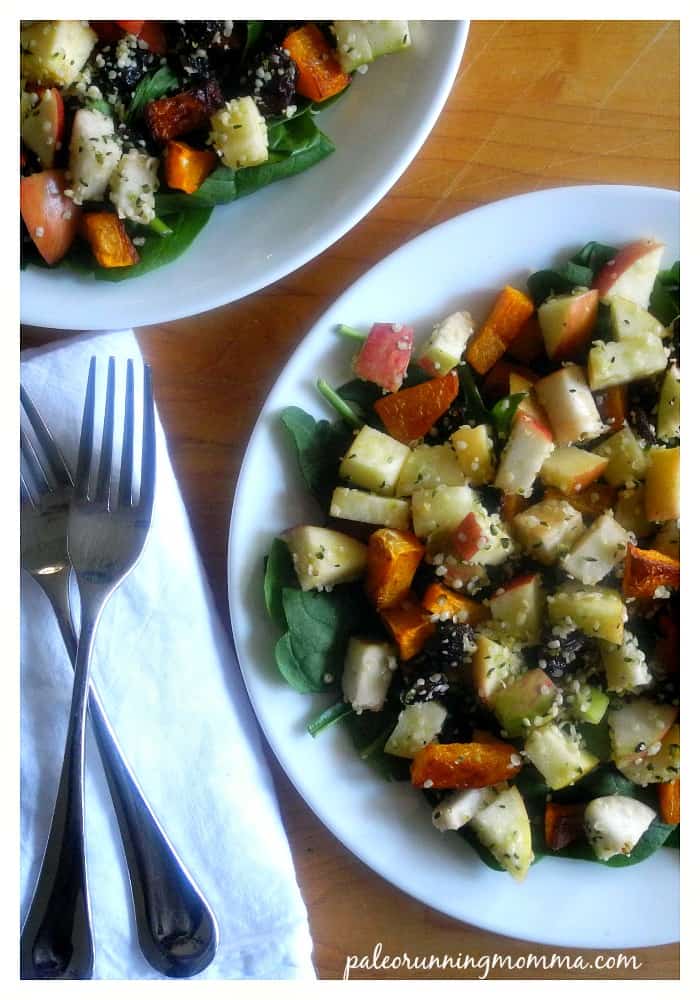 But I promise, the spinach and hemp seeds balance the flavors out here, sort of.  It's still a sweet salad, and bursting with many of the flavors I love in fall food.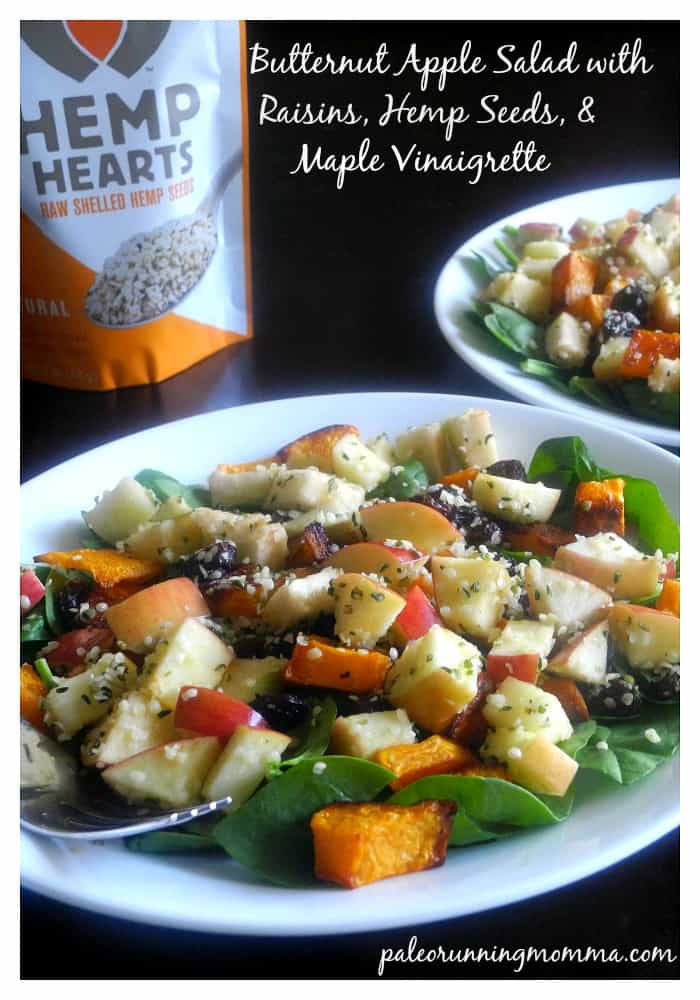 I was excited to try out Manitoba Harvest Hemp Hearts after really liking hemp seed energy bites in the past and wanting to use them in something new.
Hemp Hearts are shelled hemp seeds that have a great nutty flavor and are packed with protein and healthy Omega-3 fatty acids.  They are great added to just about anything and an easy way to pack a nutritional punch into any typical meal or snack!
You can all be excited to try them too, since after the recipe is an opportunity for you to win a package of your own!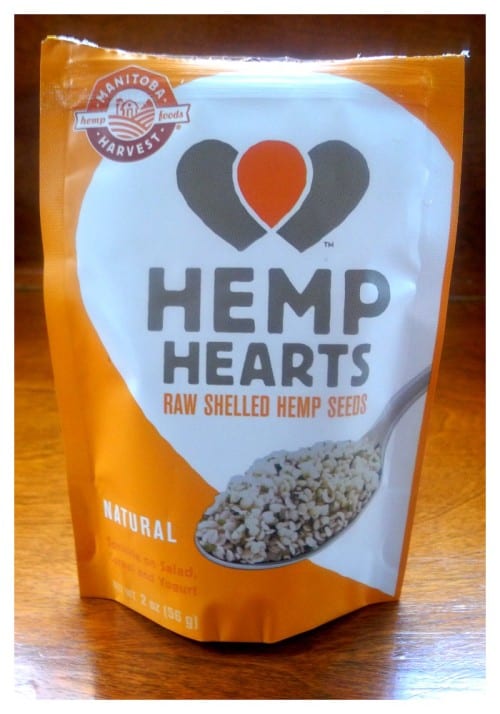 A bit more about the recipe first.  Roasted butternut squash is quite possibly my favorite fall/winter ingredient, EVEN more than pumpkin.  Is that possible?  I love how roasting it with coconut oil and sea salt gives it the most perfect sweet/savory combination of flavors that seems to go well with everything I combine it with.
Since I was on a sweet kick, the chopped apples and raisins naturally followed.  As for the dressing, there's just something about maple this time of year, isn't there?  Maple, raisins, squash, and apples – this just screams FALL to me and makes me want to get cozy with hot apple cider, sweatpants, and a good book.
Okay fine, I already have the sweatpants covered, but reading a book with a hot drink in hand would take the sweatpants up a few notches, I recon.  Sweatpant heaven – this is my dream every winter and I do not kid you!   I have been known to "treat" myself to a fresh new pair every November 😉 Anyone with me?!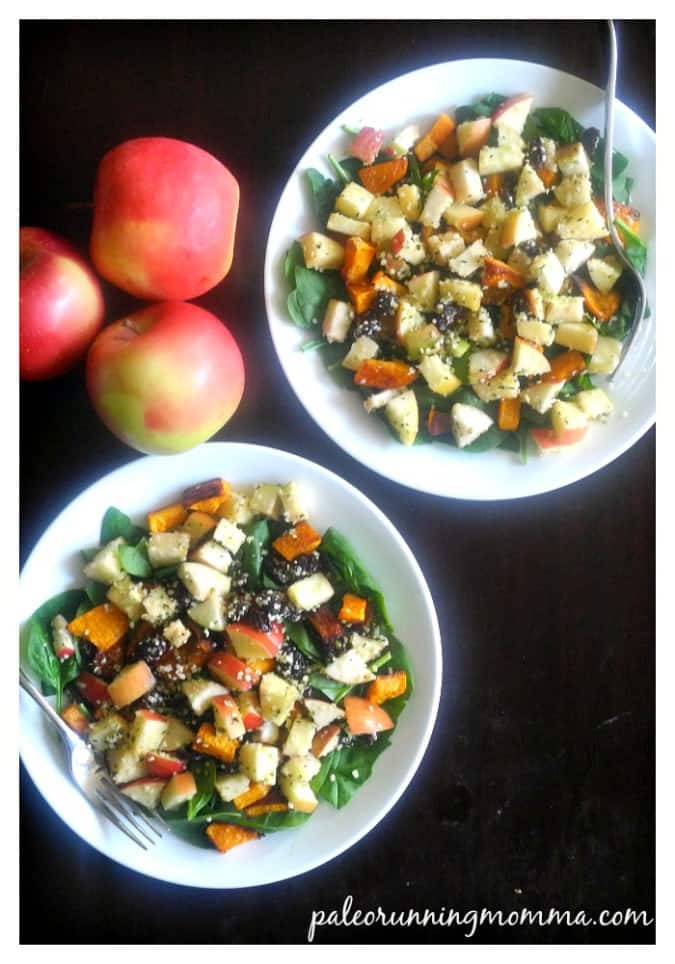 Ah yes, recipe! Then, get ready to win a package of Manitoba Harvest Hemp Hearts!
Butternut Apple Salad with Maple Vinaigrette & Hemp Hearts
This Butternut Apple Salad with Maple Vinaigrette & Hemp Seeds is a sweet and healthy treat for a side dish or light meal. It's gluten free, dairy free, paleo, and vegan.
Prep Time: 15 minutes
Cook Time: 30 minutes
Total Time: 45 minutes
Course: Salad
Cuisine: Paleo, Vegan
Servings: 2 servings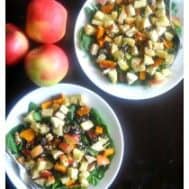 Ingredients
The Salad:
2 cups butternut squash cubes 1/2 inch
1 tbsp melted coconut oil or olive oil (for roasting)
1/4 tsp fine grain sea salt for roasting
2 tbsp raisins
1 med-large fuji or honeycrisp apple cored and chopped
2 large handfuls fresh baby spinach
2-3 tbsp Manitoba Harvest Hemp Hearts
Maple Vinaigrette:
2 tbsp light flavored olive oil
2 tsp fresh lemon juice or apple cider vinegar whichever you prefer
1/2 - 1 tsp pure grade A maple syrup depending on how sweet you want the dressing
Instructions
Roast the Butternut Squash:

Preheat your oven to 400 degrees and line a large baking sheet with parchment paper.

Coat the butternut squash cubes in the olive oil and sea salt and spread out in a single layer on the parchment lined baking sheet. Roast in the oven 15 minutes, shake, stir, or turn, and continue to roast another 15 minutes or until soft and golden brown. Remove from oven and set aside.

While the squash is roasting, whisk together the dressing ingredients and set aside.

To assemble the salad - start with the spinach and top with butternut squash, apples, raisins, and Hemp Hearts. Just before serving, drizzle on desired amount of dressing (whisk again before adding) and lightly toss.

Makes 2 small salads or 1 large serving.

Enjoy!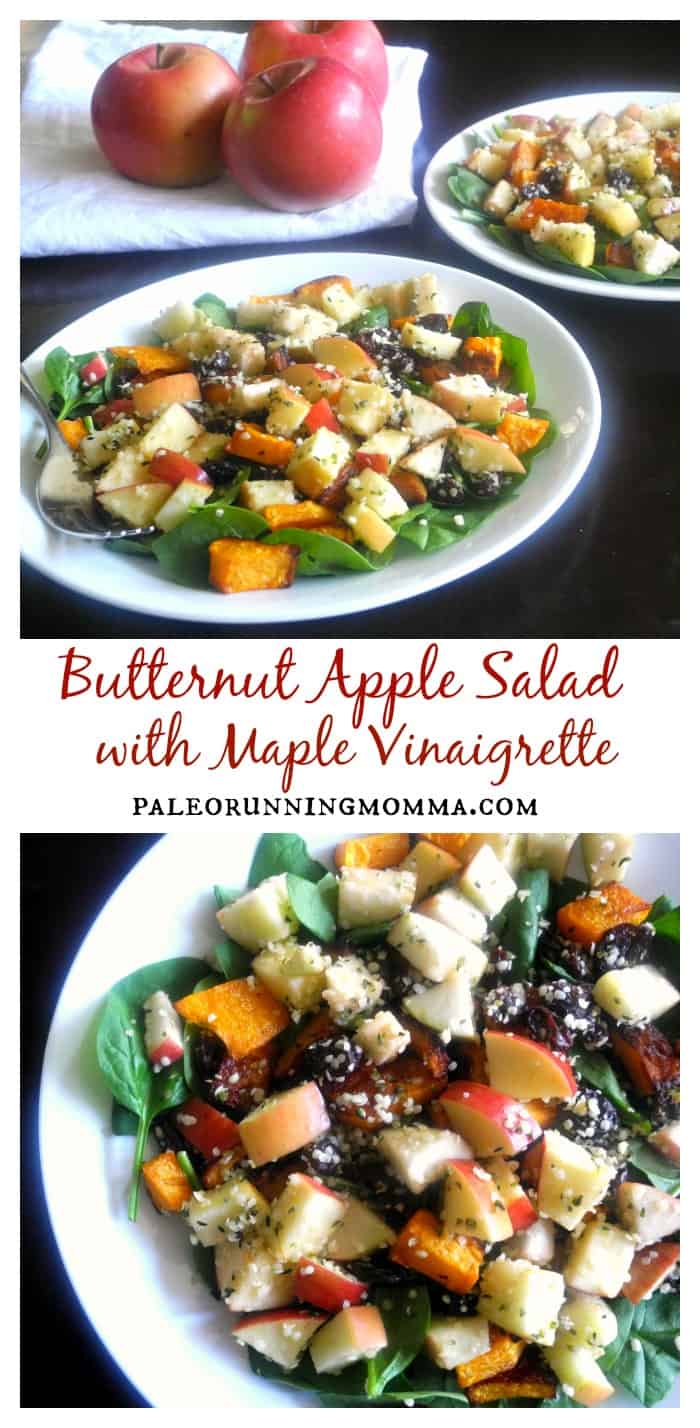 Giveaway Time!
What are your favorite fall-food combos?  
Are you a fan of hemp seeds?  What have you tried them with?