A different, fun and healthy recipe to use your apples this fall!  This Paleo Candied Pecan Apple Salad with Bacon combines fresh baby spinach with sweet toasted candied pecans, crisp savory bacon, fresh chopped apple, and a tangy sweet apple cider vinaigrette.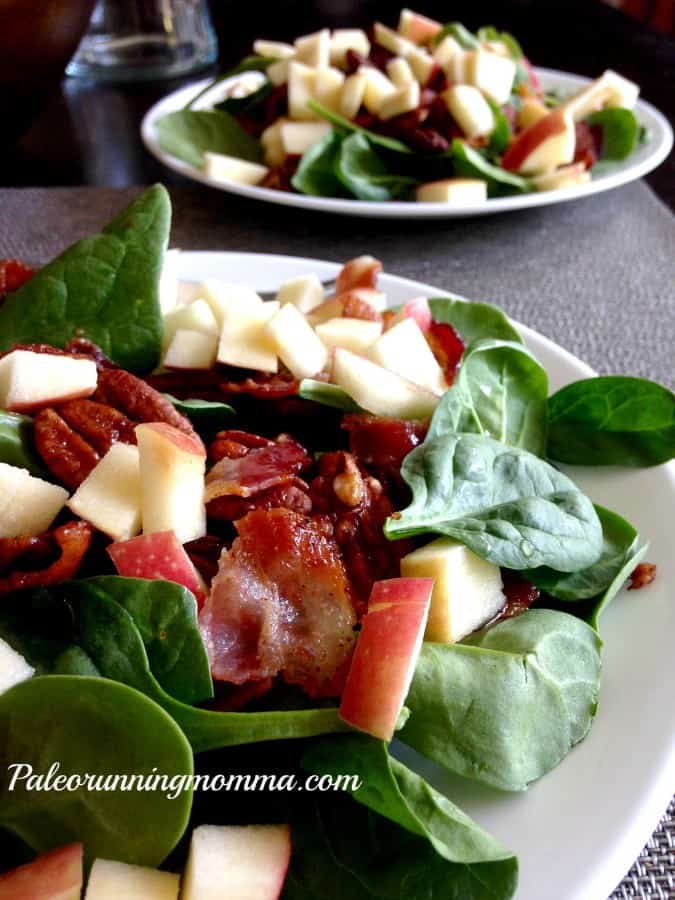 Don't hate me because I put bacon in everything.  Just kidding.  Hate me because I haven't yet worked up the nerve to put it in cookies, yet.  As much as I love it, I hesitate to just stick bacon in cookies or brownies and pray. Thoughts? Bacon and apples though, that's my jam.  My bacon jam (another thing I haven't made yet, oh well.) I've been hanging on to this salad recipe for a couple of weeks now waiting for the right time to post it.  The pumpkins are getting all the "spice" this season already, but I like to give apples the love they deserve as well.  I'll even forgive them for being high FODMAP and thus difficult for me to digest – I do make exceptions for things like awesome salads and apple crisp!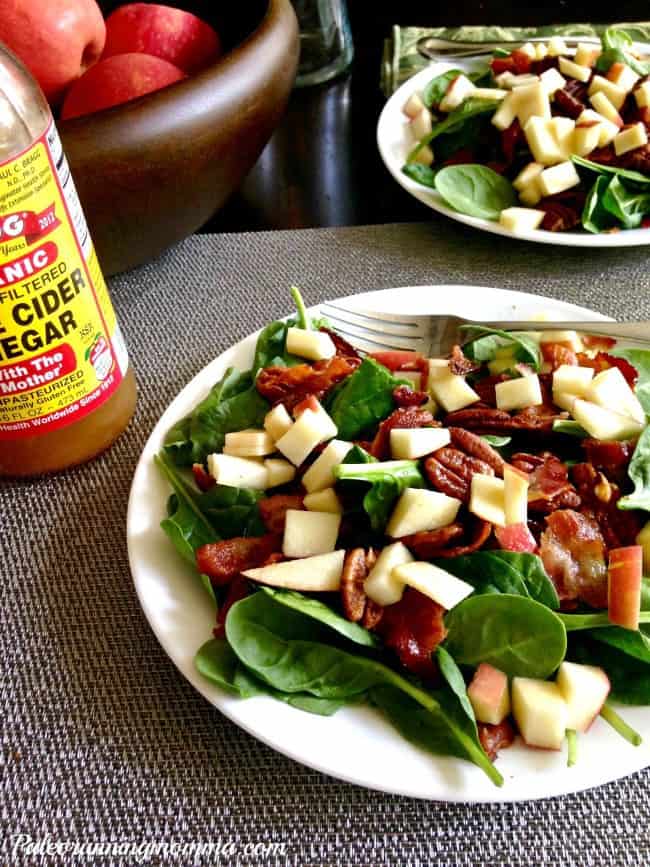 Anyway, thanks to my sick day and subsequent missing race recap (that I'd tentatively scheduled in my head for today), now's the time. I've been wanting to try out candy-coating pecans by roasting them with a bit of coconut oil and sugar, but then I also wanted to put them in something.  I'm not big on snacking on nuts alone, but I love them in salads! If you were ever in a situation where you were wagering money on what I'd order at practically any restaurant (because that could happen), you'd be safe with any salad involving walnuts or pecans.  Bonus if they're coated in something sweet!  Double bonus if there's goat cheese involved, triple if there's bacon. So, I decided to make my own version of every beloved restaurant nut-salad.  Gee that sounds appetizing, but really, it is.  Candied pecans with pink lady apples, spinach, bacon, and an apple cider vinaigrette.  This one even your kids will not mind picking at – true story – Diana decided she liked spinach after trying this.  I guess she never had spinach with bacon?  And I'm calling myself a Paleo Momma? And, for the sake of full disclosure – I have to tell you I threw avocado on mine after I took the pictures, because I was hungry.   Hunger will often demand avocado on a salad, so feel free 🙂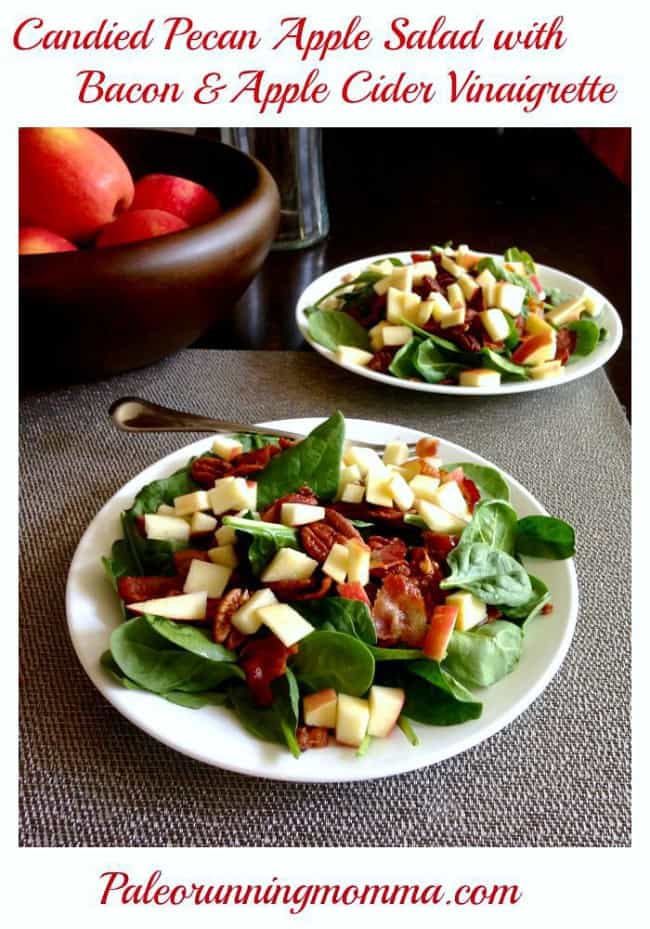 Paleo Candied Pecan Apple Salad
A fall inspired salad with candied roasted pecans, pink lady apples, savory bacon and fresh spinach in a honey apple cider vinaigrette.
Prep Time: 10 minutes
Cook Time: 15 minutes
Total Time: 25 minutes
Course: Salad
Cuisine: Paleo
Servings: 2 servings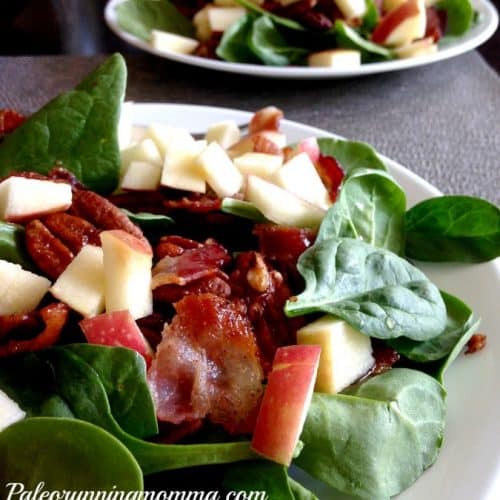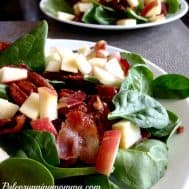 Ingredients
For the Apple Cider Vinaigrette:
2 tbsp Olive Oil
1 tbsp + 1 tsp organic apple cider vinegar
2 tsp raw honey you could also use pure maple syrup
1 tsp fresh squeezed lemon juice
For the Candied Pecans:
1/2 cup raw pecan halves
1 tsp coconut oil melted and cooled
1 tsp coconut sugar
1/4 tsp cinnamon
For the Salad:
2 large handfuls/bunches baby spinach
1 pink lady apple chopped
4 slices bacon cooked until crisp, drained, and crumbled
Instructions
To roast your pecans, preheat the oven to 350 degrees, and in a bowl, toss the pecan halves with the coconut oil, sugar, and cinnamon. Line a baking sheet with parchments paper and spread them out evenly. Bake for 5-7 minutes in the preheated oven, checking to make sure they don't begin to burn.

Combine the Vinaigrette ingredients in a small bowl and whisk well. To assemble the salad, combine the spinach with the chopped apples, roasted candied pecans, and crumbled bacon. Just before serving, toss in the prepared apple cider vinaigrette (or serve the dressing on the side.)

Makes about two servings - feel free to double or triple the recipe to serve a crowd!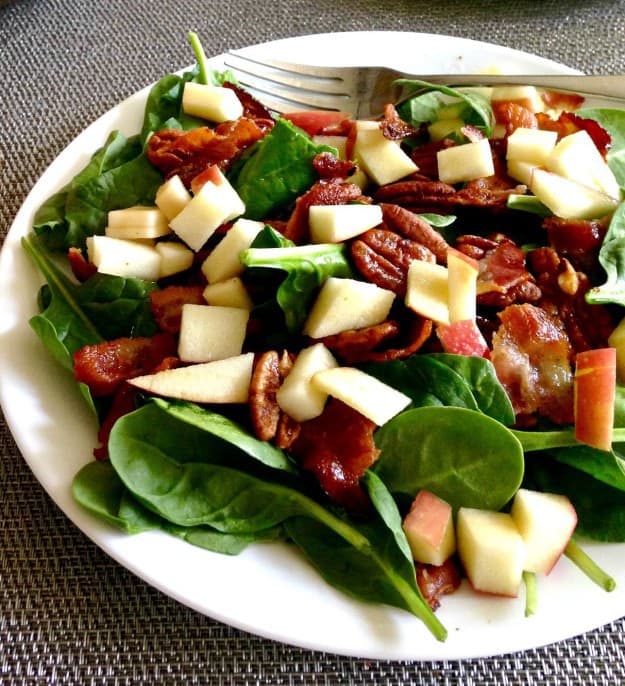 And wait!  Before you go, you MUST check out my interview today with Meredith in her post about fueling strategies for runners.   Oddly enough, as much as I talk about and show you my food on this blog, I haven't specifically written concisely about the specifics of my own strategy for fueling!
Now a couple of fun questions for you: If someone had to bet on a menu item you'd order at nearly any restaurant, what would it be? What's your current favorite apple recipe? Here are a few favorites of mine to check out if you haven't already!
Roasted Butternut Squash, Apple and Walnut Salad