We are coming into the peak weeks now!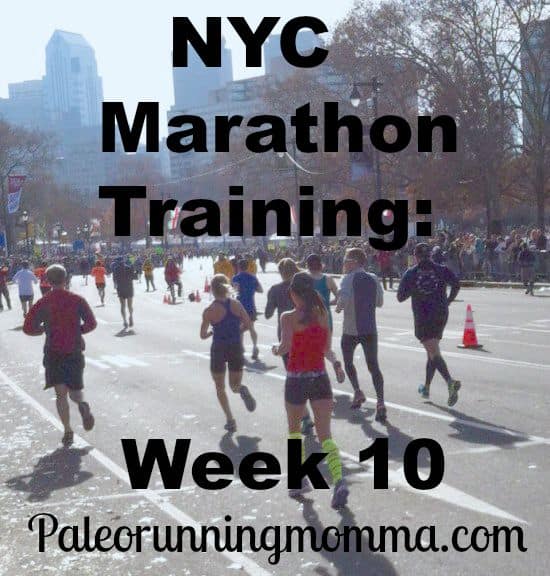 I can't totally wrap my head around it.   The photo above was taken by Adam at last year's Philadelphia Marathon right before the finish line – right now I simply can't IMAGINE being at that same point in the NYC Marathon!  How do we run race after race and then STILL can't imagine finishing the one we're training for?
NYC Marathon training week 10 started out innocently and very similar to week 9  until Friday, since the Newport Liberty half was on Sunday and I shifted my rest days in preparation.  After Friday, things went off the rails, which I'll get into later on.
I always get a little nervous moving rest days around (dork) at this point in training, since this is when my body is the most vulnerable to pains and injuries.
I don't want to repeat the knee problems I developed last year around week 12.  I think that was a combination of being at 50 miles per week for a few weeks, doing a long run too close to a tempo and shifting rest days.   I also threw in track work last year too far into my plan without building up to it, which was a mistake in hindsight.
Let's look at my week now:
Monday – 7 miles, easy pace.  No watch, nice weather, good run overall.
Yoga – Total Body Flow for Letting Go – Lesley Fightmaster, 27 minutes.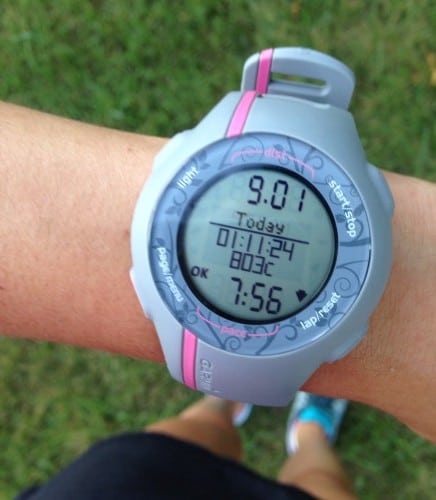 Tuesday – The plan was 9 miles total with 7 @ goal pace (7:55) – same as last week.  This run was definitely faster than last week, entirely due to the cool weather.  I took advantage and pushed it faster than goal pace for a few miles.
I felt good during this run, as a tempo "should" feel, but it seriously wiped me out for the next few days!
Yoga – Flexibility – Splits and Backbends – Lesley Fightmaster, 34 minutes.
Wednesday – 6 miles, easy pace.  Wednesdays are recovery runs after the Tuesday workouts, and my whole body feels tired.  I suppose it felt as it should.
Yoga – Vinyasa flow to Open Hips – Lesley Fightmaster, 32 minutes.
Thursday – 8 miles total on a hilly route.  The route I use doesn't have hills throughout, but rather it climbs during the first 2 miles with a few steep hills, then flattens out, then gets a bit hilly, then the last mile is straight downhill.
I like this route because it's super challenging in the beginning and I like getting the hard part over and done with!  The whole run was slow though, slower than usual (no watch, but I was back later than planned and it felt slow) and I still didn't feel recovered from Tuesday.
Yoga – Yoga for Runners – Lesley Fightmaster, 25 minutes.
Friday – Normally this would be a rest day, if my long run was happening Saturday.  Since my half was Sunday, I did an easy 5 miles and planned to completely rest Saturday.
No yoga.
Saturday – Rest day, plus 23 minutes Yoga for Runners – Injury Prevention – Fiji McAlpine.  Because I'm hoping to prevent injury.  And I also love what this class gives you in just 23 minutes!
I went to bed Saturday night feeling normal, only to wake up 2 hours later ill with stomach virus symptoms (ALL the good ones.)  There was no denying that I was really sick, and, in my stupor was also REALLY pissed off that this was happening the night before my half marathon.  I mean I was really unhappy.  Being violently ill and violently pissed off is not a good combo.
Sunday – Because I enjoy being in denial when I can, I briefly considered still running the race at 6am, before actually getting up and realizing that I could barely walk across the room.  So much for hope.  I did not run the Newport Liberty half and instead stayed in all day resting and crossing my fingers that my kids wouldn't catch what I had!
Summary – 35 miles total, 1 workout, 1 hilly run, 2 easy runs, 5 days of 20-30 minutes yoga, 1 stomach bug, 1 missed half marathon/long run.  Ugh, still not over it!
Plans for this week (week 11)
First things first, and dang stomach bug aside, it's finally my time to register for the Boston Marathon today!
I'm nervous, because now I'm really hoping it all works out and I get in.  If I'd run 24 seconds faster I could've already been registered. And that's just one reason us runners are driven mad by numbers.   We love it though, we ask for it.
Originally, my plan for the week was to recover from the half and recent higher mileage with a "down" week (42 miles) to prepare for the 2 peak weeks before tapering.   Even though I missed an important run, I'm going to stick to the schedule and just move forward – it's a good thing I had a lighter week planned anyway I suppose.
Have you ever had to miss a race because you were sick?  
How well do you deal with setbacks while training for a big race?
Are you able to visualize yourself finishing a race?  I have so much trouble with this.