This sweet and savory roasted butternut apple chicken salad is topped with crunchy pecans and a creamy maple cider dressing.  It's dairy free, Paleo, and full of protein and nourishing healthy fats and makes a delicious and nutrient packed lunch or dinner!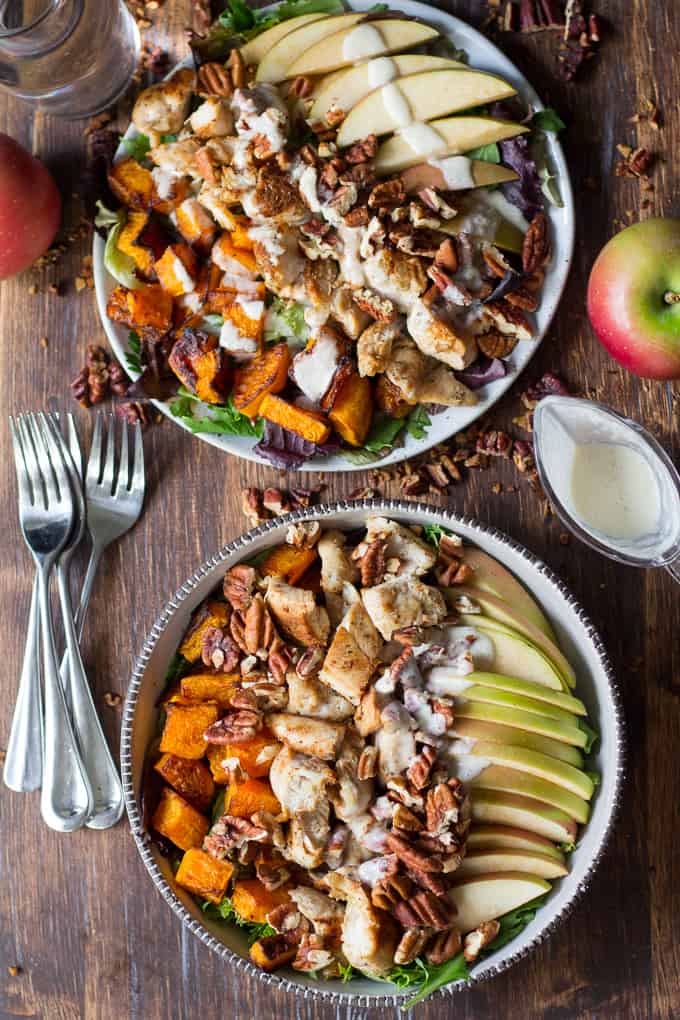 As it turns out, I can't survive on just sweets, treats and desserts for very long (dang!)  I've experimented with and posted my fair share of dessert recipes as you might have noticed.  Two this past weekend – no bake apple cinnamon cookies and apple pie snickerdoodle skillet cookie!) and I started having MAD cravings for salads.
Funny how these things work.  I'm telling you – the universe wants us all to be balanced and alternate salad with cookies – these cravings are proof!  I definitely like to take my cravings seriously and believe they're the key to getting what we need – (that includes emotionally – no shame) so SALAD just had to happen.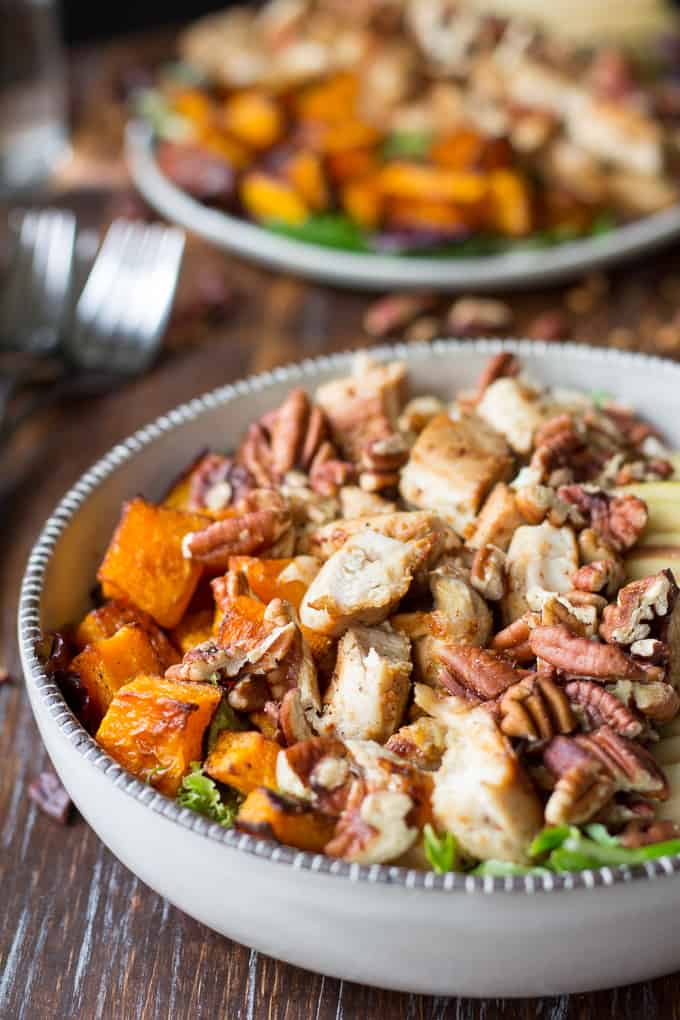 Ingredients in Butternut Apple Chicken Salad
Organic chicken tenderloins
Coconut oil
Salt & pepper
Onion powder
lemon juice
Mixed salad greens
Butternut squash (cut into one-inch cubes)
Sliced apple
Raw pecans
Since I had just gone a little fall-wild at the grocery store – if you know what I mean – (and what is I mean is that I bought an obscene amount of winter squash, because I could) I was dreaming of a roasted butternut salad.  Combined with the bucket loads of apples we are slowly working though thanks to apple picking.
Yet, roasted butternut and apples.  YUM.  But still way too sweet for what I was craving.  I needed lots of greens, and, chicken.  I needed a butternut apple chicken salad!  I actually LOVE chicken salads when they're spruced up with tons of goodies, but often feel too lazy to make them with said goodies.  My craving had me feeling motivated though, so I was up for the challenge.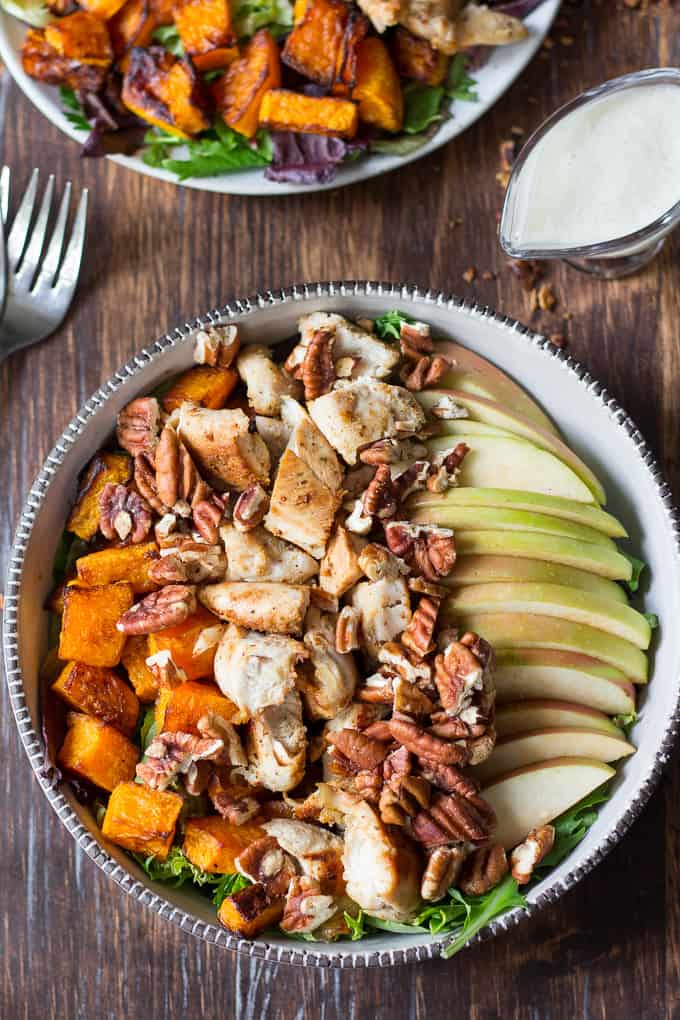 What's in Maple Cider Dressing
Canned coconut milk (use full-fat for extra creamy texture)
Apple cider vinegar
Lemon juice
Maple syrup
Spicy brown mustard
Sea salt
I had all the basics down, but the dressing for this salad was haunting me.  No joke, the dressing was literally haunting me – keeping me up at night way too late trying to figure out how to make it.  Straight up savory?  Creamy?  Not creamy?  Light and tangy?  You might think I'm crazy – I sure did that night last week I was up at midnight ruminating over salad dressing.
Thank goodness for running – it's the only thing that really clears my head, and, I actually think up many of my best recipes while running!
By the time the 4 miles was done the next morning, I knew exactly what I wanted to do with this dressing.  Creamy maple cider!  And I have to say it turned out better than I imagined – I've been drizzling the leftovers on various salads all week – and it's clearly a winner!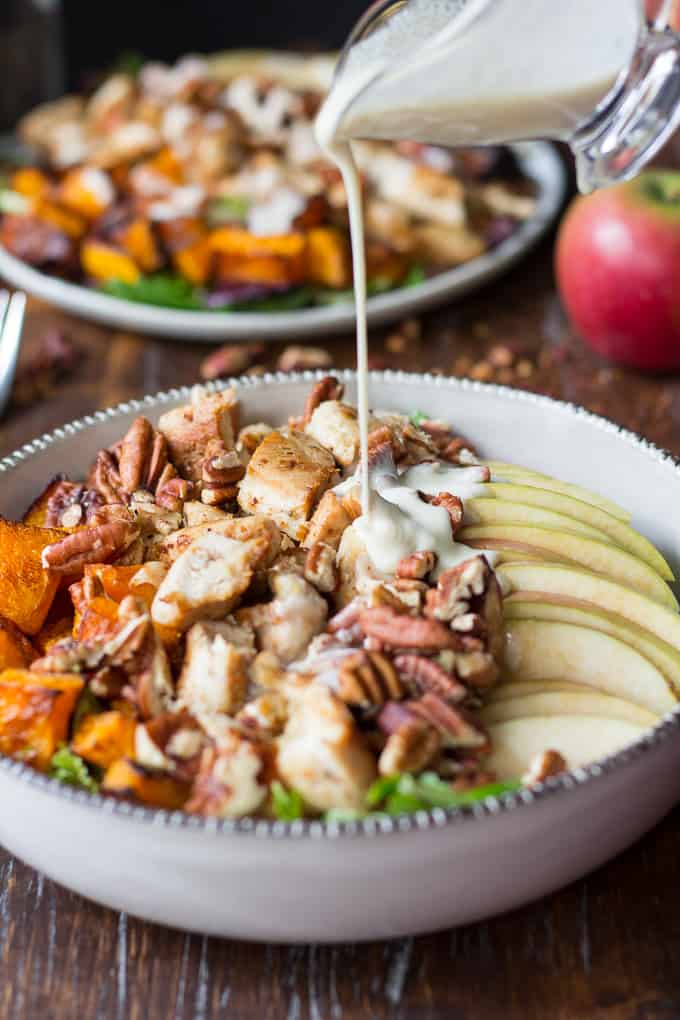 How to Assemble Butternut Apple Chicken Salad
Now – there are several steps/parts to this recipe, but it's actually quite simple once you see it come together.  I definitely recommend making the dressing ahead of time to un-complicate things.  You can toast the pecans and even roast the butternut ahead of time, too.
If you choose not to roast the butternut squash in advance, you can cook the chicken on the stovetop while the squash is roasting in the oven. Build the foundation of the salad while these are cooking. Then, assemble everything and dig in!
Lat note – instead of cooking the chicken as I did, you can also easily use leftover chicken or turkey for this recipe and it will be fabulous!  Hope you enjoy!
Paleo Butternut Apple Chicken Salad with Creamy Maple Dressing 
Paleo Butternut Apple Chicken Salad w/Creamy Maple Dressing
A sweet and savory, hearty salad that's perfect for lunch or dinner! Roasted butternut squash, apples, perfectly cooked chicken and greens topped with crunchy toasted pecans and a creamy dairy free maple cider dressing.
Prep Time: 15 minutes
Cook Time: 30 minutes
Total Time: 45 minutes
Course: Lunch/Dinner
Cuisine: Paleo
Keyword: apple, butternut squash, chicken salad, cider, fall salads, maple, maple dressing, pecans
Servings: 6 servings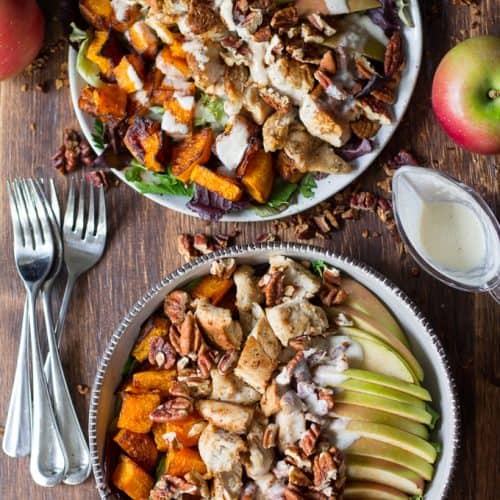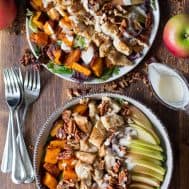 Instructions
Make the Dressing**
Put all dressing ingredients in a tall cup and blend with an immersion blender (regular blender is okay too, just add ingredients to blender as usual)

When all is combined and creamy, transfer to a glass jar, cover and refrigerate while you prepare the rest.
Roast the Butternut:
Preheat your oven to 425 degrees. Put the cubed butternut in a bowl with the 1 tbsp melted coconut oil and toss to coat. Sprinkle with sea salt, then spread out in a single layer on a large baking sheet lined with parchment paper. Roast for about 30 minutes - until golden brown and soft.
Make the chicken*:
Heat a large heavy skillet over med-high heat. Mix together the melted coconut oil and lemon juice and coat the chicken pieces in the mixture, then sprinkle with salt, pepper and onion powder. Cook in the hot skillet 3 minutes on each side, until no longer pink in the center. Remove from heat and set aside.
Toast the pecans:
When the butternut is done, lower the heat to 300 degrees and toast the pecans on a baking sheet, in a single layer for about 5 minutes.
Assemble the salad:
Chop the chicken into bite side piece and arrange the salad: Greens, sliced apples, roasted butternut, chicken, toasted pecans. Serve with dressing drizzled over the top. Enjoy!
Recipe Notes
*You can also use any leftover cooked chicken or turkey you have around!
**I recommend making the dressing first and refrigerating for at least an hour prior to serving so the flavors can blend and it can thicken. You will have leftover dressing - store it tightly covered in the refrigerator for up to 5 days.
Nutrition
Calories: 384kcal
Carbohydrates: 18g
Protein: 19g
Fat: 27g
Saturated Fat: 12g
Cholesterol: 48mg
Sodium: 120mg
Potassium: 750mg
Fiber: 3g
Sugar: 6g
Vitamin A: 7715IU
Vitamin C: 22.9mg
Calcium: 64mg
Iron: 2.6mg
What I Used To Make My Creamy Maple Dressing:

Want more Paleo salad recipes?  Try on of these!
Chicken Cobb Salad with Buffalo Ranch
Chicken Salad with Bacon and Scallions
Tuna Salad with Avocado, Bacon and Chipotle Aioli 
Awesome Paleo Chicken Salads Around the Web:
Grilled Lemon Herb Mediterranean Chicken Salad
Tell Me!
Do you take your cravings seriously?
When was the last time you craved salad?  How about cookies?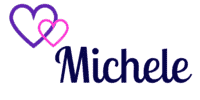 Note: This post contains Amazon affiliate links. This means that if you click on a link and make a purchase, I will receive a small commission at no cost to you. Thank you for supporting Paleo Running Momma!