This quick and easy veggie-packed Paleo Avocado Lime Tuna Salad is the perfect healthy lunch to pack for school or work.  Tons of flavor from creamy avocado and lime, mayo-free, seriously delicious and simple Paleo tuna salad!  Serve with plantain chips for the ultimate healthy Paleo packed lunch!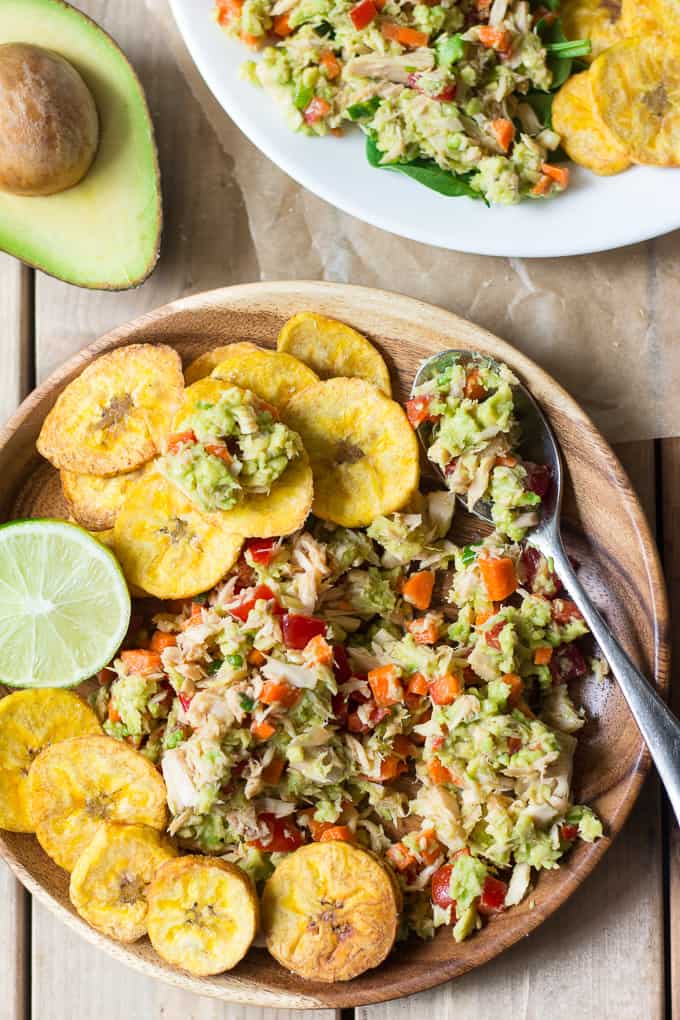 No, this is not just another excuse to make my plantain chips (or is it?!) Okay, you all know I'm definitely not opposed to finding anything and everything possible that goes really well with plantain chips.  But this simple, veggie and protein packed, Paleo Avocado Lime Tuna Salad is more than that!  I promise.
So, here's the news – September is coming!  School is coming!  Back we go (or I go) to making sure I have 3 healthy lunches packed and ready by 8am each morning.  Lunches that actually might get eaten during the day by my children.  Without whining.  Without begging for school lunch.  This is tricky stuff, people!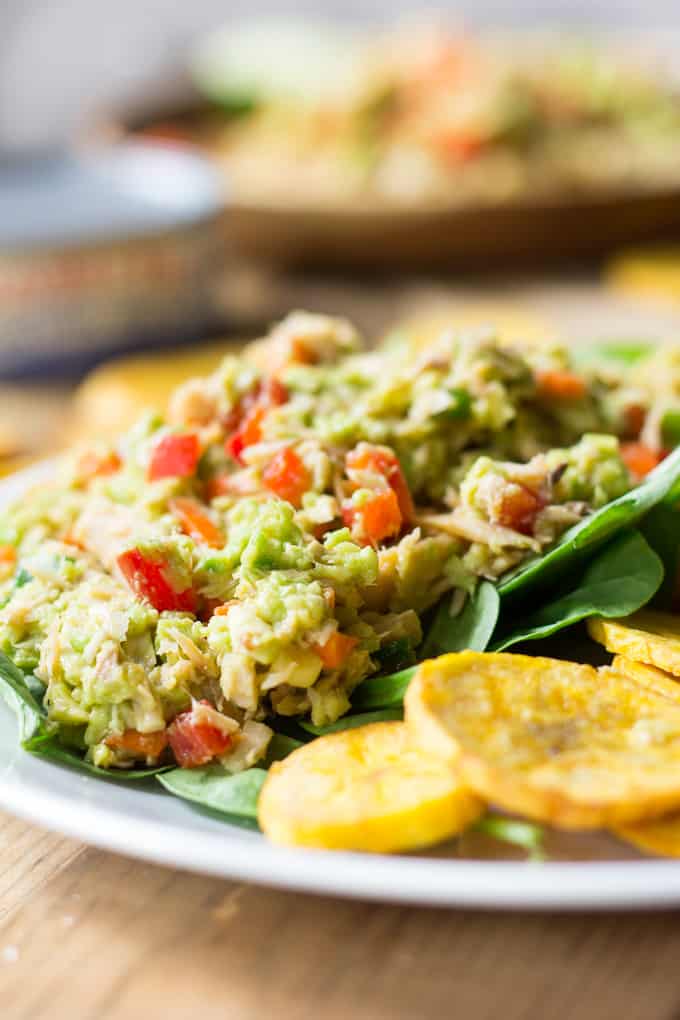 My kids (the little two especially) are still in the crunchy raw veggie phase.  Is that a phase?  I suppose for some, it may last a lifetime.  But I digress 🙂
This avocado lime tuna salad basically is an easy "throw together" of all the healthy things my kids will eat  (minus the sweet potatoes – we will save those for another recipe.)  Diced red peppers, grape tomatoes, carrots, green onions (Emily is oddly obsessed), avocado, and lime for a great punch of flavor.  Plantain chips on the side for crunchy carbs!  I like to at least try to be a fun mom with some crunchy carbs thrown in there 🙂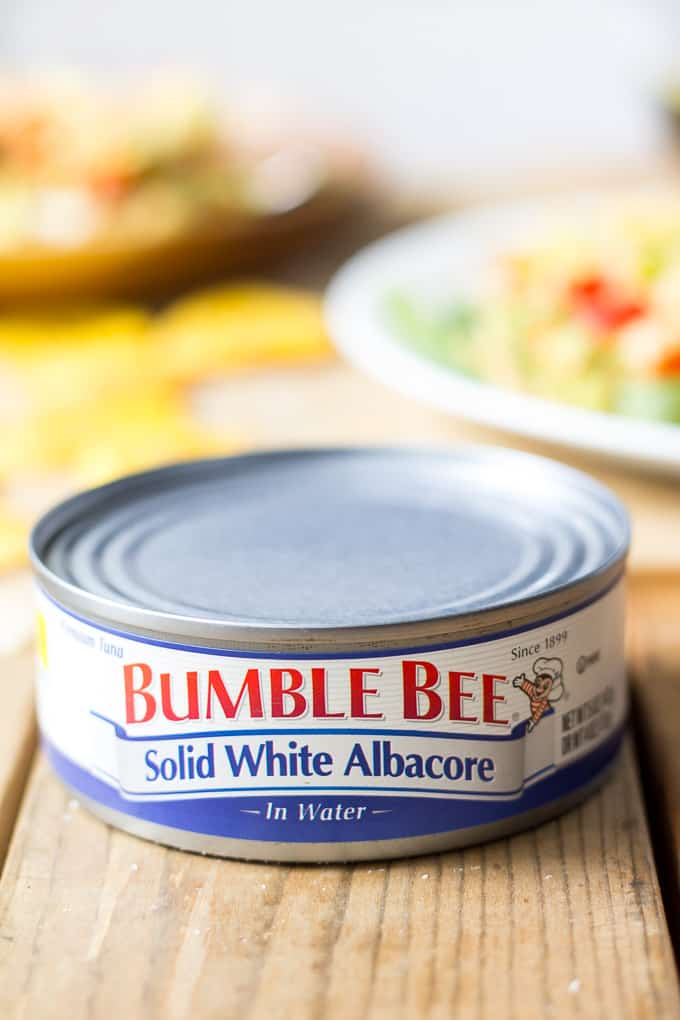 As for the tuna, Bumble Bee Premium Solid White Albacore comes out on top, compared to chunk light tuna.
Seeing is believing and Bumble Bee® Solid White Albacore Tuna is quality you can see – the moment you open the can.  With a firm texture, light color and fresh taste – Bumble Bee® Solid White Albacore is the perfect ingredient to deliciously enhance almost any recipe, adding a variety of nutrients – including lean protein, healthy fat and important vitamins and minerals.
*See their website for full nutritional facts.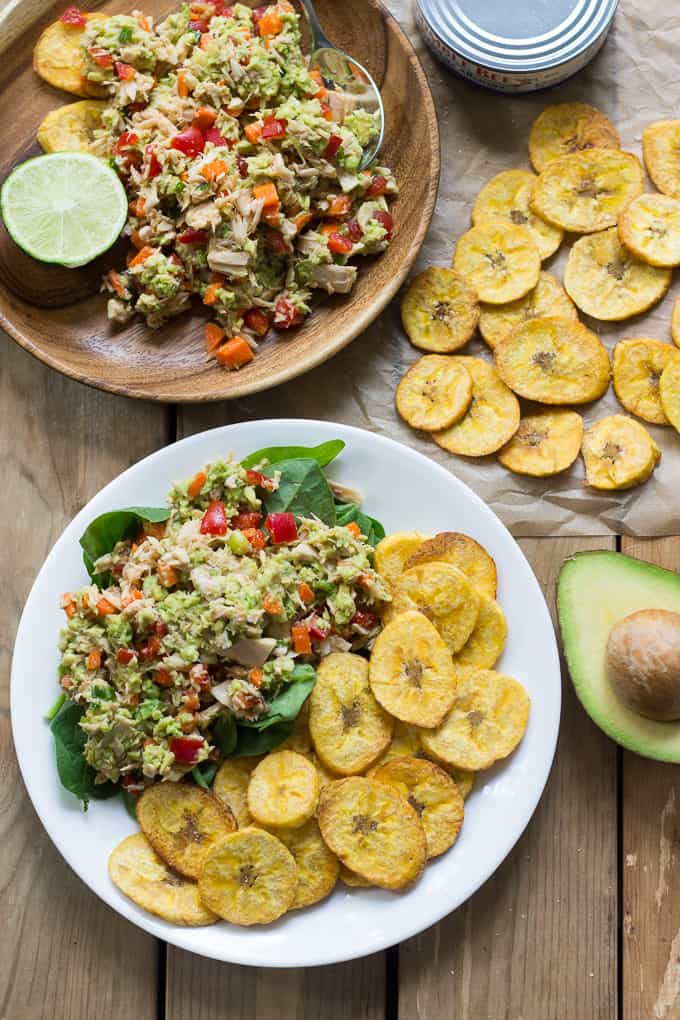 And, yes, even though this is a kid friendly recipe that's great for back to school lunches or after school snacks, it's grown-up friendly too!
Anytime you need a quick and healthy lunch (and have a ripe avocado around!) this avocado lime tuna salad is a great go-to option.  Just chop, mix, and eat!  With the plantain chips!  Or, with your favorite gluten/grain free crackers, tortillas, lettuce/collard wraps or over a big salad.  You can easily make this work for you, no matter what your tastes!
Easy Paleo Avocado Lime Tuna Salad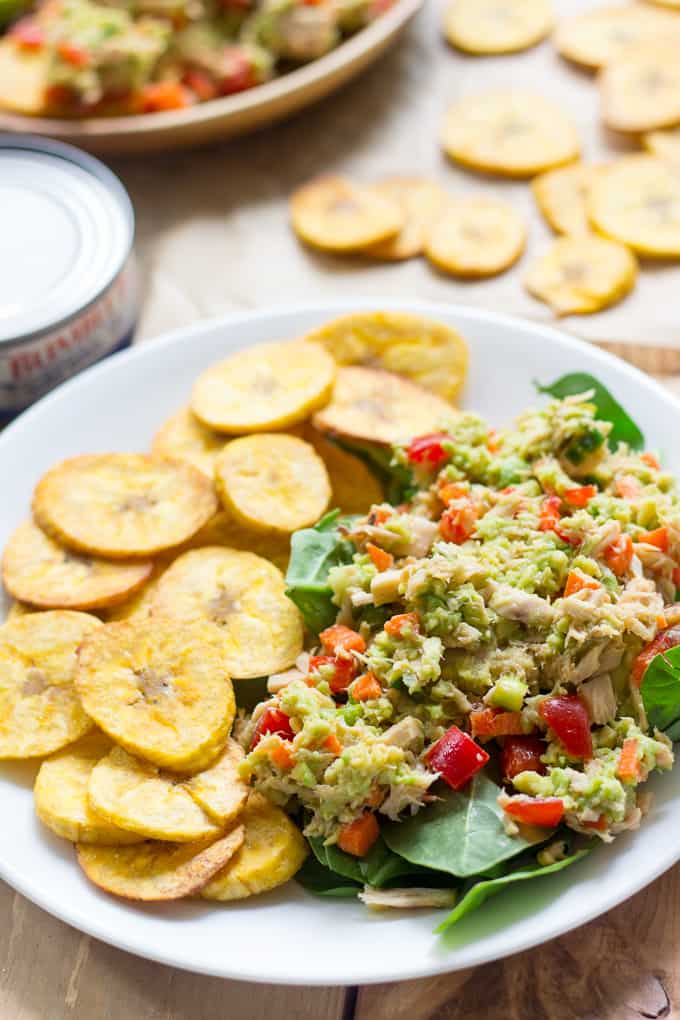 Easy Paleo Avocado Lime Tuna Salad
Quick and easy kid friendly Paleo Avocado Lime tuna salad, packed with crunchy veggies, tons of flavor, healthy protein and fats. Great to pack for school lunch or have as an after school snack with plantain chips!
Prep Time: 10 minutes
Total Time: 10 minutes
Course: Lunch/snack
Cuisine: Paleo
Servings: 3 -4 servings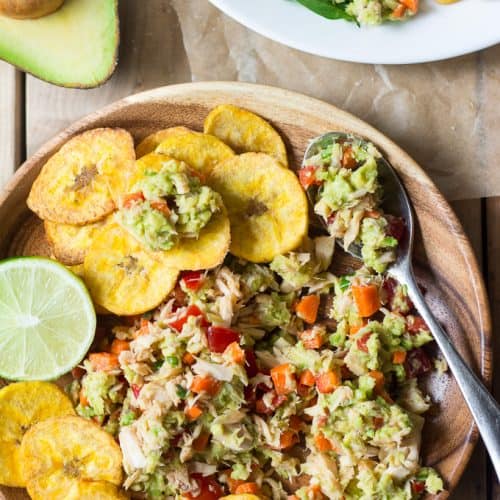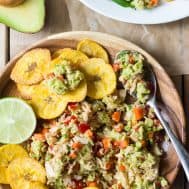 Ingredients
1 can Bumble Bee® Solid White Albacore Tuna drained
1/2 large red bell pepper diced
1/2 large carrot peeled and diced
1/4 cup grape tomatoes diced
1 scallion green part only, thinly sliced
1/2 large ripe avocado or 1 smaller one, mashed
juice of 2 small limes about 1 tbsp
1/2 tsp fine grain sea salt or to taste
Instructions
In a medium bowl, mix together the tuna, all the diced veggies, mashed avocado, lime juice, sliced scallions and salt until well combined.

Serve alone or over a salad, in a wrap, or with grain free crackers or plantain chips.

Enjoy! Store any leftovers tightly covered in the refrigerator for up to 2 days.
Bumble Bee® offers responsibly wild caught Albacore that is delicious, versatile, high in protein and absolutely perfect as the main ingredient in any meal.
Try one of their many mouth-watering recipes and discover for yourself why Only Bumble Bee Albacore Will Do™.


What was your favorite packed-lunch as a kid?
What's your biggest challenge when it comes to packing your kids healthy lunches?  So, so
many.  The struggle is real!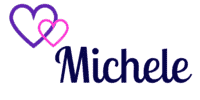 I was selected for this opportunity as a member of Clever Girls and the content and opinions expressed here are all my own.