This Paleo Apple Pie Snickerdoodle Skillet Cookie layers a chewy, fudgy skillet cookie with warm apple pie filling.  Top with coconut milk ice cream and chopped pecans for a decadent yet healthy dessert!  Gluten free, refined sugar free, dairy free.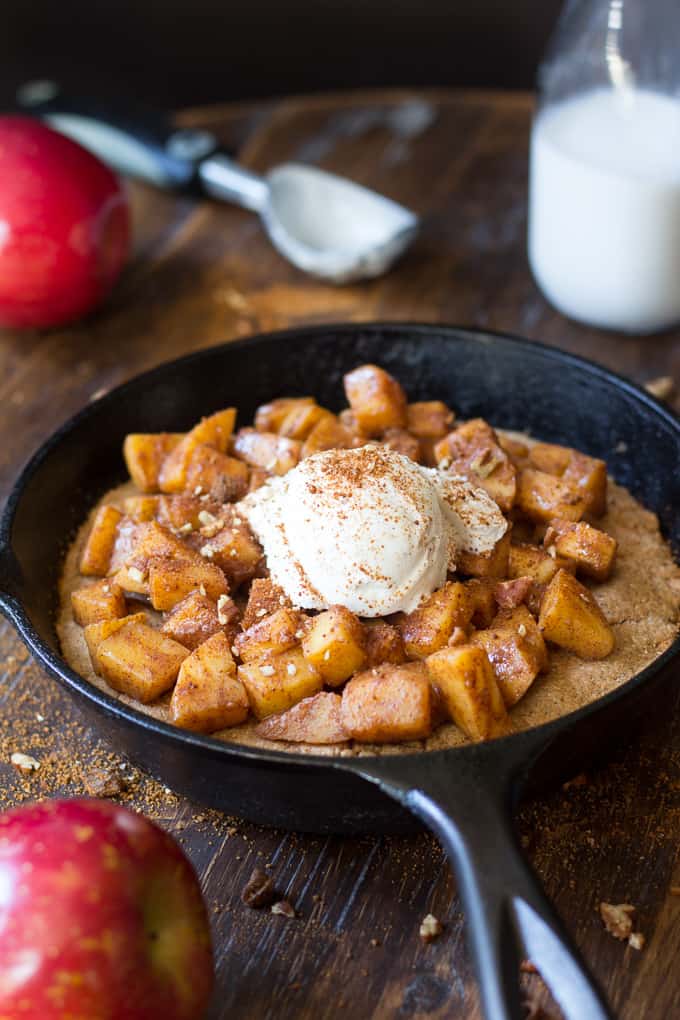 So, about this ridiculous apple pie snickerdoodle skillet cookie (it's a mouthful in every good sort of way.)  It looks a little fancy at first glance, but it's actually straightforward and easy to make.
Have you fallen hopelessly in love with your cast iron skillets yet?  I have to say, it was love at first "fry" with the Lodge cast iron skillets I've had for 2 years now.  And when I say "love", I'm talking the kind of love that makes me spontaneously break out random cheesy love song lyrics.
I knew I loved you before I met you (skillet)…I think I dreamed you into life!
And I can't fight this feeling anymore (skillet)…I've forgotten what I started fighting for!
Tell me how am I supposed to live without you (skillet?) Now that I've been lovin' you so long?! Skillet?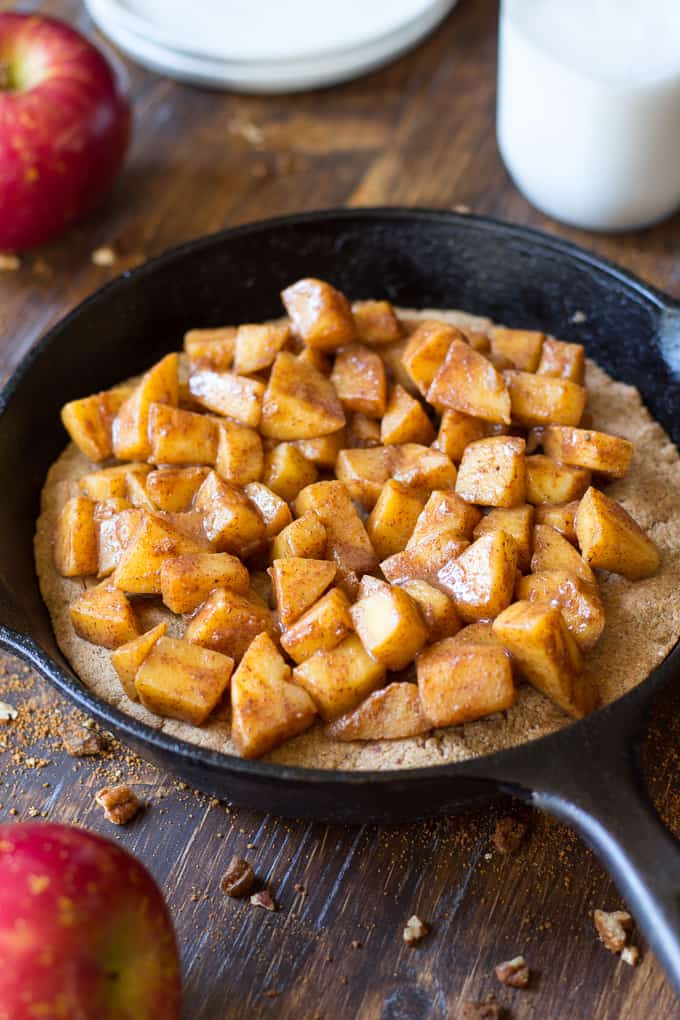 Um, yeah.  I totally just did that, you didn't imagine it.  Luckily my skillets are hanging in there like champs and I won't have to live without them anytime soon.  Even luckier for me (and all of us) – there's never a shortage of cast iron skillets to purchase online or elsewhere.
What Can I Cook in a Cast Iron Skillet?
If you're looking to take the plunge – I highly recommend these!  I cook everything in them – my breakfast hashes, fried eggs, plantain chips, burgers, chicken, meatballs – and now this flipping amazing snickerdoodle skillet cookie!
I'm not sure why I haven't made a skillet cookie until now – you would think that a skillet cookie would have happened within the first week of owning my cast irons, but, no.  It took two years!  I've made cookie cupcakes and cookie cakes – no skillet cookie.
Mostly I think I'm decently intelligent (?) but this whole skillet cooking omission thing makes me question that.  I guess it doesn't matter.  Better late than never –> TRUTH!  Especially when it comes to baking.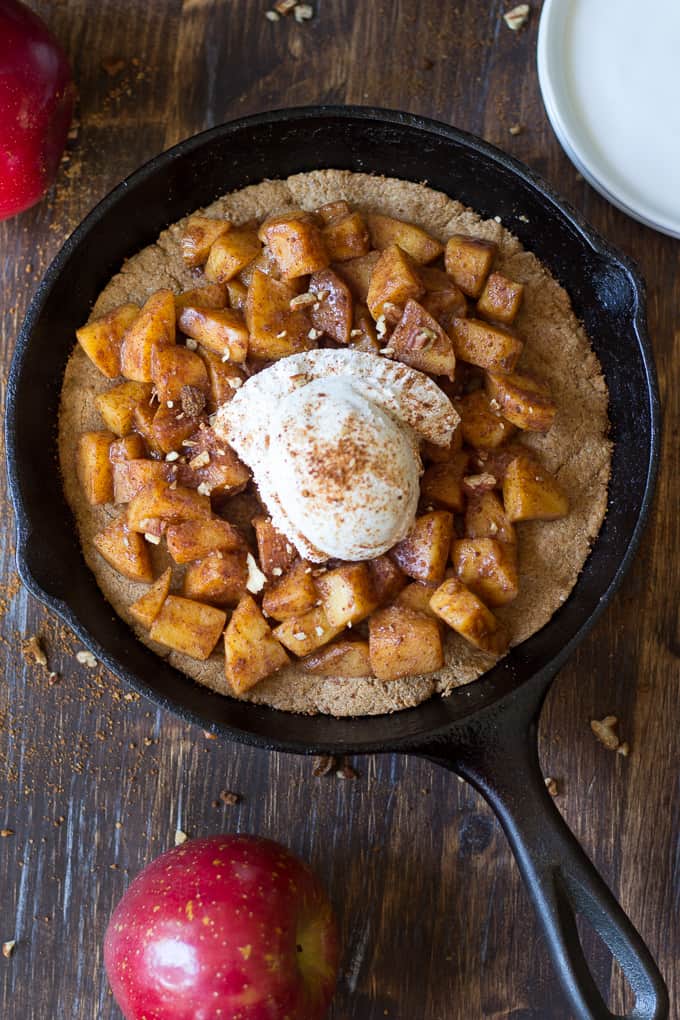 Ingredients Needed for Paleo Apple Pie Snickerdoodle Skillet Cookie
There are two parts to this amazingly delicious cookie skillet. Here's what you'll need for the cookie base:
An egg
Almond Butter
Organic coconut oil
Organic coconut palm sugar
Vanilla extract
Almond flour & coconut flour
Baking soda
Apple pie spice & cinnamon
Salt
Tip: I highly recommend using a super drippy, creamy almond butter in this skillet cookie recipe. Otherwise, you may end up with a crumbly cookie that falls apart too easily. The creamy almond butter will help to bind the cookie dough and keep it moist.
Here's what you'll need for the apple topping:
A couple of apples (peeled, cored, and cubed)
Organic coconut oil
Nut milk or other dairy free milk
Organic coconut palm sugar
Apple pie spice
Lemon juice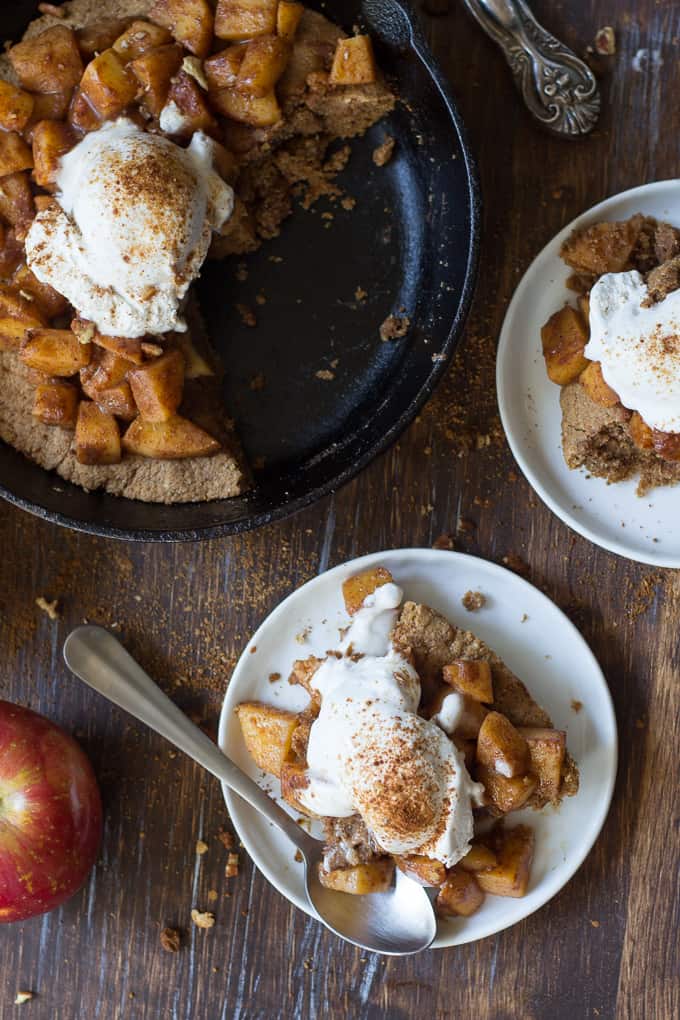 How to Make a Skillet Cookie
It's simple!
Mix cookie dough ->spread in skillet -> put in oven -> make apple pie topping -> remove from oven -> top with yummy apples and other goodies if you're inclined -> DEVOUR!
How to Serve a Paleo Apple Pie Snickerdoodle Cookie
Some of my favorite ways to dress this Snickerdoodle Skillet Cookie up are by adding coconut milk ice cream and sprinkling pecans overtop. Just imagine this skillet cookie topped with a big scoop of my Paleo and Vegan Salted Caramel Ice Cream…absolute heaven!
I know we can do this, and it will be amazing.  I promise you'll be singing love songs to your skillet afterwards, too.  I'm forever yooooouuurs (skillet)…faithfully (skillet.)  
Paleo Apple Pie Snickerdoodle Skillet Cookie
Paleo Apple Pie Snickerdoodle Skillet Cookie
A chewy fudgey Paleo snickerdoodle skillet cookie topped with healthy apple pie filling for a decadent yet healthy dessert! Top with coconut milk ice cream, chopped pecans and extra cinnamon for the ultimate treat.
Prep Time: 10 minutes
Cook Time: 15 minutes
Total Time: 25 minutes
Course: Dessert
Cuisine: Paleo
Keyword: apple, apple pie, cast iron, cookie skillet, paleo cookie, snickerdoodle
Servings: 8 servings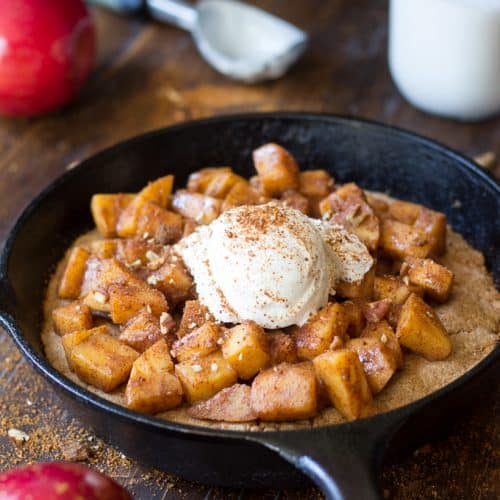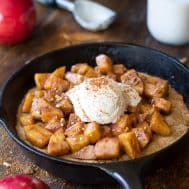 Ingredients
For the Snickerdoodle Skillet Cookie:
For the Apple Pie Topping:
2 med/large apples peeled and cubed
1 tbsp organic coconut oil
2 tbsp almond or coconut milk or dairy free milk of choice - I used this
1 tbsp + 1 tsp organic coconut palm sugar
1 and 1/2 tsp apple pie spice
1 tsp fresh lemon juice
Optional toppings:
Coconut milk ice cream -> My favorite!
Instructions
Preheat your oven to 350 and lightly grease an 8" oven proof skillet (I used

this cast iron one

) with coconut oil.*

In a large bowl, whisk together the egg, almond butter, 1 tbsp coconut oil, coconut sugar, and vanilla. In a separate bowl, combine the almond flour, coconut flour, baking soda, spices and salt.

Slowly add the dry mixture to the wet and mix until smooth and fully combined. Transfer the mixture to the greased skillet, scraping the bowl to get every drop.

Bake in the preheated oven 12-15 minutes until the center is just set. Allow the skillet to sit stovetop for a bit while the apples finish.
For the Apple Pie Topping:
Heat a large non-stick skillet over med heat and add the one tbsp coconut oil. Add the cubed apples to the skillet and cook, stirring until they soften.

Add the coconut sugar, dairy free milk, and apple pie spice and stir to completely coat. Continue to cook, adjusting the heat if necessary to avoid the sugar from burning.

Once soft and browned, add the lemon juice and stir to coat, then cook for another minute over low heat. You can taste the apples to decide if they have the right level of sweetness to suit your taste, and add a bit of coconut sugar or lemon juice to adjust the flavor.

Remove from heat and allow the apple pie topping to cool a bit before spooning over the skillet cookie. Slice and serve warm with a scoop of coconut milk ice cream and chopped pecans if desired. Enjoy!
Recipe Notes
*If you don't have an ovenproof skillet, you can grease an 8" baking dish.
What I Used to Make My Paleo Apple Pie Snickerdoodle Skillet Cookie

Want more Paleo apple treats?  Try one of these!
No-Bake Apple Cinnamon Cookies
Paleo Apple Recipes Around the Web:
Tell me!
Which of your kitchen tools/essentials are you singing love songs to lately?
Do you have loads of apples in your house right now?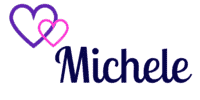 Note: This post contains Amazon affiliate links. This means that if you click on a link and make a purchase, I will receive a small commission at no cost to you. Thank you for supporting Paleo Running Momma!