This Paleo Caramel Apple Coffee Cake is an incredibly delicious fall inspired dessert that can be enjoyed anytime!  Sweet cinnamon apple coffee cake topped with a decadent yet healthy crumb topping and dairy free caramel sauce that makes it extra special and perfect for brunch and holidays.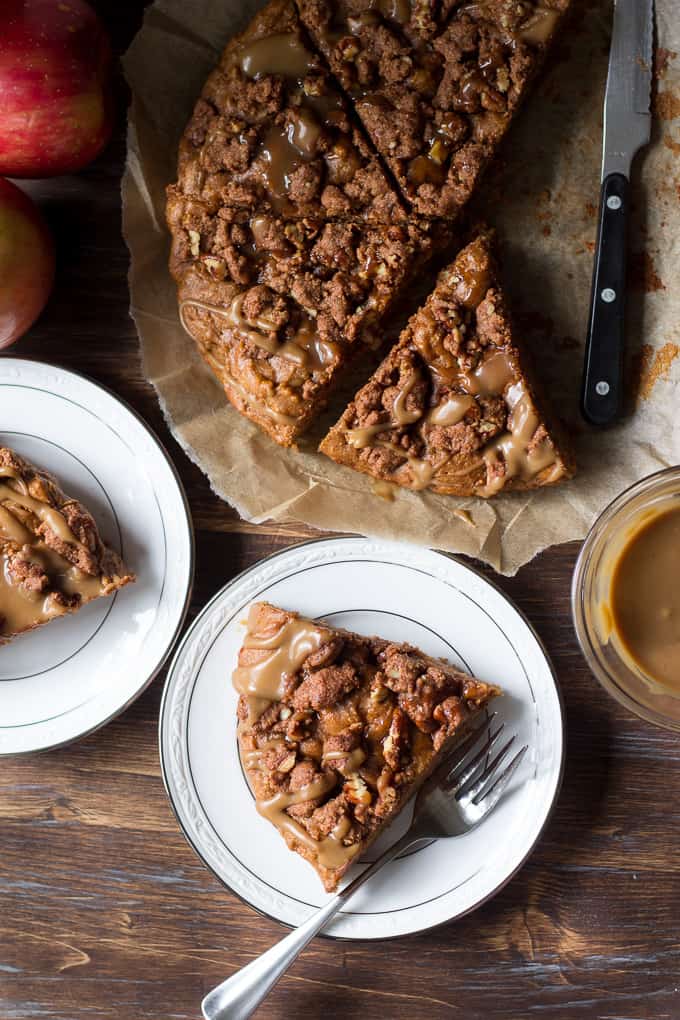 Just like I said yesterday – apples are being delivered!  Starting now with a perfectly decadent (yet still technically Paleo) Caramel Apple Coffee Cake.  As far as Paleo friendly coffee cakes go, this one is a winner – and I am pretty picky about my coffee cakes.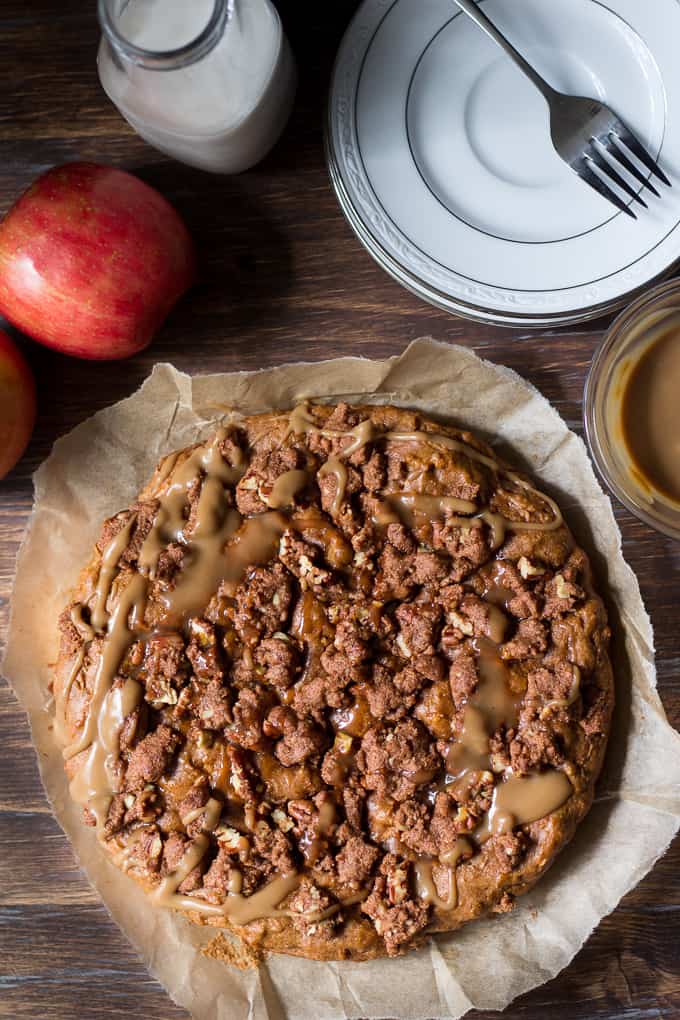 And my caramel, as you probably know if you've been around for a while.  And if you're new here, I really, really, really hope you like caramel, since, it tends to pop up over here pretty frequently.
Caramel hot chocolate, chocolate caramel cups, caramel banana bread, caramel brownies – I'm almost embarrassed that I'm not sick of it, like, at all!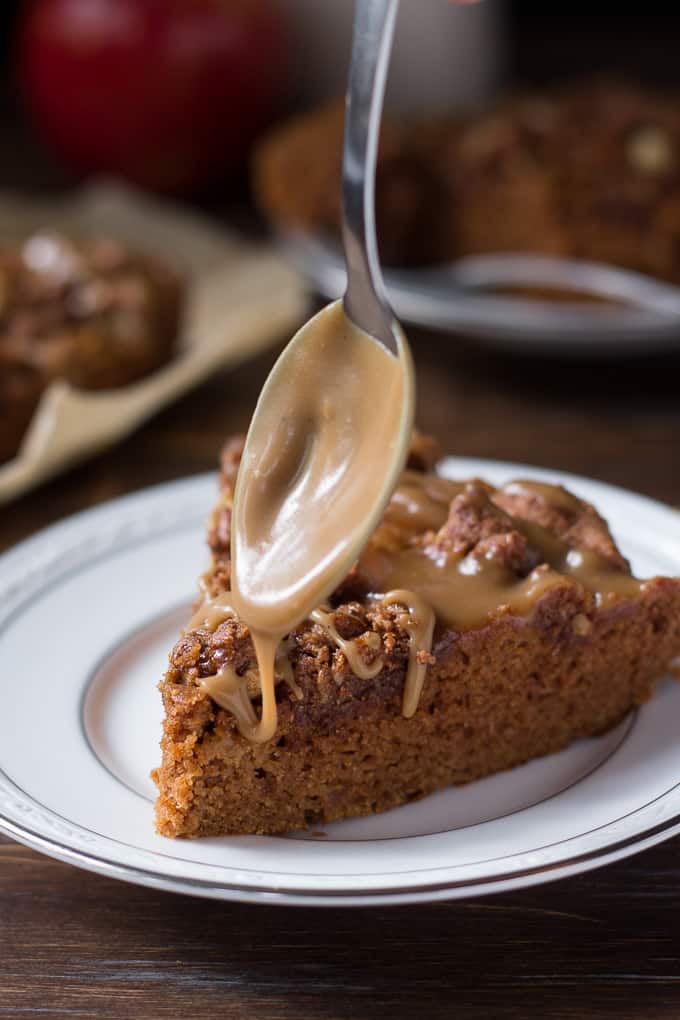 I just can't help myself – once I figured out how to make it in under 10 minutes with coconut milk, let's just say it was over from there.  Paleo-caramel-addict-4-life is now my middle name.  Right after Beth.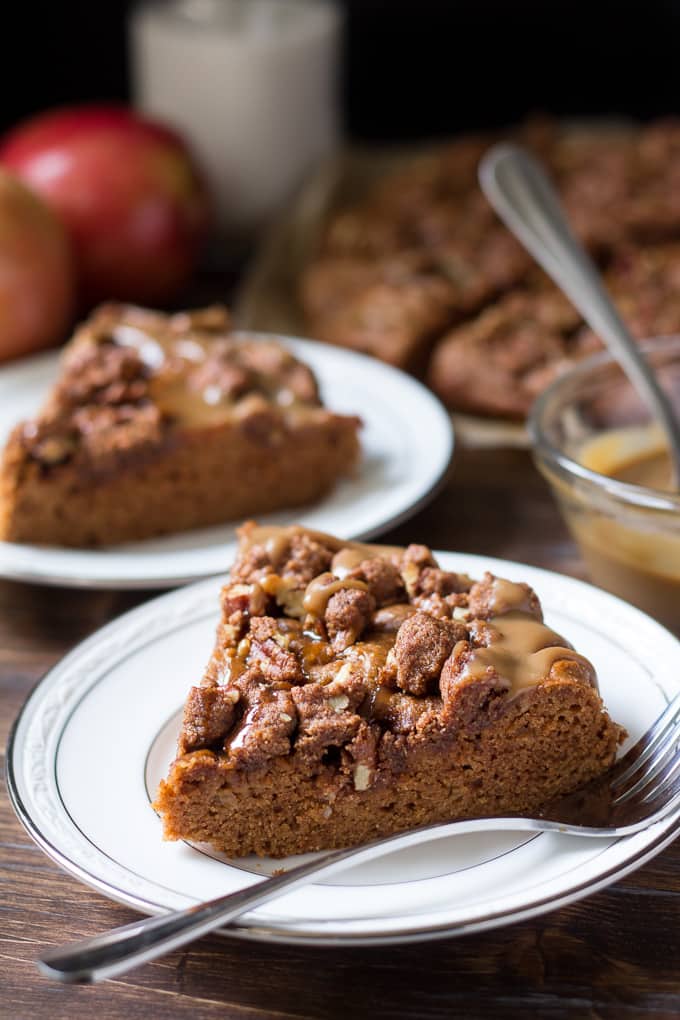 This recipe has a few steps due to the double toppings, but it's easy to make – trust me!  You make the cake batter, then the crumb topping, and then the caramel sauce while the cake bakes.
If you're wondering if it's worth it, while I can't exactly offer you a "money back" guarantee, I can tell you this: This Paleo caramel apple coffee cake is just as delicious as any coffee cake I've had – Paleo or not!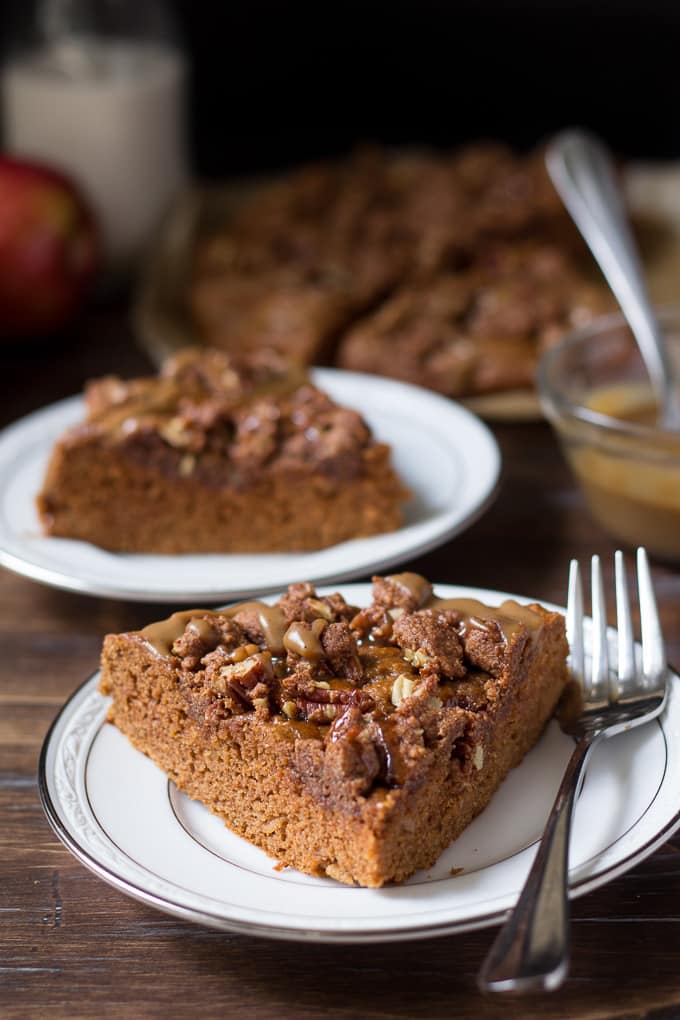 Plus, my very un-Paleo husband said it was one of his favorites and both the picky kiddos ate it.  (Full disclosure – one of them picked out the nuts.) Plus, the refined coconut oil used in the topping ensures no coconut taste at all, which is sometimes a deal breaker for the littlest one.
Since I'm sure you've had enough of my selling and pleading, I will now leave you with the recipe – hopefully one that will become a favorite!  Remember to post pictures and tag me on Instagram if you make it, or any of my recipes!
Paleo Caramel Apple Coffee Cake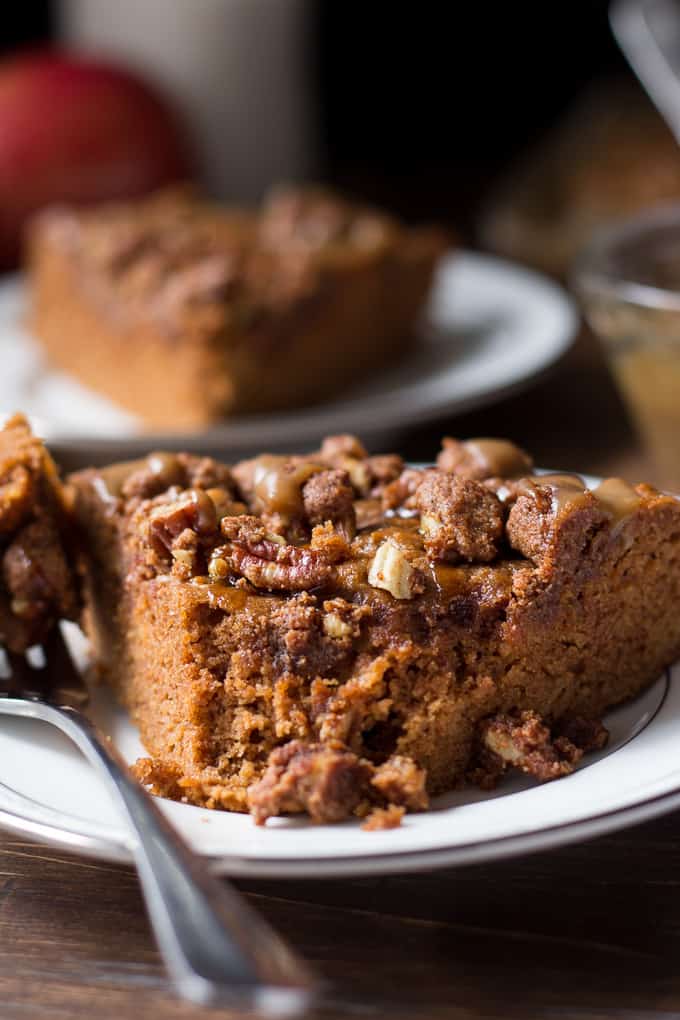 Paleo Caramel Apple Coffee Cake
An extra special Paleo Caramel Apple Coffee Cake with cinnamon crumb topping and dairy free caramel sauce. Makes a great dessert or brunch dish for the holidays!
Prep Time: 20 minutes
Cook Time: 25 minutes
Total Time: 45 minutes
Course: Dessert/Brunch
Cuisine: Paleo
Servings: 8 -10 servings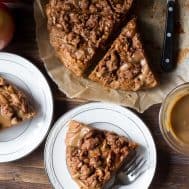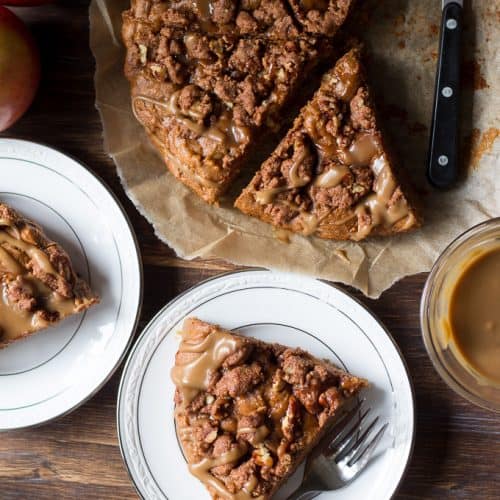 Instructions
Preheat your oven to 350 degrees and line a 9 inch baking dish or cake pan with parchment paper

In a large bowl, whisk together the eggs, cashew butter, 1/4 cup coconut sugar, and vanilla extract. In a smaller bowl, combine the 1/2 cup almond flour, tapioca flour, baking soda, salt, 2 tsp cinnamon plus the nutmeg and allspice.

Stir the shredded apples into the cake mixture and pour the batter into the parchment lined baking dish.

To make the crumb topping, combine all ingredients except the pecans in a small bowl and blend with a fork or pastry blender until combined, then stir in the pecans.

Top the unbaked coffee cake generously with all of the crumb topping, then bake in the preheated oven of 20 minutes, or until the topping is golden brown and a toothpick inserted in the center comes out clean.

While the cake bakes, prepare the caramel sauce. In a small saucepan over medium heat, whisk together the coconut cream and coconut sugar, stirring as it melts. Bring to a boil, stirring, then lower the heat if needed to a strong simmer (the mixture should continue to bubble) and continue to stir and cook for 5-10 minutes until the mixture becomes thick, syrupy, and deep golden brown. Remove from heat and stir in the vanilla and sea salt.

Once cake is done, remove and transfer carefully to a wire rack by holding both ends of parchment paper. Allow both the cake and caramel sauce to cool completely before drizzling caramel over the top to serve. Store leftover caramel in a sealed container in the refrigerator for up to 4 days. Enjoy!
Recipe Notes
*Just squeeze between paper towel to drain, I wound up with about 1/2 cup shredded apple after draining
**Chill in the fridge prior to making the topping
***I used the thick part of a chilled can of full fat coconut milk or you can purchase canned coconut cream
 What I Used To Make My Paleo Caramel Apple Coffee Cake


Want more Paleo coffee cake recipes?  Try one of these!
Banana Almond Coffee Cake Muffins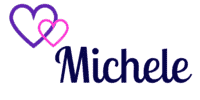 Have you tried refined coconut oil for baking?
What's one thing you should be sick of but probably never will be?
Note: This post contains Amazon affiliate links. This means that if you click on a link and make a purchase, I will receive a small commission at no cost to you. Thank you for supporting The Paleo Running Momma!