This Paleo Cranberry Orange Coffee Cake is perfectly moist and has plenty of sweet cinnamon crumb topping plus a layer of homemade cranberry sauce.  No one will believe this coffee cake is Paleo, gluten free, refined sugar free and dairy free!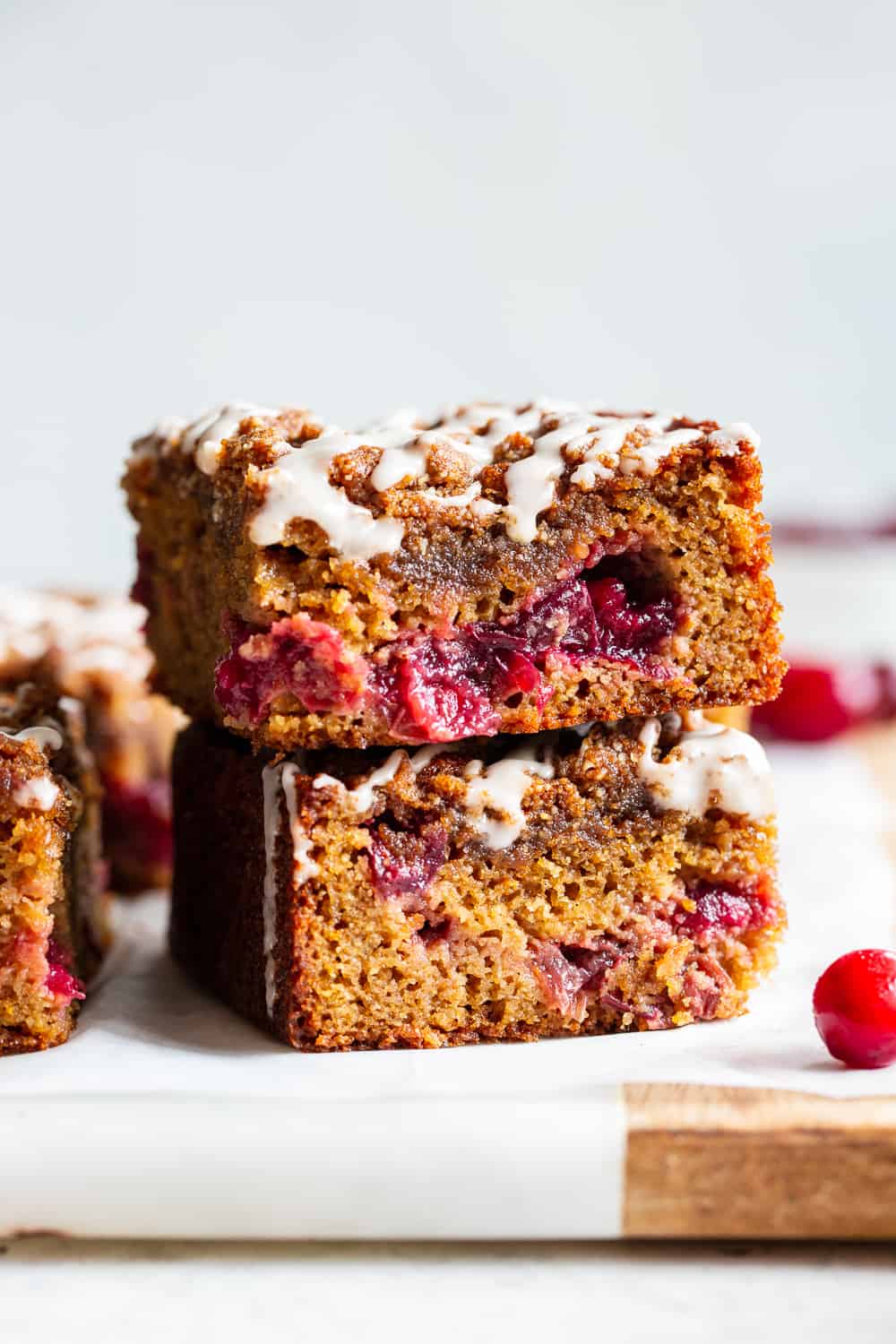 As promised, I have more recipes up my sleeve (literally) involving Emily's favorite cranberry sauce!  I am going to be totally honest with you and say that this one is my favorite – which is why I had to post it ASAP after sharing the cranberry sauce.
Ingredients in Cranberry Orange Coffee Cake
So, you might be wondering what exactly makes this cranberry orange coffee cake so much more incredible than any other Paleo coffee cake.  And no worries – I'm happy to tell you all about it!
Cake: First, the "cake part" is taken to another level with a few ingredients that I save for very special occasions.  1.) orange juice 2.) orange zest (I only zest when I'm feeling extra motivated) and 3.) pure almond extract.  I know, I saved the best for last.
Almond extract is one of those special ingredients that leaves a major mark wherever it falls.  It's pure ecstasy, I'll be honest.  Macaroons, marzipan, tri-color cookies.  They are nothing without almond extract!
Cranberry Sauce: And then, of course, the cranberry sauce comes in – layered in between the batter.  You can use my easy homemade recipe for cranberry sauce, or, you can simply use organic whole berry cranberry sauce – perfectly legal in my eyes.
And spices! To complement the orange cranberry theme, I decided to spice the batter with cinnamon, ginger, and allspice.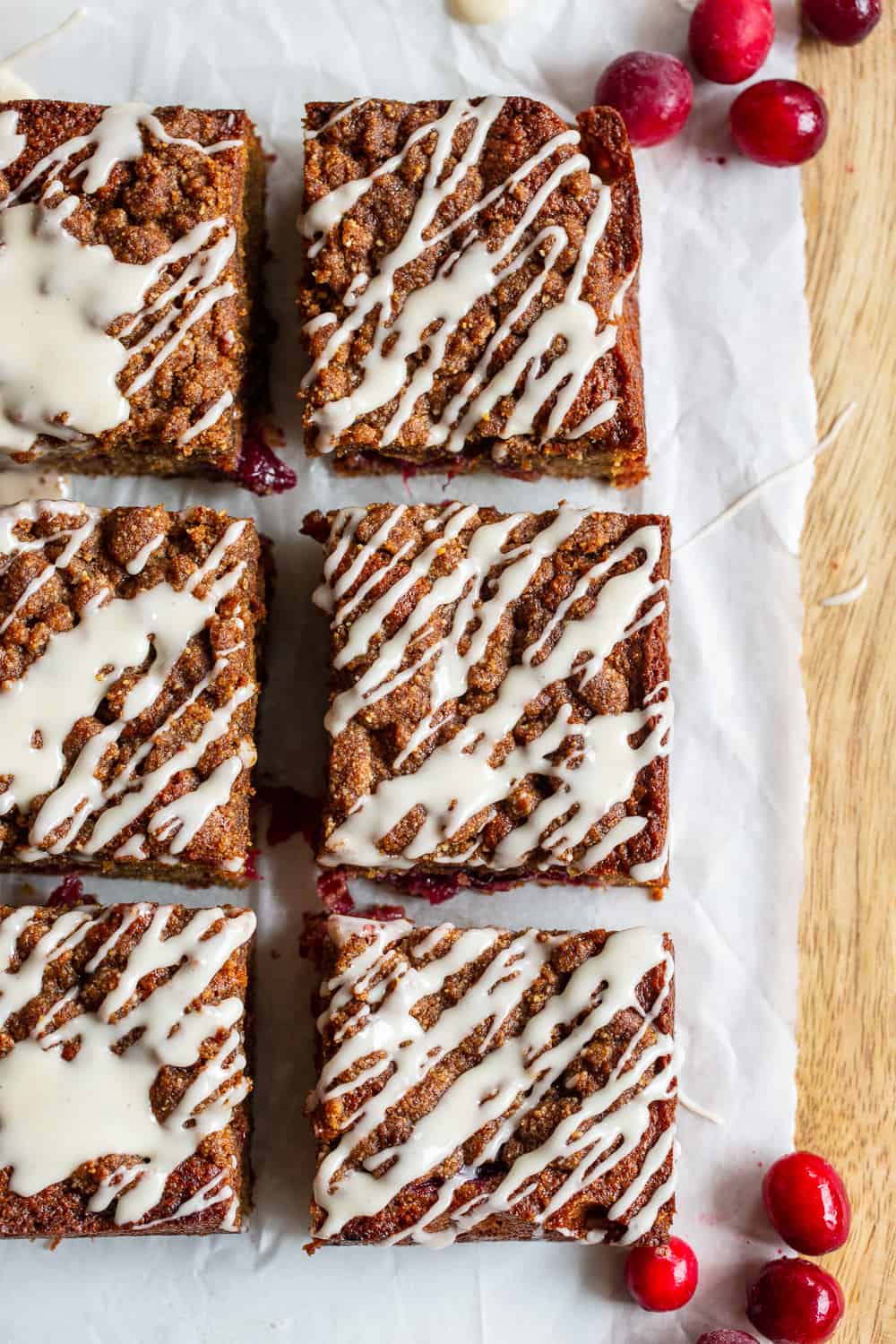 I can't even with this cranberry orange coffee cake.  And I can't even with the fact that I just said can't even, but whatever – it's the best I can do to describe my feelings for this coffee cake!  You want to make this one, you really, really want to.  I take no credit – the recipe just sort of put itself together, and whoa, here it is.
How to Make This Coffee Cake
Here are the steps you'll need follow to make this easy cranberry orange coffee cake:
Whisk together the wet ingredients and sugar in a large bowl. You can use an electric mixer if you like.
Next, whisk together the dry ingredients in another bowl.
Stir the dry mixture into the wet mixture gently, until the batter is just combined.
Spread half of the batter in the bottom of a prepared cake pan.
Spread your cranberry sauce over the batter. Don't worry about making it perfect – the messier the better!
Spread the other half of the cake batter over top and get ready top and bake!
Holy flavor – and I haven't even gotten to the cinnamon crumb topping yet.  Are you starting to see why this one's my favorite?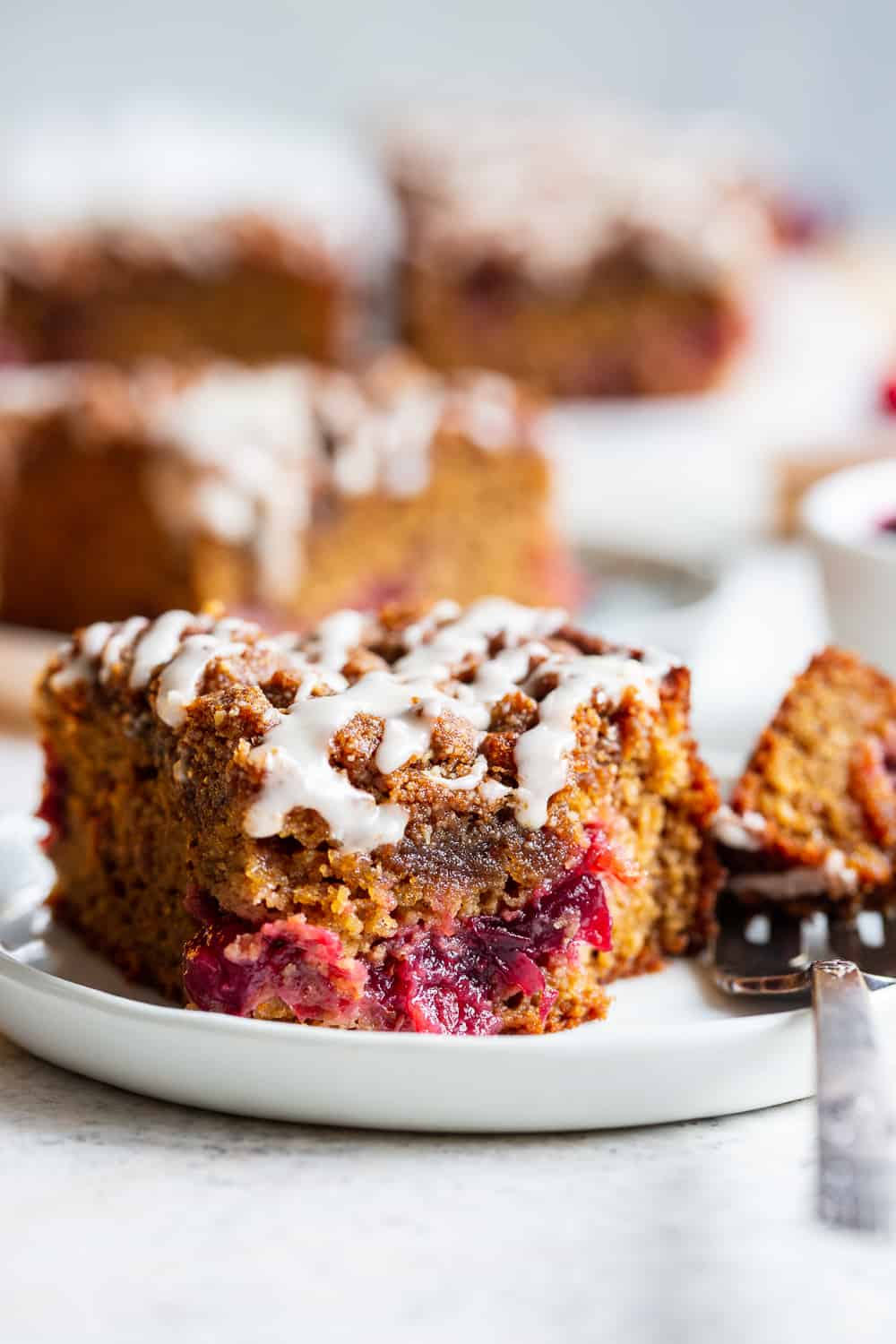 How to Make Cinnamon Streusel Crumb Topping
The cinnamon crumb top on this cranberry coffee cake is seriously delicious and super easy to make. You'll need the following ingredients:
Blanched almond flour
Coconut oil
Ground cinnamon
Coconut sugar
I use a pastry blender to combine everything in a medium sized bowl, but, you can also use a fork and get the same results.
Just make sure your coconut oil has been chilled prior to blending to get the "crumble" just right.
Then, don't hold back with "sprinkling" it over the cake – use every crumb!  You won't regret it.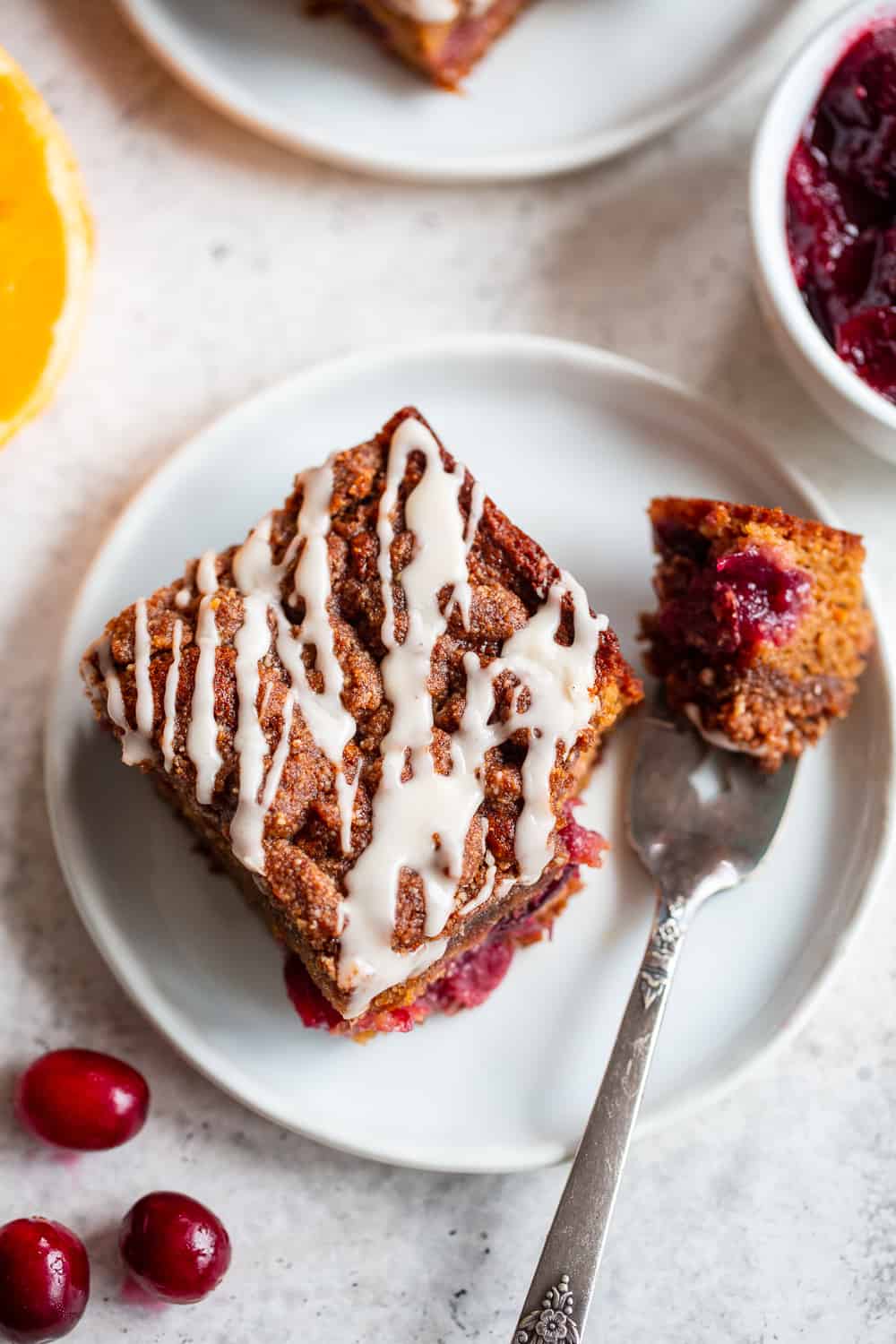 How to Make a Paleo Friendly Icing or Glaze
By replacing powdered sugar with powdered monk fruit sweetener, you can easily make a paleo friendly glaze for this cake!
I use 2/3 cup of monk fruit mixed with 1 1/2 tablespoons of orange juice for the drizzle.
How to Keep Cake from Sticking to the Pan
There's a quick and easy trick that I like to use when baking all of my sheet cakes, brownies, and bars.
Instead of coating the pan with some kind of fat and flouring it, I just use parchment paper – it's magical!
Simply cut your parchment paper just long enough that it rises above the sides of the pan.
You'll end up with "handles" of parchment that you can use to pull your cooled cake right out of the pan leaving little to no sticky baked on batter mess at all!
How long does coffee cake last in the fridge?
Typically coffee cake can last around 5 days when packed in an airtight container and refrigerated.
Since this Paleo coffee cake recipe contains a layer homemade cranberry sauce, I'd recommend storing it in the fridge for up to 4 days.
Paleo Cranberry Orange coffee cake is going to be your new holiday baking obsession!
Now, let's start baking!
Paleo Cranberry Orange Coffee Cake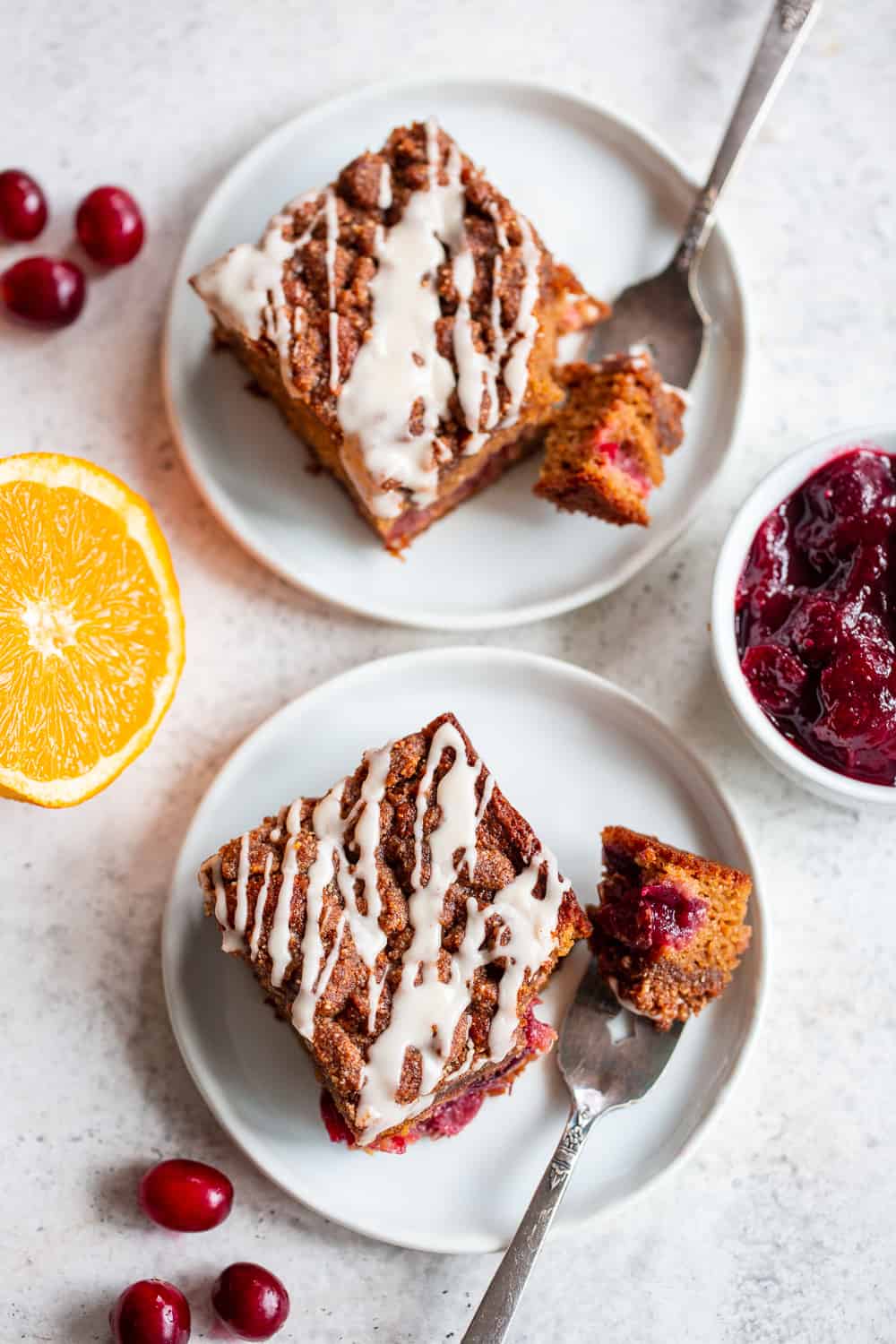 Paleo Cranberry Orange Spiced Coffee Cake
This grain free and Paleo Cranberry Orange Coffee Cake is made with homemade cranberry sauce and has plenty of sweet cinnamon crumb topping made with real food ingredients. No one will believe this coffee cake is Paleo and actually good for you!
Prep Time: 15 minutes
Cook Time: 35 minutes
Total Time: 50 minutes
Course: Dessert/Breakfast
Cuisine: Paleo
Keyword: cranberry, cranberry sauce, grain free, mandarin oranges, paleo coffee cake
Servings: 9 servings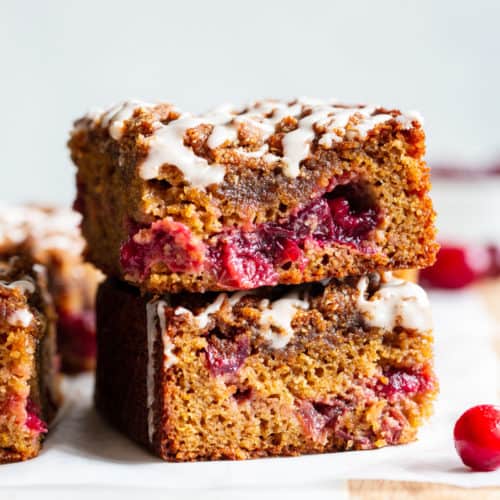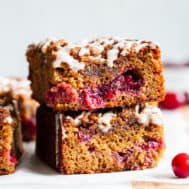 Instructions
Line an 8x8 inch square pan with parchment paper on the bottom and a couple of inches up the sides. Preheat your oven to 350° F.

In a large bowl, whisk together the eggs, sugar, orange juice, ghee or coconut oil, almond extract, and orange zest until smooth.

In a separate bowl, combine the almond flour, tapioca flour, baking soda, salt, and spices.

Gently stir the dry mixture into the wet until a batter forms.

Spread about 1/2 of the batter over the bottom of the cake pan, then cover with all of the cranberry sauce (it doesn't need to be an even layer, messy is fine!) and then spread the remaining batter over the cranberry sauce, set aside.

In a small bowl combined all the ingredients for the crumb top using a fork or pastry blender until a crumbly mixture forms, then sprinkle evenly over the top of the unbaked cake.

Bake in the preheated oven for 35 minutes or until set in the center and a toothpick comes out clean. Allow the cake to cool completely in the pan, then cut into pieces to serve.

Store leftovers in the refrigerator for up to 4 days. Enjoy!
Recipe Notes
*To make an optional glaze or icing for this cake, mix 2/3 cup of organic powdered sugar OR powdered monk fruit with about 1 1/2 tablespoons of fresh orange juice.  Drizzle over the cooled cake.
Nutrition
Calories: 332kcal
Carbohydrates: 30g
Protein: 9g
Fat: 22g
Saturated Fat: 5g
Polyunsaturated Fat: 1g
Monounsaturated Fat: 2g
Trans Fat: 1g
Cholesterol: 75mg
Sodium: 115mg
Potassium: 48mg
Fiber: 4g
Sugar: 16g
Vitamin A: 115IU
Vitamin C: 4mg
Calcium: 84mg
Iron: 2mg
Want more Paleo baking recipes?  Try one of these!
Gingerbread Pumpkin Coffee Cake
Note: This post contains Amazon affiliate links. This means that if you click on a link and make a purchase, I will receive a small commission at no cost to you. Thank you for supporting Paleo Running Momma!