I am not a person who can just "not eat" when sick, waiting to get better.  Even when I'm really sick, I don't completely lose my appetite.  Not only that, but as soon as the worst symptoms are over, I often find myself ravenous, probably an effort by my body to replenish depleted nutrients.
I'm not sure if that's strange, but it can really pose a problem for me during the rare times when I'm sick and my body just isn't ready for the food I try to feed it!
As you guys know from earlier this week, I came down suddenly with a stomach bug Saturday night, and spent Sunday and Monday recovering.   The first time you get really sick as a Paleo eater, it can be strange. Most of us are used to eating dry cereal, saltines, and chicken noodle soup when we're sick, and all of a sudden we wonder how to eat paleo while recovering from an illness!
I decided to show and tell you about my meals on Monday for this WIAW, so you can see how I modified my typical meals as my system was still settling down and recovering, but I was also super hungry and needed the extra nourishment to replenish what I'd lost.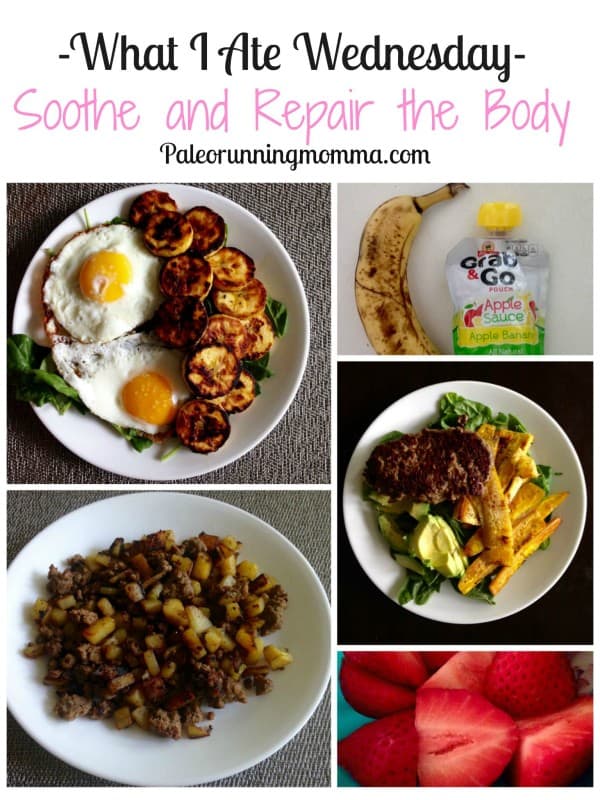 My Paleo Meals on a Sick Day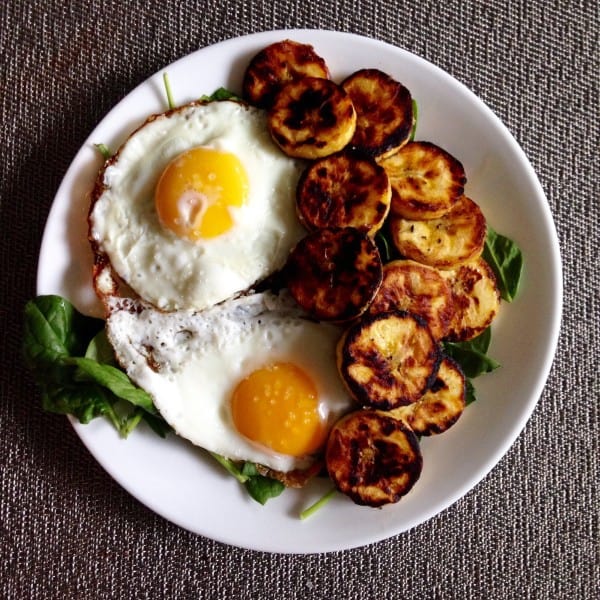 Breakfast – My stomach was that unpleasant combination of starving and still sick-feeling – I wanted to eat everything yet KNEW that would be a bad, bad idea. I stuck with a combo that is probably the most digestible for me – eggs and plantains.
I left out the meat (for now) and cooked everything in coconut oil.  I had a little bit of spinach with this too – veggies are often the toughest thing to reintroduce so it wasn't as much as usual.  Diana would tell you that I must have been cooking 3 things at once, since I burnt my plantains.  I only burn breakfast when cooking too many different things at once.
NO COFFEE.  As much as I love it, there is just no good reason to drink coffee when your goal is to get your body re-hydrated and re-nourished.  I sipped on water during the morning instead.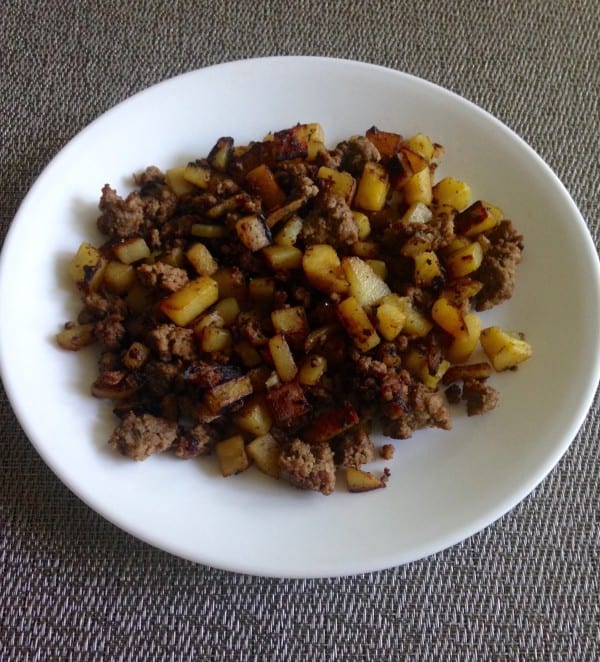 Lunch – I had a very simple lunch – sweet potato and ground beef hash, cooked in coconut oil with a little salt, no spices.  Skipped the green veggies here and chose meat instead.  It felt like eating both at once would've been overkill at that point.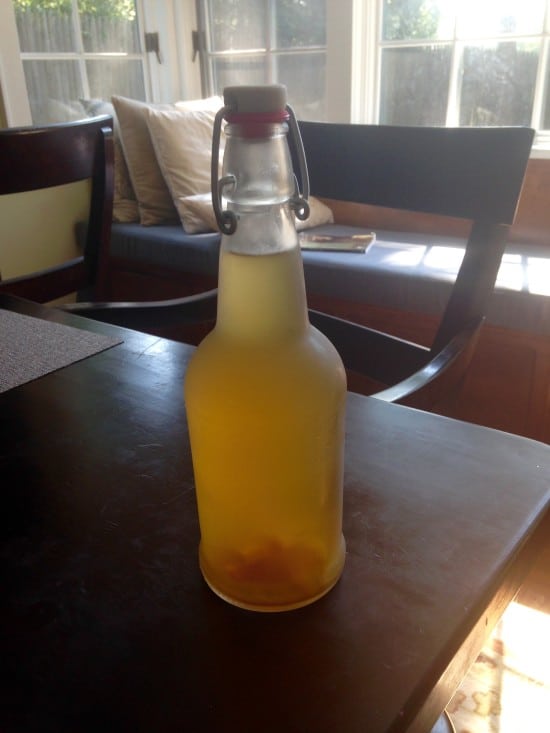 If you don't normally drink  kombucha, I definitely wouldn't start right after an illness – it can be harsh if you're not used to it.  I normally drink one bottle a day (16oz) but drank only half on Monday to get the benefits of the probiotics without overloading my system.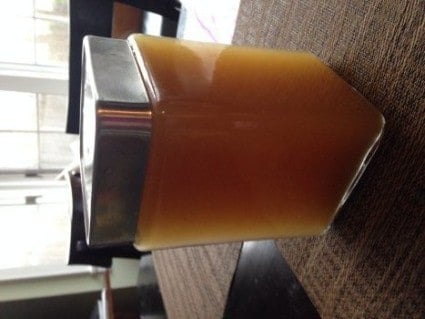 In an ideal situation, I would've drank some both broth in the afternoon, but I haven't been making it over the summer and wasn't prepared!  Last fall/winter, I made both broth in my slow cooker regularly and plan to do the same this year, since it's great for strengthening the immune system and healing the gut.  You can also use it in tons of recipes, so it's practical and healthy to have on hand.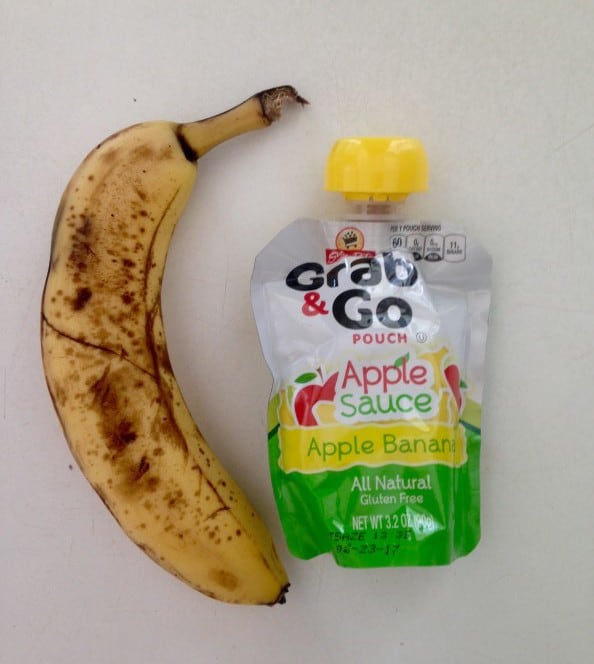 Snack – Not my typical, but I wanted something very digestible!  This was supposed to be my pre-race food on Sunday, so I figured I might as well not waste it.
The banana was fine, but the apple sauce tasted so sweet to me.  One thing I don't crave when my stomach is off, is sugar.  No harm done, however.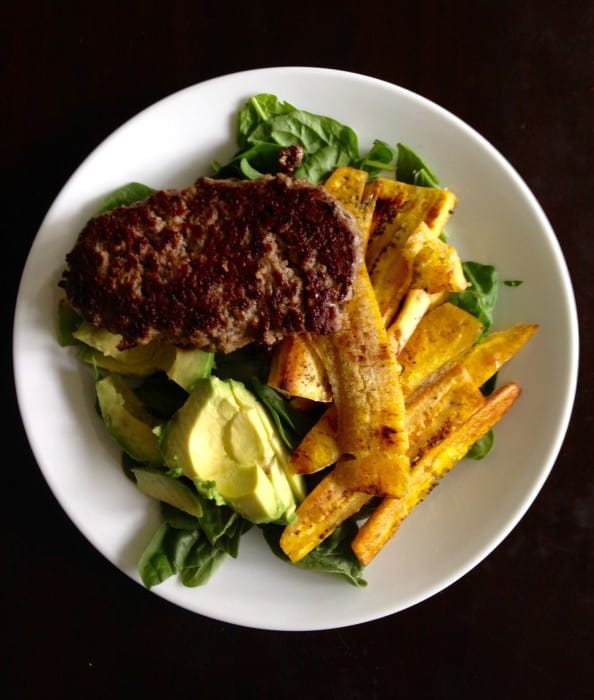 Dinner – My theory here was just more of what worked during the day, plus a bit more of the green stuff since I was feeling more normal at this point.
Excuse the shape of my burger, it must have been a long day 🙂 My whole family had burgers and mac and cheese, I cooked up plantains in coconut oil for myself to sub for the mac and cheese, and my kids and I shared an avocado too.
Very basic, plain stuff you're used to = a good idea when you're not 100% yet. Green veggies of all kinds are the last thing to come back into my diet fully since it just doesn't feel right for me for a few days.  The meat works for me since I eat it all the time and I think my body craves it more than anything else.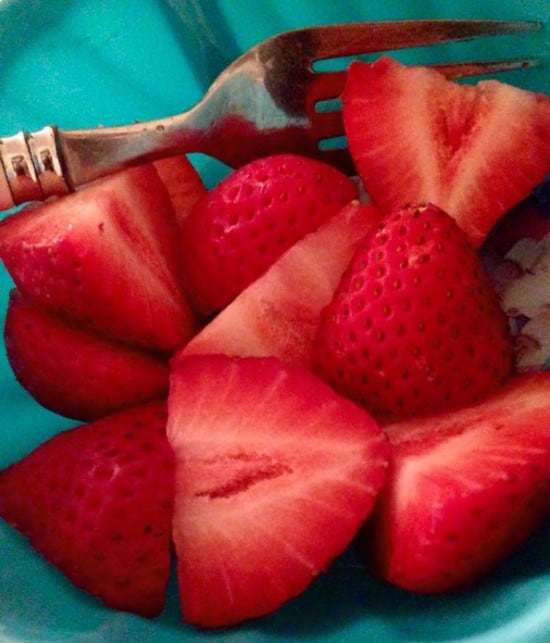 Dessert – If you can call this "dessert" – it was really just a small portion of strawberries.
I drank a lot of water at night since I was still feeling dehydrated and was finally thirsty enough to drink a good amount.  No chocolate, for the same reasons no coffee was consumed.  Just not helpful for what I needed.
And…that wraps up my day.  Luckily as of Tuesday I've been nearly back to my normal meals and portions, plus I'm running again!
Sending happy, healthy germ fighting, gut healing vibes out to everyone 🙂
Do you completely lose your appetite when sick?
What foods do you first introduce back into your diet?
Have you made bone broth?