These Paleo Pecan Pumpkin Pie Bars are your solution to have your pie and snack on it, too – the healthy way! A sweet, creamy but dense, pumpkin spice filling with a chewy crust made of pecans, dates, cinnamon, and a touch of honey make these taste just like pie, yet easy to pick up and eat with your hands! Gluten, grain, and dairy free.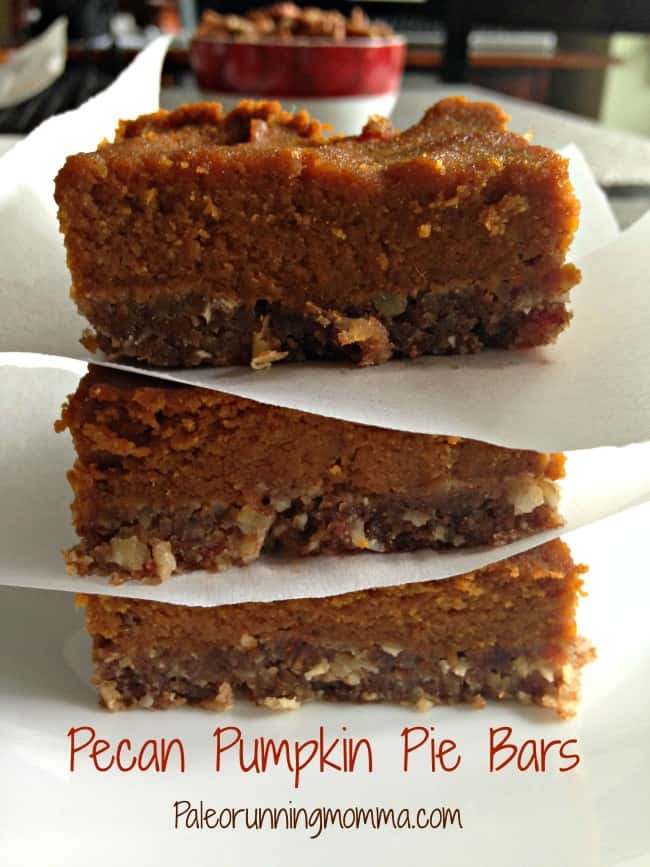 Paleo Pecan Pumpkin Pie Bars  – they're what's for dessert tonight (and all over the internet) from now until we all do our pumpkin detox sometime between Thanksgiving and Valentines Day.  I don't know actually.  I haven't been around the internet long enough (or wasn't paying attention, oops) to know the proper timing for seasonally themed recipes.  I'm getting the sense it's like shopping for clothes though, where it's a season ahead, is that right?
You guys want to know a secret about these bars?  Oh the anticipation.  It's actually not a juicy secret at all, but one that could potentially make your life easier if you are thinking of making them.  It's that the pecan layer is optional.  Wow, that's intense.  But really, I've made these a couple of times, and although the pecan layer adds a "crust" to complete the pumpkin pie effect, they are really, really tasty without it, too.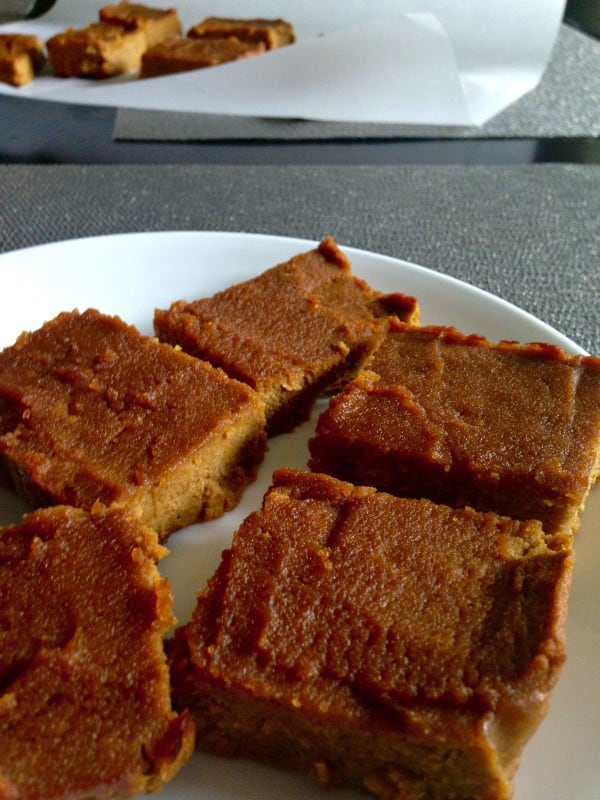 Yup, there they are, pecan free, which means that they're also completely nut free this way, since the filling contains coconut flour and no nuts!  Pumpkin party trick, right?
Anyway, I personally love pecans (especially when they're sweetened up!) and anything involving a crust with pecan, dates, maple syrup and cinnamon, so if you have the motivation, a food processor, and a few extra minutes, they really are delicious with the pecan layer.   And a little coconut whipped cream if you really want to take your pumpkin consumption seriously.  Make the most of it!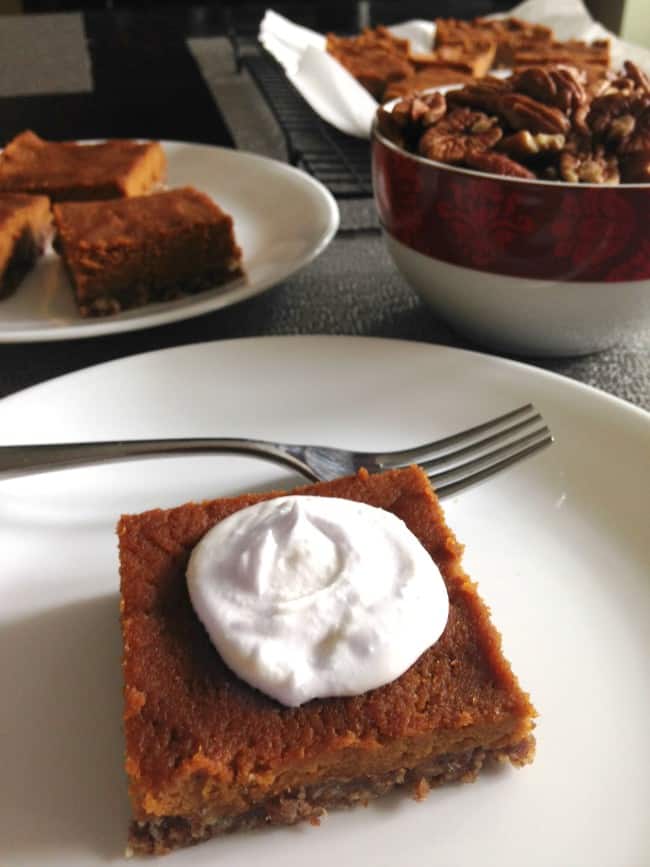 And now you see why my kids are on board with Paleo – the treats just make it fun.  They are just a little bit spoiled by the pumpkin goodies lately, especially because I make each recipe twice, more if I don't get it right.
That's a whole lot of treat-making up in here, and no one's complaining (with the exception of me, but that's why I have you guys) about Thanksgiving coming before Halloween this year.  I just hope they're not completely over all of it by the time the holidays actually roll around – that would make me sad.  Same goes for me – I want my romance with Thanksgiving to remain strong and survive all the fall-food-porn on social media.   It's hard, but my Thanksgiving love runs deep and we have a long history. I'd really like to make it work.
Paleo Pecan Pumpkin Pie Bars
Paleo Pecan Pumpkin Pie Bars
These paleo pecan pumpkin pie bars have 2 layers - a chewy and sweet pecan layer and a creamy, dense, pumpkin pie layer. They're healthy, delicious, and you can eat them with your hands!
Prep Time: 20 minutes
Cook Time: 35 minutes
Total Time: 55 minutes
Course: Dessert, Sweet Treat
Cuisine: Paleo
Servings: 16 bars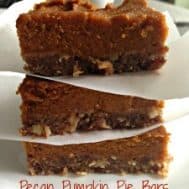 Instructions
Preheat your oven to 350 degrees and line an 8 x 8 inch baking dish with parchment paper.

For the pecan layer - put all the ingredients in a food processor and process on high until you get a dense paste. Press the mixture into the bottom of the parchment-lined baking dish.

Bake the pecan layer in the preheated oven for 5-7 minutes, remove, and set aside.

For the Pumpkin Layer - Mix the pumpkin puree, egg and egg yolk, coconut sugar, honey vanilla, coconut oil, and spices together until smooth. Slowly add the coconut flour and mix well.

Spread the pumpkin layer over the pecan layer evenly. Bake in the preheated oven for 30 minutes, or until the center is set and top begins to brown slightly.

Remove from oven and let cool completely before cutting into squares.

Enjoy!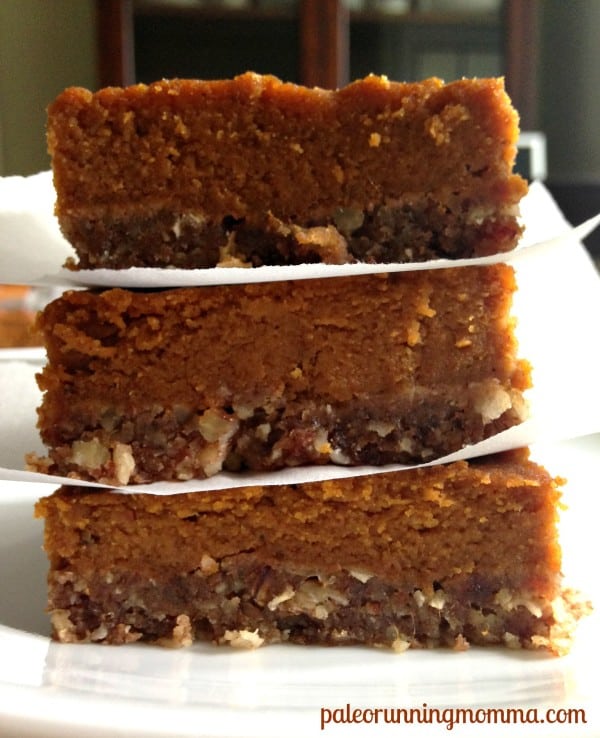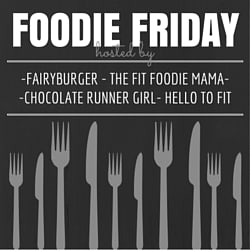 I'm linking up with Foodie Friday today, so visit and check out more yummy, healthy recipes to make this weekend!
What do you think?  Is the fall-food-porn (#fallfoodporn?) out of control?  Do you like it? Do you prefer not to talk about it?  Is this weird? Is it threatening the sacredness of your Thanksgiving?
…And, on that note, have a great weekend – and be safe, people – the pumpkins (and pumpkin spiced treats) on the internet are waiting for you.