These healthy grain free and Paleo Pumpkin Pancakes are packed with warm pumpkin spice and sweetened with pure maple syrup.  They're also nut free, gluten free, dairy free. Paleo Pumpkin Pancakes are kid friendly, super soft and fluffy!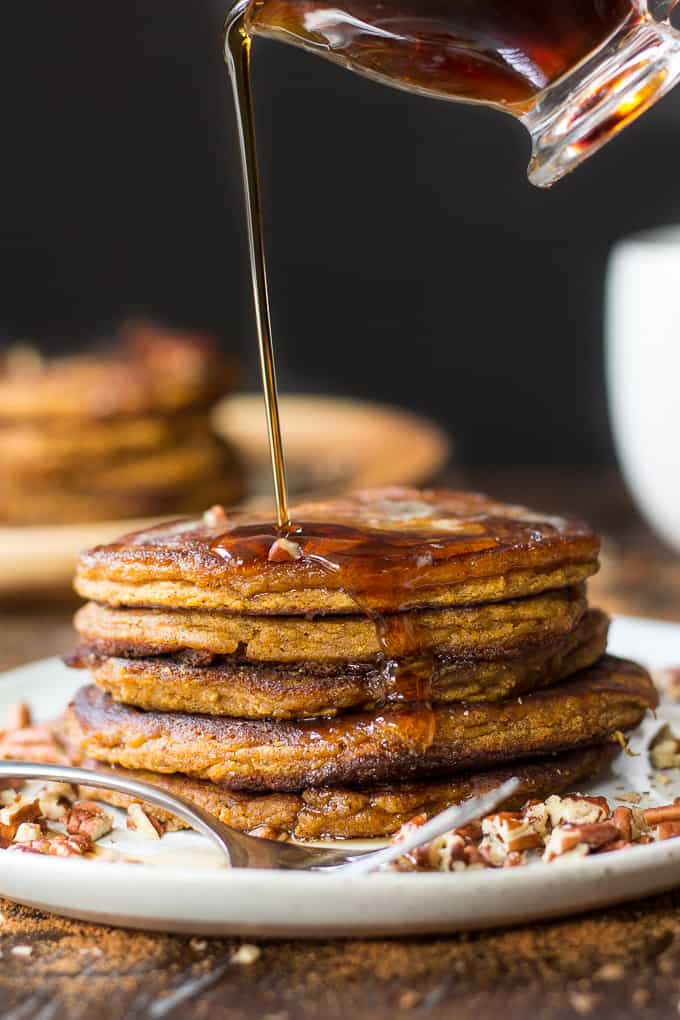 This recipe marks the first time I've made pumpkin pancakes in my entire life, Paleo or not. Embarrassing, really, but in the past I just wasn't all that into pancakes in general. Mostly because they always made my stomach feel horrible and I'd pay the price afterwards.
It's not surprising that frying white flour in vegetable oil and coating it in sugar made my body scream in agony. And, I have to say, it took me a long time to get over my pancake trauma and embrace Paleo pancakes.
For a while, I made them for my family for a while but never had more than a few bites myself thinking they still wouldn't sit right.  Then, about two years ago, I started making my Maple Raisin Acorn Squash ones to sort of "break through" my pancake block.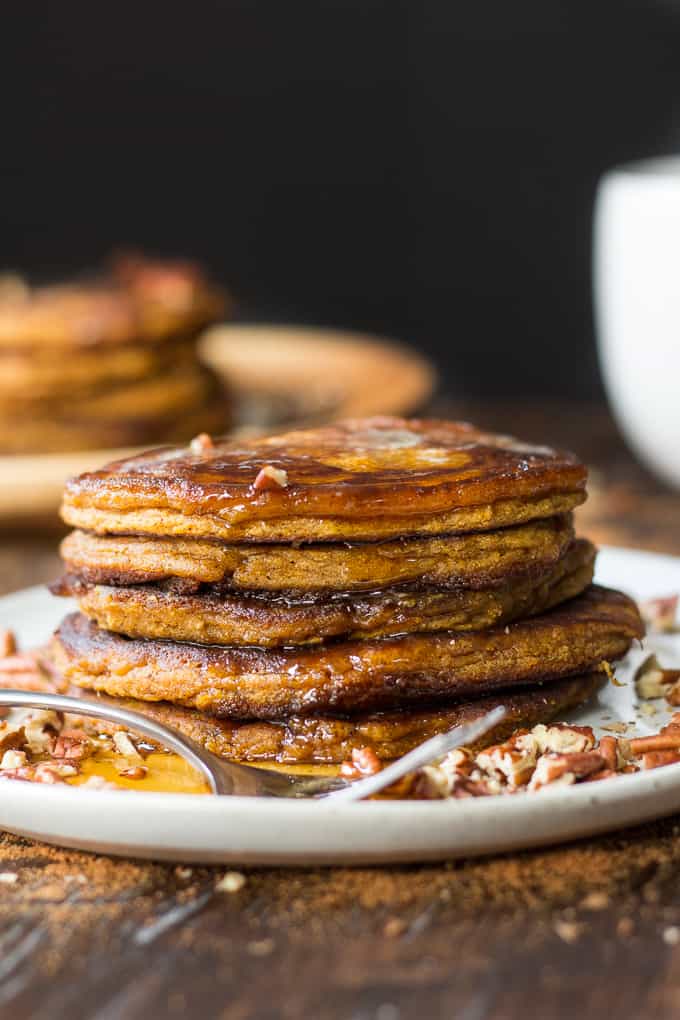 I really like them, however, I'll be the first to admit that they're more "squash" than "pancake", so I'm not sure they totally count.  It wasn't until last fall, when I made my apple pie pancakes that I started getting more comfy with the idea of pancakes!
Anyway, I've slowly but surely moved through my pancake issues, and these pumpkin pancakes are the perfect dive into fall-themed pancakes this year!
What's in these Paleo Pumpkin Pancakes
These pancakes are full of flavor, but are mostly made with ingredients that you probably already have in your pantry. You'll need:
Pumpkin puree
Coconut milk
Eggs
Maple Syrup
Vanilla extract
Coconut flour
Tapioca flour
Pumpkin pie spice
Cinnamon
Baking soda
Salt
Coconut oil
The batter comes together quickly and when you smell the fall spices you'll be eager to get these pancakes cooked!

How to Make Paleo Pumpkin Pancake Batter
The first thing you'll need to do is whisk together the wet ingredients. This includes the pumpkin puree, coconut milk, eggs, maple syrup, and vanilla.
Next, whisk together the dry ingredients (coconut & tapioca flours, spices, baking soda, salt) in a separate bowl.
Mix the dry ingredients into the wet ingredients. Nobody wants a pancake with no fluff, so adding the dry ingredients into the wet ingredients helps to incorporate the baking soda evenly, which will help the pancakes rise.
Tips for Cooking Pancakes
Start with a nonstick griddle or frying pan over medium heat. If your heat is too high, your pancakes will cook faster on the outside, leaving the insides uncooked.
Grease your pan well with coconut oil. This will ensure that you can easily flip your paleo pancakes without any of the batter sticking.
Scoop about 1/4 cup of the batter for each pancake. You should aim for about 1/2 inch thickness for fluffy pancakes.
Add a little more coconut oil to the pan between batches if the pancakes start to stick. Don't be afraid to adjust the heat a little if needed.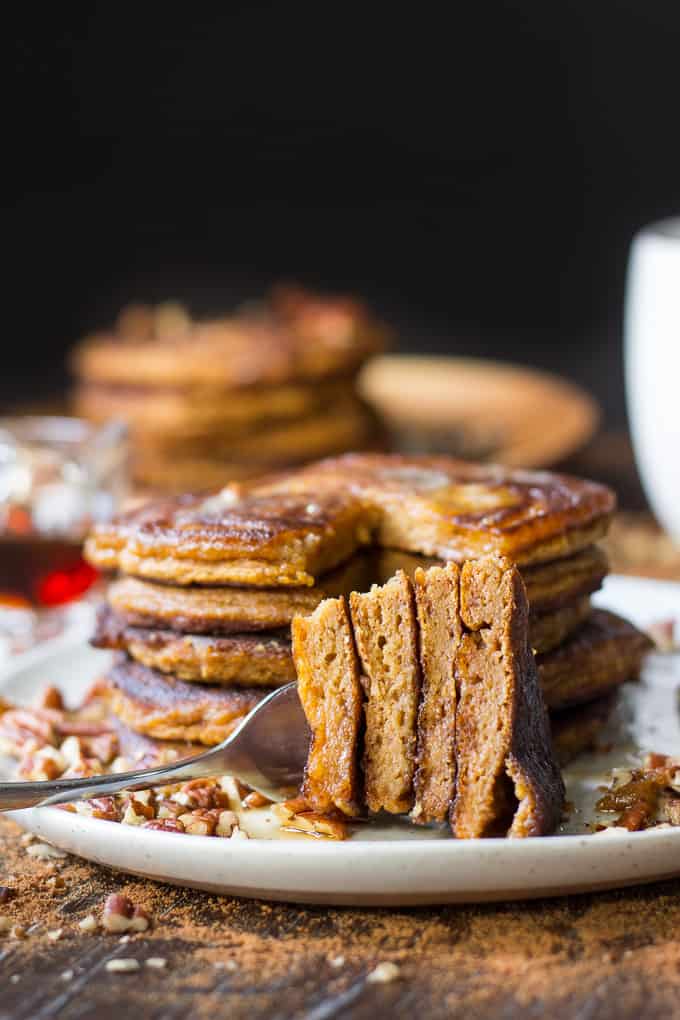 Somehow I decided to make the entire recipe, big enough for 6 people, when I was home alone and certainly wound up eating my fair share of them for second breakfast/lunch.  Or maybe solo brunch?  Whatever it was, it was definitely worth it, and, I think I might be totally over over my pancake problems now.
Which means that these probably won't be the last of my fall pancakes.  No promises, since I'm trying to reign in my recipe impulsivity as you might remember.  But then the wheels in my brain turn and snickerdoodle pancakes start to sound like a good idea right now.
I have to stop that!  Back to the Paleo pumpkin pancakes!  These pancakes use my favorite paleo pancake flour blend – coconut and tapioca – which also gives you the option of making them nut free if you don't add the pecans on top like I did.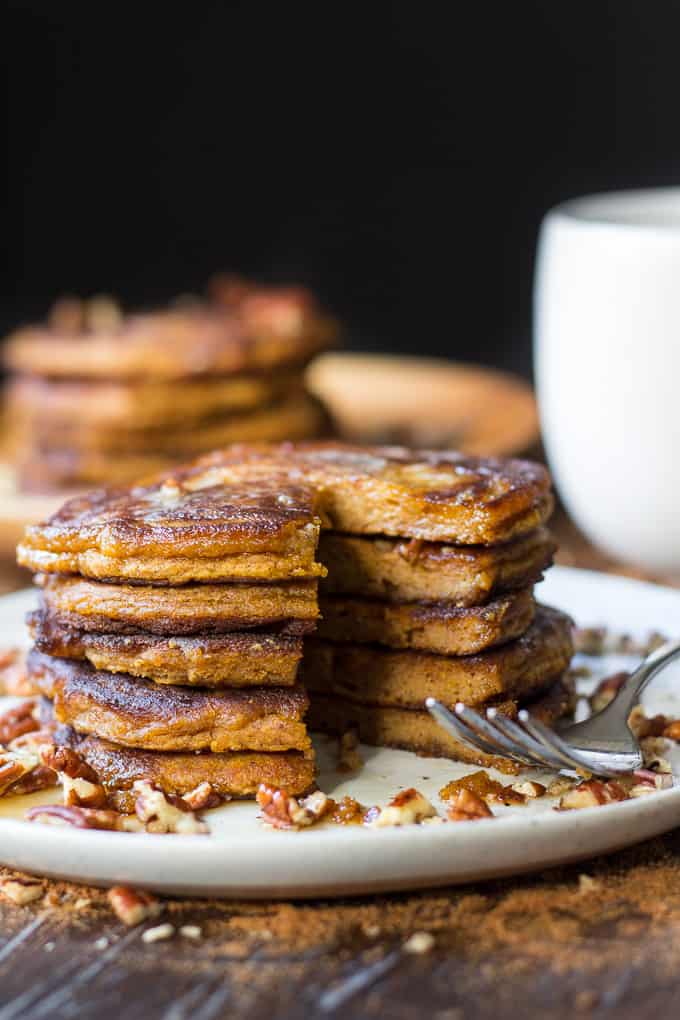 How to serve Paleo Pumpkin Pancakes
These pancakes are so full of flavor that you could honestly eat them as they are. But if you want to dress them up a little, here are some ideas:
-Spread them with butter
-Sprinkle them with more chopped nuts
-Drizzle with maple syrup or honey
No matter how your serve them, these Paleo pumpkin pancakes are soft and fluffy, filling, packed with fiber, and healthy fats, and easy to make!
Can I save leftover pancakes?
Certainly! They save pretty well in the refrigerator, as I found since I made that whole big batch for no one but myself. Keep them in an airtight container and they'll be good for another 2-3 more days.  You could even freeze them for up to 3 months if you want.
Adam wound up taking them to work the next day and said they were awesome the day after!
What are we waiting for? – Let's make some Paleo Pumpkin Pancakes!
Grain free and Paleo Pumpkin Pancakes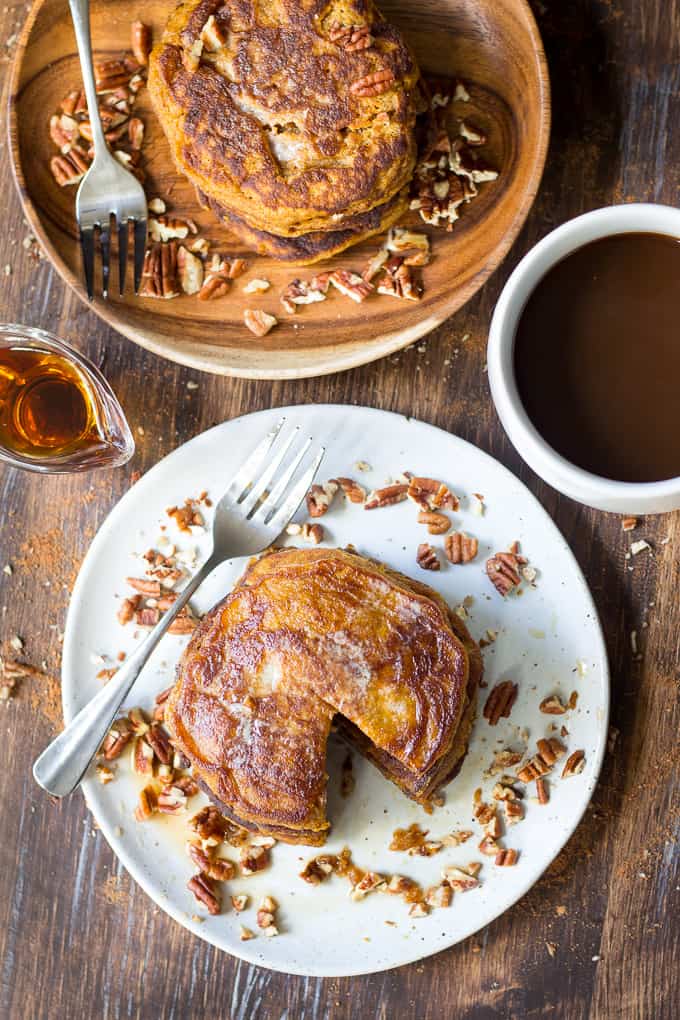 Paleo Pumpkin Pancakes
Paleo Pumpkin Pancakes packed with warm pumpkin spice and sweetened with pure maple syrup. Healthy, soft and fluffy, filling and perfect for a fall weekend morning!
Prep Time: 5 minutes
Cook Time: 15 minutes
Total Time: 20 minutes
Course: Breakfast/brunch
Cuisine: Paleo
Keyword: coconut flour, paleo breakfast, paleo pancakes, paleo pumpkin, pancakes, pumpkin, tapioca flour
Servings: 6 servings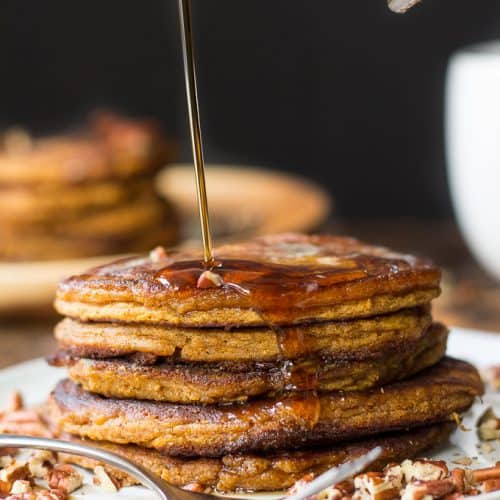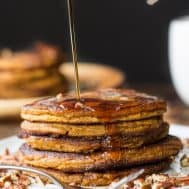 Instructions
In a large measuring cup or mixing bowl, whisk together the pumpkin puree, coconut milk, eggs, maple syrup and vanilla

In a separate bowl, combine the coconut flour, tapioca flour, pumpkin pie spice, cinnamon, baking soda and salt.

Blend the dry mixture into the wet until fully combined - the batter with be very thick due to the dense coconut flour

Heat a non stick griddle or frying pan to med heat** and grease well with coconut oil. With a ladle or large spoon, scoop about 1/4 of batter for each pancake and gently spread out each one to about 1/2 inch thickness***

Cook over med-low to med heat until the first side is deep golden brown, flip and cook the second side the same.

Repeat, cooking the pancakes in batches until all the batter is used up, making sure to coat with coconut oil between batches and adjusting the heat if necessary. I find that paleo pancakes cook best over medium low heat on my stove.

Serve right away, topped with chopped pecans,

Kerrygold butter

(my favorite!) and more maple syrup if desired. Enjoy!
Recipe Notes
*Blend the coconut milk together by whisking or in a blender before adding to the recipe
**Depending on your stove, med-low heat might be preferable to avoid burning and allow the middle of the pancakes to cook through
***Since the batter is thick, you will have to form the circular, flat shape in the pan
Nutrition
Calories: 183kcal
Carbohydrates: 21g
Protein: 4g
Fat: 8g
Saturated Fat: 6g
Cholesterol: 81mg
Sodium: 264mg
Potassium: 178mg
Fiber: 3g
Sugar: 9g
Vitamin A: 4885IU
Vitamin C: 1.6mg
Calcium: 45mg
Iron: 2mg
Want more Paleo pumpkin recipes?  Try one of these!
Paleo Pumpkin French Toast Bake
Are you a pancake lover?  Have you gotten into Paleo pancakes?
Tell me about your favorite pumpkin recipe!
Are you in the fall spirit yet?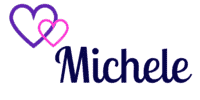 Note: This post contains Amazon affiliate links. This means that if you click on a link and make a purchase, I will receive a small commission at no cost to you. Thank you for supporting The Paleo Running Momma!