This grain free and Paleo Pumpkin French Toast Bake takes a simple Paleo pumpkin bread base and loads it with even more warm and sweet fall flavors!  It's baked to golden perfection and totally grain free, dairy free, refined sugar free, hearty and delicious!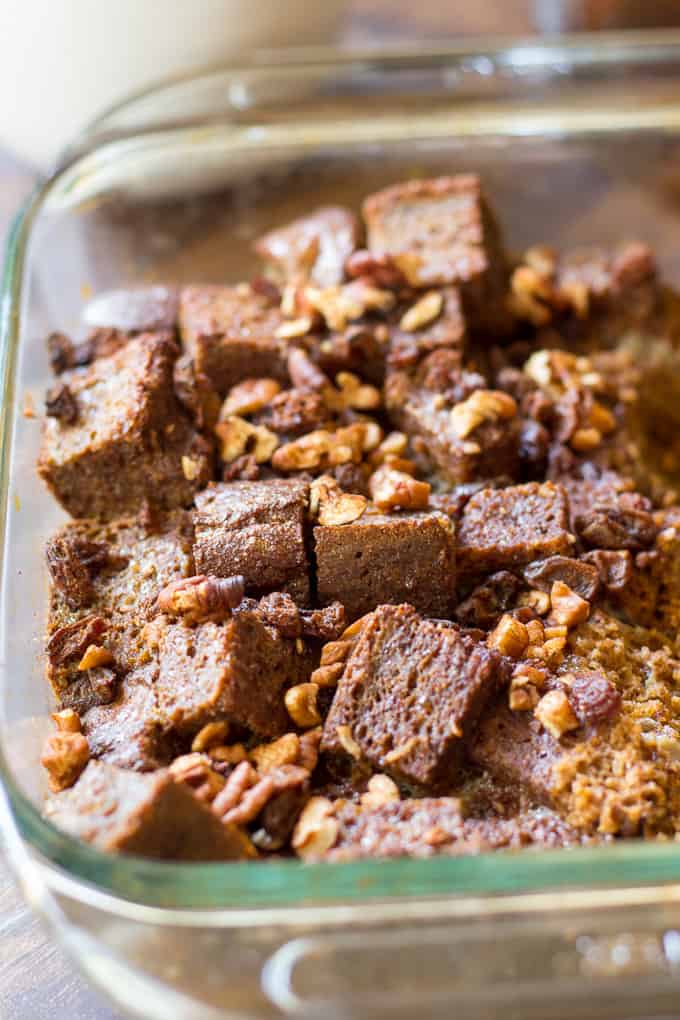 Now that school is in full swing (yes, I'm still adjusting, but, getting there!) Saturday mornings have an extra special feeling.  Especially because it's almost fall!  I'm a firm believer that at least ONE weekend morning needs an "all out" breakfast.
By "all out", I'm talking pancakes or french toast, bacon, eggs, and everyone sitting together eating, still in PJs.  Sounds nice, right?  Coffee too.  Unlimited coffee for the cook!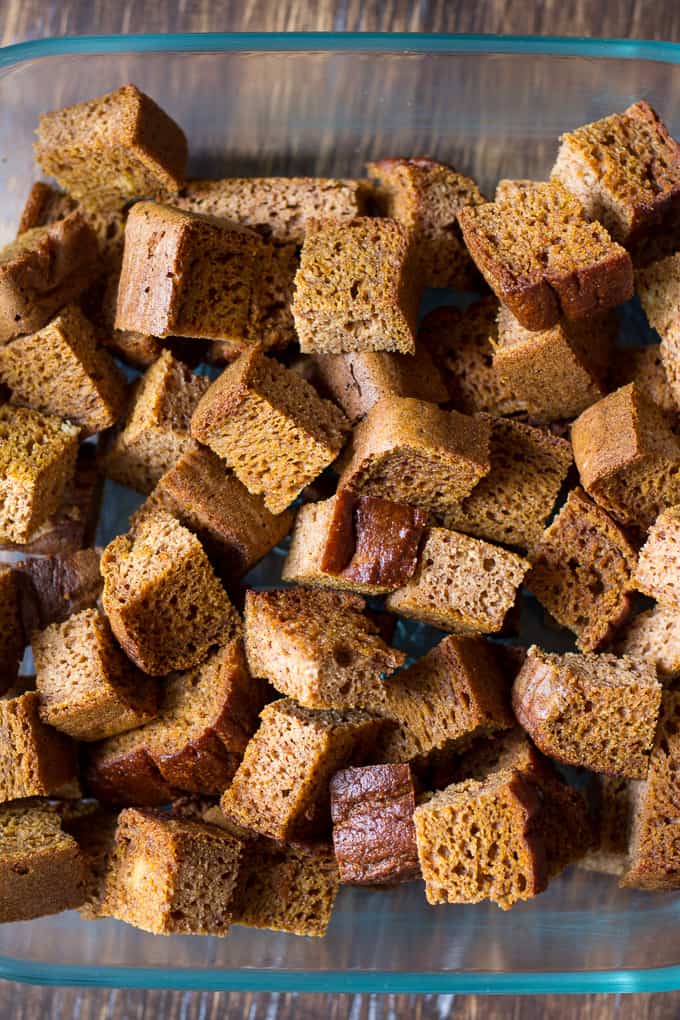 Of course, since I'm the one doing the cooking, it's not exactly the relaxing scene you're probably picturing, but still – if it makes the kids happy, it makes me happy.
French toast happens to be one of their favorites, and, up until now I never made it Paleo.  I'd take store bought gluten free bread and make classic french toast in a pan.  Which is really yummy, of course, but after I made my Paleo Pumpkin Bread (shown above, cubed) I knew some sort of french toast was the next step.  Perfect fall Saturday mornings – we're getting closer!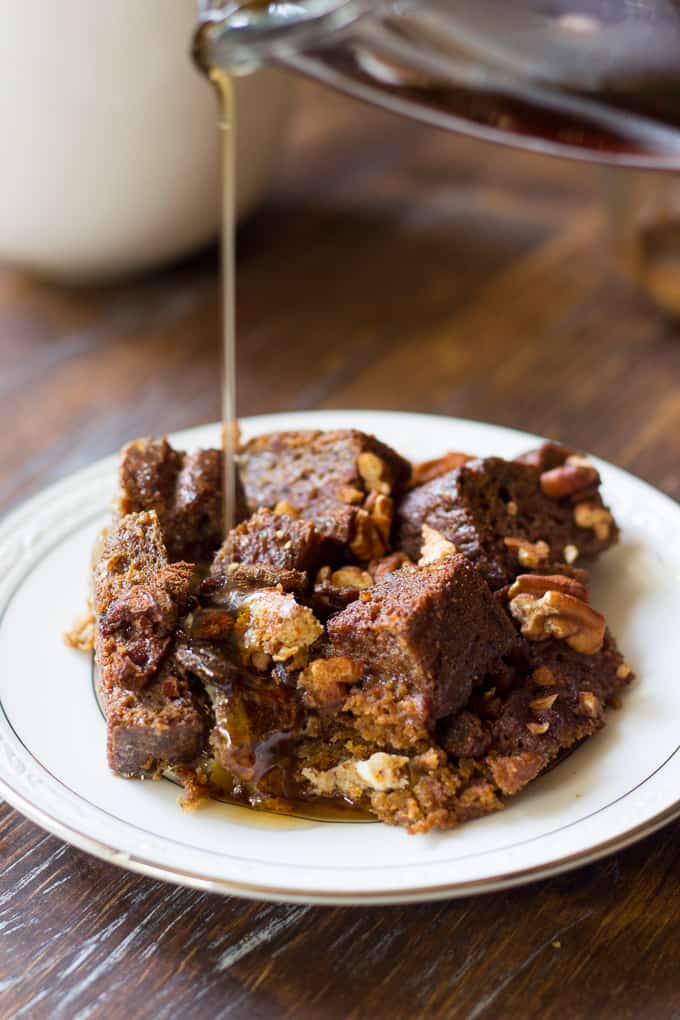 The reason this pumpkin french toast is easy peasy is that it does not require me to stand in front of the stove – YES!  I've decided that I do way too much cooking on my stove top and need to experiment with my oven more.
So, I cubed the pumpkin bread, oven-toasted it (you can totally do this the day before) drenched it in a sweet french toast "bath" loaded with fall spices and baked it.  The results were even better than I imagined!
If I get really motivated for change, I might even turn to my neglected slow cooker.  But, now I'm way off topic – let's stick with the oven for now.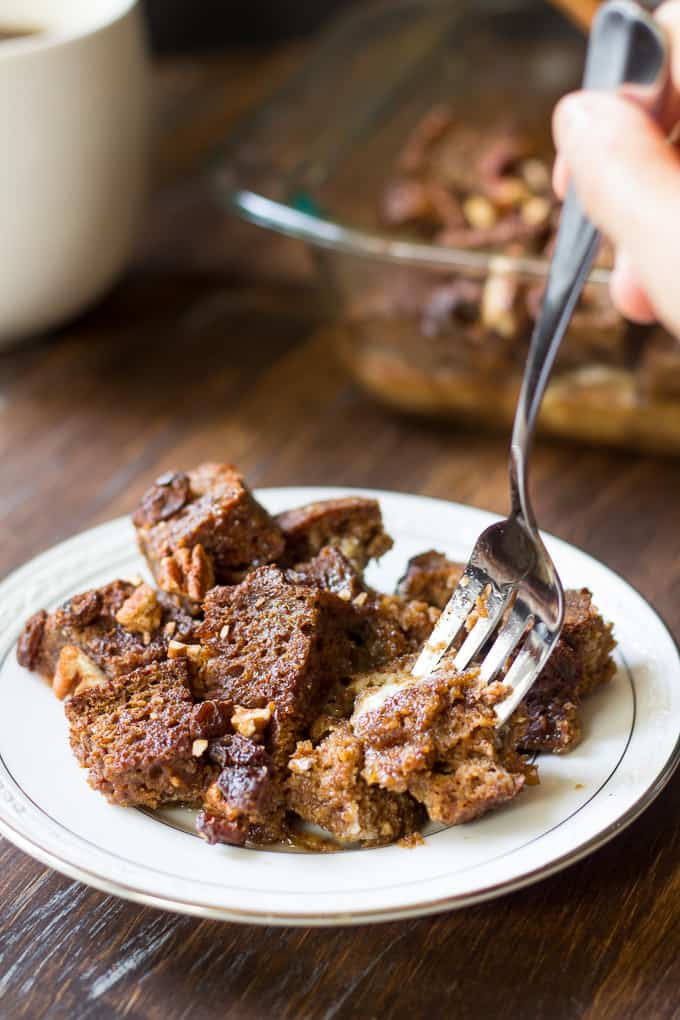 As I mentioned, it's best to bake the bread, cube it and toast it the day before to avoid a crazy morning rush with lots of hungry people whining.  You can also make the liquid mixture and pecan topping the day before as well and store in the refrigerator overnight.
However, I would not coat the bread the night before as you would with a traditional baked french toast recipe – since it's made with grain free pumpkin bread, the overnight soaking would be too much for the bread to withstand.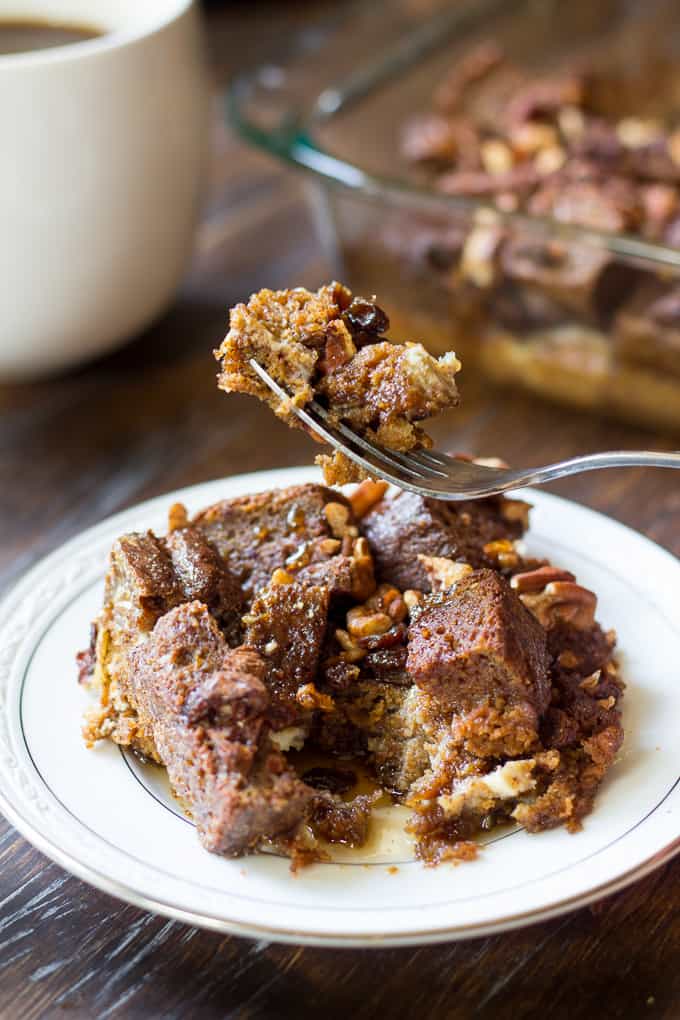 With everything ready to go the night before, first thing in the morning you can simply pour, sprinkle and bake!  I admittedly don't always make things easy for myself, but, I want to make this recipe (and all recipes, really) easy for you.
Oh, and I highly recommend you add the chopped pecan/raisin topping, since even my kids had no complaints about it at all!  Not surprisingly, a little drizzle of pure maple syrup is the key to get my kids to eat anything – even nuts.  For those of you who want a less-sweet breakfast, you can reduce the amount of maple syrup baked into the french toast and it will still turn out beautifully.  Let's get started!
Paleo Pumpkin French Toast Bake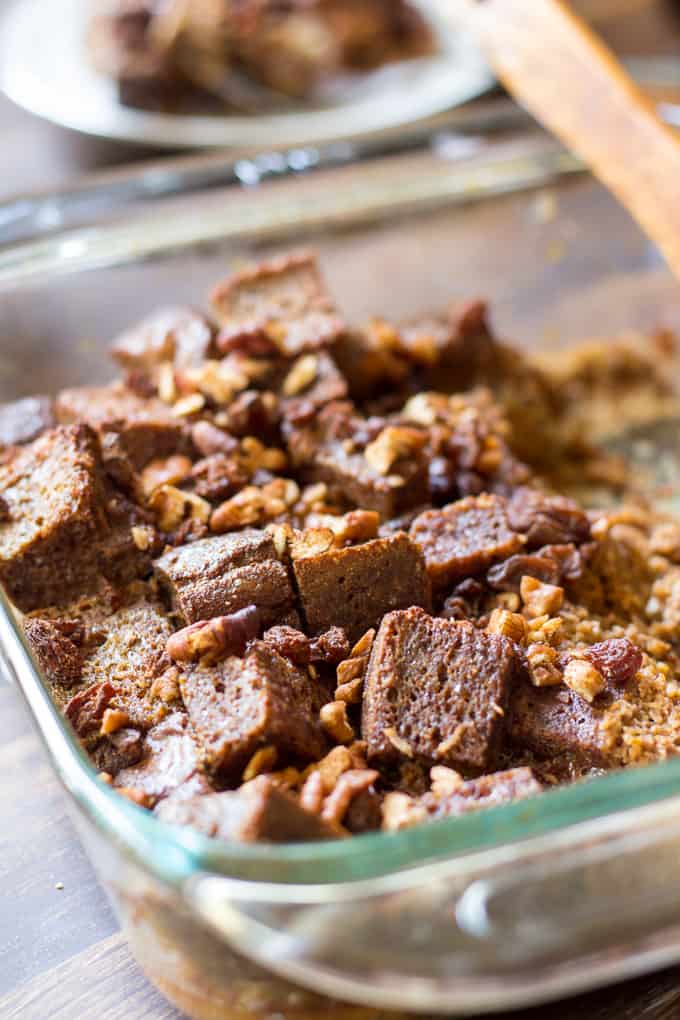 Paleo Pumpkin French Toast Bake
Loaded with warm and sweet pumpkin spice and sweetened with pure maple syrup, this grain free and Paleo pumpkin french toast bake makes the perfect weekend or holiday fall brunch!
Prep Time: 5 minutes
Cook Time: 30 minutes
Total Time: 35 minutes
Course: Breakfast/brunch
Cuisine: Paleo
Servings: 6 servings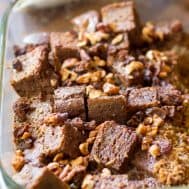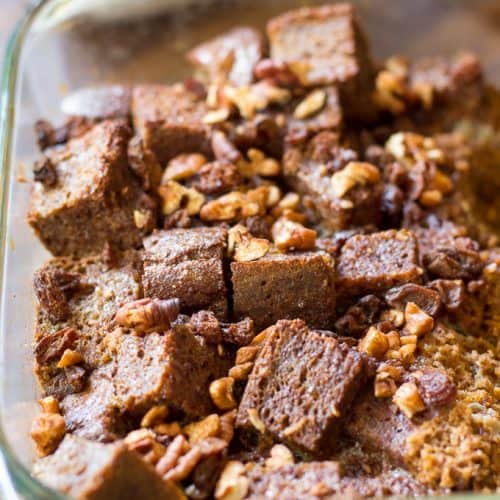 Instructions
Make sure your loaf of pumpkin bread is cooled completely before slicing, then cut the loaf into 1-2 inch cubes. Preheat your oven to 350 degrees and arrange the cubes in a single layer on a large baking sheet.

Toast the bread cubes in the preheated oven for 6-8 minutes until just very lightly toasted.* Remove from oven and allow to cool while you prepare the liquid mixture.

In a large bowl or measuring cup, whisk together the eggs, almond milk, maple syrup, vanilla, and pumpkin pie spice. Generously grease a

square baking dish

with coconut oil and add the toasted pumpkin bread cubes.

Slowly pour the liquid mixture over the bread cubes**, then top with the optional pecans, raisins, coconut sugar and cinnamon if desired.

Bake in the preheated oven for 30 minutes or until the egg mixture is set and the top is golden brown.

Serve topped with additional maple syrup if desired. Enjoy!***
Recipe Notes
*This step can be done the day before if desired. Simply store the bread cubes covered in the refrigerator.
**You can gently toss the bread in the egg mixture to make sure it's completely coated
***Prep and cook time does not include the time is takes to make the loaf of pumpkin bread
Nutrition
Want more Paleo breakfasts for your sweet tooth?  Try one of these!
Hearty Cinnamon Raisin Breakfast Bread
Simple Paleo Blueberry Muffins
So, Tell Me!
What's your family's weekend breakfast tradition?
Are you excited for cozy fall weekend mornings?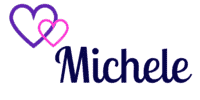 Note: This post contains Amazon affiliate links. This means that if you click on a link and make a purchase, I will receive a small commission at no cost to you. Thank you for supporting The Paleo Running Momma!