The best simple Paleo blueberry muffins made with almond butter, almond flour and sweetened with pure maple syrup.  These blueberry muffins have classic texture and flavor and you'll never believe they're gluten free, grain free, dairy free and Paleo.  Simple to make and so comforting!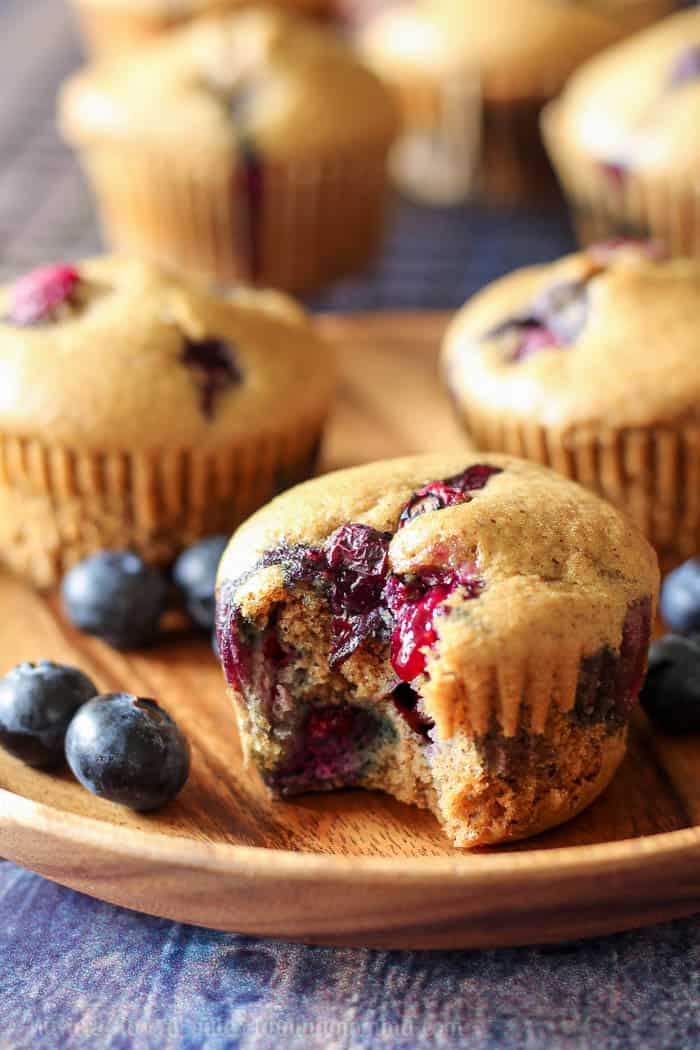 Simple is not always my thing, I'll admit.  In fact, you could look at most of my life and decisions I've made and assume I have something against simplicity altogether – and you wouldn't be wrong.
It's not that I'm a drama queen or anything (no, but really) it's just that, for whatever reason, I started believing that if something was too easy, it meant I should be skeptical.
For example, if the run was too easy, I didn't run fast enough.  If the test was too easy, I probably did the whole thing wrong.  And, if the recipe is too easy, there's probably one out there that's SO. MUCH. BETTER.  Major case of FOMO with anything simple, for sure.
Anyone with me?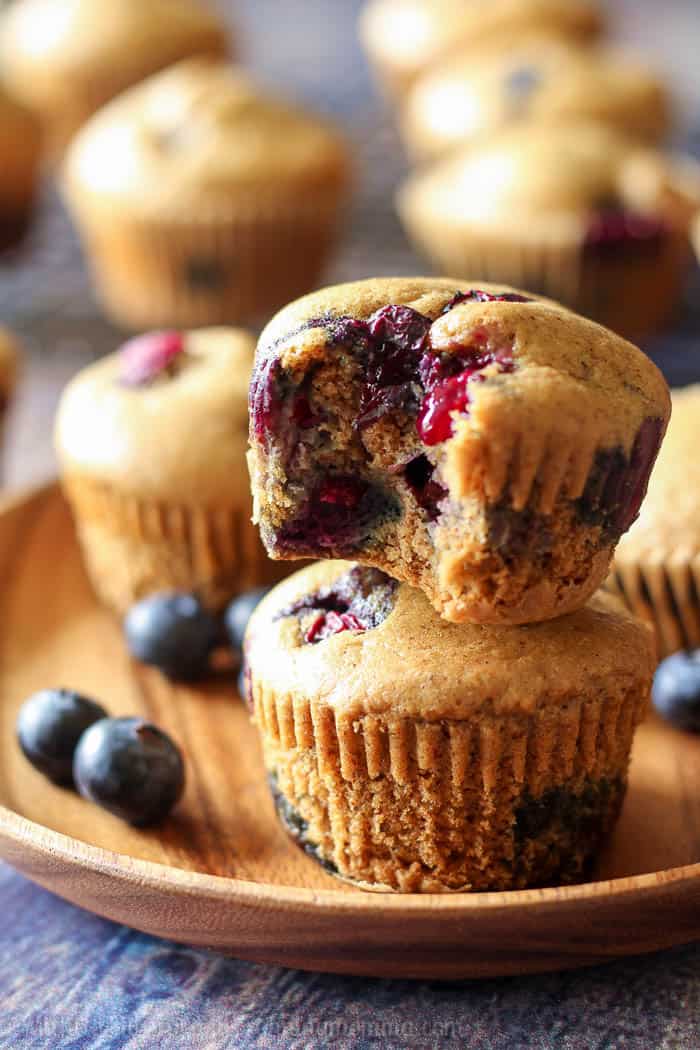 I think I'm learning though – at least when it comes to recipes (still some work to do on the other things.)  Between my easy no bake banana chocolate chip cookies from Sunday and these simple Paleo blueberry muffins, there's no question that simplicity can be ENOUGH!  Maybe not for always, but for a lazy, hungry weekend morning, what's really important?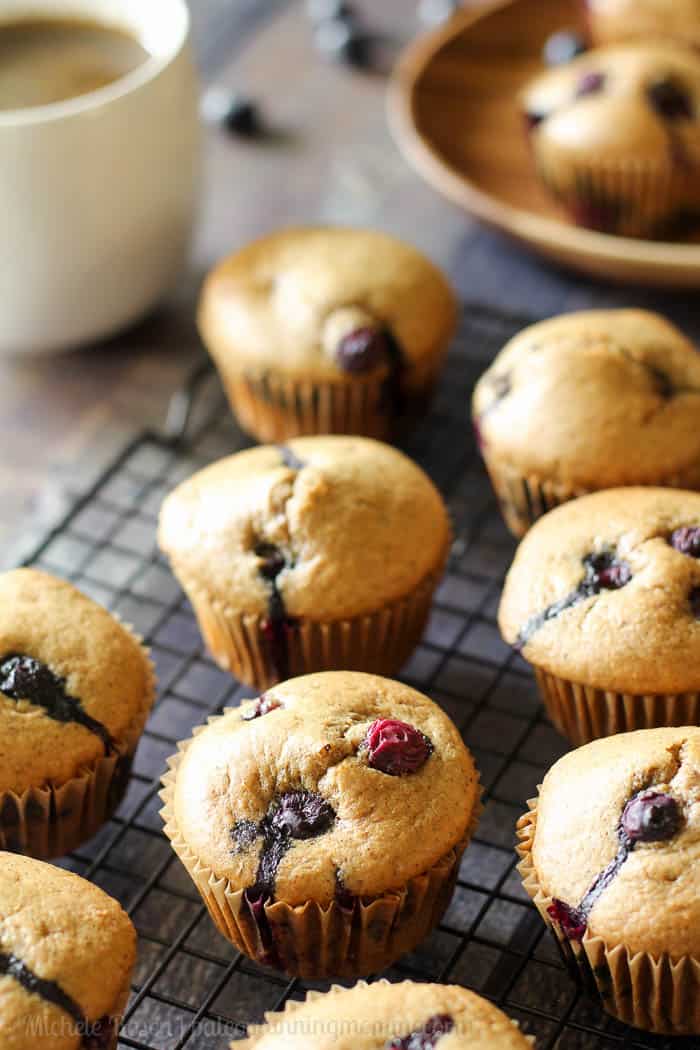 Coffee and food, the simple version, don't you think?
Truthfully, that's exactly what happened with these, and you can thank Drew (my 5 year old) for complaining about my banana peach muffins the week before.   Specifically, he said they were good except for the peach part – he wanted me to remake them with blueberries instead.
Well, since I hadn't had a single ripe banana after that banana-invasion weekend, I decided to experiment with what I had on hand – which wasn't much.  Almond and tapioca flour, almond butter, eggs, and blueberries!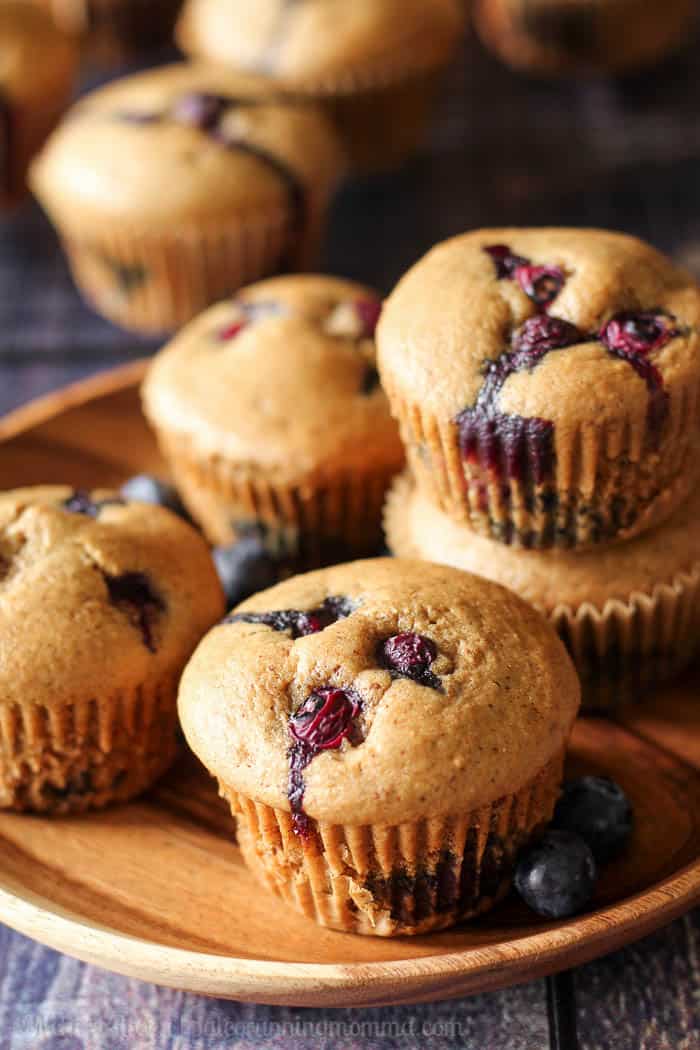 I won't say magic happened, because it's just baking after all, but these came out perfectly simple and disappeared way too fast.  I surprised myself by how easy they were to make, and probably annoyed my family with the impromptu photoshoot.  Oops.  Just another perk of relying on a food blogger for actual food to eat.
But don't worry, we all ate.  And now you can too!  From start to finish, your new favorite simple Paleo blueberry muffins are ready in under 30 minutes, and that's considering you might be moving slowly on a Saturday morning.   If you're one step ahead and make them the night before, even better – these taste great the day after and even up to 3 after baking, stored covered at room temperature or refrigerated.
Simple Paleo Blueberry Muffins with Almond Butter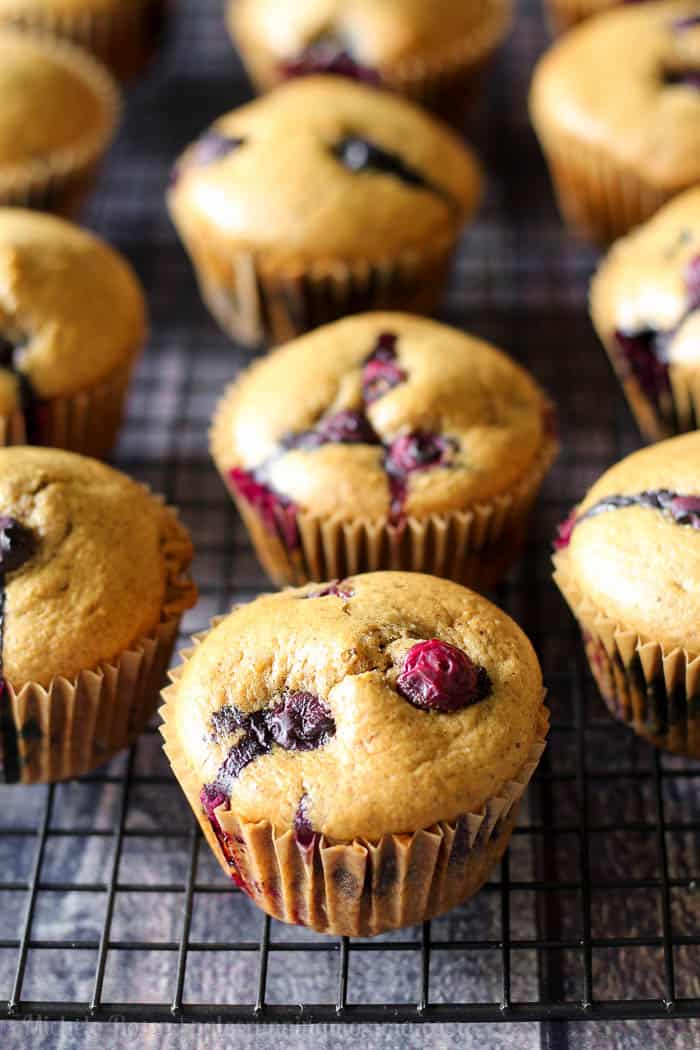 Simple Paleo Blueberry Muffins with Almond Butter
Simple Paleo Blueberry Muffins made with almond flour and almond butter, sweetened with pure maple syrup. They're healthy, easy, grain free, gluten free, dairy free and Paleo!
Prep Time: 10 minutes
Cook Time: 15 minutes
Total Time: 25 minutes
Course: Breakfast/Snack
Cuisine: Paleo
Servings: 12 muffins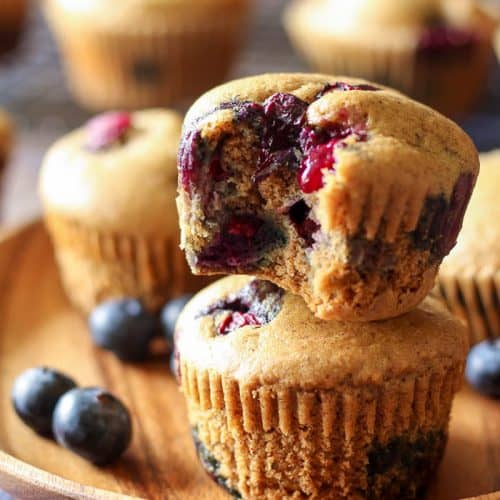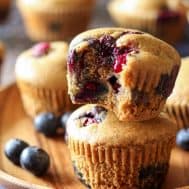 Instructions
Preheat your oven to 350 degrees and line a 12 cup muffin pan with liners (I used these) for easy removal.

In a large bowl, whisk together the 3 eggs with the almond butter until smooth, then whisk in the maple syrup and vanilla.

In a separate bowl, combine the almond flour, tapioca flour, baking soda and salt. Stir this mixture into the egg mixture until you have a fully combined batter, then stir in the blueberries.

After the blueberries are stirred in, spoon or pour the batter into the lined muffin pan to fill each cup about 3/4 full to make 12 muffins

Bake in the preheated oven on the middle rack for 15-20 minutes or until the tops are lightly browned and a toothpick inserted into the center of one comes out clean.

Allow to cool in the pan for a few minutes before transferring to wire racks to cool completely. Enjoy!
Recipe Notes
*You can easily adjust the sweetness to preference by adding or subtracting a little bit of the maple syrup


Is simple, um, simple for you or not so much?
What type of muffin/quick bread is a hit every time in your family?