Juicy summer sweetness in healthy muffin form!  Get your overripe bananas and make these Grain Free and Paleo Banana Peach Muffins for the perfect seasonal addition to breakfast or a quick healthy snack.  Gluten free, dairy free, refined sugar free, and oil free.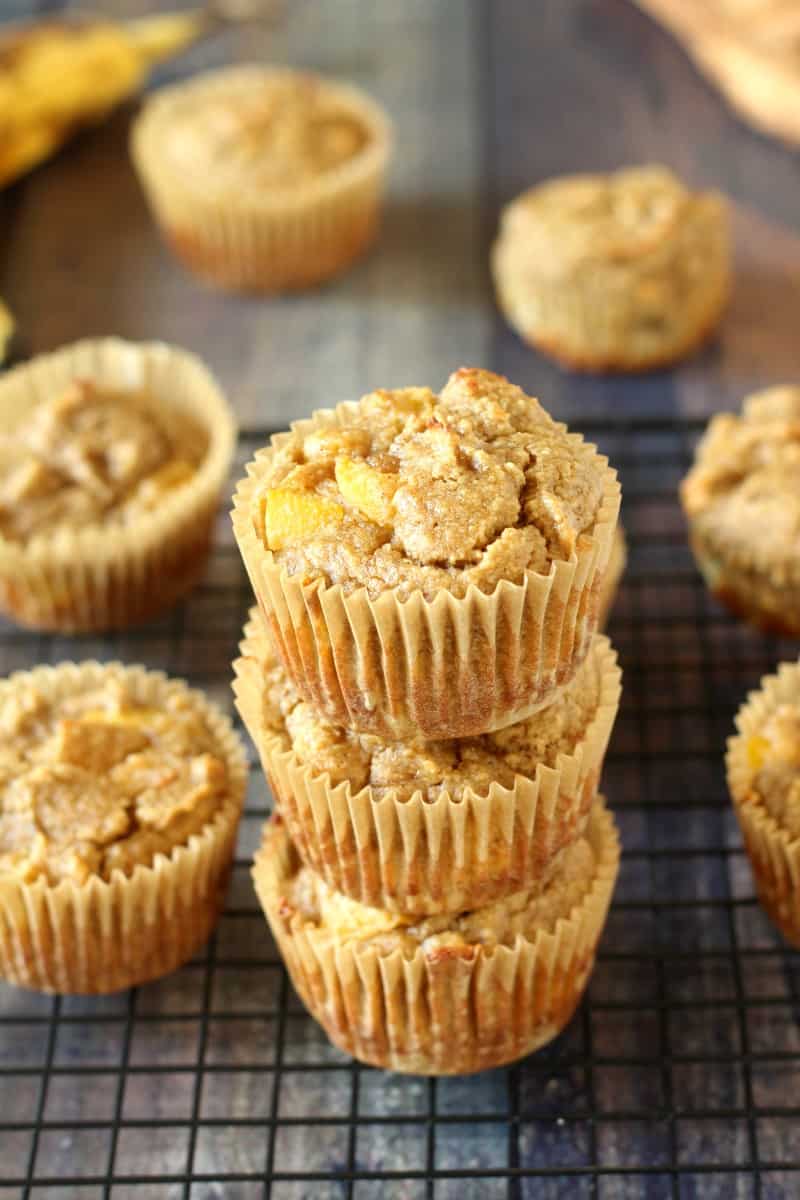 Every year, I tell my kids we're going to go peach picking and every year (so far) I miss my chance.   It seems like an awesome idea in my head – the peaches, the sun, my kids having fun and not glued to their devices.  As I imagine the scene, it all sounds and looks very good for my mom self-esteem.
However, put into action I know the reality of it is why I always "miss" my chance.  The July sun and humidity here in NJ is not really my cup of tea.  It actually feels more like me drowning in a scalding hot cup of tea – have I mentioned I don't do so well in the heat?  Yeah, and my kids don't either.
My memories of raspberry picking, blueberry picking, even apple picking in September can be summed up in two words – sweat and tears.  I guess I'm afraid peach picking would turn out the same, possibly worse since I'm not yet acclimated in July.   Am I ever though, really?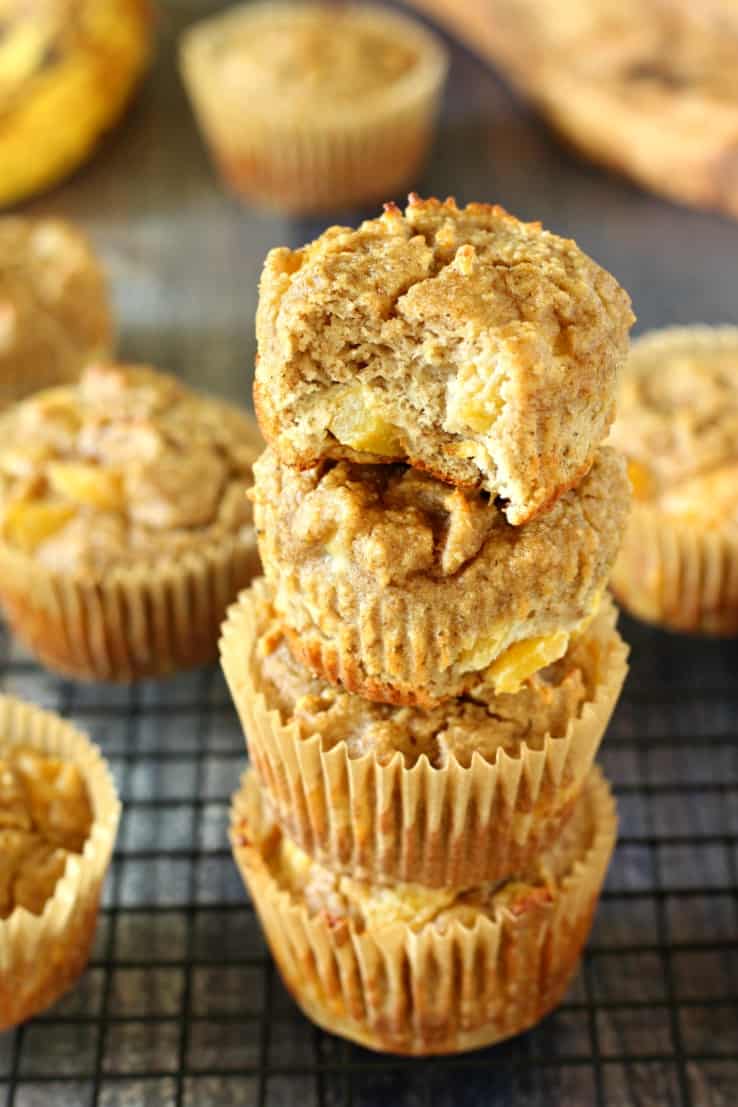 Anyone want to take bets on me backing out this year again?  I'll surely follow up to let you know.  The whole not-needing-a-stroller thing this year is in my favor, but we'll see.  I will say that it's a good thing they sell peaches at the store – both fresh and frozen.  They're definitely a lot of fun to bake with this time of year, and I have a feeling I'm just getting started with these muffins.  I'm dreaming of crumbles and crisps and tarts, but dreaming is the key word here.  Slow down Michele, and just enjoy the muffins!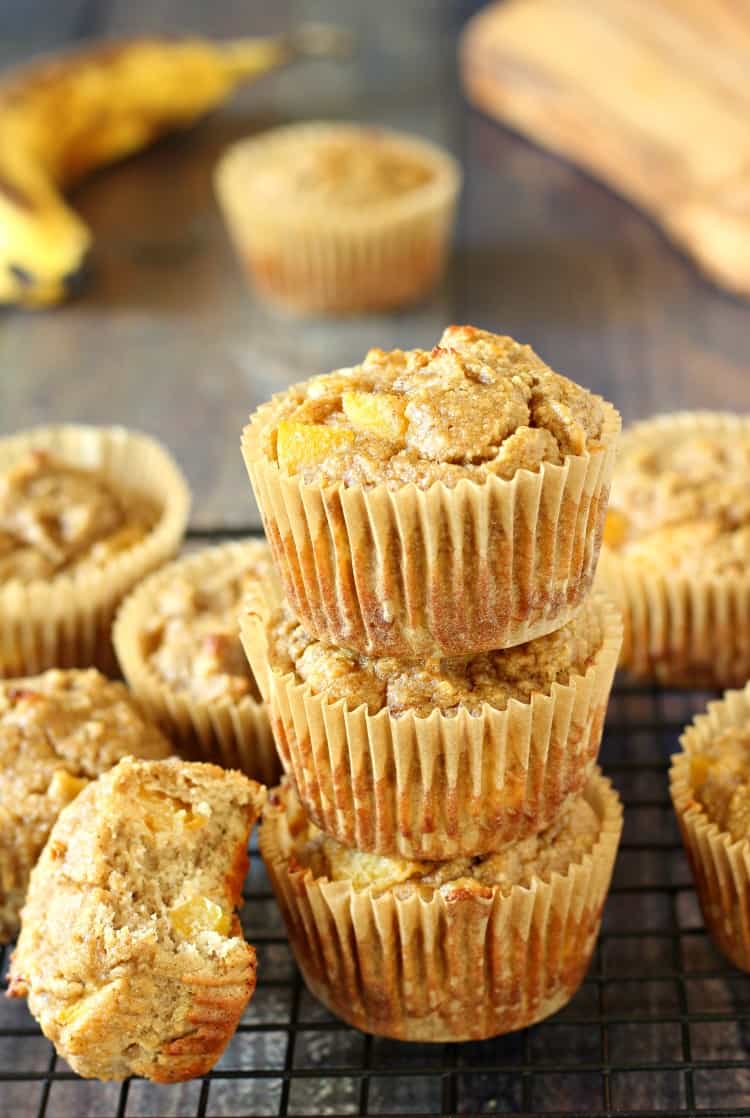 So a little about these muffins.  I had several bananas to use up and the banana peach combo sounded perfect to me.  The bananas I used were REALLY overripe, nearly black on the outside, and definitely contributed to both the very moist texture and the sweetness.
One caveat I found with these is that I had to refrigerate them before removing the muffin liners to avoid sticking.  I believe this was due to the overall moistness/stickiness of the bananas, plus the fact that these muffins are completely oil free!  If you'd prefer, you could easily lightly grease the inside of your liners/cups with coconut oil before baking.   Now, let's get started!
Grain Free & Paleo Banana Peach Muffins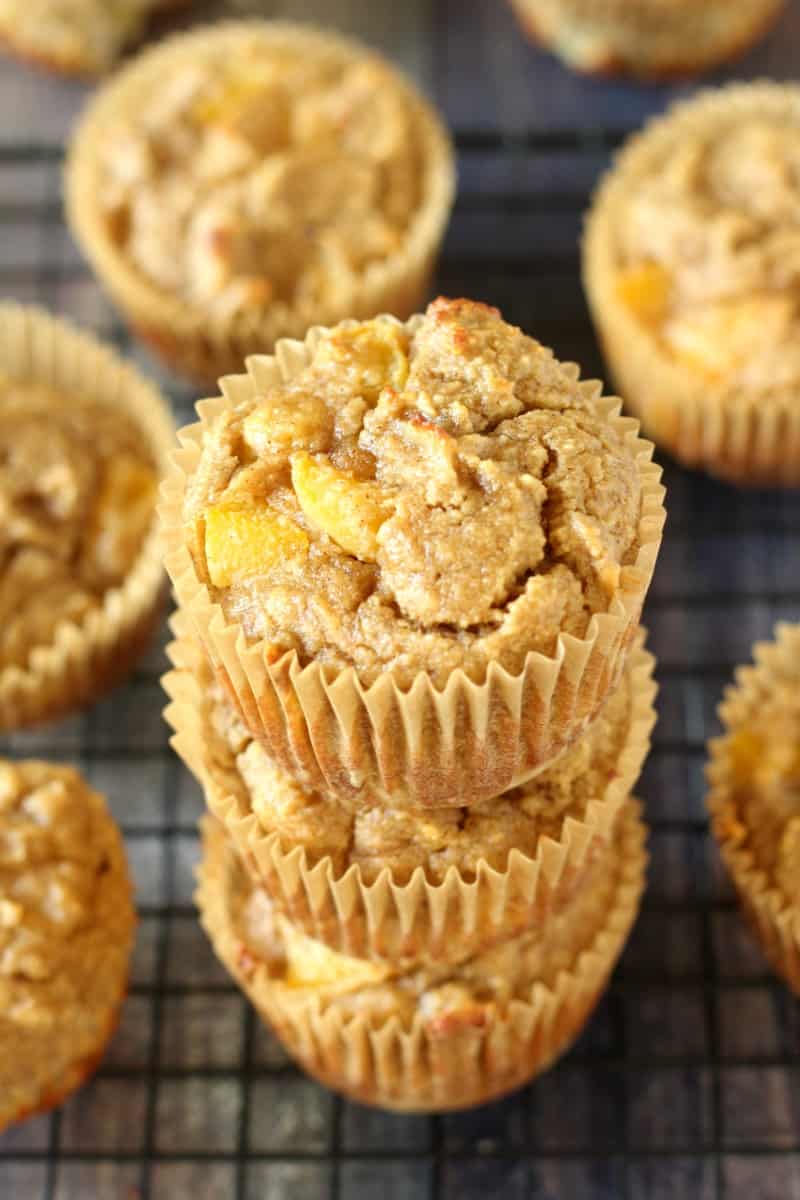 Grain Free & Paleo Banana Peach Muffins
Grain Free and Paleo Banana Peach Muffins that contain no refined sugar, are dairy free, gluten free, and even oil free! They're a juicy summer sweet treat in healthy muffin form.
Prep Time: 15 minutes
Cook Time: 20 minutes
Total Time: 35 minutes
Course: Breakfast/Snack
Cuisine: Paleo
Servings: 12 servings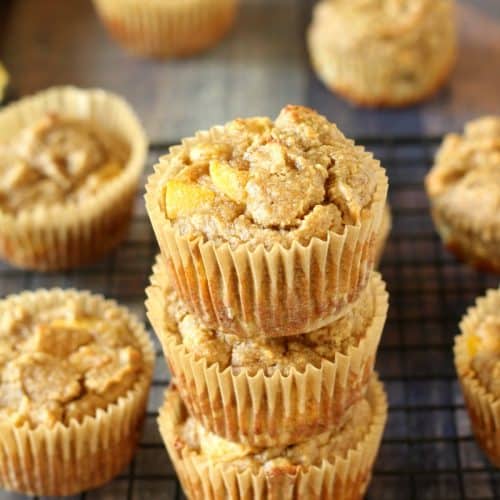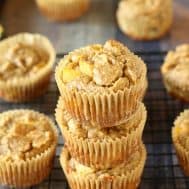 Instructions
Preheat your oven to 350 degrees and line a muffin pan with non-stick liners or lightly grease muffin cups with coconut oil*

In a large bowl, whisk eggs together with mashed bananas and add in the coconut sugar and vanilla.

In a separate bowl, gently mix together the almond, coconut, and tapioca flours, baking soda and powder, salt, and cinnamon.

Stir the dry mixture into the wet until fully combined**

Lastly, stir in the diced peaches. Spoon the batter into muffin cups about 3/4 full to make 12 muffins.

Bake in preheated oven in greased muffin cups or liners for 20 minutes or until a toothpick inserted in the center of a muffin comes out clean. Cool completely on wire racks before serving. Store leftovers in the refrigerator for best taste. Enjoy!
Recipe Notes
*Due to the lack of oil in these muffins, they are on the sticky side so make sure you don't skip this step!
**The addition of coconut flour will make the batter thick and will appear to thicken more after mixing
What I used:
Do you enjoy picking your own fruit?  Are you excited for peach season?