These Almond Butter and Jelly Chocolate Chip Paleo Banana Muffins are classic comfort food turned healthy!  Perfect Paleo banana muffins get a boost with creamy almond butter, chocolate chips, and a dollop of healthy homemade cherry berry jelly in the center!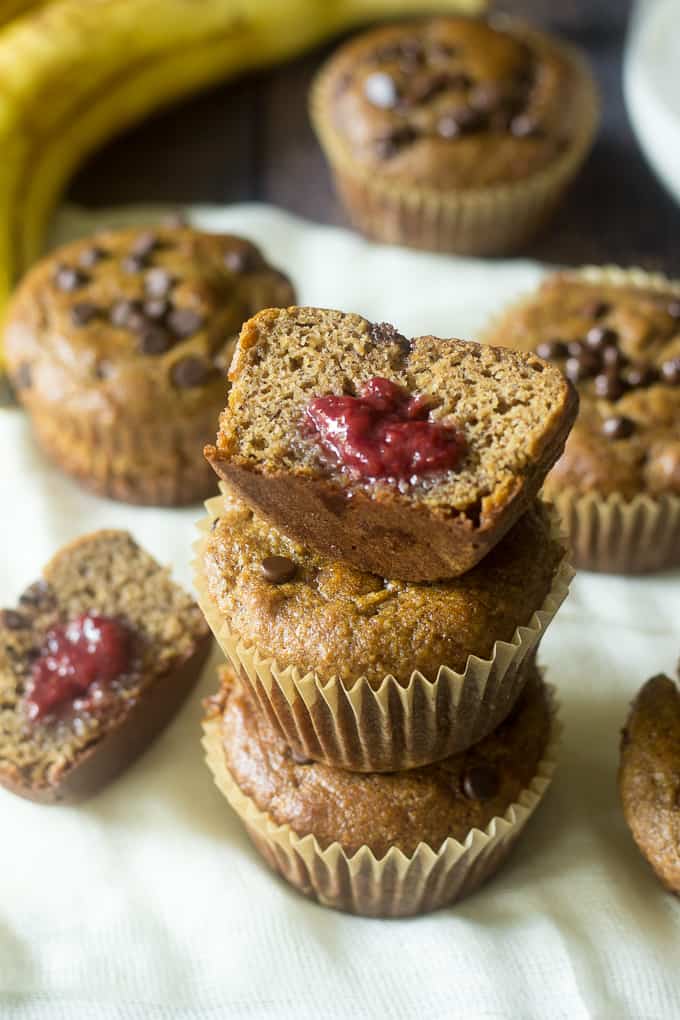 I'm coming at-cha today with TWO recipes wrapped up in one dozen glorious almond butter and jelly Paleo banana muffins.  Is that a mouthful?  In more than one way, YES!
Maybe it's because I'm in withdrawal from not posting on Monday this week.  Change is difficult.  Still, it was nice to have a bit more time to enjoy the weekend, since it is summer after all, and, as I think we're all feeling, summer is flying by!
Not without our share of drama, of course.  The blog is still having tech issues, and I will be migrating hosts once again to hopefully get things running smoothly.  Time will tell – oh how I wish I understood anything about the inner workings of websites!
So, depending on how things go with that this week, I may or may not be MIA for a couple of days.  I am definitely hoping I don't have to be – not posting on my regular routine confuses the heck out of me and makes me feel all "not-right" if that makes sense.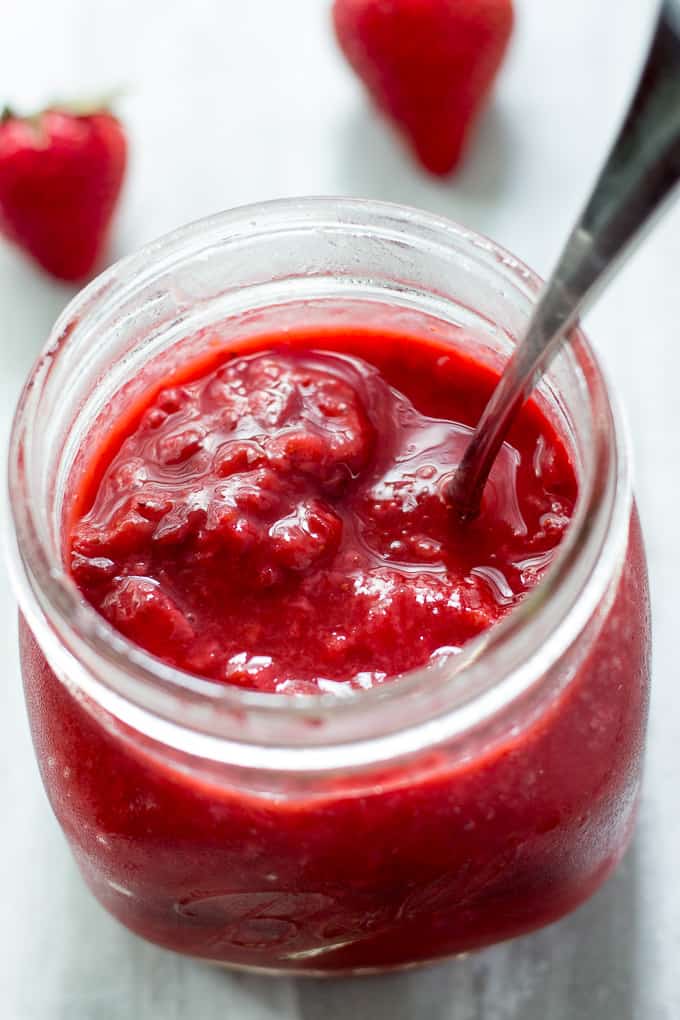 In other news, Drew has pinkeye and is missing a couple of days of his last week of camp – just one more reminder that I'm lucky to be "working" from home.  But no, Michele, you really do "work."  Stop using the quotes!
Anyway, unless you actually have multiple children, I'm not sure you can totally appreciate the saying "it's always something."  Because, I SWEAR there is literally always something "extra" going on over here that needs taking care of.
I should just expect it and chill the heck out, but I still worry what the next thing will be, and get thrown off when it happens.  Maybe one day I'll learn.  Or maybe not – it's only been 9 years of parenting that I haven't figured it out yet.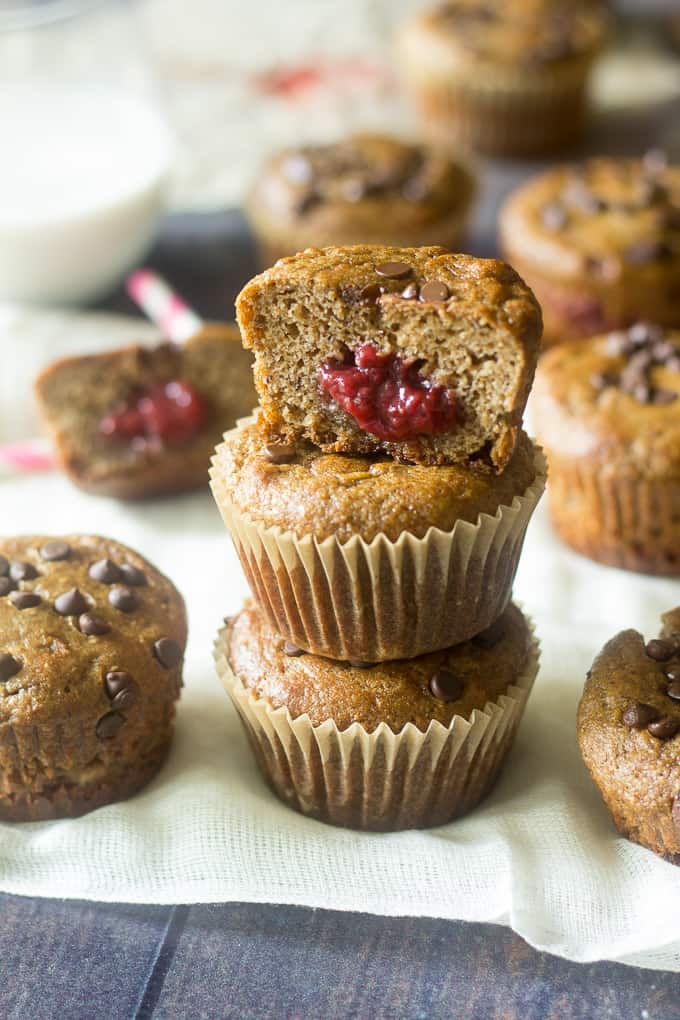 But, please!  Take me back to the muffins!  I make muffins because life is hard and muffins make it less hard – anyone feel me?  These are special ones, and sort of fitting for today's post – since they involve one of my favorite classic comfort food combos – nut butter, jelly and bananas!
Have I mentioned that pre-Paleo, I ate peanut butter, banana and jelly sandwiches every day for lunch for like 10 years?  Ask Adam – he thought it was oh-so-cute 10 years ago.  Can't say he thinks my meat and potatoes are "cute" nowadays, but that's fine – I find them adorable 🙂
For these muffins, I experimented with making my own homemade jelly, once again.  This time, in addition to the usual berries and maple syrup, I added gelatin to make it more, well, jelly like!  Since I knew I wanted to put jelly inside the muffins and have it stay there mostly, I knew I needed it to gel a bit. You can do what I did, or use your own favorite jam/jelly recipe for these.  My Paleo banana muffins do not discriminate when it comes to what jelly they'll be baked with!
So, let's get baking!  Classic comfort food, made grain free, Paleo, and still totally 100% addicting and delicious.
Almond Butter and Jelly Chocolate Chip Paleo Banana Muffins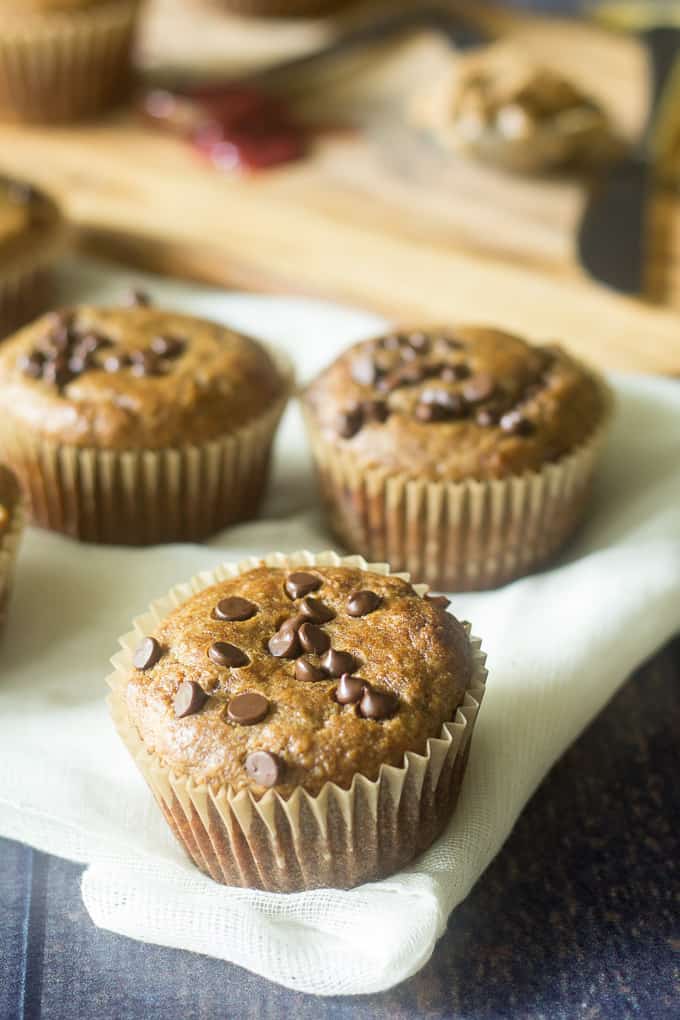 Almond Butter and Jelly Chocolate Chip Paleo Banana Muffins
Almond butter and jelly chocolate chip banana muffins that are grain free and Paleo. Made with homemade jelly with gelatin and creamy almond butter for a classic comfort food combo turned Paleo!
Prep Time: 15 minutes
Cook Time: 40 minutes
Total Time: 55 minutes
Course: Breakfast/Snack
Cuisine: Paleo
Servings: 12 muffins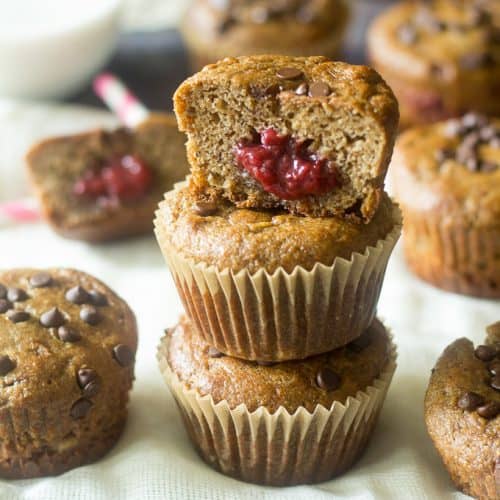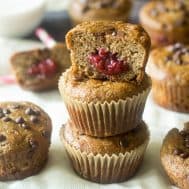 Ingredients
For the Jelly *
3 cups frozen or fresh berries of your choice I used strawberries and cherries
1 and 1/2 tbsp pure maple syrup or raw honey
1 and 1/2 tsp grass fed gelatin I used Vital Proteins
2 tbsp cold water
Instructions
To make the Jelly **
First, add the gelatin to the cold water in a small bowl and stir to dissolve.

Then, in a medium saucepan over medium heat, add the berries, maple syrup or honey, and lemon juice and cook while stirring until the berries break down. Mash the berries as you stir and cook.

Once the berries have broken down and the mixture is bubbly, turn the heat down to low and stir in the gelatin/water mixture little by little.

Continue to allow the mixture to simmer while the gelatin dissolves. Remove from heat and allow to cool for about 10-15 minutes before transferring to a jar with a lid. Refrigerate for several hours to allow the jelly to set.
To Make the Muffins
Preheat your oven to 375 degrees. In a large bowl, mash the bananas well until smooth. Whisk in the eggs, coconut sugar, vanilla and almond butter until smooth and thick.

In a separate bowl, combine the almond flour, tapioca flour, baking soda and salt.

Slowly add the dry mixture to the wet mixture until a thick, smooth batter forms. Stir in the chocolate chips.

Prepare a muffin pan by lining with muffin cups or lightly greasing with coconut oil. Fill each cup about halfway with batter, then add 1-2 tsp of jelly, and cover with batter to fill nearly to the top. Continue to do this until the batter is used up - this recipe should make about 12 muffins.

Bake in the preheated oven about 15-18 minutes, or until muffins have risen and tops have turned light brown. Allow to cool for 10 minutes before transferring to wire racks to cool completely.

Add more almond butter and jelly to serve with if you like! Enjoy!
Recipe Notes
*This jelly recipe will make a full batch - more than you need for the recipe. Store leftovers in a tightly covered glass jar in the refrigerator for up to two weeks.
**You can easily sub your own recipe or use your favorite store bought jelly or jam instead. If you make my recipe, I recommend preparing it a day before to allow time for the gelatin to set in the refrigerator.
What I Used to Make My Almond Butter and Jelly Chocolate Chip Banana Muffins


Want more recipes for Paleo banana muffins?  Try one of these!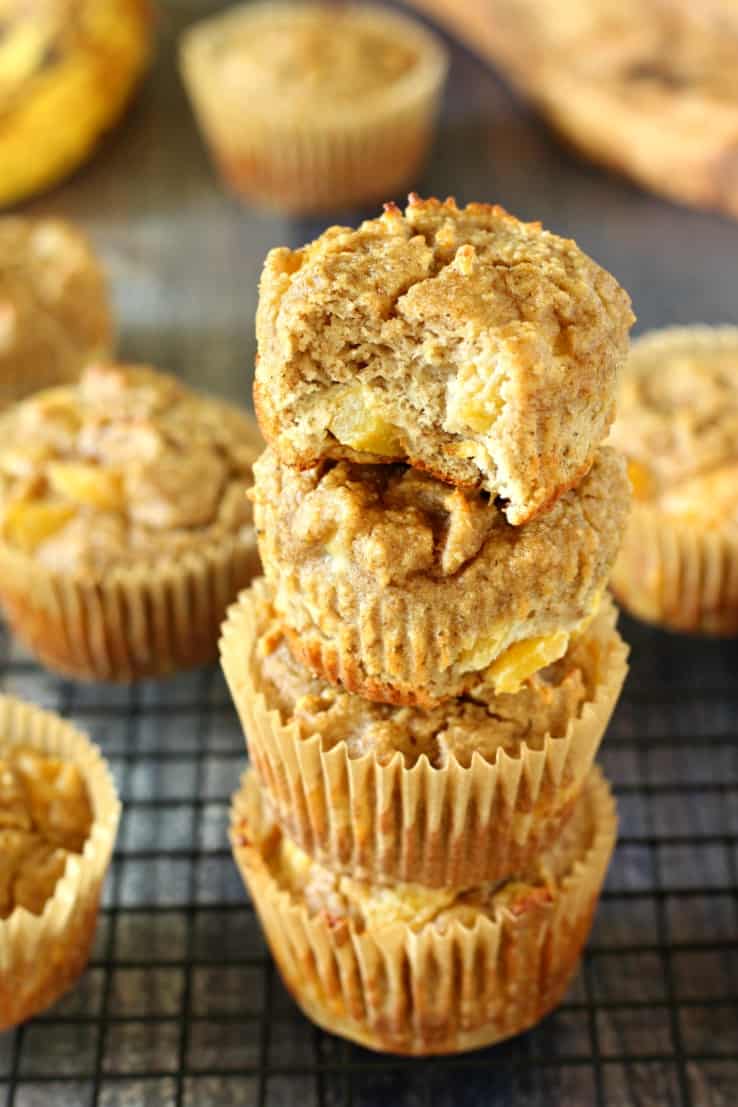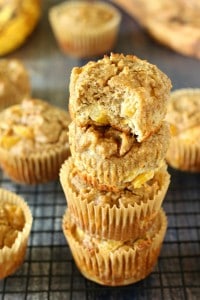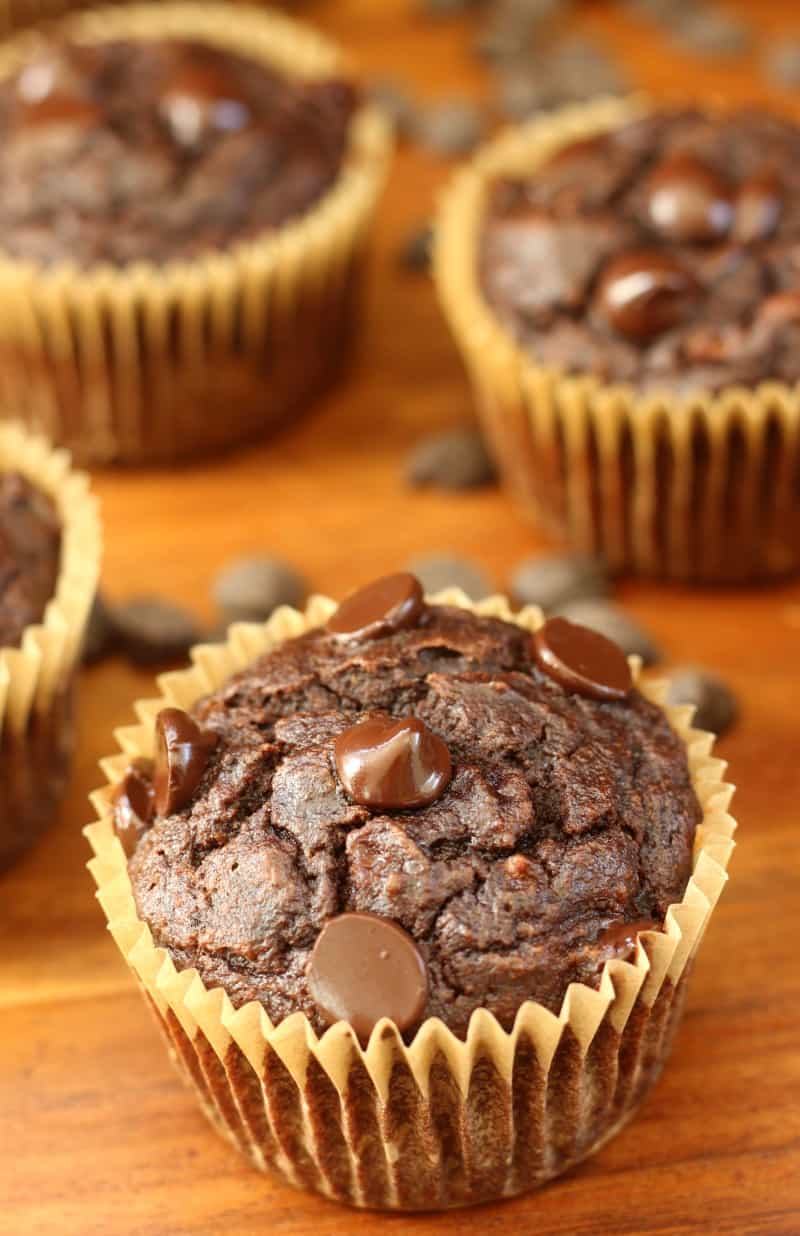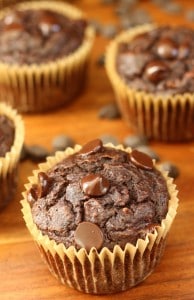 Chocolate Chocolate Chip Banana Muffins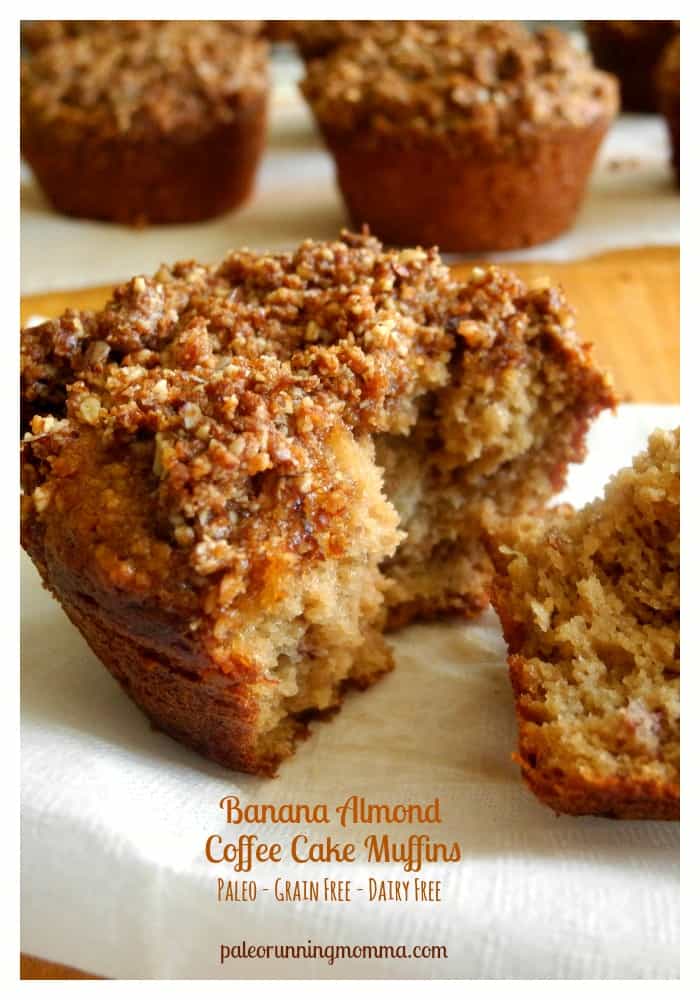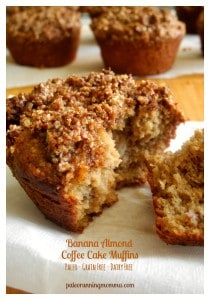 Banana Almond Coffee Cake Muffins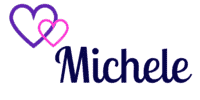 What is your current experience with "it's always something"?
Is summer really halfway over?
What was your longest stretch eating basically the same lunch every day?  What was the lunch?
Keep In Touch!
Facebook: paleorunningmomma
Twitter: paleorunmomma
Instagram: paleorunningmomma
Pinterest: paleorunmomma
Email: paleorunningmomma@gmail.com
Bloglovin: paleorunningmomma
Note: This post contains Amazon affiliate links. This means that if you click on a link and make a purchase, I will receive a small commission at no cost to you. Thank you for supporting The Paleo Running Momma!