These sweet, creamy, rich and wholesome Maple Raisin Acorn Squash Pancakes are the ultimate cool weather comforting breakfast.  They're gluten free, grain free, dairy free, paleo, and nut free as well!  You won't believe how delicious these healthy pancakes are!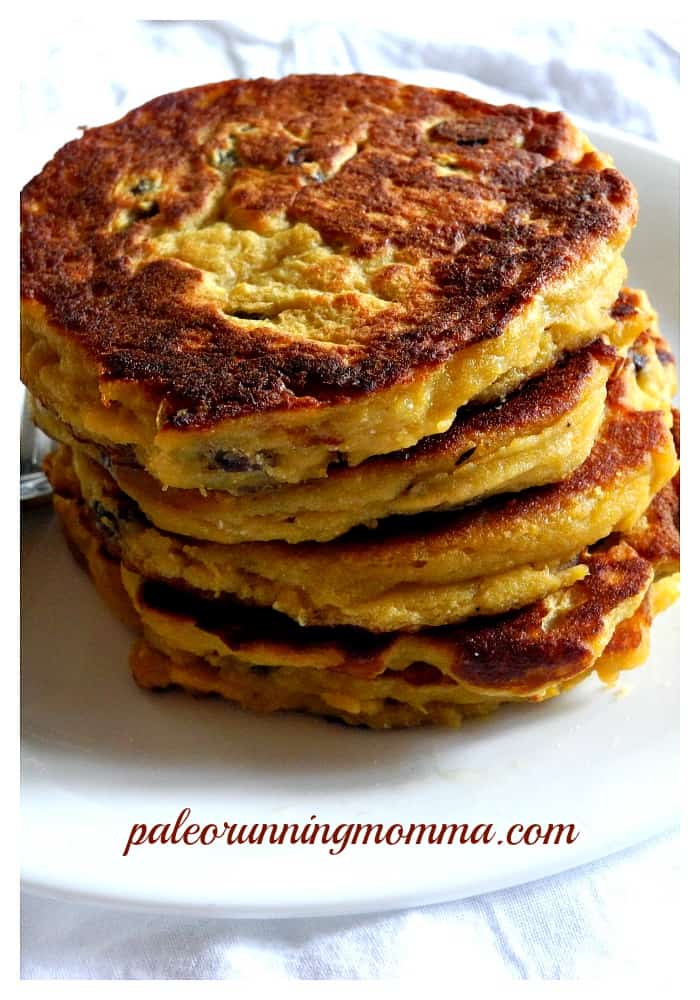 Paleo pancakes.  I used to have a pretty negative attitude toward those words together, mainly because I didn't understand the burning need to recreate pancakes with really expensive flour and sweetener.   I'm not a huge regular pancake lover to begin with (blasphemy) which I understand is a bit odd, and, with all the delicious whole food I was eating with paleo I had zero desire to make pancakes.   However, I have at least a small notion that one of the reasons I don't love pancakes is because every damn time I've eaten them I've gotten uber sick sometime later on that day.   Really takes the nostalgic cozy memories out of it for me.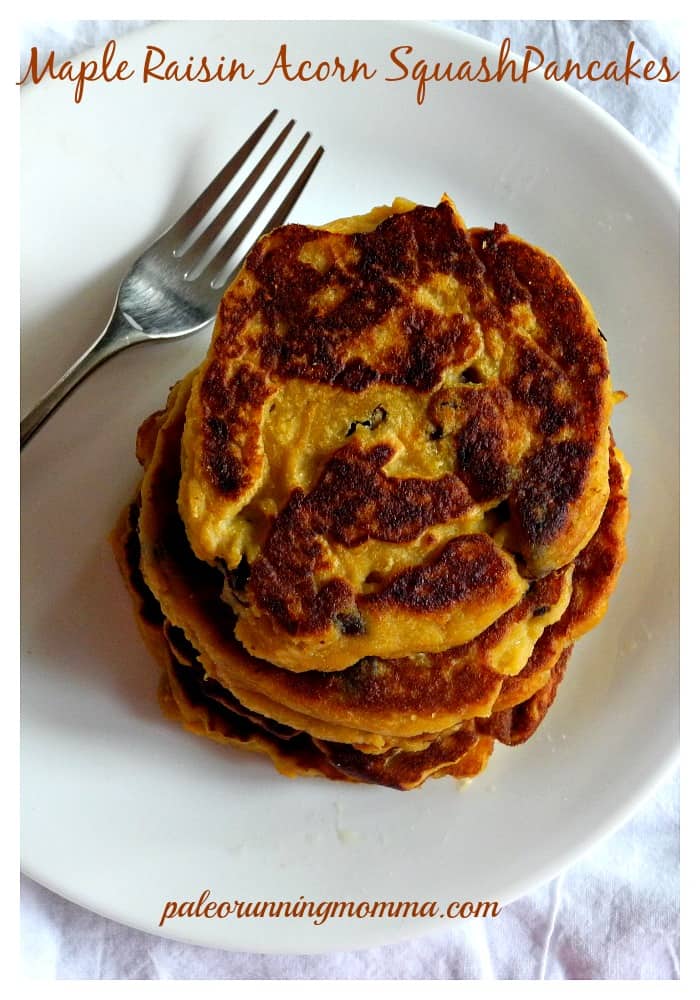 Anyway, what I'm actually trying to say is that I'm still trying to warm up to the idea of pancakes as a part of my life, and this delicious recipe does not produce pancakes in the sense that you know pancakes.  (Huh?) Trust me.  BUT they are awesome.   Some crispy on the outside, some creamy on the inside, and the perfect amount of sweetness.   I made them two days in a row for breakfast with sausage and zucchini and basically inhaled them.   These pancakes lived a very short life but luckily the picture are bringing them back, and, with recipe in hand I have come to share them with you all!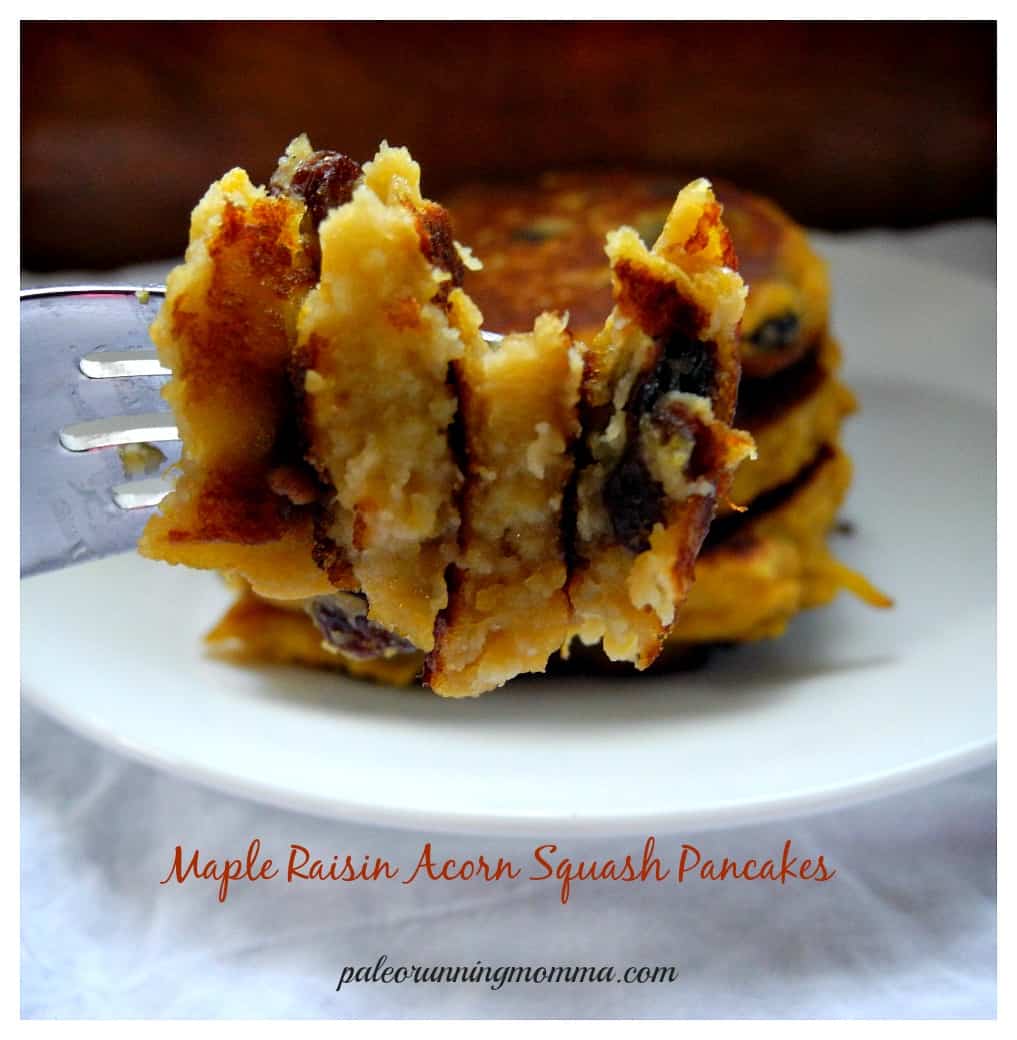 Maple Raisin Acorn Squash Pancakes
Maple raisin acorn squash pancakes, need I say more?
Prep Time: 30 minutes
Cook Time: 45 minutes
Total Time: 1 hour 15 minutes
Course: Breakfast
Cuisine: Paleo
Servings: 2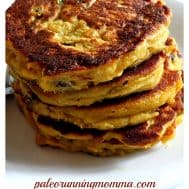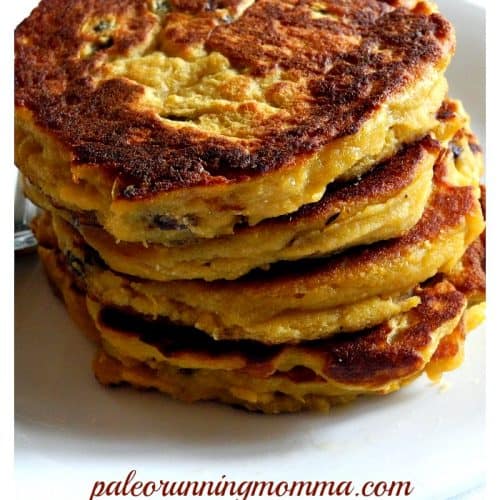 Instructions
First you'll need to roast your acorn squash and let it cool. I did this the night before I made these and stored in the fridge overnight. Preheat the oven to 425 degrees. Cut the squash in half and scoop the seeds out. Place the squash face down on a foil or parchment lined baking sheet, and bake in the preheated oven for 25-35 minutes, or until the back of the squash "squishes" when pushed. Remove from the oven and let it cool completely before proceeding.

Take out a medium bowl, and with a spoon scoop out the flesh from one half of the acorn squash and place it in the bowl. It should have a "mashed" texture to it.

Add the egg, maple syrup, coconut milk and vanilla and whisk until smooth. If you need help mixing, you can use a hand blender or immersion blender to get it smooth.

In a separate small bowl, add the coconut flour, tapioca flour, baking soda and dash of salt. Mix to combine.

Now as you whisk, add the four mixture to the squash mixture and fully combine until smooth. Now stir in the raisins.

Preheat a non-stick skillet or griddle (important!) to medium heat and add a tbsp or 2 of the cooking fat (you'll need a bit more for the next batch.)

Once the skillet is hot, add the batter to form pancakes that are 2-3 inches in diameter, but no more! These will be too hard to flip if you make them any bigger! Flatten each one down to a 1/2 inch thickness and watch them!

When small bubbles start forming on top, it's time to flip. Adjust the heat if they are browning too quickly. I started mine at medium but lowered it a bit to prevent excessive browning. Once the outside of both sides are brown and crispy, remove from the skillet.

Remember to add more cooking fat for the next batch, and adjust the heat level if you need to! Repeat the process until the batter is used up. Serve right away, with your other favorite breakfast goodies! Enjoy!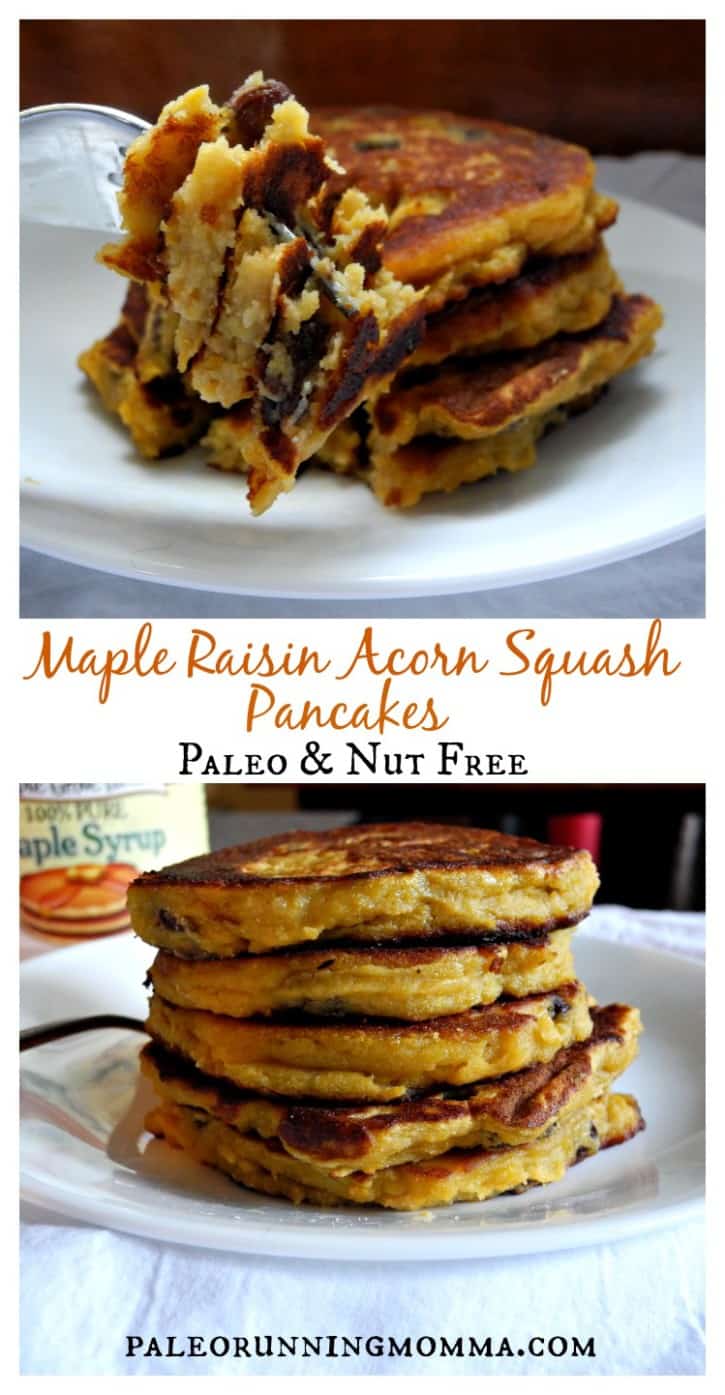 Do you enjoy grain free pancakes?  I actually like the ones that don't "compete" with regular pancakes, but are their own kind of delicious.  Have you cooked with acorn squash before?