Soft, chewy, and decadent, these Paleo Pumpkin Chocolate Chip Cookies will quickly become a family favorite!  With thick, soft, fudgey texture and rich warm flavors, you won't believe these cookies are grain free, dairy free, and Paleo.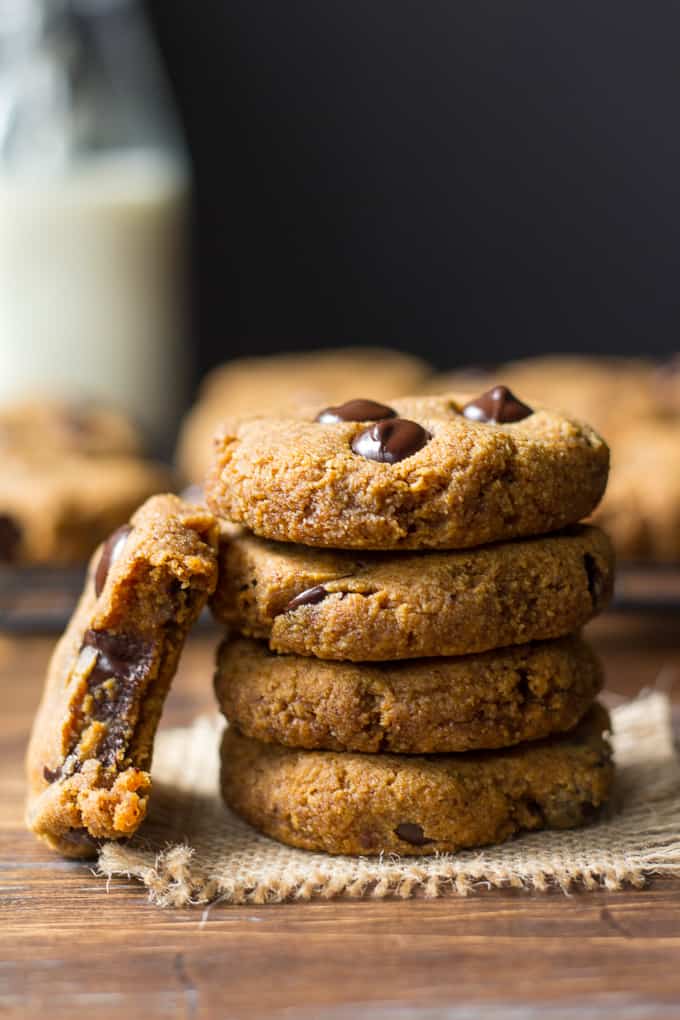 More cookies, please!  Yup, that's what she said.  And by "she", I mean "me."  I hope you all can share my cookie love, because what we have on the agenda today is some serious Paleo cookie-osity.  Or something similar.  Go ahead, make it your own!
All eyes on the cookies now – these Paleo Pumpkin Chocolate Chip Cookies aren't difficult to look at, or eat – I'll tell you that much.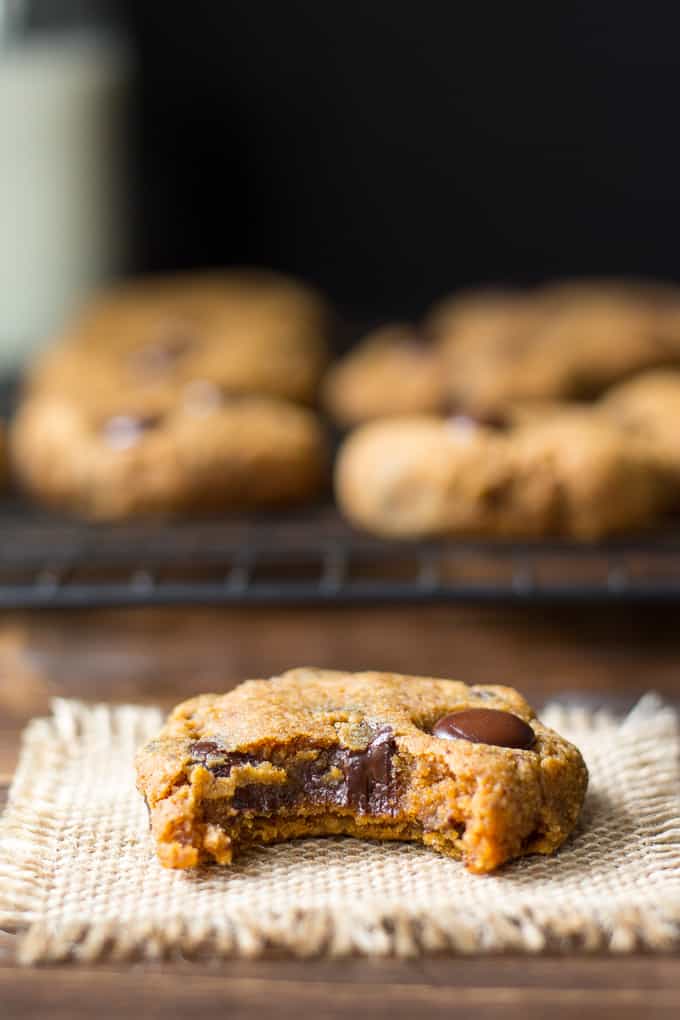 The inspiration for these cookies came from three places: 1.) My pumpkin fudge cookies from last year 2.) My desire to eat chocolate everyday and 3.) The pumpkin-obsessed world we live in August-December.
I can't lie – the pumpkin insanity this time of year makes me want to put pumpkin puree in basically everything.  Everything food related, I mean.  Not the bathtub or anything weird like that.
I cannot say my kids complain about all the cookies I make.  Nope, they don't even realize how good they have it!  Of course, the photo below was very much staged – PLEASE do not touch mommy's cookies before the photos are done…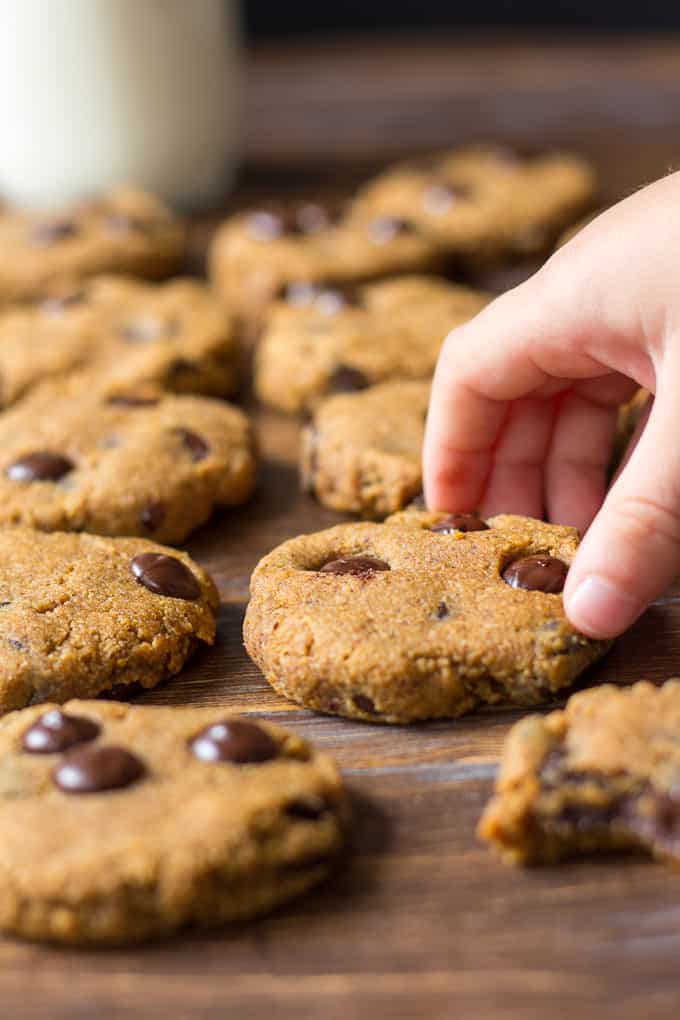 The moment the "photos are done" announcement happens, of course, we're fighting over them.  The biggest, the one with the most chocolate – which would be your pick?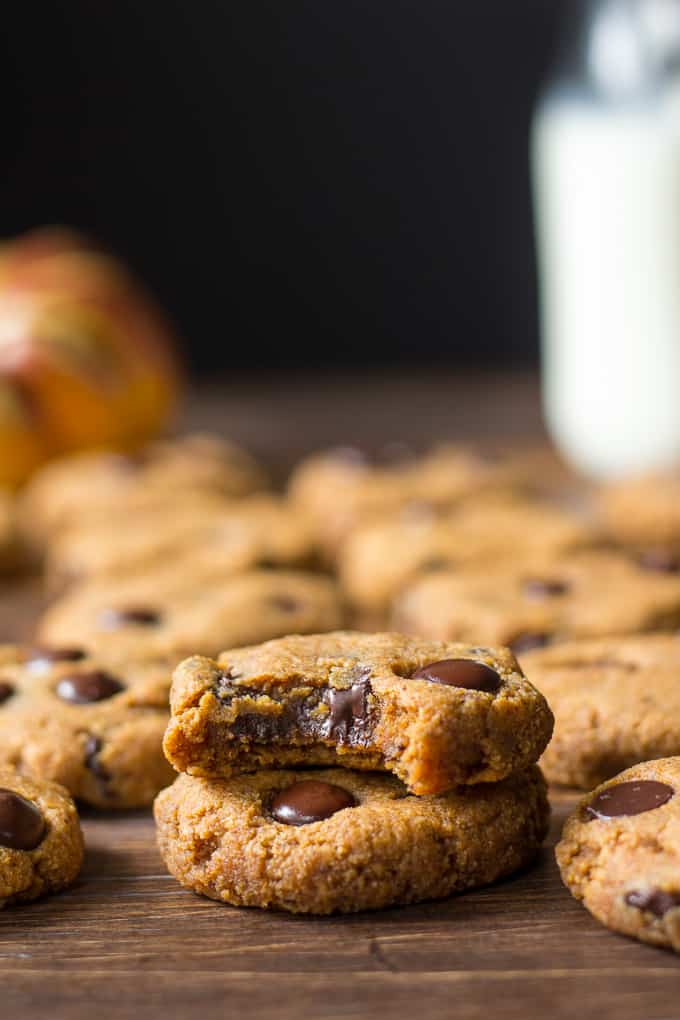 And, just as a side note, my kids do know what "real" gluten-filled treats taste like, and, they still truly loved these cookies.  As did Adam and my parents, who also still remember the taste of non-Paleo cookies, or so I assume.
I'm honestly not sure what I'd do without my very-honest kids when it comes to recipe creation.  Trust myself?  Hire a taste tester?  Risk my marriage by having Adam critique my recipes?
I mean, I think he's sort of honest about what he likes, but, I prefer to trust the kids.  The more they fight over who gets the last bite or the bigger piece, then I know I've won.  The Paleo Pumpkin Chocolate Chip Cookies win!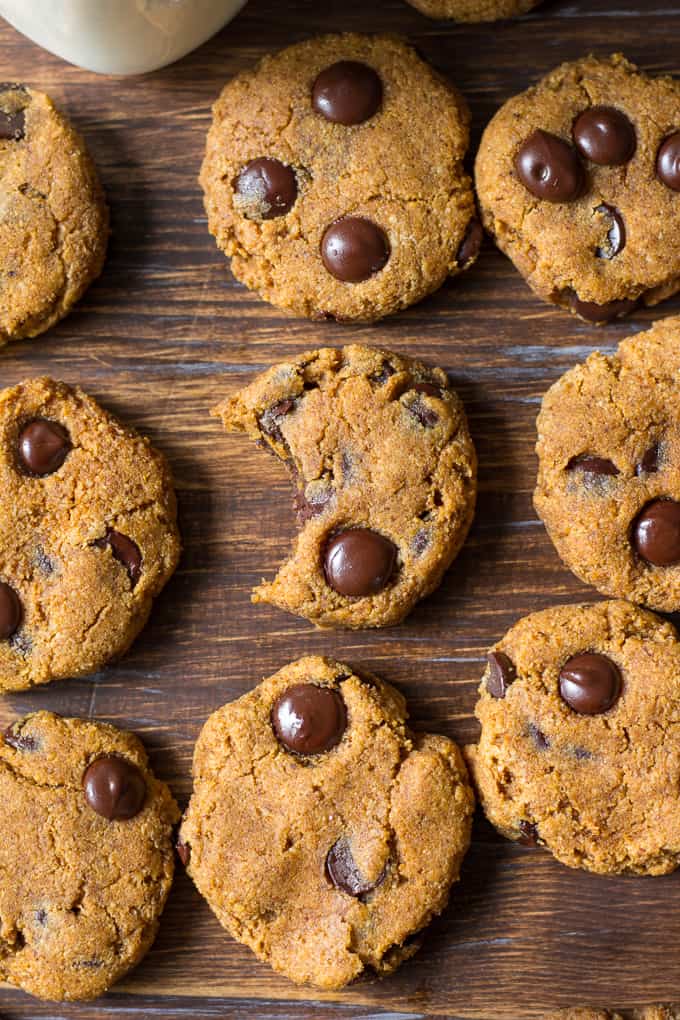 A quick note on this recipe – it makes a lot of cookies!  I have made the recipe twice and the first I made 20, the second 24 cookies – I actually prefer bigger cookies, and, if you make them bigger the bake time won't be much different, maybe a minute longer.
They're super soft – in fact, they seem to get softer as they cool.  They save very well in the refrigerator too which makes them perfect for after school snacks all week long.  I hope you guys enjoy these as much as we do!  Let's start baking!
Paleo Pumpkin Chocolate Chip Cookies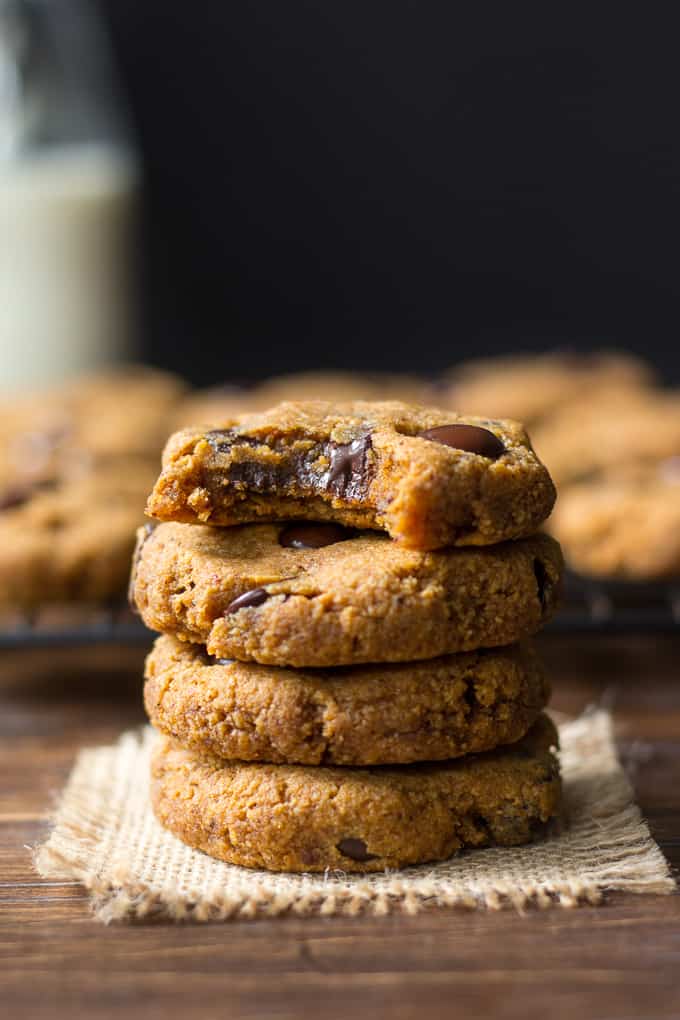 Paleo Pumpkin Chocolate Chip Cookies
Super soft and chewy Paleo pumpkin chocolate cookies with plenty of chocolate and a hint of cinnamon and pumpkin pie spices. Paleo, grain free, dairy free and absolutely delicious!
Prep Time: 25 minutes
Cook Time: 10 minutes
Total Time: 35 minutes
Course: Dessert
Cuisine: dairy-free, Gluten-free, Paleo
Servings: 24 cookies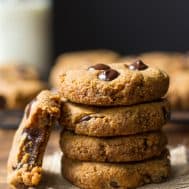 Instructions
Preheat your oven to 350 degrees and line 2 cookie sheets with

parchment paper

.

In a large bowl, whisk together the egg, almond butter, pumpkin puree, coconut sugar and vanilla. In a separate mixing bowl, combine the blanched almond flour, sea salt, cinnamon, pumpkin pie spice, and baking soda.

Once the dry mixture is well combined, slowly mix it into the wet ingredients until fully absorbed and a cookie dough forms. Lastly, stir in the dark chocolate chips.

The dough will be sticky - I recommend chilling it in the freezer for 10-15 minutes at this point.

Once the dough is chilled, roll into 24 balls, or use a cookie scoop to form round, even scoops on both cookie sheets. With a separate piece of parchment paper, flatten each ball into a cookie shape of about 1/2 inch thickness.

Bake in the preheated oven for 10-12 minutes or until just set. Remove from oven and allow to sit for a minute before transferring to wire racks to cool completely. Store leftovers covered in the refrigerator. Enjoy!
Nutrition
Calories: 123kcal
Carbohydrates: 8g
Protein: 3g
Fat: 9g
Saturated Fat: 1g
Cholesterol: 6mg
Sodium: 66mg
Potassium: 62mg
Fiber: 1g
Sugar: 4g
Vitamin A: 805IU
Vitamin C: 0.2mg
Calcium: 51mg
Iron: 0.7mg
What I Used to Make My Paleo Pumpkin Chocolate Chip Cookies:

Want more Paleo pumpkin treats?  Try one of these!
Paleo Pumpkin French Toast Bake
Is your family brutally honest about how recipes turn out?
What's your current favorite sweet treat?
Note: This post contains Amazon affiliate links. This means that if you click on a link and make a purchase, I will receive a small commission at no cost to you. Thank you for supporting The Paleo Running Momma!