All your sweet fall cravings are wrapped up in these paleo pumpkin fudge cookies.  They're chewy, fudgy, bite size pumpkin spiced treats! Gluten and grain free, dairy free, soy free, and refined sugar free means they're just as healthy as they are delicious.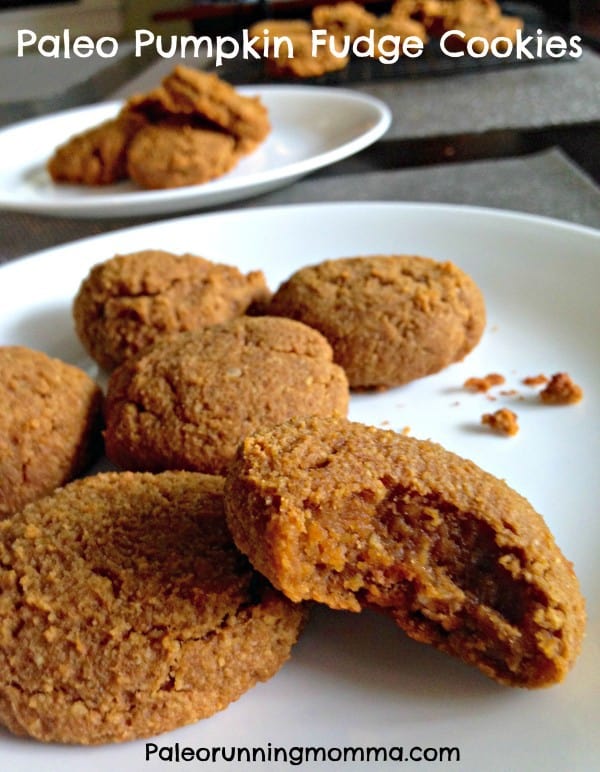 Let me tell you – it felt really good to dip into the pumpkin and pumpkin spice.  It's my happy place, and I went overboard like I typically do when I dive into something and made 3 recipes in one morning.   I then complained how tired I was after all the "hard work", and then quickly slapped myself in the face for complaining.  Just kidding.  I ate all my pumpkin goodies and then complained some more 🙂
I really wanted to wait to share these cookies with you, but, I fell in love with them and needed to share. Show and share.  To credit my patience though I did wait almost a week and it is the second half of September, so…
Pumpkin is my favorite and that has nothing to do with blogging at all or being a walking blogger cliche (although I enjoy both.)  Nope, I've been loving this stuff since the first time I ate pumpkin pie, during the age of typewriters and Betty Crocker's Cookbook.  I still love that cookbook so much 🙂
Aside from a lifelong pumpkin crush, I couldn't wait to share the above photo.  And why?  I was just really happy that I finally bit into a cookie and then made it look nice in a picture.  The perfect photogenic bite is something I aspire to, as I think I've mentioned before.  And also yesterday, but that's what I get for writing posts a few days in advance.  No secret is safe with me.  Especially when it comes to blog material. But yes, the bite – small goals achieved to brighten up my day.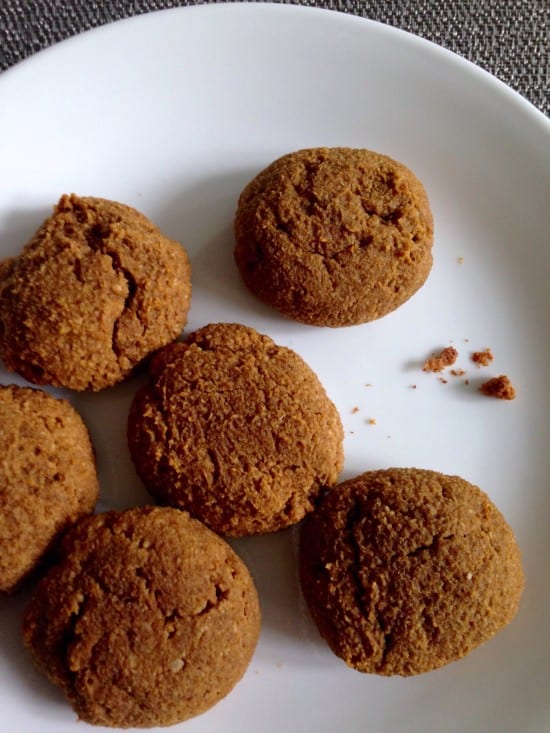 So what else is new besides these cookies?  Umm, well that's an awkward question – I'm not great with small talk.  Even when I try to make small talk with myself apparently, it doesn't go well.   Leave it to me to be awkward with myself in the privacy of my own home.  It takes talent.
But enough about me, let's chat about the recipe just a little because that might be why you're here (It can't be for the jokes, at least not today.)  I'd been wanting to make pumpkin fudge, but was feeling uninspired by the task and was craving variety.   Enter the cookie idea.  I still really love a chewy, fudgy bar or cookie and definitely went for that with these little bites.
They are spiced just as my pumpkin pie is and great for an after school snack, or even a breakfast treat. Yes, my kids happily ate them for breakfast while I ran 20 miles last Saturday.  They love eating "cookies" for breakfast, and, these really are healthy enough to be breakfast.  Don't you love that about paleo treats? Since you don't get that huge sugar crash, they are good for much more than dessert!  But let's get on with the recipe, this is one I don't want to keep you from 🙂
Paleo Pumpkin Fudge Cookies
Paleo Pumpkin Fudge Cookies that taste just like pumpkin pie! They're gluten and grain free, dairy free, soy free, and refined sugar free. Perfect for a quick snack, dessert, or as a healthy treat to share!
Prep Time: 25 minutes
Cook Time: 12 minutes
Total Time: 37 minutes
Course: Snack/Treat
Cuisine: Paleo
Servings: 18 cookies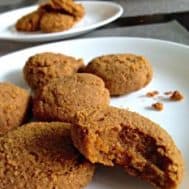 Ingredients
1 egg
1/2 cup pumpkin puree canned or homemade, if canned make sure it's NOT pumpkin pie filling
1/4 cup + 3 tbsp organic coconut sugar
1/4 cup creamy cashew butter
1 tsp vanilla
2 tsp ground cinnamon
1/4 tsp ginger
1/4 tsp nutmeg
2 and 1/3 cups blanched almond flour I used Bob's Red Mill
1/2 tsp baking soda
dash sea salt
Instructions
Preheat your oven to 350 degrees and line a large baking sheet with parchment paper

In a large mixing bowl, whisk the egg, pumpkin and coconut sugar together until smooth. Add the cashew butter, vanilla and spices and continue mixing.

Add the almond flour, baking soda and sea salt to the mixture and blend until a dough forms (it will be sticky.)

Chill the dough in the freezer for 10-15 minutes to make it easier to handle. Once dough has firmed up, roll into small balls, flattened just a bit, and place on parchment lined baking sheet.

Once you've used up all the dough (I made 18 cookies, if you only have one cookie sheet, bake in 2 batches) bake in the preheated oven on the middle rack for 10-12 minutes or until cookies are lightly browned and set.

Remove from oven and allow to sit for a minute or two before carefully transferring to a wire rack to cool completely.

Cookies will be chewy and delicious! Enjoy!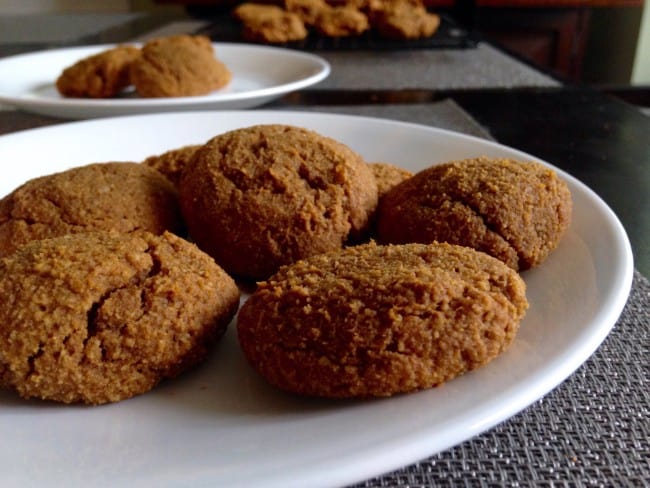 Have you dipped (literally) into pumpkin yet?  Bathed in it?  Are you waiting?
Create your very own #fallfood hashtag!  Yes, it's for my own entertainment, thanks in advance 😉