Do you ever find yourself purposefully rebelling/avoiding something in the dumbest of ways?  Let me explain.  It's related to running, I promise.
So, I knew I was out of running fuel since my last long run.
Every day my grocery/errand list included "running fuel" and yet each day I ignored it.  And it wasn't just like "oh, I'll get it tomorrow" each time I saw it.  It was a purposeful and evil omission.   Kind of like not making a new playlist or deciding to race in new shoes.  Reckless self sabotage.
If buying fuel meant accepting that my 20 miler planned for Saturday was "real", then refusing to buy it meant it was still going to happen but I would be mentally fighting it until the end.  I couldn't even bring myself to get a squeeze applesauce.  Really dumb, especially when you fast forward to me scrounging for and then eating raisins and dried blueberries out of a ziplock on my run, like "dang, I'm still here running 20 miles and all and a gel or something would be nice right now."
I'm dumb in odd ways.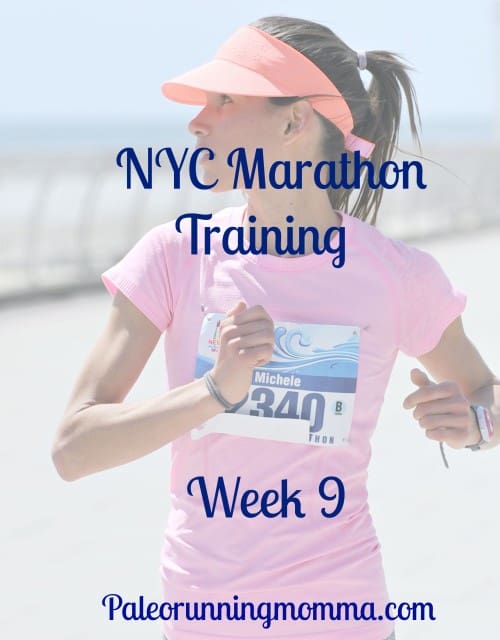 Let's see what happened this week:
Monday – 7 miles easy pace.
Yoga – Total Body Flow for Letting Go with Lesley Fightmaster.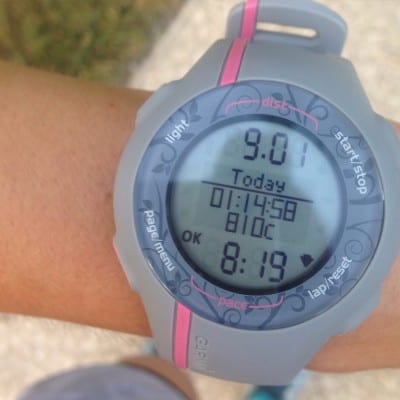 Tuesday – The heat and humidity was killer, but I still had a good workout.   9 miles total with 7 @ goal pace was the plan, and I mostly delivered.   With "goal pace", I've been hovering anywhere from 7:50-8:00/mile, and I'm hoping to actually run the marathon at 7:55-58 pace to get that PR.  Hoping, but not convinced.
Yoga – 25 minutes of my own flow – I always incorporate a lot of hip opening when I'm in charge!  Sadly-ish I also skimp on core work, but that's just going along with the way it's been lately.  Core and upper body are being neglected, I'm not seeing any difference in my running as a result.
Wednesday – 6 miles easy pace for my recovery run.
Yoga – "Yoga for cyclists" with Lesley Fightmaster – this was good and included a lot of shoulder opening since it's geared to cyclists, although I always need lots of that too since I sit at the computer way too much!  24 minutes was perfect and all I had time for.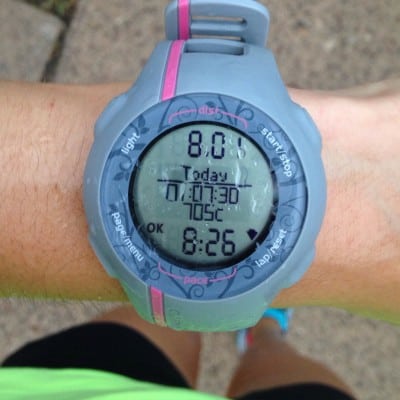 Thursday – A rainy run – yay!  After the crazy heat we had last week this made me really happy.  I planned to do some sort of workout (training plan said "8 workout") and I guess I trusted something creative would come to mind.  If by creative I meant running a slow mile followed by a faster one, then I did a good job.  I just repeated that for all 8 miles.  Nothing fancy but I was happy with it.
I meant to do yoga all day, and it just didn't happen.   Thurs and Friday were jam packed both for me while the kids were in school, and then after school with appointments and activities.
Friday – No running!  No yoga either!  I always think I'll feel awesome Friday morning but I always feel tired, and my brain just fast forwards to worrying about my Sat long run.  And of course all the other things I need to get done. Running provides a distraction and when it's missing, I feel like I need to "catch up" on everything else. Anyone else get this on rest days?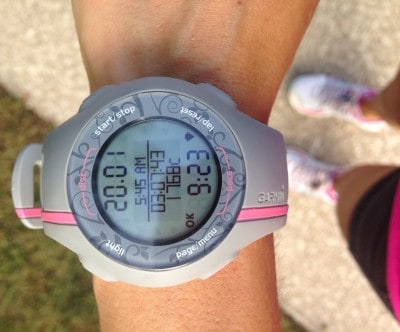 Saturday – The 20 miler – it happened.  And just as I suspected with my whole "I'm not buying fuel" bit, I fought this until the very end.  I just wasn't into it and just wanted it over.  It wound up slower than I'd hoped (I would've liked lower 9s) but considering how difficult it was to motivate for it, I was happy with the result. Physically, I actually felt okay – nothing hurt, a little achiness but I didn't feel any pain and I wasn't even completely exhausted at the end.
Yoga – I really like doing gentle yoga to help recover from long runs!  I feel like it re-grounds and re-centers me.
I did two short videos – Yoga for Runners: Injury Prevention with Fiji McAlpine, and Yoga to Open Hips with Lesley Fightmaster.
Sunday – Yoga for strength and no running.  Now, Sundays I really do enjoy my rest day!  Having the long run behind me really makes a difference.  Now if I could only sleep past 5:30 Sundays would really rock my world.
Summary – 5 days of running, 50 miles total, 2 workouts, a 20 miler, 5 days of 25-30 minutes of yoga.
My training this week looked a lot like it did last week with the only difference being the long run.  That difference was felt though, both mentally and physically by the end of the week, and probably also from the cumulative effect of training.
This coming week I'll continue the same runs on the weekdays and the week finishes off with a half marathon.  After that, it's a recovery week for week 11 before gearing up for the two peak weeks!
Boston Thoughts
Last year at Philadelphia I qualified for Boston 2016 (3:30:23) and lately I've been about 50/50 over whether I'd actually sign up for it.  I ran it in 2014 already and it was amazing – I wasn't feeling certain I wanted to go through all of it again, though, as well as rally my family if my heart wasn't totally in it.
It took two things to convince me that I want to sign up
1) Adam and Emily said they wanted to go (trip + hotel = FUN) – Diana and Drew were neutral.  Since Adam's a grown-up his opinion holds more weight 🙂
2) My friend Stephanie who recently moved to Texas, confirmed that she's signing up.
Didn't take much to sway me.  My other reasoning is that I can't be sure I'll qualify again, and I might as well take advantage of it now while it's here.  Since my qualifying time is within 5 minutes of the standard, there is a chance it will fill up before I get in, but, I'm going cross my fingers and go for it.
And that's about it for the week!
What was your best workout/run last week?
How is your mood on rest days?
Anyone signing up for Boston?