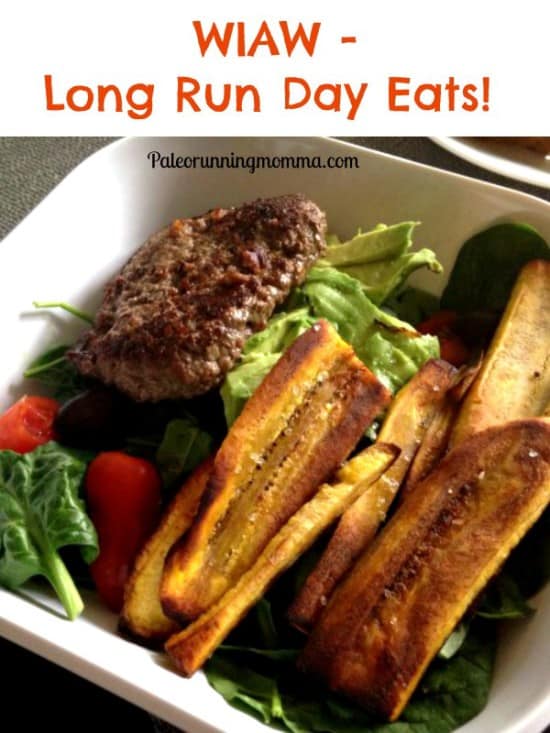 Didn't I just talk about this last week?  And the week before?  Don't even answer that, it was a rhetorical question for me to reflect on.  But yes, it's what's on my brain and on the blog most everyday – food, running, running, and food.  Maybe you can relate if you're here reading this!  Maybe we have a lot in common!  Maybe I have a friend!  Maybe you like me! (Went too far with that, I hear you.)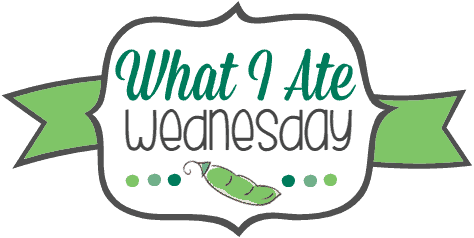 So for today's WIAW I'll be discussing paleo eats for long run day.  Except I won't really be discussing, just showing you the pictures I managed to take after I ran 20 miles last Saturday, cursing myself with every step.  It wasn't that dramatic, but close.  That's how I remember it at least – I'm sure I looked delighted to anyone passing me on the road.
Before I get to my food though, I just have to share a text that was sent while running Saturday morning.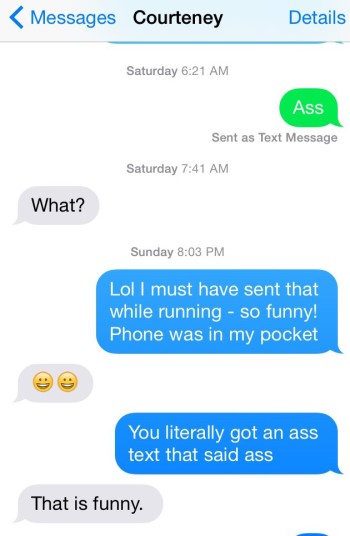 Luckily my friend Courteney didn't take offense to what my iPhone chose to autocorrect that pocket text to, but I have to say it pretty much summed up how I felt while running that morning.  That's not the first time I've texted/called someone unknowingly while running, but the first where questionable language was used.
Onto the food!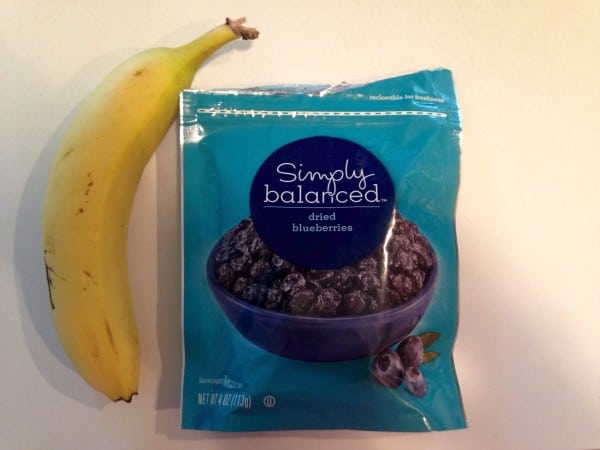 Long run fuel – Since I was being all rebellious and didn't buy actual running fuel, I was left to scrounge something up early Saturday morning.  I ate the banana before leaving at around 5:30am, and brought a ziplock filled with the dried blueberries to eat while running.  I ate a few handfuls of it by the time the 20 miles were over.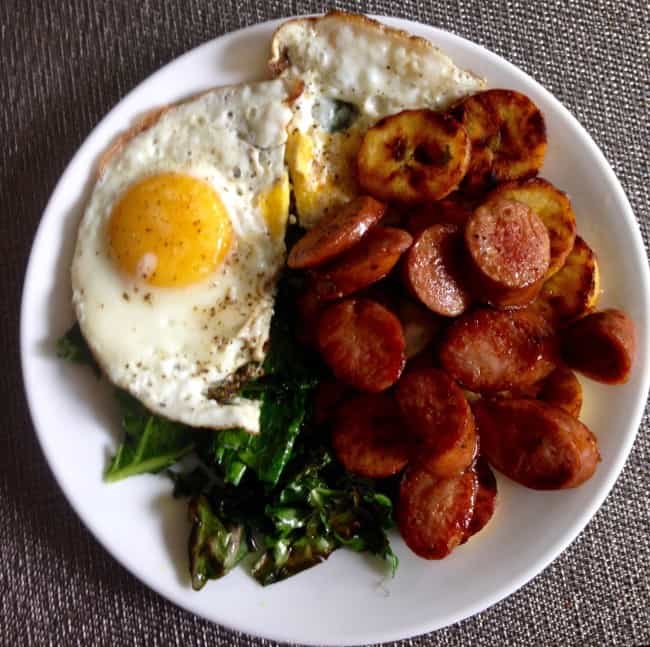 Breakfast – Making my food look pretty on the plate usually doesn't happen after a long run.  This was a lot of food – it was one of those long runs where my hunger was raging pretty soon after I finished.  Fried sweet plantains, Aidell's andouille sausage, crispy greens (yup, burnt!) and two eggs, one yolk got lost in the shuffle somewhere.  I ate this around 9:30/9:45 I think.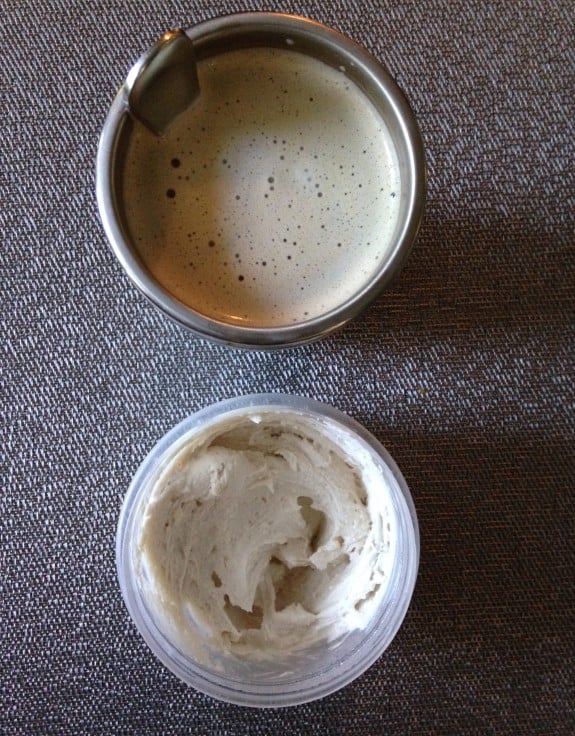 My typical coffee – plus some coconut whipped cream that I'd made the day before to go with some pumpkin goodies.  I used chilled coconut cream (the non-liquid part of canned coconut milk) maple syrup, and vanilla.  This is really good and I highly recommend trying!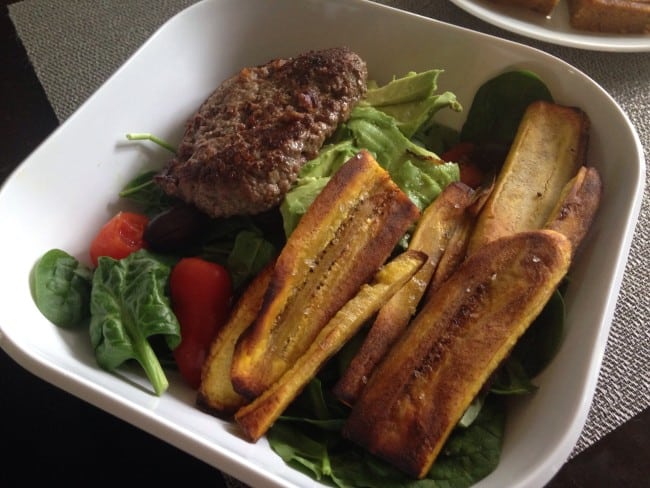 Lunch – I think I ate this around 1pm – typical throw together lunch for me.  We had nothing going on really on Saturday and I took the time I had to catch up on blogging and of course recover after the run.  In the bowl is spinach, tomatoes, olives, avocado, a grass fed beef burger, and green plantains fried in coconut oil with sea salt.  This is a winning combo whether I've run that morning or not 🙂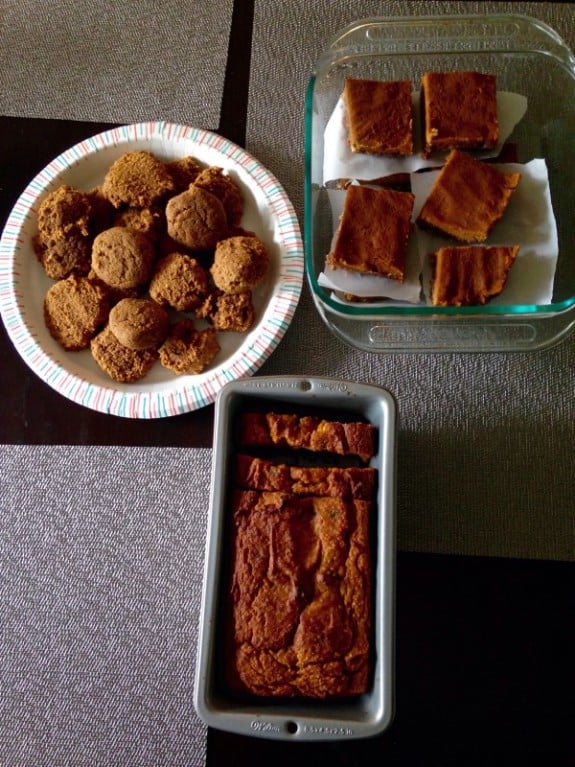 Snack – This wasn't my afternoon snack (at least not ALL of it was) but I did have one of the pecan pumpkin pie bars on the upper right.  All these recipes will be posted in the next couple of weeks, starting with the cookies. It's a tough decision but I say cookies first.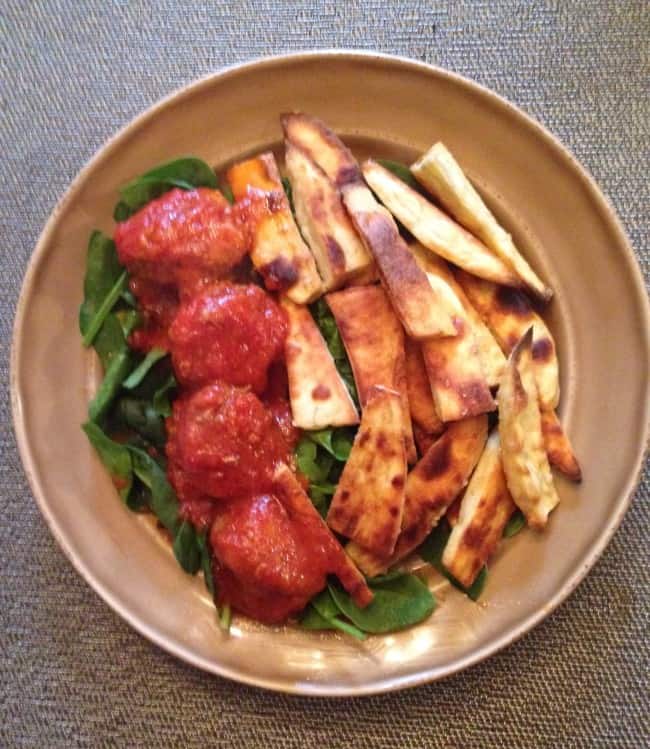 Dinner – Apologies for the blurry meatballs – I was just too excited to eat this to notice how the picture came out.  Pork/lamb blend Italian meatballs in marinara sauce over spinach, with a side of my beloved roasted Japanese sweet potatoes.  This is a favorite meal in my house – no one complains and everyone eats!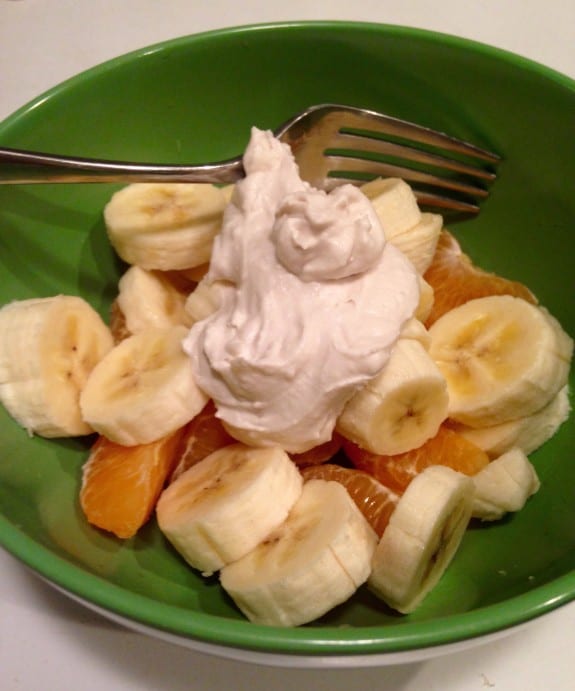 Dessert – Hello to the coconut whipped cream once again.  It's good, really good, and goes with anything you feel like putting it on.  Here it was a mandarin orange and banana slices, yum 🙂
Do you make your own whipped cream?  Have you made it dairy free?
Have you called people or sent accidental text messages while running and had no idea?