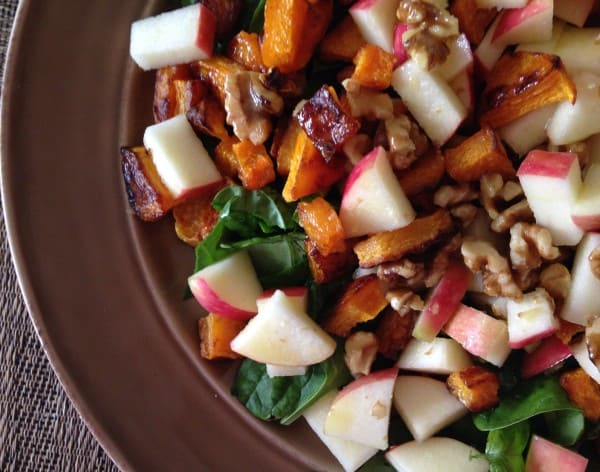 I was selected by Fitfluential, LLC to review Pylian Estates Olive Oil.  I received a bottle of their Pristine Extra Virgin Olive Oil and no other compensation.  The recipe and all opinions are entirely my own.
Doesn't that salad look good?  Sorry, I must revel in a good food photo when one comes along.  It was gone far too quickly (blaming myself for that) but I'll actually be making it again this weekend because I really couldn't get enough.
Oddly enough, I haven't been using good olive oil much lately and I forgot how delicious a nice, simple, homemade salad dressing can be.  When I received my bottle of Pylian Estates Pristine Extra Virgin Olive Oil , it might as well have been Hanukkah already, or maybe Santa came early for me, or something, because everything about this olive oil – from the bottling, the thoughtful "drizzle" top, to the incredible flavor had me drizzling (okay, generously drizzling) it on all my food.
Pylian Estates is a small family maker that controls the oil all the way from their trees in Greece to their bottles.  They even note the exact location of their trees right on the bottle – Pylias, Greece, on the southwestern tip of the Peloponnesian Peninsula in Greece's premier olive growing region.
All of their oil is labeled with the exact harvest and press date to ensure freshness.  It is also harvested and pressed within 24 hours!
It is first cold pressed without any heat or chemicals to preserve all the natural polyphenols and anti-oxidants.  That means maximum health benefits in addition to fabulous flavor!
High Quality olive oils should always be below .8% acidity and Pylian Estates is clearly stated on the bottle as .3%.  They also bottle in dark glass to protect from light and heat, and the products should always be stored away from direct heat as well.
Possibly my favorite feature (because I'm lazy, clumsy, or both!) is that each bottle comes with its own re-sealable cork to prevent oxidation (rancidity.)  This is a super convenient way to preserve your oil for the best taste and quality over time.
And now for the recipe!  Obviously, you can use any extra virgin olive oil you want for this, but, I am highly recommending you try out Pylian Estates for a real treat!
Butternut Squash Apple Walnut Salad With Sweet Citrus Dressing
A sweet and refreshing salad with roasted butternut squash, pink lady apples, walnuts and baby spinach tossed with a sweet citrus dressing using Pylian Estates Olive Oil.
Prep Time: 15 minutes
Cook Time: 30 minutes
Total Time: 45 minutes
Course: Salad
Cuisine: Paleo
Servings: 2 -3 servings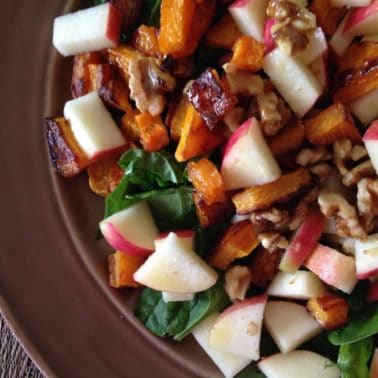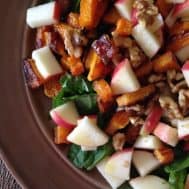 Ingredients
1 small butternut squash peeled and cut into small cubes
1 tbsp coconut oil or other fat for roasting
1/2 tsp salt
1 large pink lady apple cored and cut into small cubes
1/2 cup shelled walnuts chopped
3-4 cups baby spinach chopped (if you want!)
1/4 cup cold pressed extra virgin olive oil
2 tsp fresh squeezed lemon juice
1 tsp fresh squeezed lime juice
2 tsp orange juice
**Optional 1/2 tsp pure maple syrup for extra sweetness
Instructions
First, it's time to roast that butternut! I always roast my butternut with coconut oil, but choose whatever fat you like that is safe for high heat.

Preheat your oven to 425 degrees. Melt your fat and toss it with the butternut squash cubes. Add the 1/2 tsp salt and toss again. Arrange cubes in a single layer on a parchment lined baking sheet (for maximum sweetness and crispness, do the parchment!) Roast in the preheated oven for about 30 minutes, flipping/stirring once in the middle of cook time, or until browned, soft inside and crisp outside.

Set your butternut aside to cool while you prepare the rest of the salad. Combine your baby spinach, chopped apple, and walnuts in a med-large salad bowl and set aside. In a small bowl, whisk together the olive oil, lemon, lime and orange juice, and maple syrup if you are adding that. (The salad maple syrup will really sweeten up the dressing, so only add this if you want a pretty sweet salad!)

Now add the cooled butternut squash to the salad bowl. Just before serving, whisk up the dressing again, drizzle over the salad a little at a time, and toss. Serve alone or as a delicious side dish!
Do you enjoy making your own salad dressings or do you stick to bottled?  
What is important to you when choosing a brand of extra virgin olive oil you buy?  
Am I the only one who can't get enough roasted butternut squash?
Happy Friday, people!!