Merry Christmas!  I hope Santa brought everything on everyone's list and no one is crying.  As I've said, although we are Jewish, we still celebrate a "mini" Christmas and Santa DOES visit my children to spread the magic and deliver the Barbie dolls and candy canes.
And now I am here to deliver you the easiest paleo-friendly hot chocolate recipe as an extra little treat for today.  You probably have all the ingredients on hand already, so let's get down and cozy and enjoy some super chocolate-y, comforting, piping hot delicious-ness together!
Vanilla Honey Hot Chocolate
A simple paleo hot chocolate recipe using real chocolate, almond milk, honey and vanilla
Prep Time: 5 minutes
Cook Time: 5 minutes
Total Time: 10 minutes
Course: Beverage, Hot Chocolate
Cuisine: Paleo
Servings: 2 8oz Servings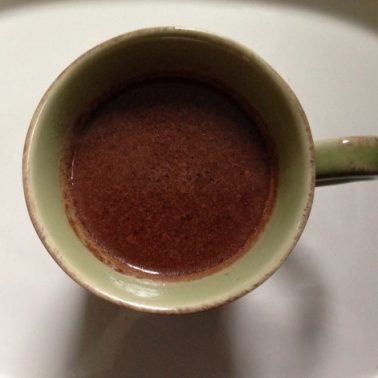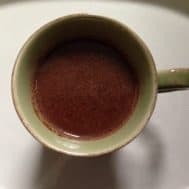 Ingredients
16 ounces unsweetened organic almond milk divided into 12 and 4 ounces
1.5-2 oz dairy and soy free dark chocolate 75-85 % Cacao or bittersweet baking chocolate, coarsely chopped. The range in amount is for you to decide based on how rich you want it.
2-3 tsp raw honey depending on how sweet your taste is
1 tsp vanilla extract
Instructions
In a small saucepan, heat 4 oz (1/2 cup) almond milk and the chocolate over med-low heat, stirring constantly, until the chocolate is completely melted and the mixture is smooth.

Pour in the rest of the almond milk and stir in the honey. Heat over med-hi heat and continue to stir, until it just starts to boil, and stir in the vanilla extract.

Pour into 2 mugs (or 1 big one if that's your style) and enjoy hot!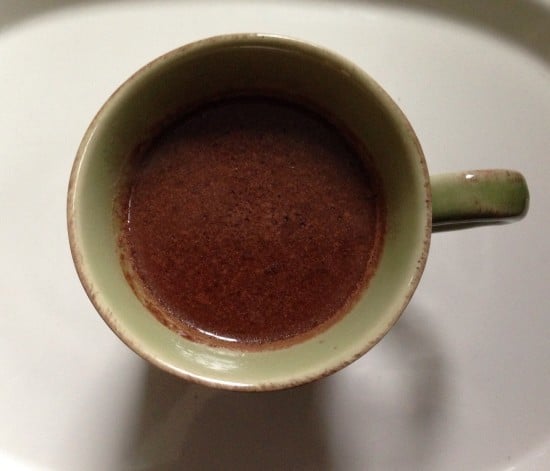 What kind of cookies do you make for Santa?  Does he eat all of them or just take a couple?  
Have you made homemade hot chocolate?