Forget about every other cupcake you've ever eaten! These Paleo Vanilla Cupcakes with Rich Chocolate Ganache are perfectly moist with sweet vanilla flavor and a thick fudge-like ganache icing.  Healthy yet decadent cupcakes that are gluten free, grain free, dairy free and Paleo.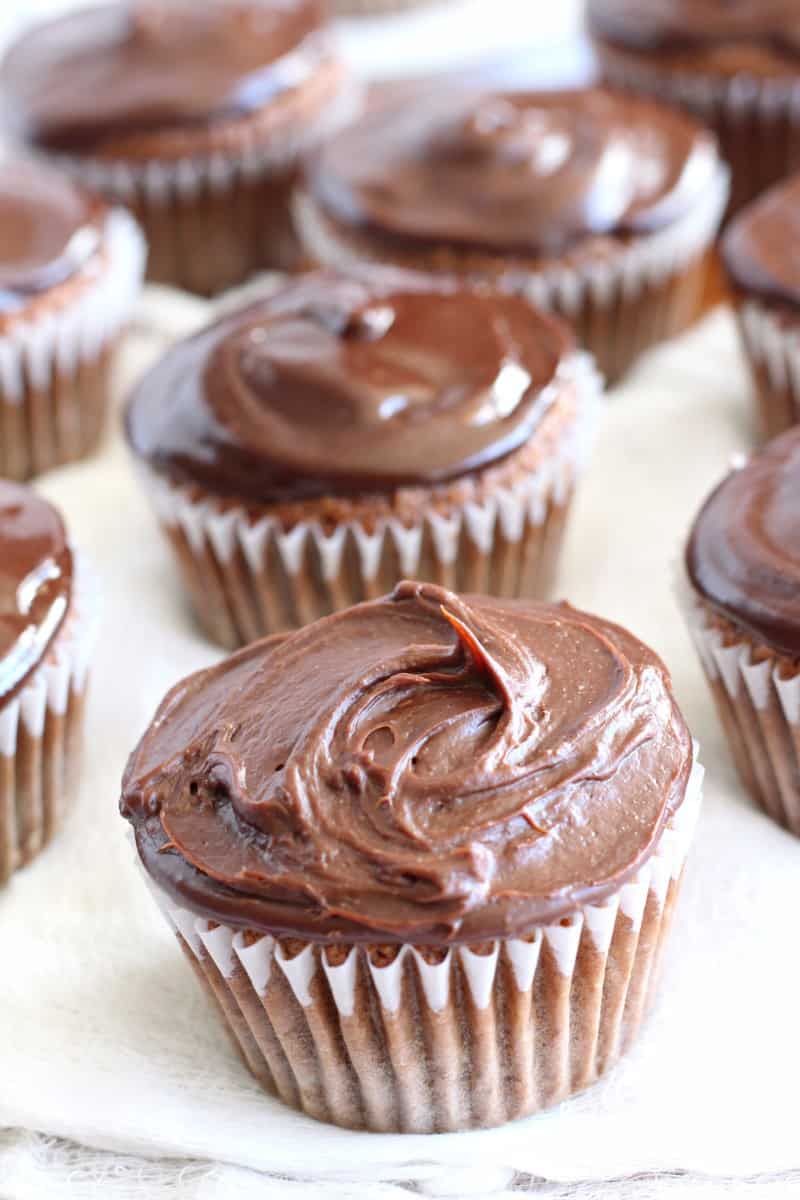 Confession time starts now.  I'll start since I'm already typing, plus it was my idea.
Okay, confession 1 –  I ate more of these paleo vanilla cupcakes than I did any other baking recipe that I can remember.  To be honest, I can't decide if that's because I liked them better than other treats or because my family liked them less.  Think about it, this is an interesting question.
I think the overwhelming supply of Valentines Day treats last week had something to do with them eating less of these.  That's my answer.  Just to clarify, that means these are AWESOME.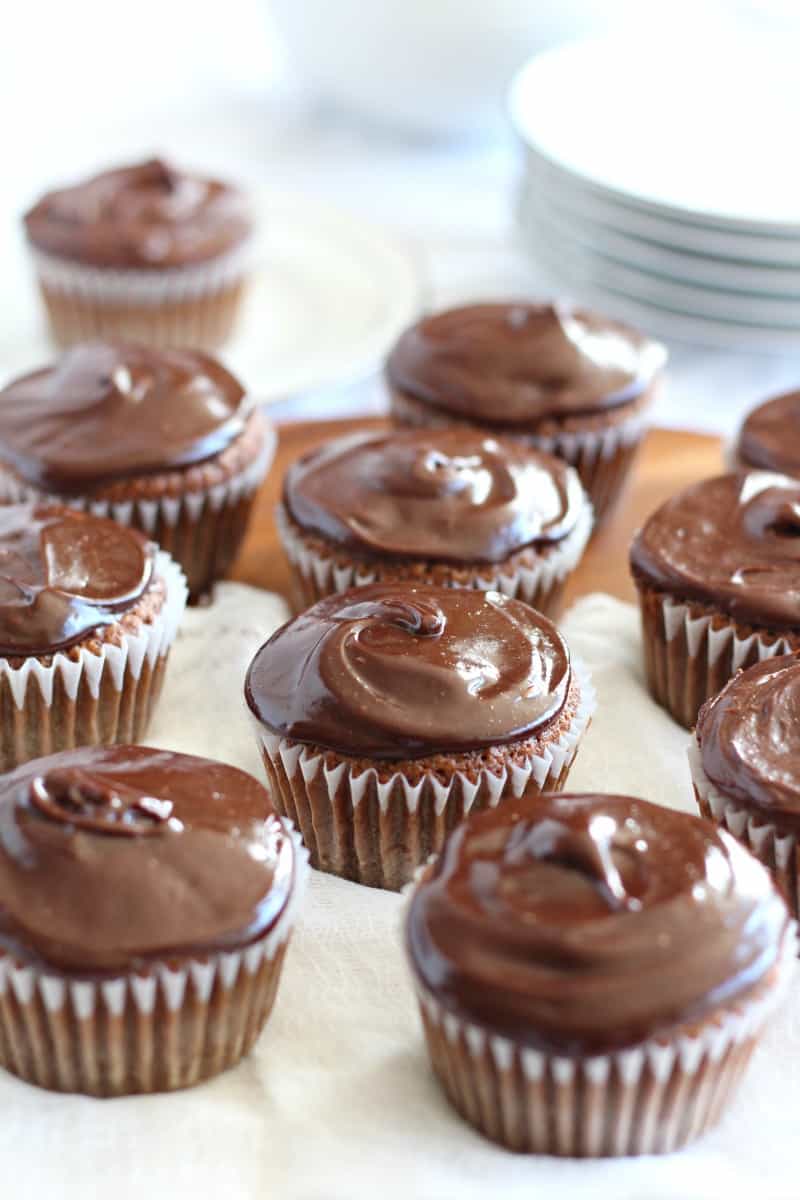 Confession 2 – I've been afraid to make Paleo vanilla cupcakes for about a year.  Why?  Because I'm super sensitive, let me explain.
I tried out a recipe for vanilla cupcakes in the wee days of my blog, a year ago at least, and they came out so terribly – I mean BAD – that I've been scared to attempt them again ever since.  Even though I'm so much wiser now about the mysterious properties of paleo flours and such, it took a long time to get over that particular episode of recipe heartbreak.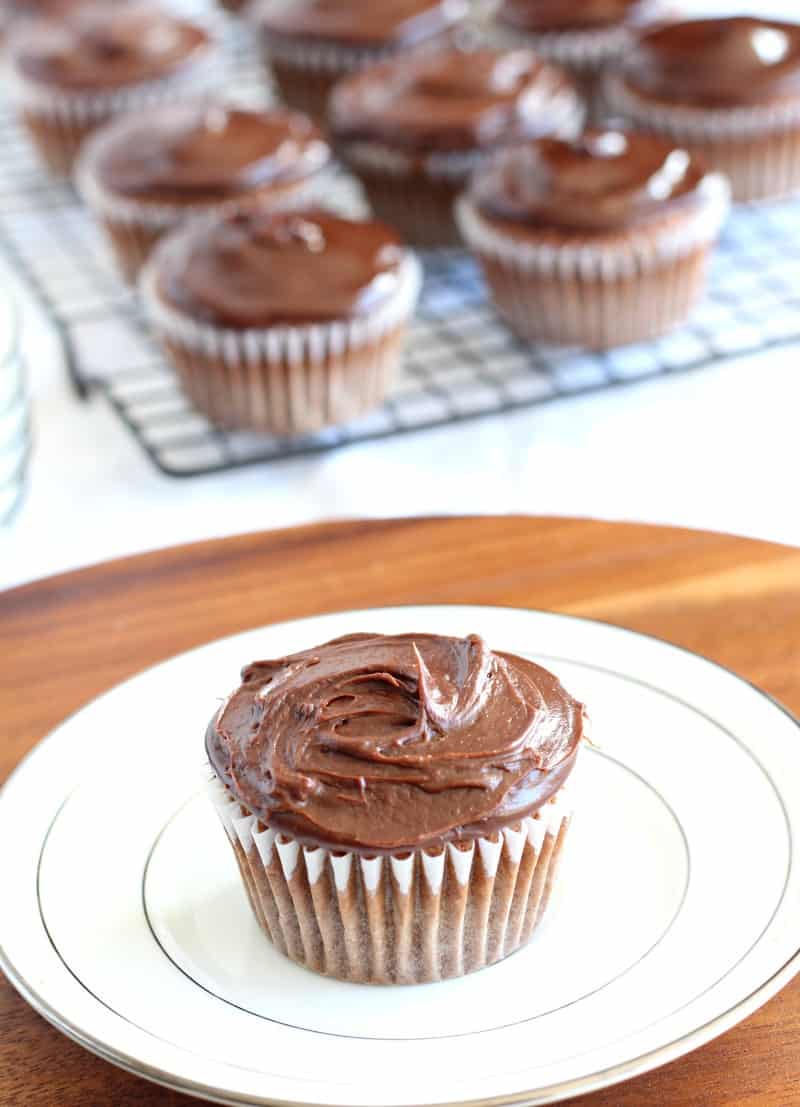 Ridiculous, I know.  I've made chocolate cupcakes, lots of cookies, muffins, and breads.   So I needed to get over my irrational fear of making a Paleo vanilla cupcake, and, Emily's birthday was the perfect opportunity.
I'm not exactly sure why I was motivated by this particular celebration – did I derive new strength and courage from the memory of her birth?  Possibly, and if you had been there you might agree – I got through that 90% intact, so, chances are I will be strong enough to risk making an imperfect cupcake.  Barely any blood will be shed.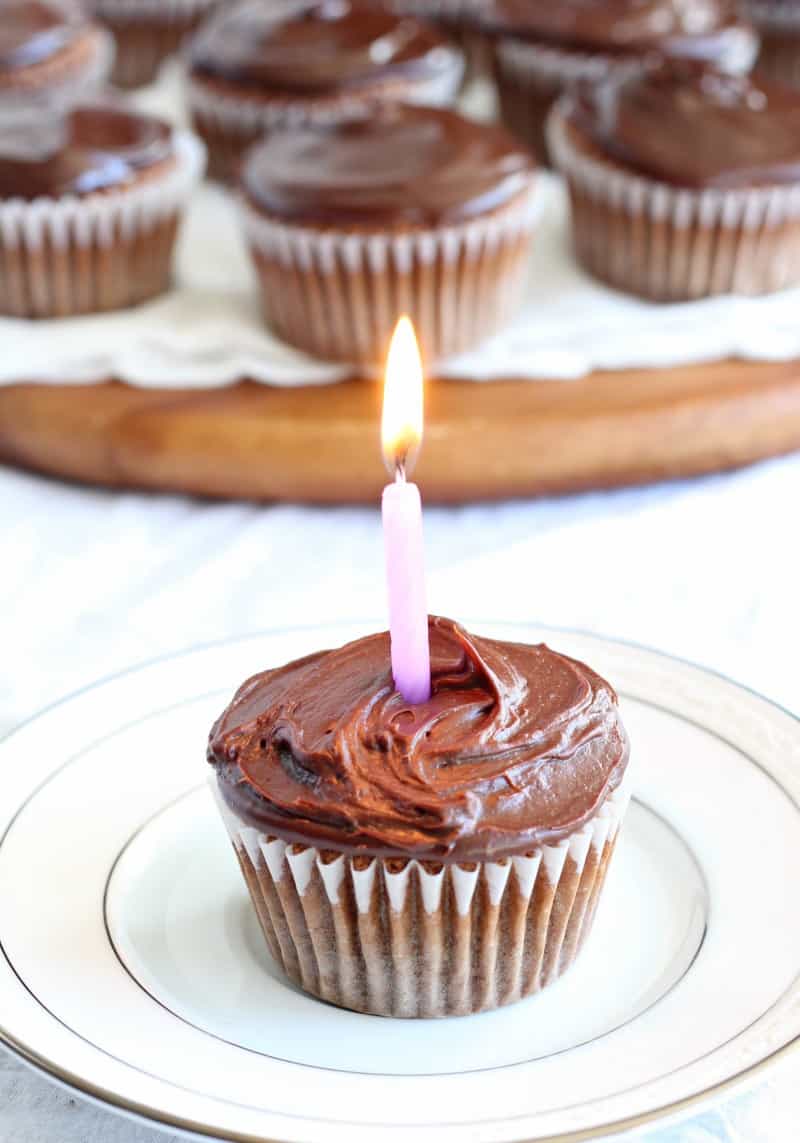 Confession 3 – The "cake" part of this cupcake was nearly perfect, yet it's the ganache that makes it amazing.  Thick, rich, perfect chocolate/sweetness balance and fudgey – and it's not the last time you'll be seeing it on this blog.  I have big plans for this ganache, it's not getting away yet!  My kids have suggested donuts, but I haven't committed myself yet.  We shall see!
Confession 4 – Small talk is fun and all, but today I'm really itching to get to the darn recipe, since I feel like I've been talking about it all week!  Let's get to it, m-kay?
Paleo Vanilla Cupcakes with Rich Chocolate Ganache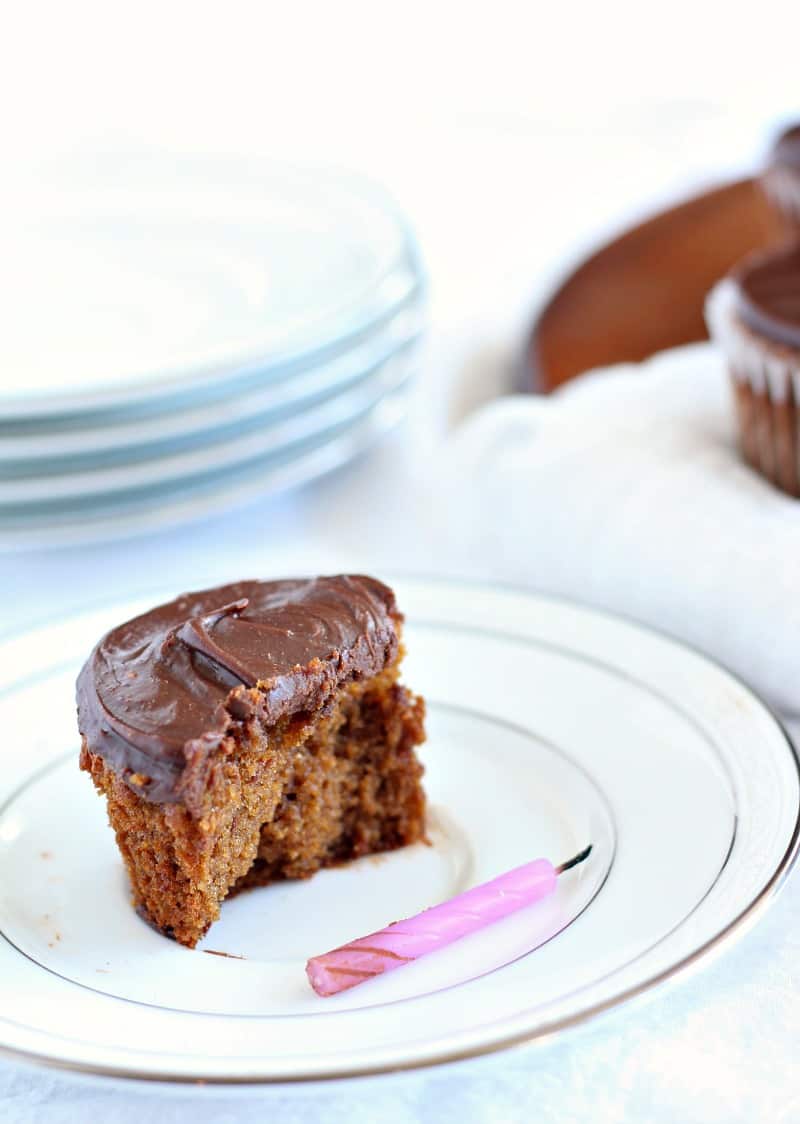 Paleo Vanilla Cupcakes with Rich Chocolate Ganache
These Paleo Vanilla Cupcakes with Rich Chocolate Ganache are perfectly moist with rich sweet vanilla flavor, and a thick fudge-like ganache icing that will blow your mind! These decadent cupcakes are gluten free, grain free, dairy free and Paleo.
Prep Time: 15 minutes
Cook Time: 15 minutes
Total Time: 30 minutes
Course: Dessert
Cuisine: Gluten-free, grain free, Paleo
Servings: 12 cupcakes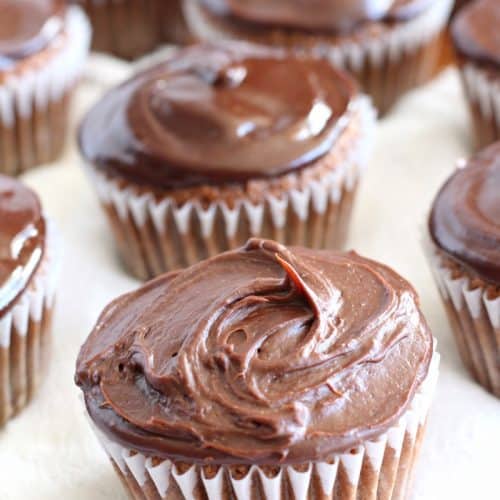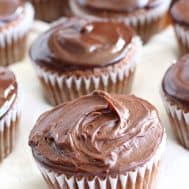 Ingredients
For the Chocolate Ganache*
2/3 cup full fat coconut milk**
1 cup Enjoy Life Chocolate Chunks what I used or any dairy & soy free chocolate chips
3 tbsp creamy cashew or almond butter I used cashew butter for the creaminess
1 tsp pure vanilla extract
Instructions
Preheat your oven to 350 degrees and line a muffin/cupcake pan with cupcake liners. Your ingredients should be brought to room temperature when you begin (coconut oil melted but cooled slightly.

In a large bowl, whisk together the eggs, coconut sugar, coconut milk, vanilla, and coconut oil

In a separate bowl, combine the almond flour, tapioca, baking soda, and salt and mix well.

Stir the dry ingredients into the wet until totally combined and smooth.

Fill cupcake liners up 3/4 of the way to make 12 cupcakes. Bake in the preheated oven for 15 minutes or until a toothpick inserted near the center of a cupcake comes out clean. Remove from oven and allow them to cool on wire racks.

After putting the cupcakes in the oven, make the ganache: In a small saucepan over very low heat, combine the chocolate chunks (or chips) with the coconut milk and melt together, stirring the whole time. Once the mixture is melted and shiny, remove from heat and stir in the cashew or almond butter and vanilla - continue to stir until thick, smooth and shiny.

The ganache will harden as it cools. Allow it to cool to the point where it's thick and spreadable, then ice the cooled cupcakes as desired.

Remember to save the leftover chocolate ganache!* Enjoy!
Recipe Notes
*This recipe makes a lot of extra ganache, which you can scoop into extra cupcake liners and refrigerate or freeze for a delicious, fudge-like treat!
**Coconut milk separates into a thick cream and water - for this recipe, discard of half the water and blend the remaining cream/water together before using.


What's your confession of the day/week?
What's one thing (recipe or otherwise) that you're working up the courage to try again?