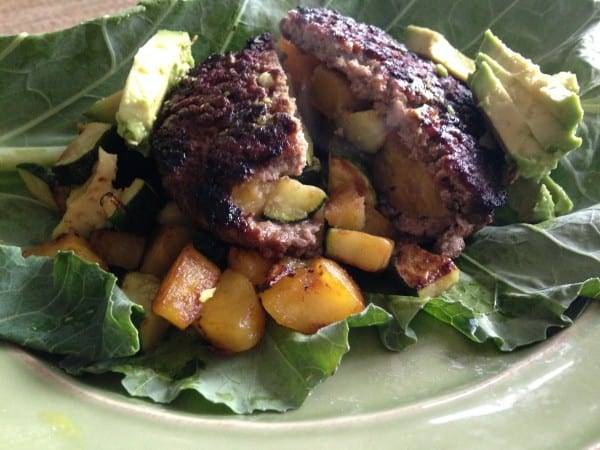 I like stuffing my burgers, it's a thing.   I used to do this before I ate paleo and now that there's that whole missing bun issue, I have all the more reason to experiment with what goes inside.  Yes, you can make the filling and have it as a side dish or put it on top.  It would probably taste just the same.  But, if you want to have some fun, you're gonna have to stuff it!  The extra filling makes for a nice topping/side dish anyway, so it's the best of both.
One thing I don't love about stuffed burgers is how they look when I try to take pictures of them.  Is there something I'm missing or is it just always going to look like a mess?   I know there are plenty of great food photographers that would make this look like art, I am not and probably will never be one of those people!  Let's just say it tastes better than it looks?  Okay cool 🙂
Plantain and Zucchini Stuffed Lamb Burgers
Paleo style lamb burgers filled with sauteed plantains and zucchini seasoned with onion, garlic, cumin, and sea salt served over greens.
Prep Time: 10 minutes
Cook Time: 15 minutes
Total Time: 25 minutes
Course: Burger
Cuisine: Paleo
Servings: 4 stuffed burgers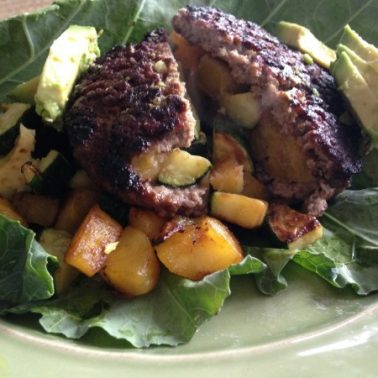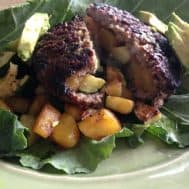 Ingredients
1.5 lbs ground lamb or ground meat of choice, i.e. turkey, beef, pork
2 small zucchinis roughly chopped
1 med sweet yellow-brown plantain, peeled and roughly chopped
salt to taste (optional)
1 tsp sea salt
1 tsp onion powder
1 tsp garlic powder
2 tsp cumin
Coconut oil for sauteeing
Avocado for garnish
Greens to serve over
Instructions
In a skillet over med heat, melt the coconut oil and add the chopped zucchini and plantain, and salt to taste if desired. Stir to coat and let cook over med heat until browned and soft, stirring often.

Combine the salt and spices in a small bowl, and mix into the ground meat. Form 8 small and thin patties with the meat (2 patties will = 1 burger after the filling is added)

When the plantains and zucchini are browned, spoon some onto 4 of the small patties. Take another small patty to top each one, and seal the meat together on all sides.

Now it's time to cook the burgers. Heat large nonstick pan or grill (lightly greased) over med-hi heat. Once heated, add the burgers to the pan and cook for about 6 minutes on each side, covering for the last few minutes or so to fully cook through.

Once the burgers have cooked through, serve over your favorite greens and garnish with a few slices of avocado. Any leftover filling can be served as a topping or on the side.

Dig in with a fork and knife! If you did this right it's going to get messy!
Now that you've made this, you're probably feeling like you could stuff a burger with just about anything.  And you're right, you can!  It's totally legal to stuff a burger with whatever interests you.   Peppers and onions, spinach and cheese, avocado and bacon, even another burger if you want, though that might be strange.  If you try it, let me know how it goes 🙂  Or you can check out a few more burger recipes here, here, here, here or even here.
Make the most of your weekend, people!
Ever stuffed a burger?  What's your favorite filling/topping?