Give in to your savory breakfast cravings with this Easy Paleo BLT Breakfast Pizza! A crisp and chewy cassava flour crust is topped with eggs, bacon, spinach, tomatoes and basil  for a super flavorful and healthy breakfast treat.  Gluten free, grain free, dairy free, and delicious!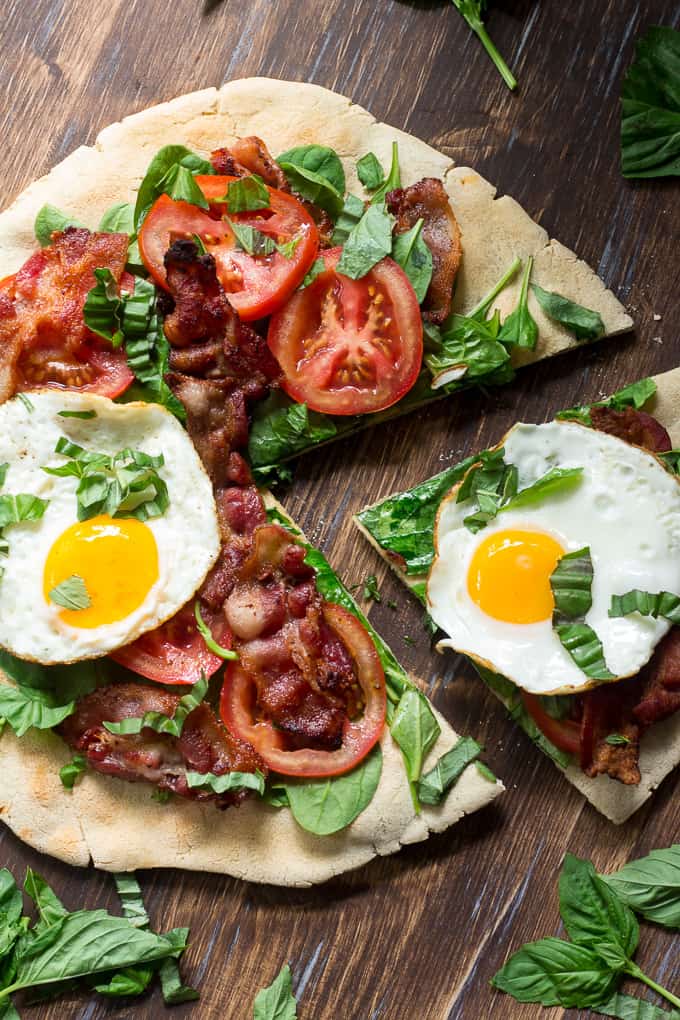 So, as it turns out, Cassava flour makes more than great banana bread!  I never doubted this, BUT after trying out a dough recipe for myself I knew what had to come next – eating the whole thing topping-less and then punching myself in the face for not making it into a pizza.
Luckily for me and my hungry face – the darkest hour is just before the dawn – when we can wake up, make more dough and this time turn it into an easy Paleo BLT Breakfast Pizza!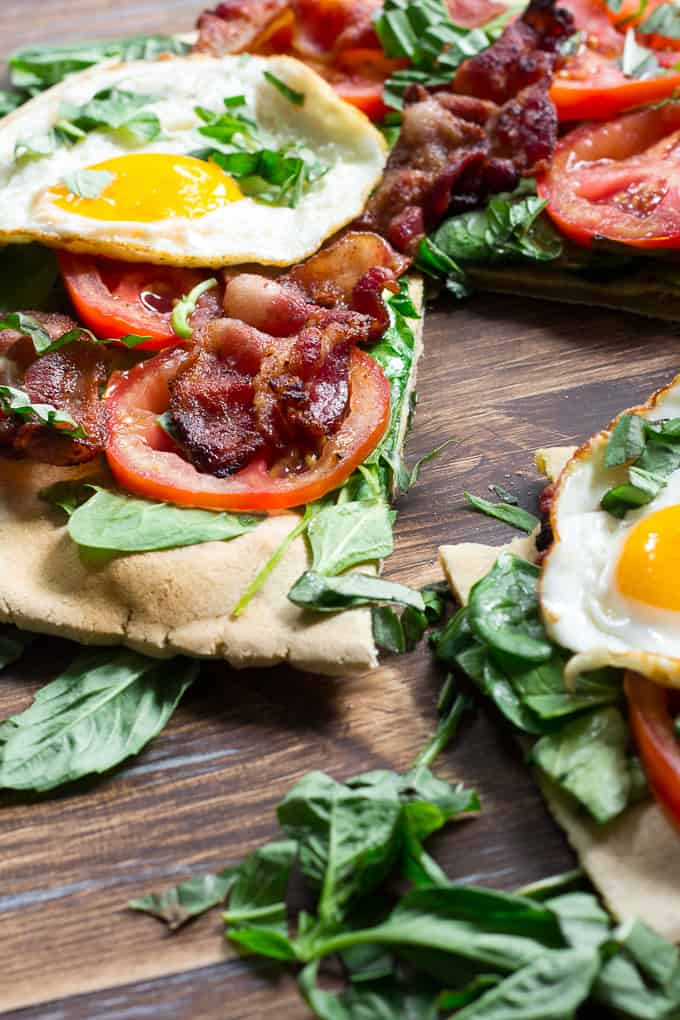 That's mostly a true story, except I didn't literally punch myself in the face, and I believe this breakfast pizza was made an hour or so after dawn.  At ACTUAL dawn, I'm either running (likeliest) or on Facebook, or, sometimes both, which is a new thing that I think really needs to stop.
But more about this pizza!  I think Cassava flour is a perfect option for a paleo pizza crust, given the texture that it creates.  I'd describe it as both crisp and chewy, depending on how you cook it and how thin you make it (I tried two ways, both were good, one was crispier), and if you add additional ingredients, which I did not in this case in order to keep it as simple as possible.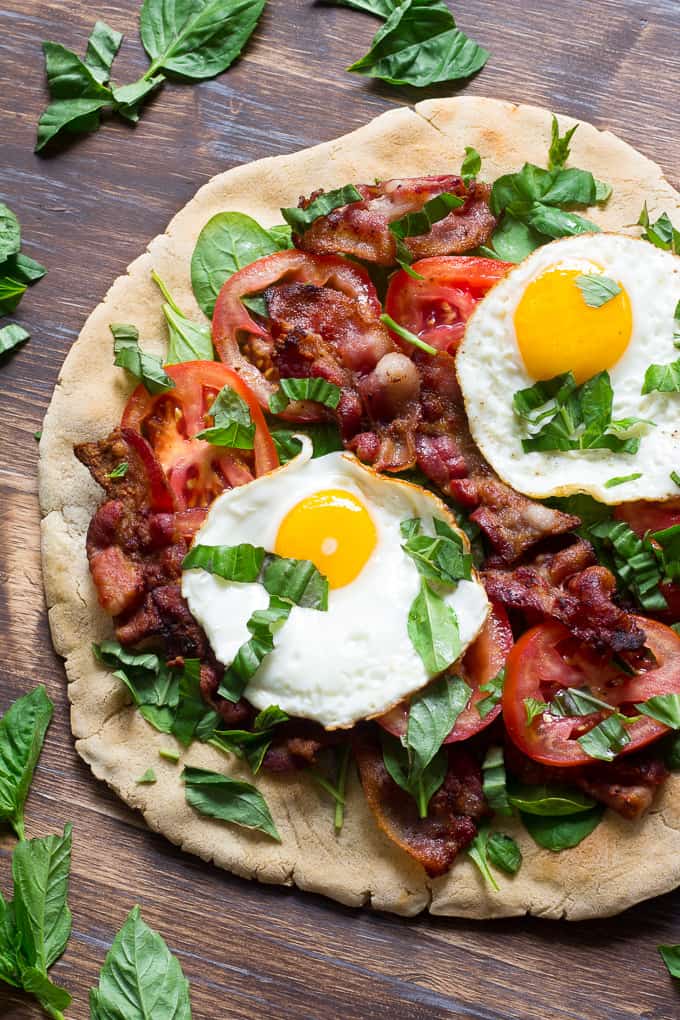 My kids liked it (they don't eat only paleo) and thought it tasted "buttery" and chewy – Diana was not thrilled I put spinach on it but the crust + bacon + eggs sort of made the spinach go down a bit easier!
There are endless possibilities with this flour, and I'm excited to try more with it, I'm thinking crackers or tortilla chips would be a hit with my family.  But really, anytime I make anything involving dough they get excited – out of curiosity, to try something new, and also because grain free cooking and baking really IS delicious!
Easy Paleo BLT Breakfast Pizza with Cassava Flour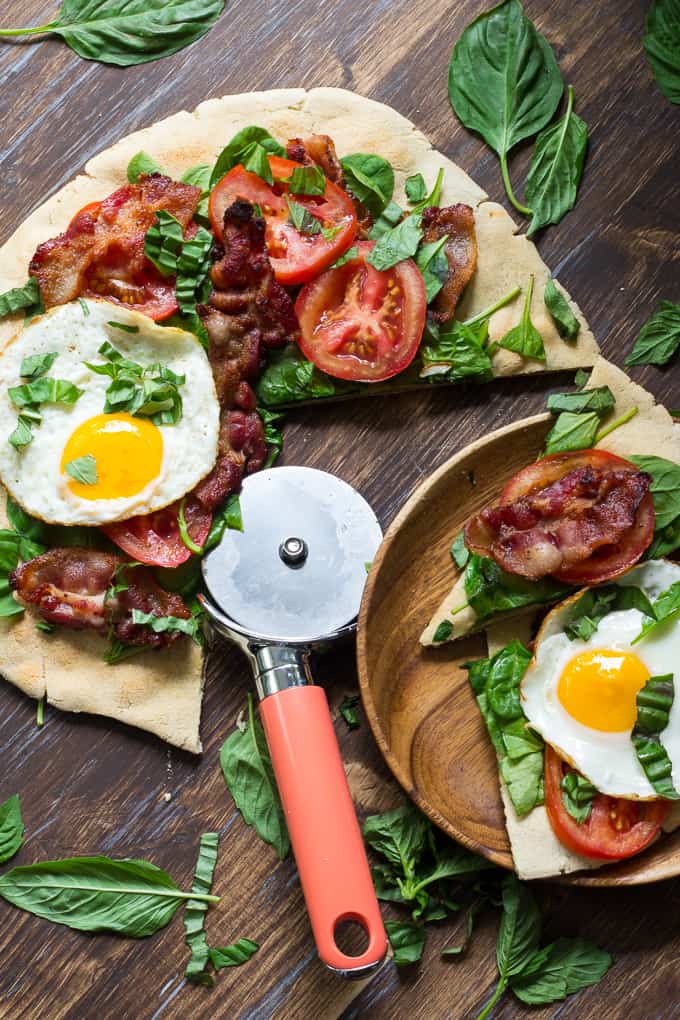 Easy Paleo BLT Breakfast Pizza with Cassava Flour
A savory breakfast or brunch treat that's gluten free, grain free, & dairy free, this Easy Paleo BLT Breakfast Pizza with Cassava flour crust is healthy, delicious and fun!
Prep Time: 5 minutes
Cook Time: 25 minutes
Total Time: 30 minutes
Course: Savory Breakfast
Cuisine: Paleo
Servings: 4 servings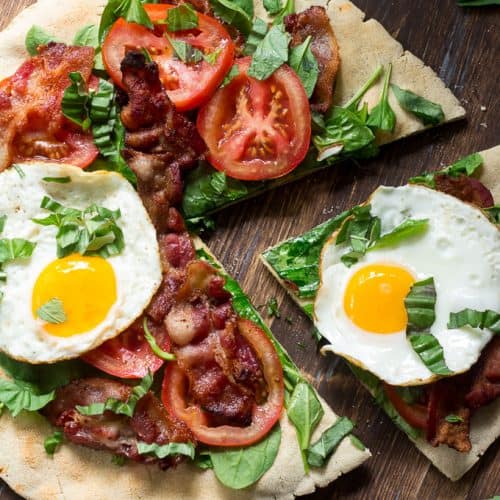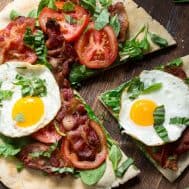 Ingredients
For the Toppings
6 slices uncured sugar free bacon, cooked and drained
2 large handfuls fresh baby spinach
1 medium tomato thinly sliced
3-4 eggs fried, or cooked to preference
Fresh basil chopped or torn
Salt & Pepper
Instructions
To make the crust, preheat your oven to 425 degrees.

Combine the cassava flour, salt, egg, coconut oil and warm water in a medium bowl and mix with your hands until a smooth dough forms. Sprinkle with onion powder if desired.

Place the dough on parchment paper and either press it down with your hands or roll it out to about 1/4 inch thickness. The thicker the dough, the chewier the crust will be. If the dough cracks, simply mend it with your fingers (no need for perfection!)

Place the crust on a large baking sheet lined with parchment paper (the same one you used to roll the dough is fine)

Place the baking sheet in the preheated oven and bake for 12-15 minutes, until light browned and crisp. While the crust bakes, prepare the toppings.

To top the pizza, layer the spinach, cooked bacon, sliced tomatoes, fried eggs*, and fresh basil over the crust.

Cut into slices with a pizza wheel and enjoy!
Recipe Notes
*You can fry your eggs sunny side up as I did, or cook them however you like - scrambled, poached, etc.

If there is one thing you need to try Cassava flour for, trust me, it's THIS!  If I'm going to be 100% honest right now, I actually made myself a scaled version of the crust to snack on while writing this post.  And just as I recalled, it was once again pure texture and flavor amazingness!
You can buy Cassava flour from Otto's Naturals, Amazon, or One Stop Paleo Shop.
Remember how chocolate makes us feel?  I say pizza for breakfast is a close runner up. Get your grain free dough on…and go!
What are your favorite breakfast pizza toppings?  
Have you made grain free pizza crusts?