A paleo lemon almond snack cake with almond flour and sweet spices that's perfect for breakfast, snack, or any time!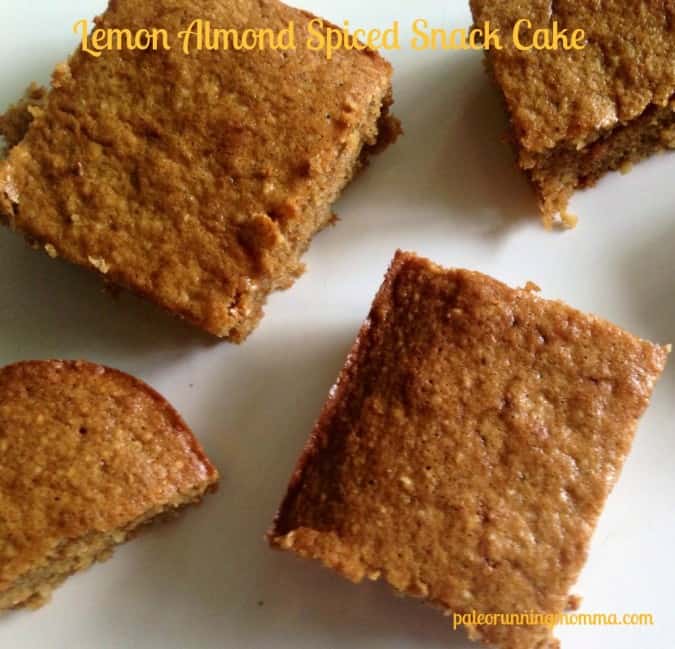 When I picked Drew up at school and told him I'd made a cake, but without frosting, he wasn't exactly thrilled, as you might imagine.  He's 4 after all, and all cakes have frosting or else why the hell even bother, right? Well, we discussed this in depth, because that's what parents and preschoolers do all day long – discuss the intricacies and wonders of this scary world we live in that sometimes omits frosting – I could write a whole post on this but I'll spare you, at least for now.
Anyway, we came to the conclusion that the lack of frosting made this a "snack cake", not a "dessert cake" as in your typical buttercream birthday cake.  We generally don't eat frosting on our snacks so putting it in this category works.  I asked myself repeatedly during the 15 minute discussion why I didn't just make this recipe in muffin cups to avoid all the drama.  But I think this was a good lesson on being flexible and eating "cake" without frosting sometimes.
Of course he announced to the girls when they got home "mommy made a cake!  But it has NO FROSTING!  IT'S A SNACK!"  You seriously just cannot predict what will pop out as the "theme of the day" with three kids.  But, thanks to Drew, a name for this recipe was born and the drama was worth it.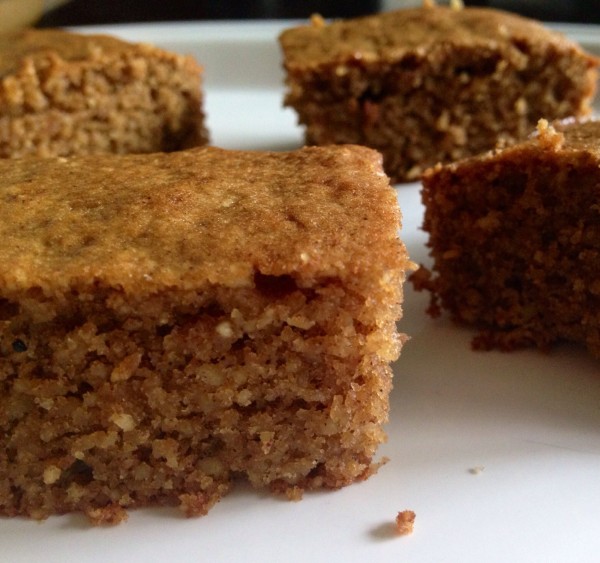 A bit more about this snack cake – it's paleo, sweetened with organic coconut sugar, and jazzed up with cinnamon and ginger, so you won't miss the frosting at all.  Okay look, don't tell my kids but I'm sure you can top it with any sort of frosting you want and it will be fabulous.   As if you needed my permission 😉
Lemon Almond Snack Cake
A lemon almond spiced cake perfect as a snack, breakfast, or treat, gluten free, paleo, sweetened with organic coconut sugar.
Prep Time: 10 minutes
Cook Time: 25 minutes
Total Time: 35 minutes
Course: Breakfast, Snack, Treat
Cuisine: Paleo
Servings: 8 x 8 cake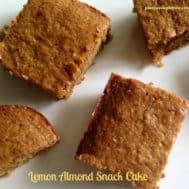 Instructions
Preheat your oven to 350 degrees and grease an 8 x 8 inch baking dish lightly with coconut oil

In a medium bowl, combine the almond flour, tapioca, baking soda, and salt and set aside.

In a larger bowl, combine the eggs, coconut sugar, coconut oil, lemon juice, ginger, allspice and cinnamon and beat well

Slowly stir the dry ingredients into the wet to fully combine.

Transfer the mixture to the prepare baking dish, and bake in the preheated oven for 20-25 minutes or until the top is lightly browned and a toothpick inserted in the center comes out clean.

Let cool, then cut into squares and enjoy!
As a side note that's not recipe related at all, I JUST realized it's easy to edit photos to add text and graphics with a website like Pic Monkey.  I might be the stupidest blogger of all bloggers ever to blog but I am just starting to catch on to so many of these "techie" things and still have no clue what I'm doing most of the time.
Do you like that I put text on my first photo ever on this blog?  I actually picked the font without consciously realizing it's the same one my theme uses.  At least I'm consistent in my taste?  Forget that it's like three words,  I am still feeling very odd and self conscious about the whole thing, what the hell is wrong with me?  And didn't I just ask you guys that three days ago?
Do you consider cake without frosting cake at all or am I way off base?  
What's one topic your kids have insisted discussing in depth that has made you feel crazy?
Do you like "decorating" your online photos?  What do you use to do this?