Simple, healthy, but with decadent flavor and texture, these No Bake Double Chocolate Sunflower Butter Bites are the answer to any chocolate craving!  They're  paleo, vegan, nut free, incredibly kid friendly, and ready in 10 minutes.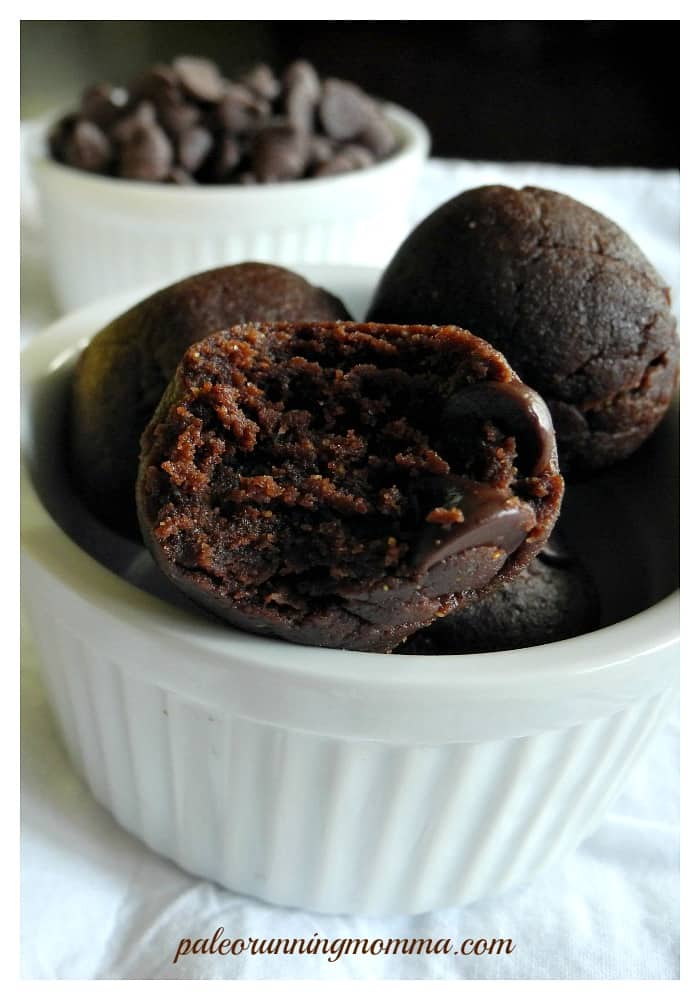 Drew (4) came downstairs this morning to find me sitting at the computer, not wearing running clothes.
"Uh, mommy?" Love the preschool sass.
"Yes, Drew?"
"Uh, I actually DON'T know how far you ran this morning."  He loves the word actually.
"Well, I actually didn't run this morning at all.  I did yoga.  And actually, I'm taking a break from running and haven't run for a week."  I guess I sorta love it too.
"Huh?  What?! Why?"
"I just wanted a break.  I'll probably start running again on Thursday."
"Thursday?!" Pauses to memorize.  "Okay. I have to go potty now."
Uh and what the heck does any of this have to do with no bake double chocolate sunflower butter bites?  Nothing and everything all at once.  Okay I just really like saying that so I threw it in there.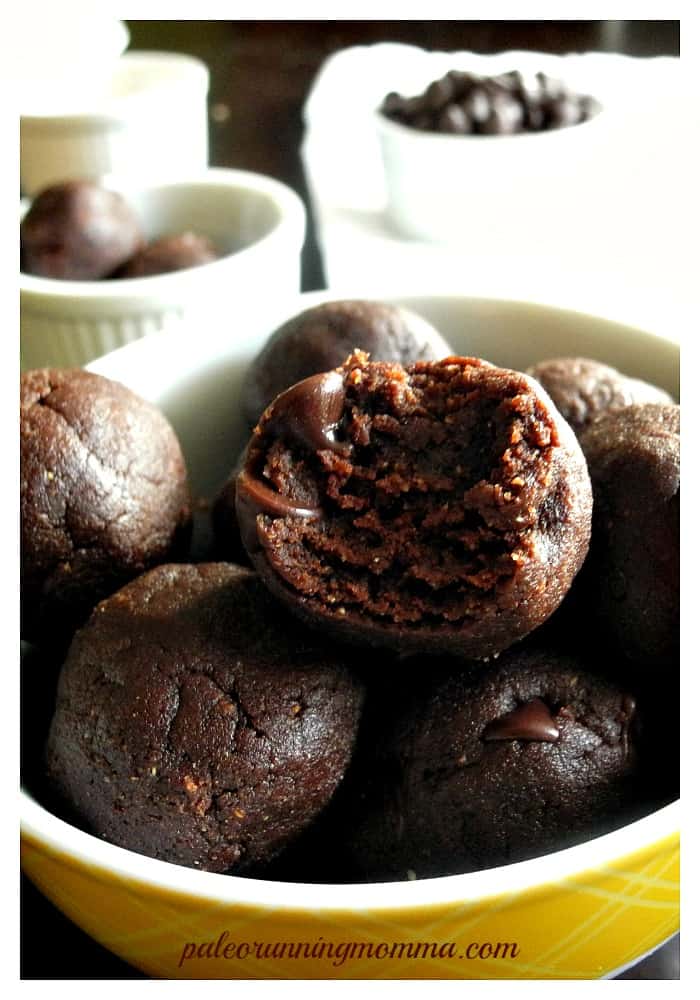 But ACTUALLY, it is relevant because due to this running break thing I'm doing, I'm bringing you an extra recipe this week.  Because when we do not run we have extra time/energy to bake (or no-bake) delicious things.  And I also thought it was interesting to get a child's perspective on his typically running-momma doing things a bit differently in the morning.
Kids (or at least Drew) are notorious for being routine oriented, and Drew is a smidge baffled by my little shift in routine.   Actually, (there it is again) even Adam was confused when he saw me still sleeping at 5:45 one morning.  I was pretty freaked out too when I woke up and saw 5:47 on the clock.  That seems insane as I type it out but the truth is I really never sleep even naturally past 5:30.
Another thing this little break has shown me is how mornings have drastically changed for us over the past 3-4 years.  Back then, I was DESPERATE for a break from having a baby, a toddler, and a preschooler physically attached to me 24 hours a day.  That's what I was doing when I got into distance running, literally running away from my 24/7 job.  Of course I needed a break, but back then it was a constant battle in my head between getting out in the mornings to run and INDULGE in the alone time it allowed me, and the "mommy-guilt" that I could never entirely escape, no matter what.
Things are SO different now, and I'm just trying to catch up.  No one is desperately attached to me and I am not tiptoeing out of the house panicking someone will wake up before I make my escape (okay fine I still tiptoe, but it's not necessary anymore.)  My runs are less "relieving" than they used to be.  I know that now they have to be about something else since the old source of motivation has been rendered null and void by time.
Just a little deep thinking before the chocolate since I just can't help it, but transitioning back now…
…So, these no bake double chocolate sunflower butter bites have been a hit over here for several days now and two batches worth. They've been a snack, a dessert, they've been requested for breakfast (I said no) and they've traveled in the minivan.  They are paleo, vegan, and nut free awesomeness.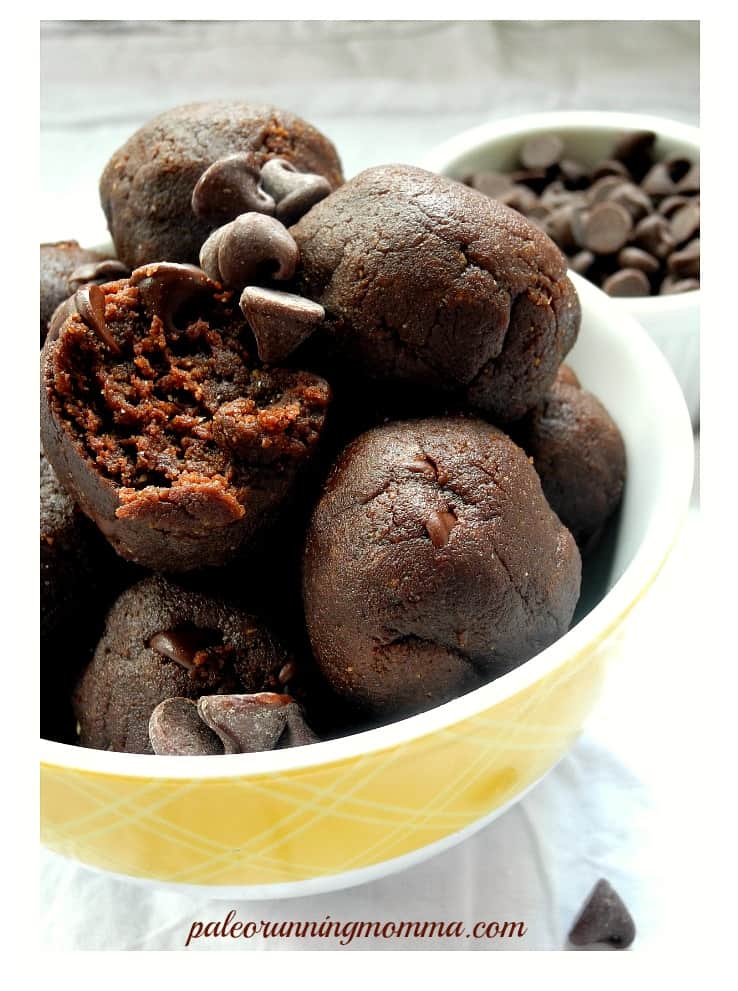 Double Chocolate No Bake Sunbutter Bites
No bake chocolate sunbutter bites with Enjoy Life chocolate chips that are gluten free, paleo, vegan, nut free and ready in 10 minutes! Perfect for an easy snack or treat.
Prep Time: 10 minutes
Total Time: 10 minutes
Course: Snack/Treat
Cuisine: Paleo
Servings: 18 bites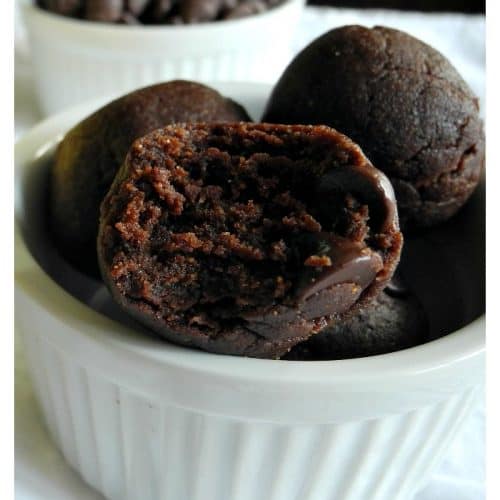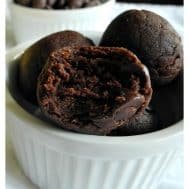 Ingredients
1/2 cup coconut flour
1/2 cup plus 1 tbsp unsweetened cocoa powder
2/3 cup sunflower seed butter
3 tbsp + 1-2 tsp pure maple syrup* depending on how sweet you want these, you might want to add more
1 tsp pure vanilla extract
1/3-1/2 cup canned full fat coconut milk* or other non dairy milk
1/4 cup Enjoy Life mini chocolate chips or your favorite brand
Instructions
In a medium bowl, combine the coconut flour, cocoa powder, sunflower seed butter, maple syrup, and vanilla.

Stir in the coconut milk slowly until you have the consistency of a dough, then stir in the chocolate chips.

Roll the dough into one inch bites and store leftovers in the refrigerator, where they will firm up a little to a nice cookie dough consistency. Enjoy anytime as a quick snack or treat!
Recipe Notes
*You can adjust the amount of maple syrup to suit your taste, and the coconut milk to create a creamier or cakier texture, depending on what you prefer.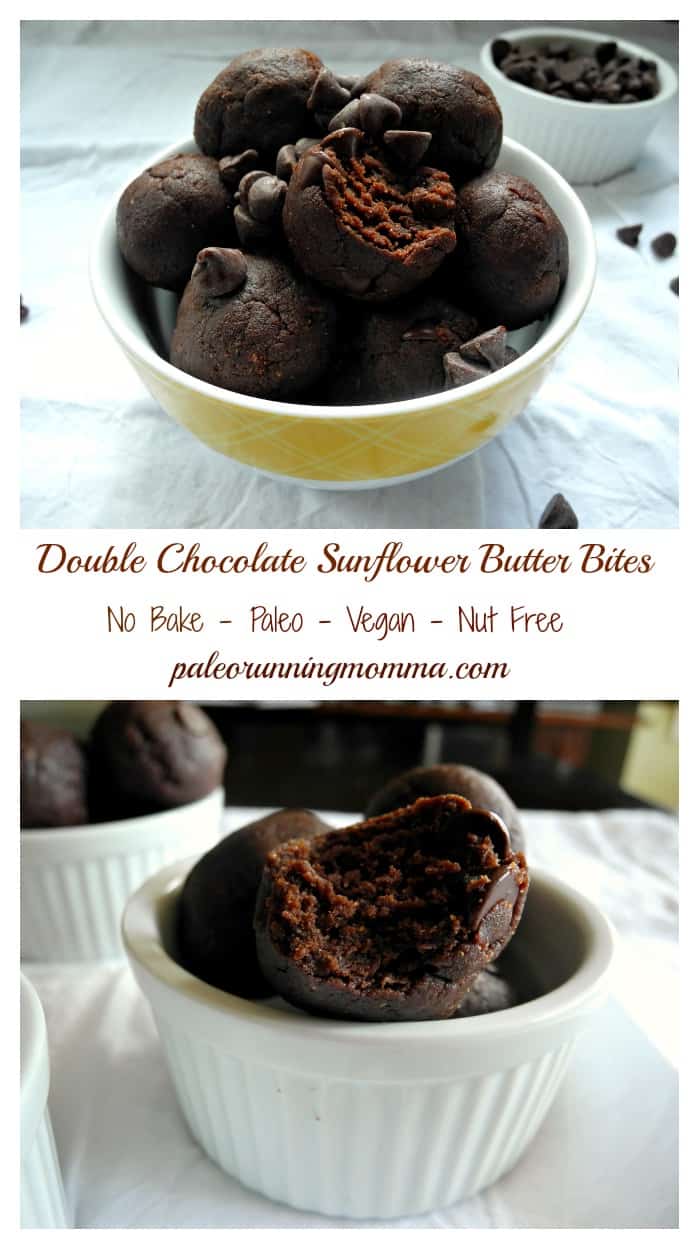 What do your kids think about your fitness/running routine?  
Do you find that if you cut back on workouts you have more time/energy for more activities, or do you lose motivation? 
Are you a sunflower butter fan?  Do I have to ask about chocolate?