Super easy, tasty, healthy, and quick no bake chocolate chip cookies dough bites will be your new favorite snack to whip up anytime!  They're paleo and vegan, kid friendly, portable, and have just 6 ingredients. The result tastes just like chocolate chip cookie dough, but is actually good for you!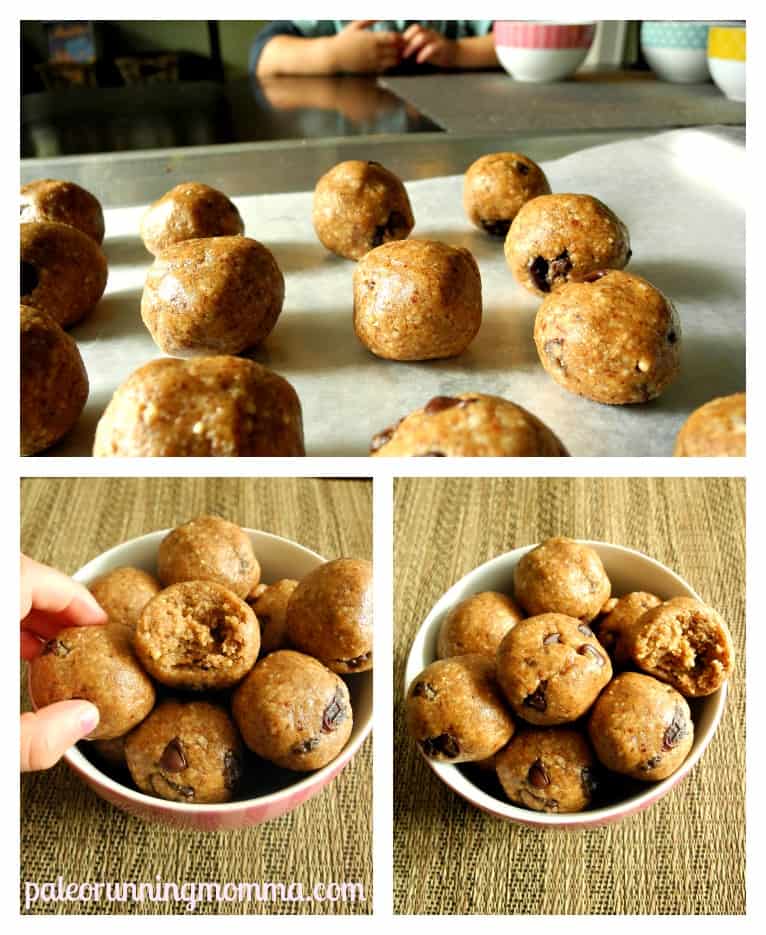 Balls are all over the internet right?  I'm so behind in my no-bake-ball-game but I'm catching up and breaking out of my rut with these no bake raisin chocolate chip cookie dough bites.  Yeah, I called them "bites" in the title but now that we're past formalities let's just be real and call them balls.  Dang tasty balls, at that.  You heard me – easy, tasty, paleo, chocolate-y, almond-butter-y, promise to hit-the-spot balls.
With every ounce of serious in my being though, after the first bite I, the kids and Adam became addicted to these and 2 batches didn't last more than a couple of days.   That means I really do have to up my game, make more of them, and figure out some new combos too.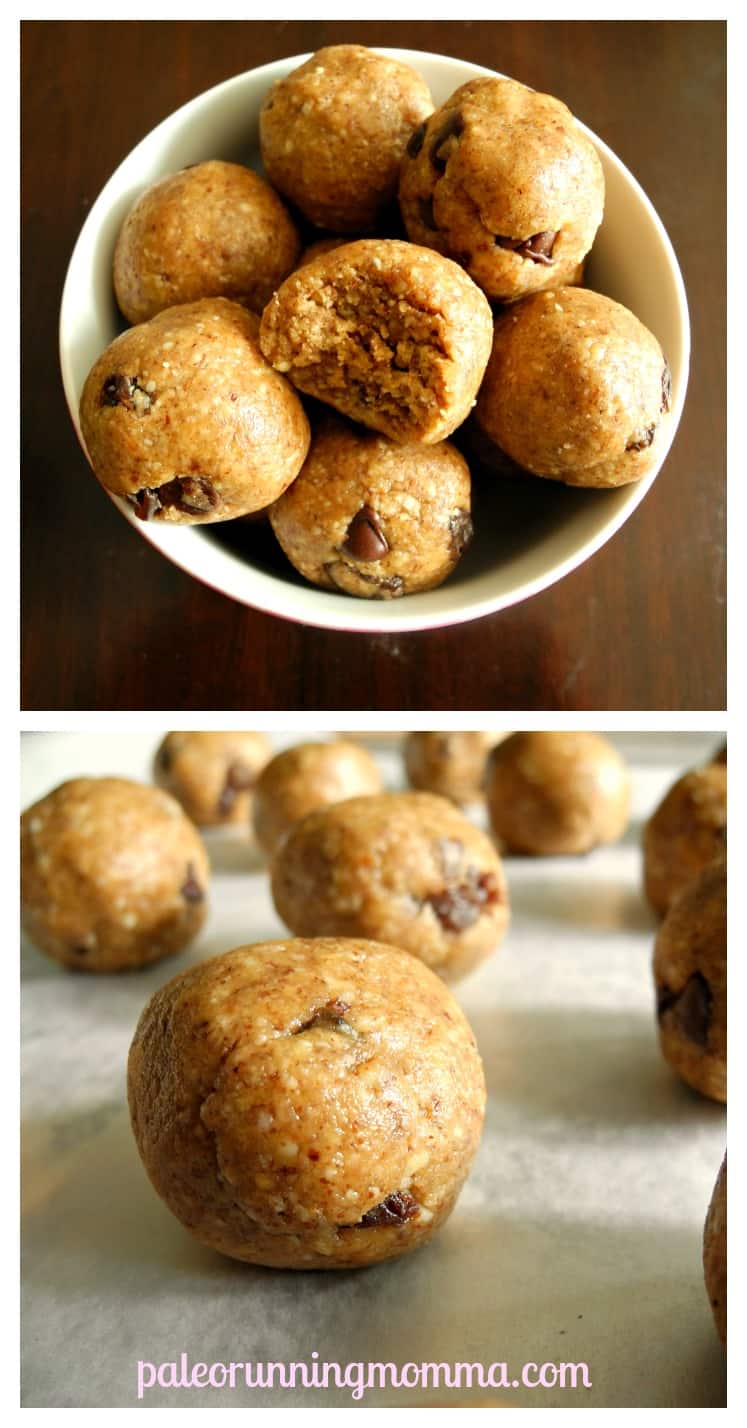 I guess what I'm trying to say is 1) I can't resist making balls jokes on the internet 2) honestly, who can? and 3) you want these balls in your mouth ASAP.  Within 10 minutes, that can be your reality.  Don't hesitate, the recipe is super easy 🙂
Lastly I have to thank my two big sources of inspiration for these – Amanda and Arman, because they are 100% awesome no-bake-ball-making rockstars.  They make tons of other healthy and delicious things too, so go check them out if you're not already obsessed 🙂
I used finely ground hazelnut flour for these but almond flour would be fine too, I doubt you can go wrong, this is a very forgiving recipe!   Which is the best kind of recipe in my opinion, because of my impatience and trouble focusing, but now we're getting off topic.  It's Friday and although you might not NEED these balls to brighten your day, they certainly won't hurt, so give 'em a whirl!
This weekend (yes now I'm changing the subject back to MY life.  My blog after all.  I'm being awkward not b*tchy FYI) we are doing a big Toys R Us trip on Saturday to get Drew is first bike plus he's super excited to pick out a new Barbie Doll.  I'm not entirely sure we won't come home with a Barbie doll and a Barbie bike for him, in fact I'm thinking this WILL in fact be the case.
After that we have family dinner plans, and, an even bigger Sunday.  Diana is performing with her dance team at Six Flags (the reason the LI half didn't work, I'm over it at this point.  Mostly.) and we'll be making a day of it and taking advantage as much as we can.  I haven't been there since some time in college but apparently they have a lot of rides and other things for little kids, so we're all excited for it, because, let's face it, we need the excuse to step out of our typical Sunday routine 🙂
No Bake Raisin Chocolate Chip Cookie Dough Bites
Easy no-bake chocolate chip raisin cookie dough bites with almond butter and honey, ready in 15 minutes!
Prep Time: 10 minutes
Total Time: 10 minutes
Course: Snack/Treat
Cuisine: Paleo
Servings: 18 bites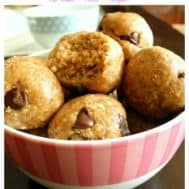 Instructions
In a large bowl, mix together the nut flour, almond butter, non-dairy milk, honey, and vanilla until it forms a thick dough.

Stir in the chocolate chips and raisins and form into small balls and store in the refrigerator for an anytime snack or treat. Enjoy!
Recipe Notes
*You could also use 2 tbsp of dairy free milk and omit the coconut oil, or, use 2 tbsp coconut oil and omit the dairy free milk depending on your preferences.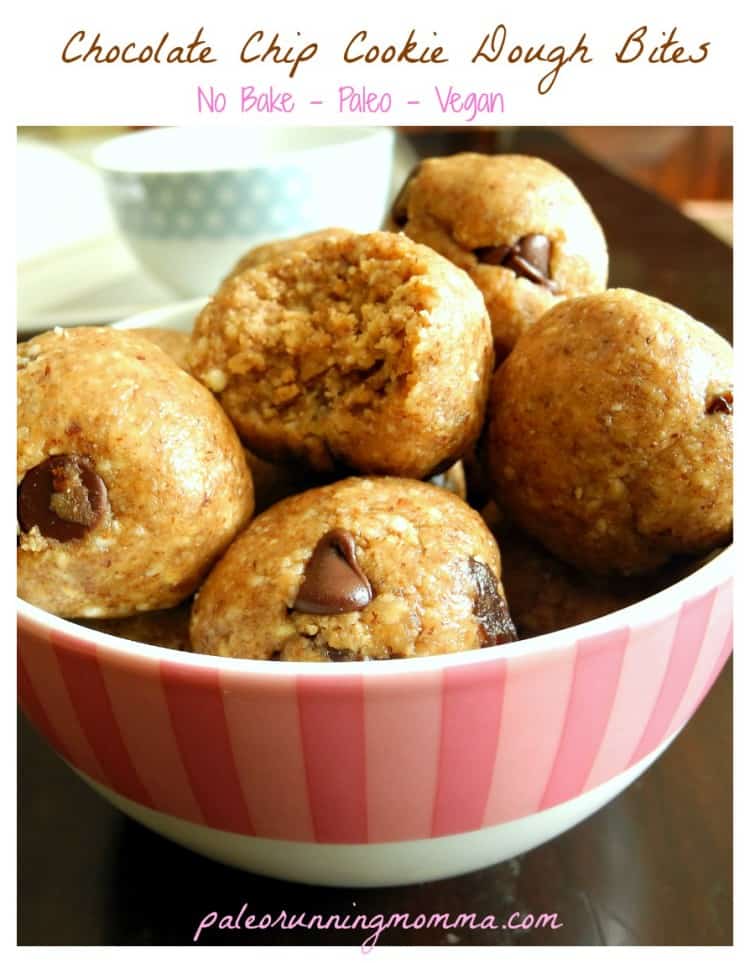 Workouts from the past week and plenty of weekend picture (assuming I remember) will be up Monday!  Have a great weekend guys!
What are you up to this weekend?
What's your favorite no bake treat?
*Bonus points if it's balls 
** Double bonus if you can make an inappropriate balls joke to go along with it