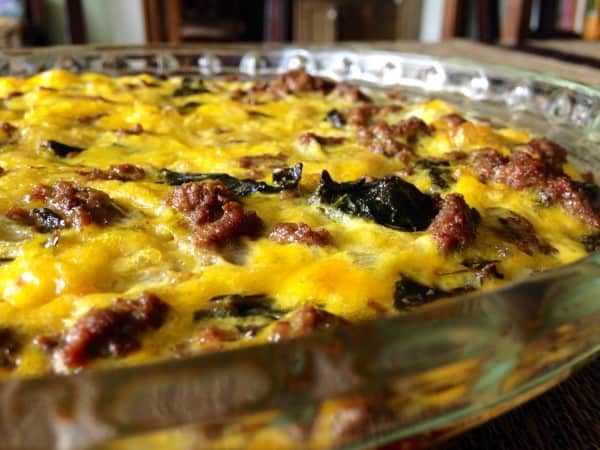 You really think you needed another frittata recipe on this blog, Michele?  Like we didn't get the point from the first 10 or 15 of them?  Sigh.  A new frittata recipe was the natural next step on May 1st, when I was putting groceries away and discovered a dozen eggs with a "sell by" date of May 2nd.  Oops, panic sets in.  But no need to fear, a last minute frittata is here to save the day!  It was also perfect timing since I needed portable food for both that night and the weekend.
I definitely ate 3/4 of this, at least, by myself over the course of 3 days.  It worked out well, and, all the better to judge it's "staying power" right?  My picky husband also ate it for dinner without complaining, with a side of plantain chips, and didn't even leave the green stuff on the side of the plate, which is unusual but something I will take as a good sign.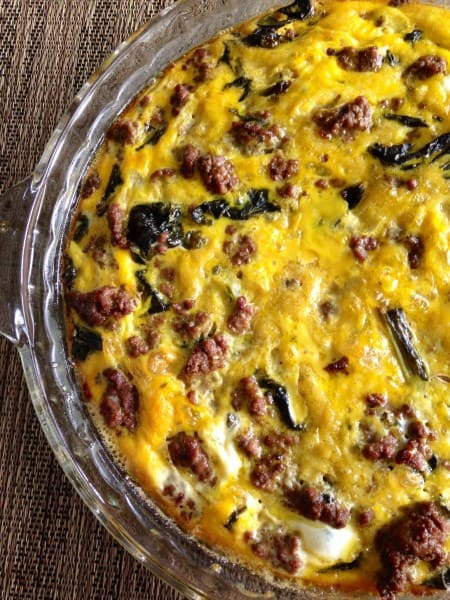 As I've been thinking about the upcoming break from running I have planned (why is this so formal and official?!) I started thinking about all the wonderfully productive things I'll do with my new free time.
See, this is proof that I have a few loose screws that need adjusting.  Most people would just be like, "I'll sleep until 6am and not rush in the morning", but me, I'm thinking about creating new recipes or doing blog stuff from 6-7 am?  I had to stop myself.  This is NOT what I want a running break to be about – compulsively "doing stuff" that's not running to replace the feeling of productivity I get from running.  I just want to maybe sleep until 6am and not rush so much in the morning.  Think it's possible?  I guess we'll see how it goes!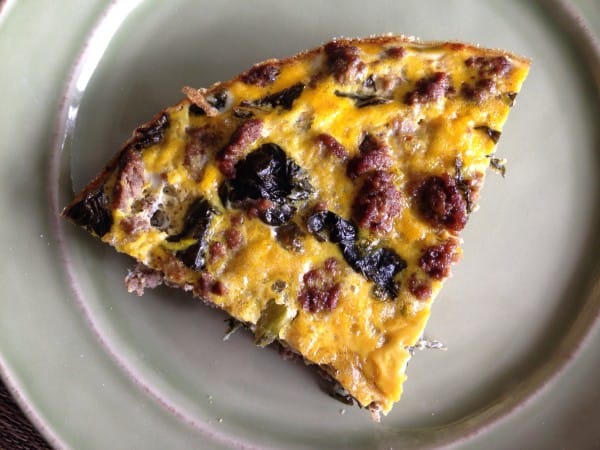 Spicy Beef Sausage Frittata with Collard Greens
A spicy paleo frittata made with grass fed beef "sausage" and collard greens, perfect for breakfast, lunch, dinner or brunch or as a make ahead meal!
Prep Time: 10 minutes
Cook Time: 45 minutes
Total Time: 55 minutes
Course: Frittata
Cuisine: Paleo
Servings: 8 servings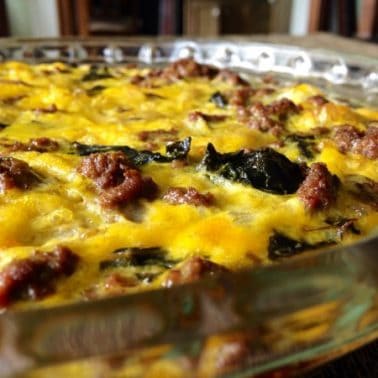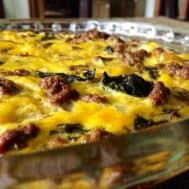 Ingredients
1 large bunch collard greens thick stems removed and roughly chopped
1/2 cup chicken stock or bone broth
1/2 tsp red pepper flakes less if you don't like spicy!
Large "pinch" fine grain sea salt optional
3 tbsp cooking fat divided (I used ghee) such as ghee, bacon fat, coconut oil, olive oil
1 lb grass fed beef 85% lean or less
1/2 tsp sea salt
1/8 tsp black pepper
1/2 tsp sage
1/2 tsp thyme
1/2 tsp onion powder optional
8 large eggs + large pinch salt
Instructions
Preheat your oven to 375 degrees and grease a 9 inch baking dish (round or otherwise)

Heat a medium skillet over medium/med-hi heat and add 2 tbsp cooking fat. Once heated, add the chopped collard greens, coat in fat, and stir/cook for about a minute until they soften and cook down.

Add the stock/broth and lower the heat to med-low. Add the pinch of salt and red pepper flakes and cover the pan. Once the liquid is absorbed (a minute or 2) and the collards are soft, remove from heat and set aside.

Now heat a large skillet over med-high heat and add the remaining tbsp cooking fat. Once heated, add your ground beef and break it up with a wooden spoon. Add the salt, pepper, sage, thyme and onion powder to the beef and cook until browned. Remove from heat.

Pour the beef mixture and collards into the baking dish and stir to combine. In a large bowl, whisk together the 8 eggs and pinch salt. Carefully pour the eggs into the baking dish, and bake for 25 minutes in the preheated oven, just until the eggs are set.

Remove from oven and let sit for 5-10 minutes before serving, or store in the refrigerator for up to 4 days. It can also be frozen if you need to make it in advance. Enjoy!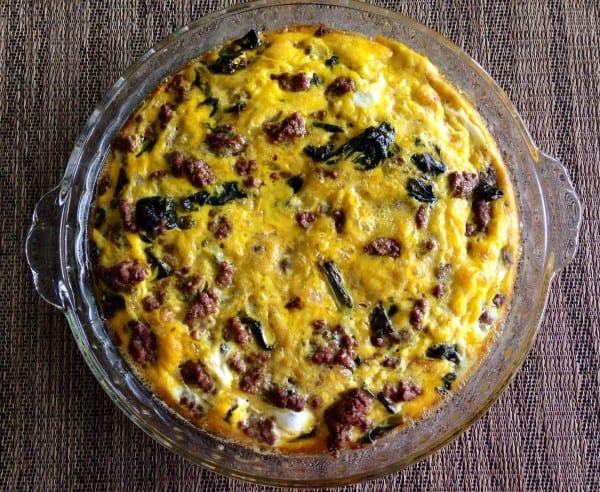 So here begins my weekend.  Saturday will be get-all-the-errands-and-chores done day and Sunday is Mother's Day and RACE DAY!  I'll have a recap of this week's runs/yoga plus weekend pictures up Monday.
Have a fabulous Mother's Day weekend everyone!
What are your Mother's Day plans?
Have you ever had to use eggs, like, right away?  What did you make?
Do you like collard greens?