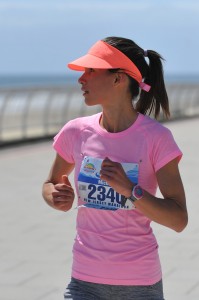 I am not the right person to give advice on "mommy guilt".  I am not going to tell you need to prioritize your needs (what mom of toddlers even knows anyway?) and I won't give advice on how to balance your running or anything else with your family life.  Because I am still far off from understanding how to do this (and what it even means?) myself.
But, I have come A LONG WAY to get where I am now.  I will tell you what I've learned about myself, about how families function, and my ideas about how my kids see me as a runner and what it adds to their lives.  Plus I will assure you, that it is never "lack of time" holding you back from attaining fitness goals.  It is just about everything else about being a mom though, and I've been through it all.  Okay, that is A LOT of stuff.  SOME of that I will have to save for another post.  I will give you what I've got today.
So, to start, I have always been a "guilty" person, way before kids.  Always felt I shouldn't be wasting time and always needed to feel I was working toward something.  So when I had my first baby, I completely lost myself in her and everything related to her.  I don't remember much about what I needed at the time except that I had a constant feeling of being so physically and mentally drained that I knew I was dangerously neglecting myself.  When my 1st daughter was 9 months old, I was already pregnant with my second.  I don't think I ran, or exercised at all, for a period of two years while I was pregnant and they were babies.  I could have hired a sitter.  Or gotten up early and asked my husband to cover for me.  Or joined a gym with babysitting.  But I had so much guilt about separating that the discomfort of leaving them was greater than my desire to care for myself.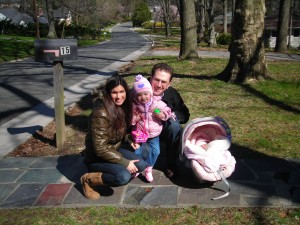 So how did I go from there to here?  What pushed me out the door?  I will try to sum up my journey from self-neglect to marathon-mom in 6 points.
1.  I bought a double jogging stroller that I could actually run with.  When my second daughter was 6 months old we moved to the suburbs, and I bought a double jogging stroller (my first of 3).  I had no real expectations but with no social life set up yet in my new town,  I had a whole day of "free time" with my girls.  I began running with the stroller 3 days a week to start, and built up to 5 doing 3 miles at a time.  Just moving my body again felt so good and set the stage for me to continue the habit.
2.  I began to make friends.   I joined a meetup group in my area and began to purge all the mommy guilt with other women in remarkably similar situations (who knew!?) I continued running with my stroller and doing "stroller bootcamps" with my friends when I could.  Being able to share experiences had a huge impact on how I treated myself.  During this period I spent as much time as I could with other moms like me.  I did a lot of thinking about self care as a mom as well as regaining an identity for myself past "mommy".
3.  I had another baby.  It doesn't seem to make sense that having another kid would push me toward marathon running, but it did and here's why.  It represented the end of my "baby years".  I always wanted a third, and I knew after having him I could move on.  That part of my life was done.  Somehow mentally I needed to know that I would not be getting pregnant again to refocus and prioritize myself – my goals, my health, fitness and interests.  In retrospect, maybe because the pressure was off, he got the best of me as a mom, I think.   I started running when he was 4 months old (yes with the stroller at first), and by the time he was a year old I was out every morning with him at 5:30 (making the most of his favorite hour of the day) putting the miles in and loving it.
4.  I challenged my husband.  To let me go solo.  I know it sounds ridiculous but I never used to ask my husband to take care of the kids while I did something alone.  It was all part of that silly "who's got it harder" game.  Worst thing ever for a marriage!  So, I "surrendered" and it was the best thing for myself, my kids, and my marriage.
5.  I struck a comfortable balance.  For me, that meant doing all of my training early in the morning, so I still had enough time to get the kids fed, dressed, ready for school.  I still love that schedule now even with more freedom to be flexible.  It feels right for me and I don't feel like I am forced to go early, I am choosing to.  Figure out what is a mentally and physically comfortable time for you to workout and I believe it is much easier to stick with.
6. I set my goal to run a marathon, and qualify for Boston.  When I set goals I don't mess around.  Using everything I had experienced as a motivator to push myself, I stepped it up.  I felt so free during my long runs just being alone and focusing on ME, that the training felt really good.  I was way overdue for quality alone time.  I still deal with guilt, but I have the perspective now to know that giving into the guilt does nothing good for my family.
The trip to Boston will be my kids 3rd "marathon trip" and I can see now how much of a positive thing my running is in their lives.  They are inspired to run and treat themselves well because they see me doing it.  I enjoy seeing them get excited for me the same way I get excited for their accomplishments.  My almost 3 year old told his teacher "mommy is running the boston ma-thon".  Running has a big presence in our family now, and although I cannot say I don't have ANY guilt related to that, I can now see the benefits of mommy-as-a-runner instead of seeing it as a purely selfish pursuit.  Being a runner has made me a less angry, less resentful, happier mom, wife, and friend.
What have you experienced being a mom and a runner?
Do you get "mommy guilt" and how do you deal?
How do you fit running into a busy schedule?
What do your kids think about you as a runner?