Whole30 Paleo Easy Homemade Mayo ready in under 5 minutes that's great to use alone or as a base for so many other dips, dressings, and sauces!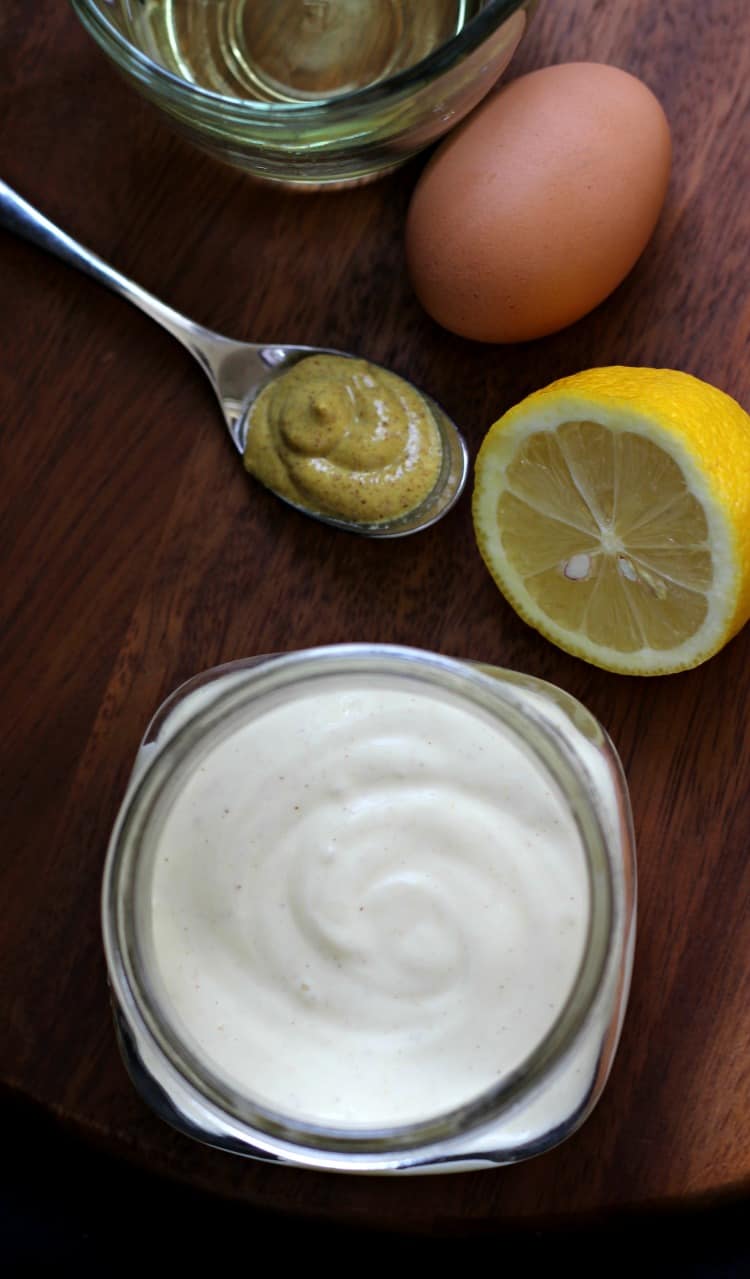 Whole30 Paleo easy homemade mayo recipe – 5 ingredients and ready in under 5 minutes using an immersion blender!  
This mayo made my Whole30 experience a lot happier and once I had it down, there was no turning back!  I would go as far to say that my paleo experience can be divided into before and after the creation of this mayo.  I was inspired by a number of sources but experimented to get my personal favorite ratio of ingredients for the perfect flavor and texture.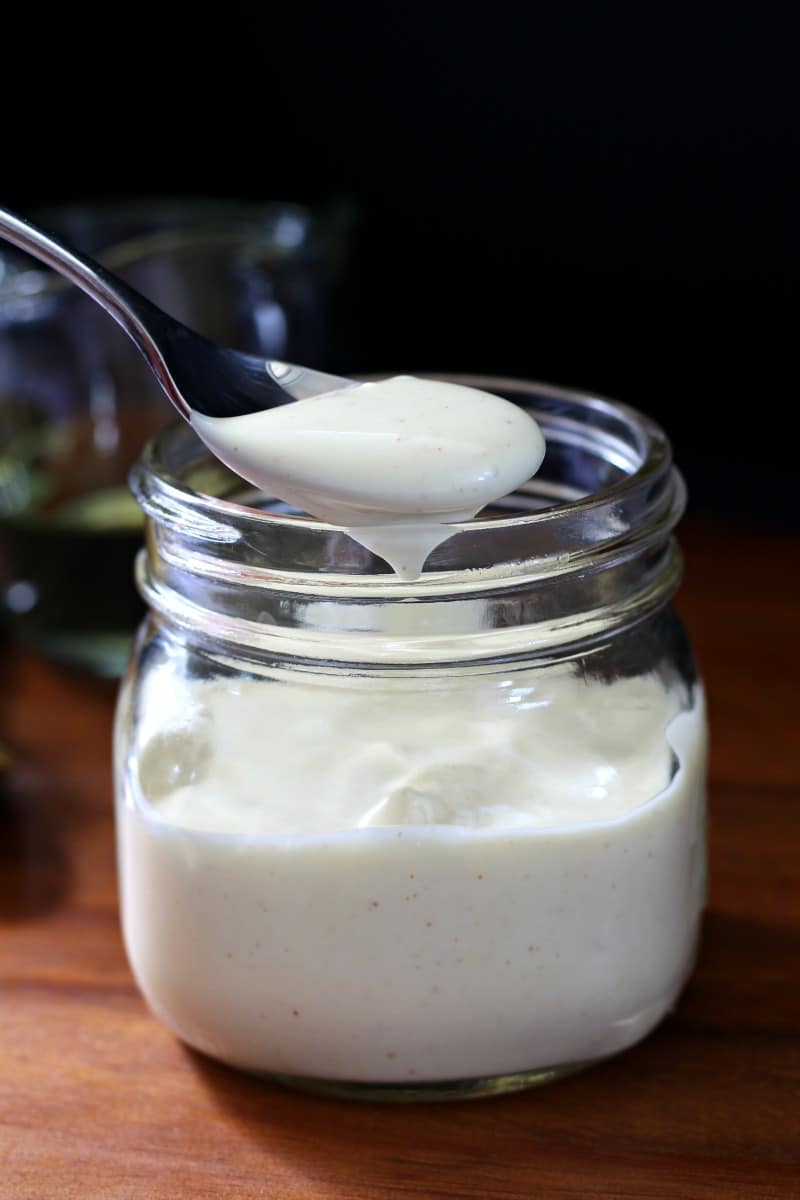 It's ridiculously delicious, and I never cared for mayo from a jar.  This is another ball game entirely, trust me.  It's also the base for basically all of the dressings, dips, and sauces I've made since eating paleo.
I'm sorry I lived and cooked so long without an immersion blender too, they are THE BOMB for making super quick dressings and it's literally effortless to make mayo this way.  Get one if you don't have one and you will not regret!
Whole30 Paleo Easy Homemade Mayo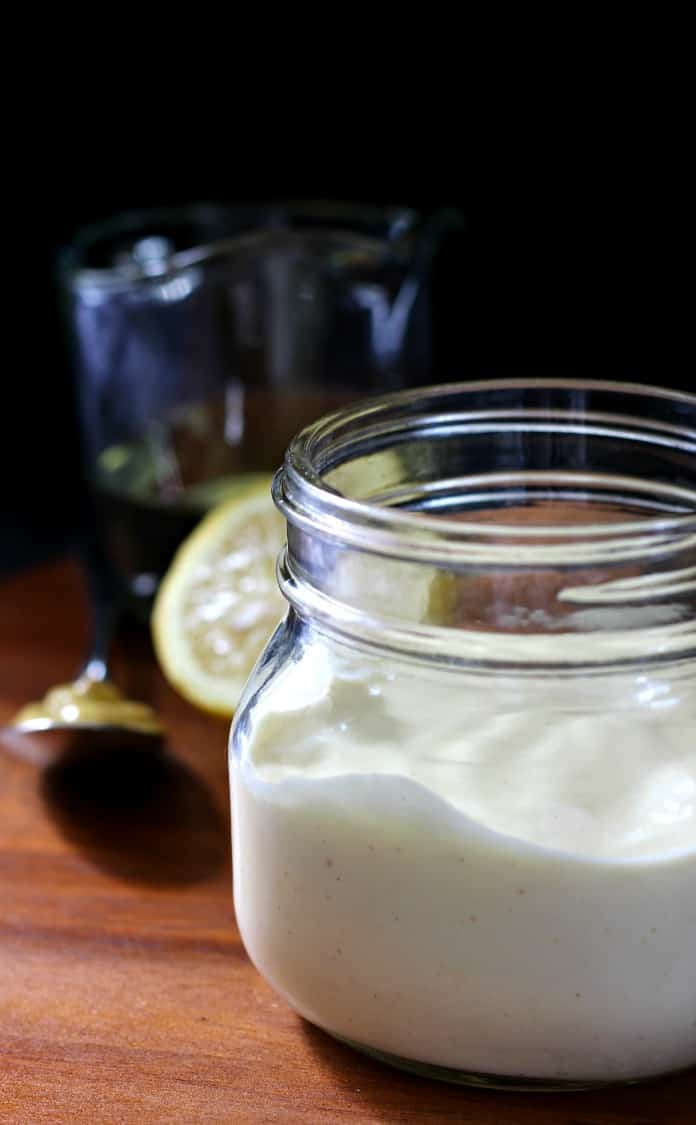 Paleo Whole30 Easy Homemade Mayo
An easy, homemade mayonnaise that is Paleo and Whole30 friendly and better than anything you have tried before!
Prep Time: 5 minutes
Total Time: 5 minutes
Course: Paleo and Whole 30 Mayo
Cuisine: Dip and dressing
Servings: 10 servings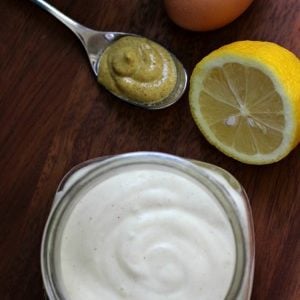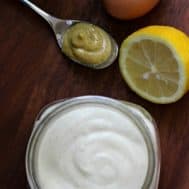 Ingredients
1 large whole egg preferably pasture raised
2 tsp fresh lemon juice
2 tsp spicy brown mustard
1/4 tsp salt
3/4 cup light tasting olive oil - not extra virgin or avocado oil if preferred
Instructions
In a tall container, add the egg, lemon juice, mustard, salt, and lastly the olive oil

Put your immersion blender down to the bottom of the container before turning on. Then set it to high and blend for about 30 seconds before slowly lifting it to the surface of the mixture, and blend another 20 seconds or so or until completely creamy.

Thats it! You will love it!
Nutrition
Calories: 150kcal
Carbohydrates: 0g
Protein: 0g
Fat: 16g
Saturated Fat: 2g
Cholesterol: 16mg
Sodium: 76mg
Potassium: 6mg
Fiber: 0g
Sugar: 0g
Vitamin A: 25IU
Vitamin C: 0.4mg
Calcium: 2mg
Iron: 0.2mg

Once you start making this you WILL NOT want to stop!  Let me know what you think!  I love hearing about different variations people try of this 🙂