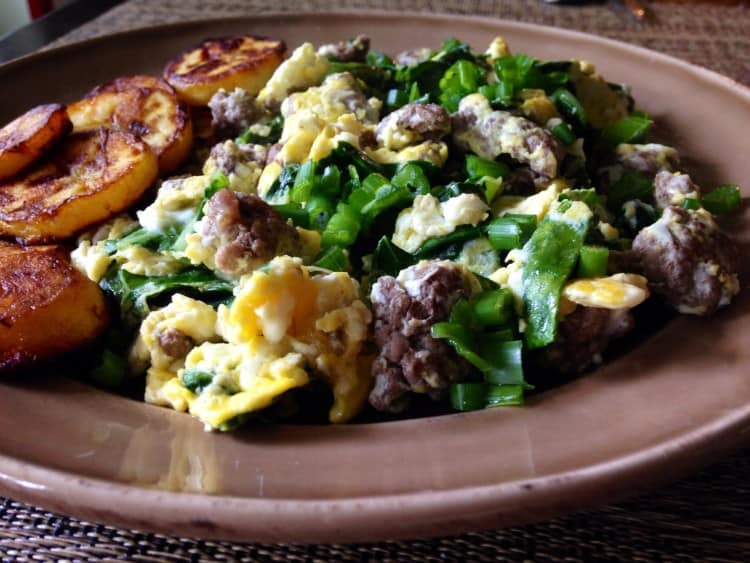 Who doesn't love eggs?  I love throwing new things into egg scrambles.  Or frittatas, or omelettes!   And the more you do it the more you realize that you can turn anything into an egg scramble and it will never let you down.  I love this alone or along with some fried sweet plantains – as shown above – delish!
Here's my basic recipe for an easy paleo egg scramble with ground meat and greens:
Basic Easy Egg Scramble
Basic paleo egg scramble, great for a quick meal anytime! Use for favorite ground meat and leafy green.
Prep Time: 5 minutes
Cook Time: 5 minutes
Total Time: 10 minutes
Course: Breakfast, Brunch
Cuisine: Paleo
Servings: 1 -2 servings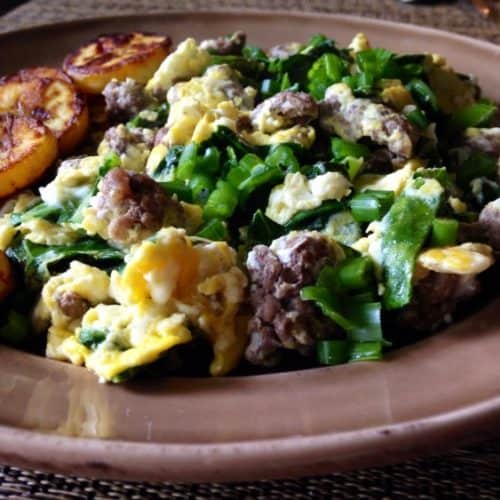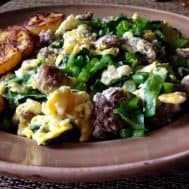 Ingredients
2-3 eggs whisked
4 oz ground sausage or any kind of meat leftover or not, meat and eggs rock together
Handful of kale collards, swiss chard, or spinach, chopped
1 tbsp water if you're using kale!
salt and pepper to taste
1 tbsp cooking fat coconut oil, ghee, or bacon fat
thinly sliced scallions green part only for low FODMAP
Instructions
In a nonstick skillet, melt your fat and brown your meat over medium heat*

Once meat is almost browned, add your chopped greens ( and water if using kale) toss to coat, lower the heat to medium-low and cover skillet so greens steam cook.

Once greens are soft, add the whisked eggs and scramble until eggs are cooked.

Add salt and pepper to taste, and garnish with chopped scallions.

Eat up!

* If using leftovers skip this step and throw chopped up or ground meat in when you add your eggs to scramble and heat through
Nothing like a go-to egg scramble to save time and energy that you just don't have in the morning!