Grain free, Whole30 approved, Paleo Turkey Meatballs that are 100% kid friendly – baked in the oven in a cast iron pan for an easy healthy weeknight recipe that won't leave anyone in tears!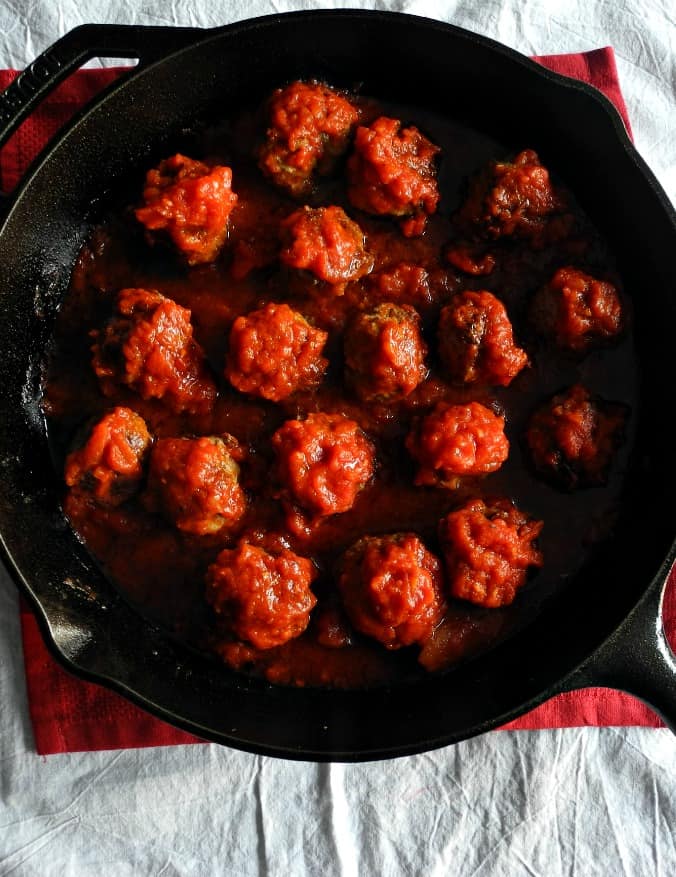 I think you get the idea. in my family of dramatically picky eaters, we get a lot of crying at the dinner table.  These turkey meatballs are paleo and Whole30 friendly and, nope, nobody cries when I make them.  SUCCESS!  I also pair these with sweet potato noodles, baked sweet potato fries, or roasted/baked sweet potatoes before every long run and swear by the meal now!  You'll notice this recipe is so basic, it's barely a recipe, but that's sort of the point with the "no one cries".  My kids cry when they see green "stuff" or onions or G-d forbid a chunk of garlic.  Garlic=Evil Mom.
So here we go with 100% kid friendly paleo turkey meatballs!
Ingredients:
1-1.5 lbs 93% lean ground turkey (not too lean!)
1 large egg (or 2 if you are using more than 1.5lbs turkey)
1/2 tsp salt
1/2 tsp dried oregano
1 tsp onion powder
1/2 tsp garlic powder
1/4 tsp dried basil
your favorite sauce (we love Rao's Marinara)
Directions:
Preheat oven to 375 degrees
In a large bowl, mix together all ingredients (except sauce)
Form mixture into 1.5 inch balls and place in a large greased baking dish or cast iron pan.
Bake in the preheated oven for about 15 minutes, turn, then bake another 5-10 minutes until cooked through.
Removed from oven, and if you used a cast iron pan, cover the meatballs with sauce, cover the pan, and heat over low on the stovetop until heated through.  *If you used a baking dish, you will need to transfer the meatballs to a large saucepan for this step
Remove from heat and serve up with your favorite paleo noodles or other veggie (I love sweet potatoes with these!)
Enjoy!