The perfectly moist, sweet, and subtly spiced Paleo carrot cake with a coconut "cream cheese" frosting made with cashews.   It's gluten free, grain free, dairy free, and refined sugar free, yet you'd never guess!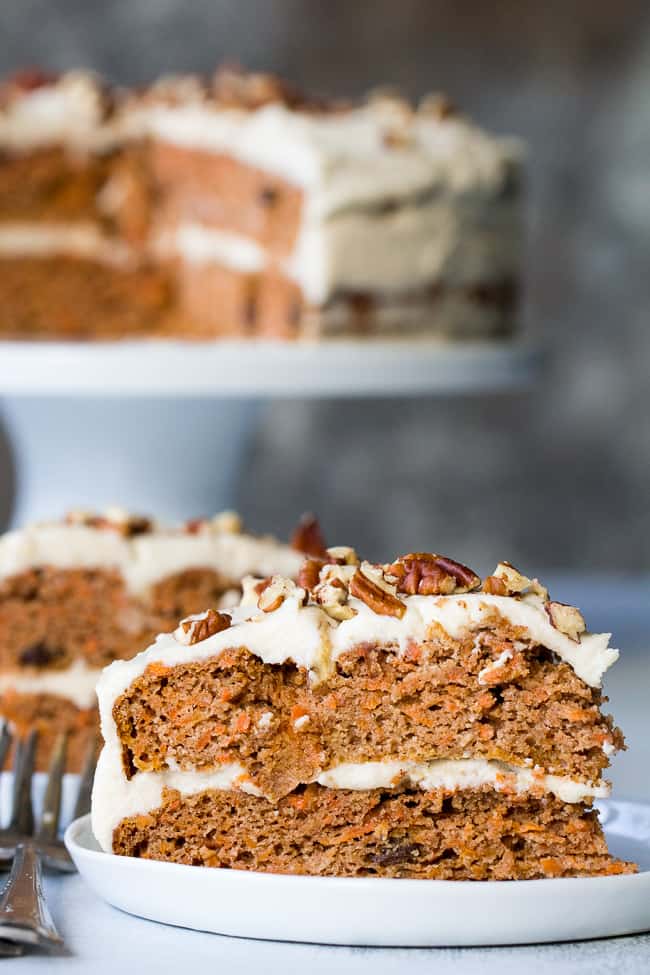 My love for cashew cream cheese frosting continues, and WOW, guys, this paleo carrot cake might be my favorite "vehicle" for it yet.
In fact, the carrot cake itself, sans frosting, is so good that Adam ate all of the frosting-less-first-try-version over the course of 2 days.   This is legit carrot cake, my paleo friends, in all its sweet orange glory.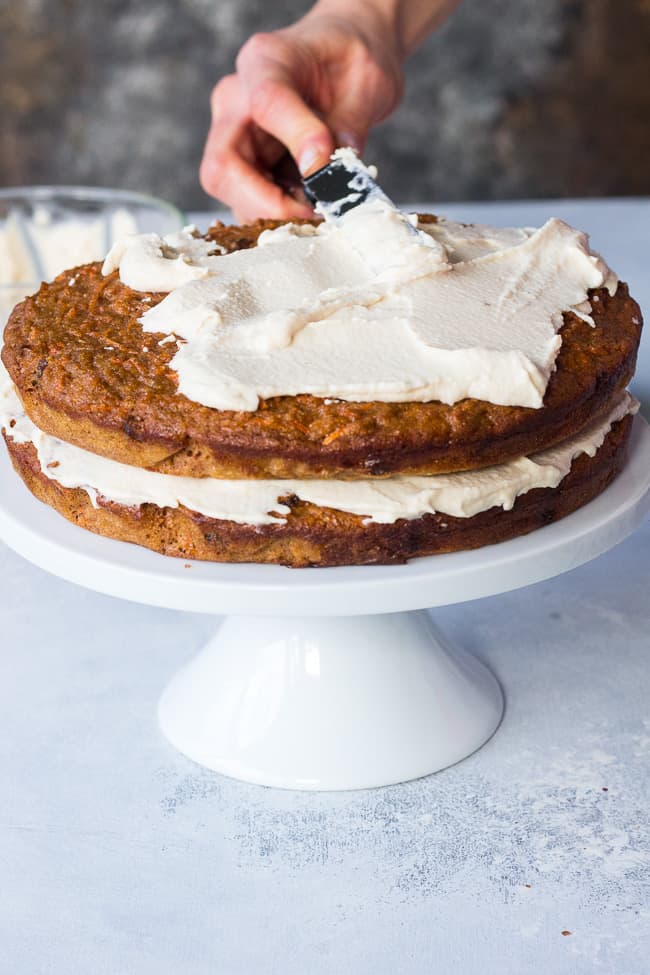 That sounded sort of weird, didn't it?  A good cake does that to me, I guess.  Along with the hint of spring fever (okay today is like 20 degrees, but last week it was 70, so yes, the hint) that's making me want to go carrot-wild.
I'm not exactly sure when I got it in my head that I needed to make the perfect paleo carrot cake, but whatever it was, I was fiercely determined to get it totally right.
That resulted in making the carrot cake three times – the first time it was good, but I made it in 3 layers instead of 2, which was too thin and just meh.
Who really wants to shred all those carrots and then come out with meh?  Nope, don't think anyone's into that.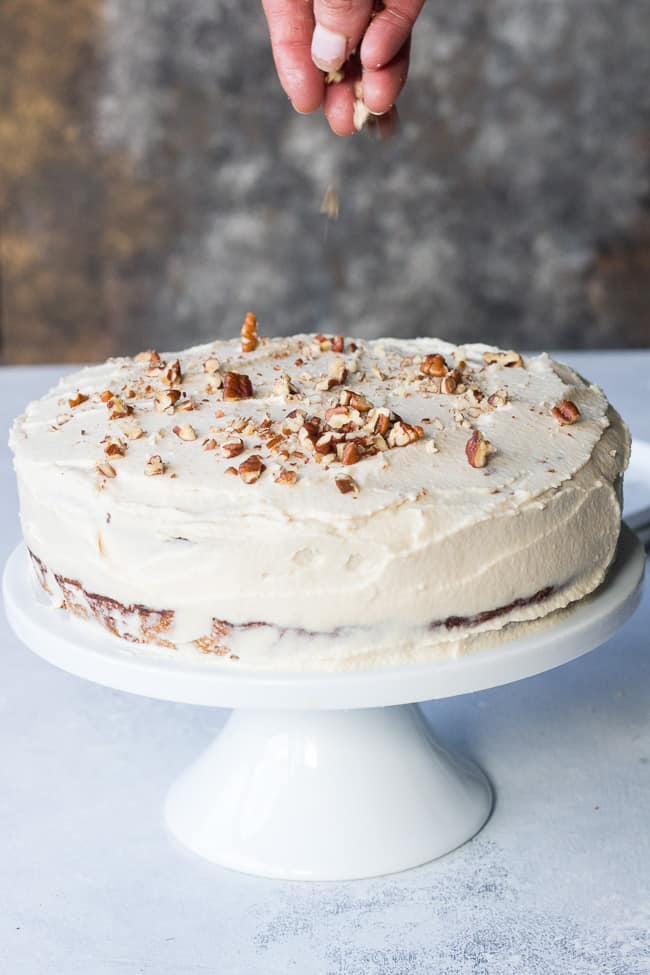 The second time around I changed a few measurements, added apple cider vinegar and made it a double instead of triple layer cake.
A triple layer cake was a bit too ambitious and unrealistic – I like to create recipes that people will actually MAKE, and not ones that make you feel exhausted simply thinking about making them.
I hope this carrot cake doesn't look exhausting!  It's not – although making it 3 times tested my sanity slightly.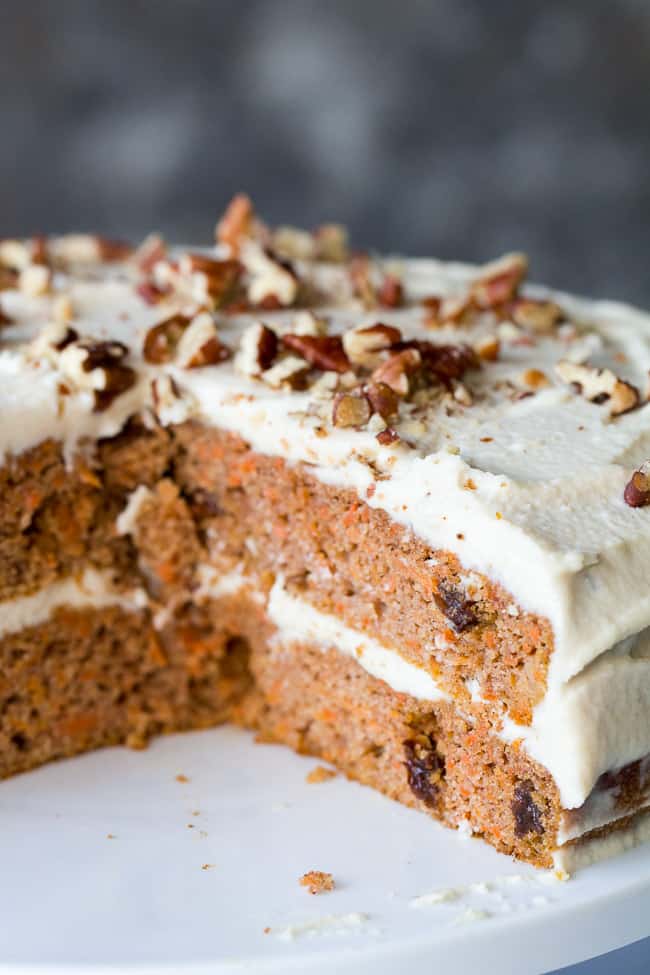 The third time (and 2 bags of carrots later) I confirmed that this is the most perfect paleo carrot recipe that there must be in the world.  Well now don't I sound arrogant!  I'm not, I'm just persistent and a bit of a perfectionist.  All for your benefit.
Anyway, I frosted it, CUT INTO IT (moment of truth) and took a bite.  Well holy carrot cake heck – I was quite pleased!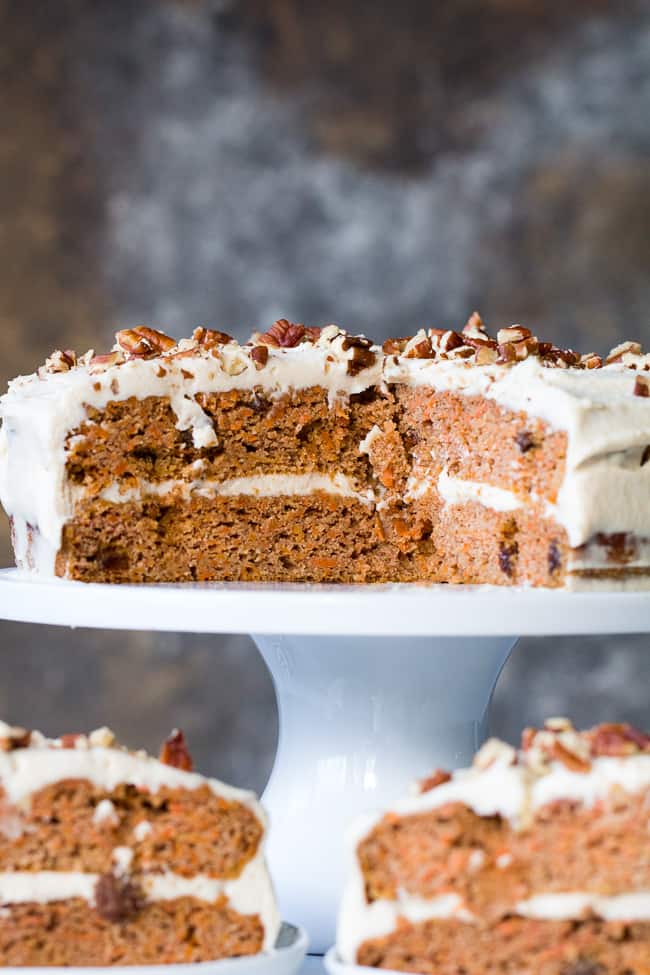 As for the ingredients – they are all straightforward, though I admit I used quite a few.  All in the name of flavor and texture, of course!
Trust me – I wish I could've gotten the same type of texture from just one type of flour, but, I've found that a blend often yields the best results.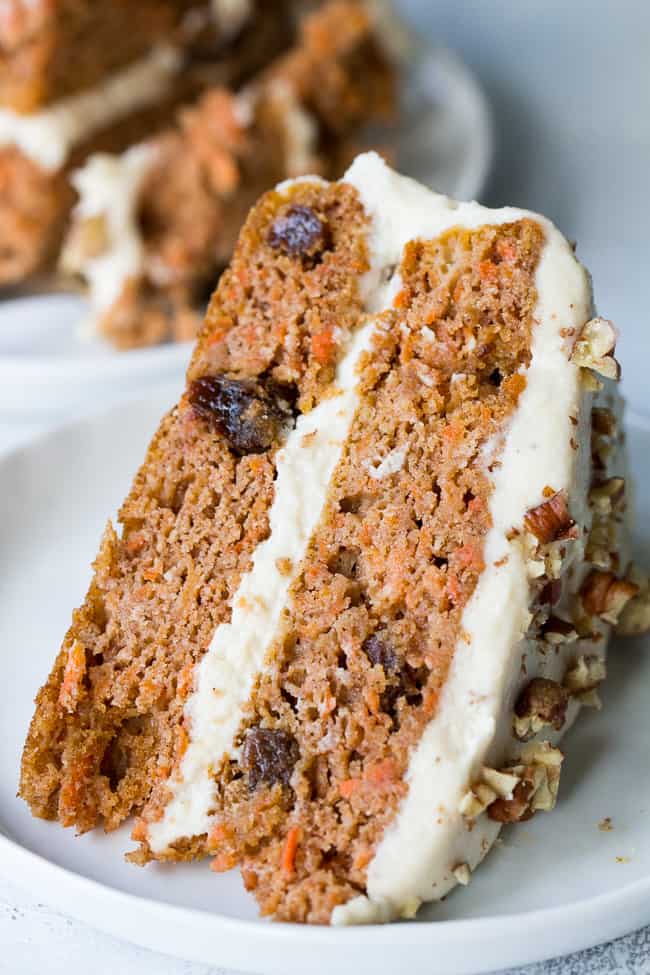 As for the frosting – I'm obsessed with this stuff.  I used my coconut cashew "cream cheese" frosting which I debuted a few weeks ago and used for my chocolate cupcakes.
I HIGHLY recommend two things regarding this frosting: first, that you make it (haha) and second, that you make it the day before so you can chill it overnight.  Chilling overnight thickens this frosting beautifully and gives it perfect texture to get a nice thick layer on the cake.
Plus, you reduce your workload the day of, which is always a plus in my book!
Ready to bake a cake with me?  Let's go!
Paleo Carrot Cake with Coconut "Cream Cheese" Frosting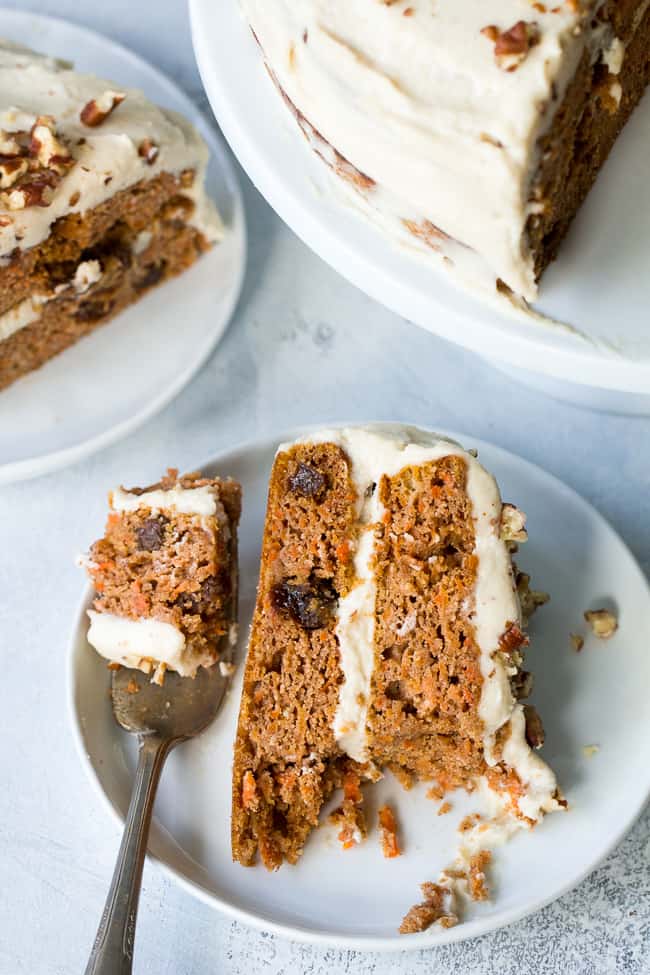 Paleo Carrot Cake with Coconut "Cream Cheese" Frosting
The perfectly moist, sweet, and subtly spiced Paleo carrot cake with a coconut "cream cheese" frosting made with cashews. It's gluten free, grain free, dairy free, and refined sugar free, yet you'd never guess!
Prep Time: 1 hour 30 minutes
Cook Time: 25 minutes
Total Time: 1 hour 55 minutes
Course: Dessert
Cuisine: Paleo
Servings: 10 servings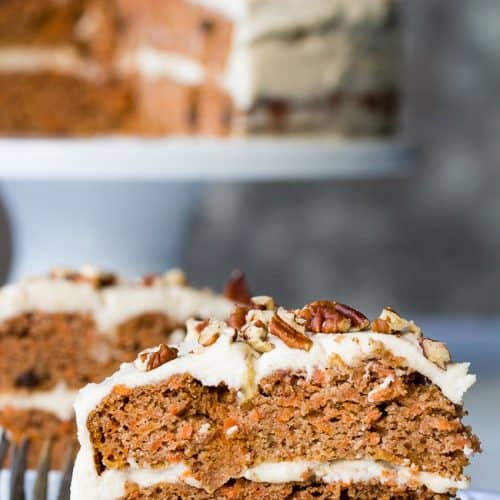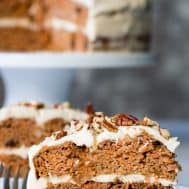 Instructions
Recipe Note*** Prep time includes the time to cool before frosting, but NOT the time to make/chill the frosting

In a medium bowl, combine the dry ingredients - almond, coconut, and tapioca flours, baking soda, salt and spices, set aside.

In a larger bowl, with an

electric hand mixer

, beat together the eggs, maple syrup, almond milk, cider vinegar, coconut oil and vanilla on low/med speed. Add the dry mixture to the wet and beat on low speed until fully combined and a thick batter forms. Remove the mixer and gently fold in the shredded carrots and the raisins.

Divide the batter equally between the two cake pans, scraping the bowl to use all the batter (remember to line with parchment paper first!)

Bake both layers in the preheated oven for 22- 25 mins or until toothpick comes out clean.* Cool in the cake pans for 30 minutes, then carefully remove from cake pans (use the parchment to help) and transfer to wire racks to cool completely to room temp before frosting.

Frost the cake with the coconut cream cheese frosting**, garnish with finely chopped pecans or walnuts, serve, and enjoy!
Recipe Notes
*I made this into a double layer 8" cake, however you can make it a single layer in a 9-10 inch pan, though the baking time will increase to about 30 minutes, give or take depending on your oven
**I recommend making this a few hours ahead of time, or the day before, since it thickens up to a great consistency when chilled in the refrigerator overnight, plus it will cut down on the workload when you make the cake.
Nutrition
Calories: 269kcal
Carbohydrates: 27g
Protein: 5g
Fat: 16g
Saturated Fat: 7g
Cholesterol: 65mg
Sodium: 235mg
Potassium: 164mg
Fiber: 3g
Sugar: 11g
Vitamin A: 2135IU
Vitamin C: 1.1mg
Calcium: 82mg
Iron: 1.3mg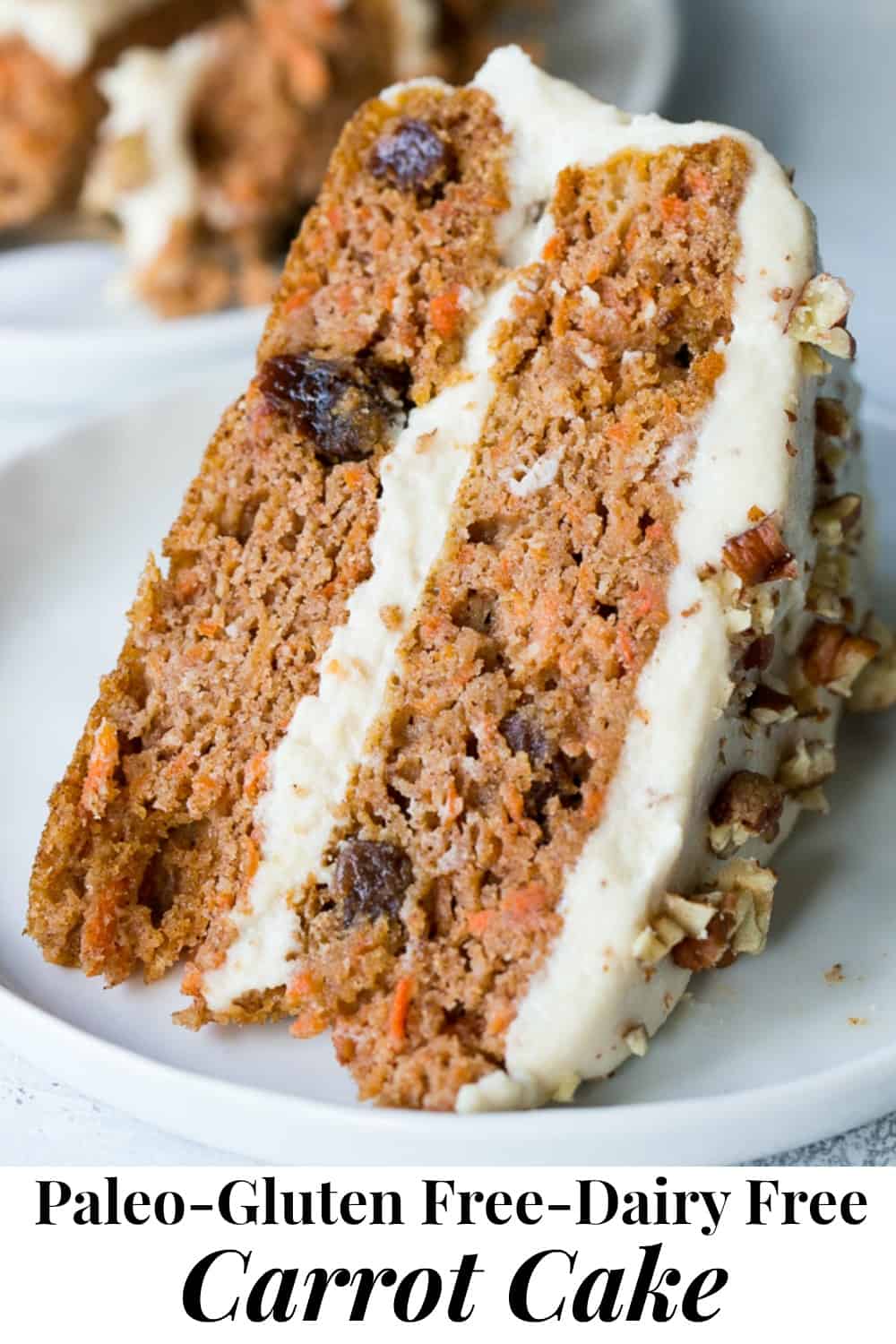 What I Used to Make My Paleo Carrot Cake:
Want more Paleo cake recipes?  Try one of these!
Chocolate Cupcakes with Coconut Cream Cheese Frosting
Triple layer chocolate macaroon cake
Paleo Vanilla Cupcakes with Chocolate Ganache
Chocolate Chip Cookie Cupcakes
Tell Me!
Has spring hit you yet?  Have you caught the fever?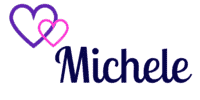 Note: This post contains Amazon affiliate links. This means that if you click on a link and make a purchase, I will receive a small commission at no cost to you. Thank you for supporting The Paleo Running Momma!