This Paleo broccoli quiche is easy to make and perfect as a make ahead breakfast or to bring to brunch!  It's loaded with caramelized onions, savory sautéed broccoli and crisp bacon, plus has a secret "cheesy" ingredient while remaining dairy free!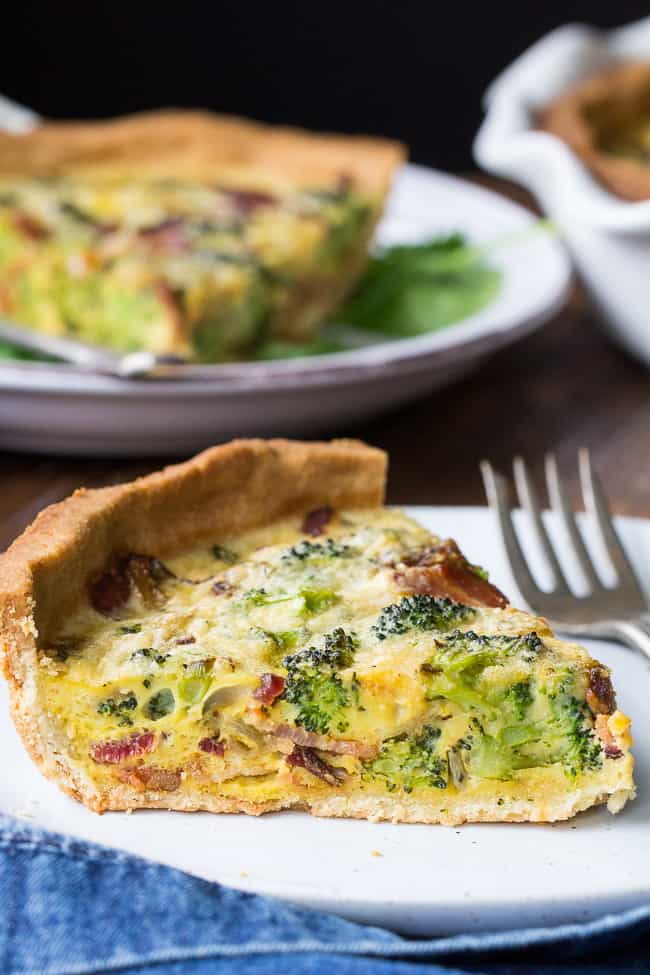 Woohoo!  It's my first official recipe using my now-favorite-ever pie crust.  Surprise!  It's a quiche, not a pie (don't worry, I have a sweet creamy coconut custard pie coming this weekend!) and the filling is super easy to make, kid friendly (believe it or not!)  It also happens to be one of our favorite combos around here – broccoli and bacon.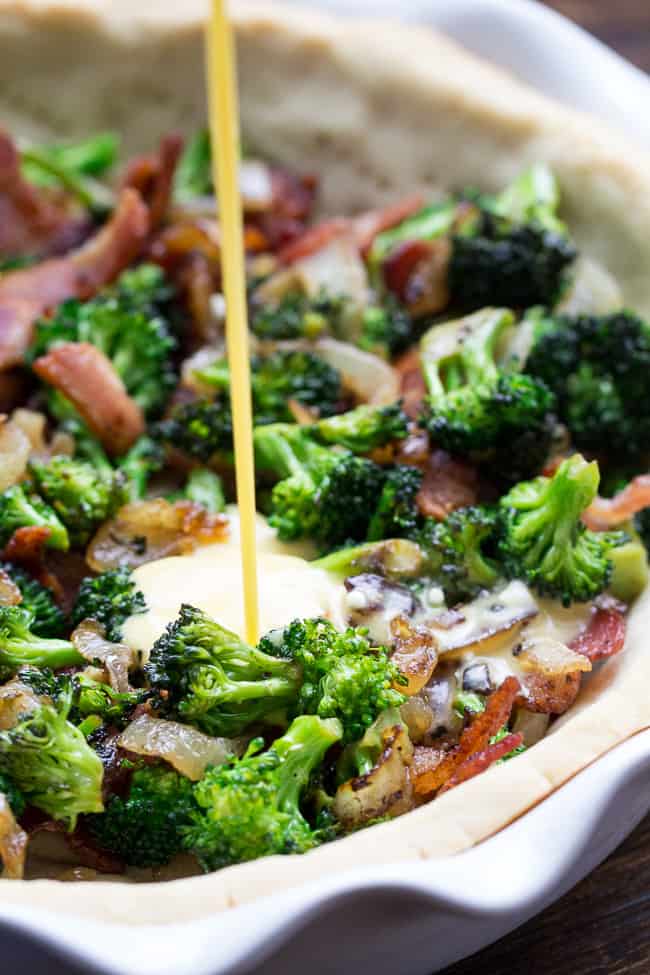 I had a feeling that you guys might think about a broccoli quiche and start dreaming of cheddar cheese (or was that just me?!)  If you're with me there, I want you to know that you're covered, even if you're not doing any dairy at all, because of the flavor power of nutritional yeast!
I get questions about nutritional yeast all the time, since I include it in combination with coconut milk and eggs in many of my breakfast casserole and quiche recipes.  Nutritional yeast is deactivated yeast used as a seasoning. It's full of b vitamins, totally gluten free and grain free, and happens to have a cheesy flavor that works really well in sauces, with eggs, and even on potatoes.  While I wouldn't exactly sprinkle it on my food and call it a day (although some people do) I think it's perfect when it's "hidden" in a recipe, for that little extra boost of flavor.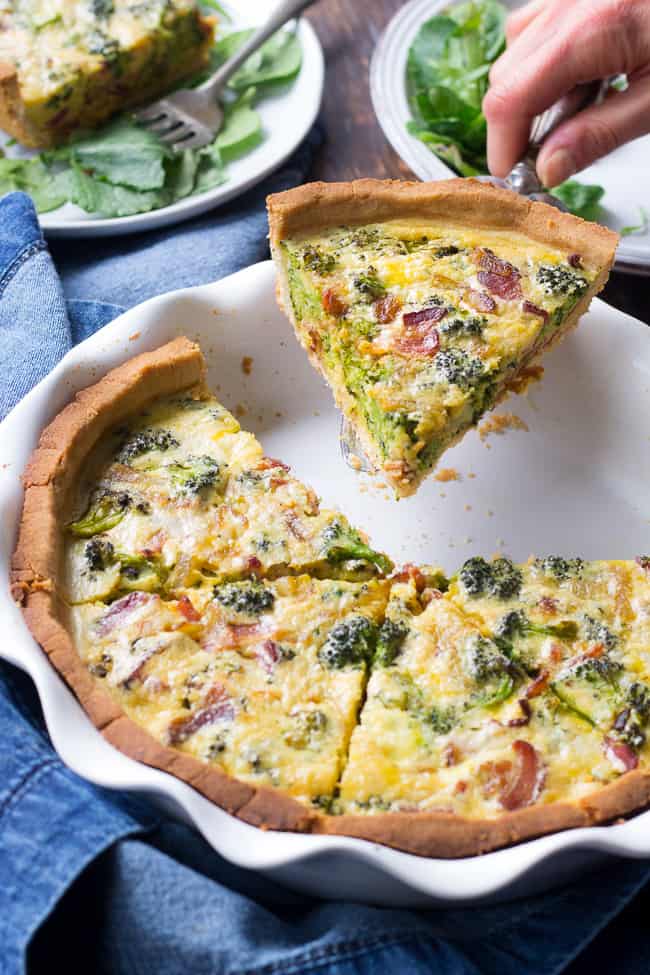 That said, if you happen to be okay using a bit of lactose free dairy, a bit of shredded cheddar would be delicious in this quiche.  Just in case you were wondering…
Now that we've cleared that up, a bit more about the recipe.  You'll see below that I give you the option of using my paleo pie crust, OR my Whole30 friendly sweet potato crust.   Both are delicious, however it was VERY exciting for me to eat this completely legit-tasting quiche with the grain free/dairy free crust.  I highly recommend you try it this way – it's just perfect!   No worries – I have about 100 sweet potato recipes waiting for you on the site (at least!) for another day 🙂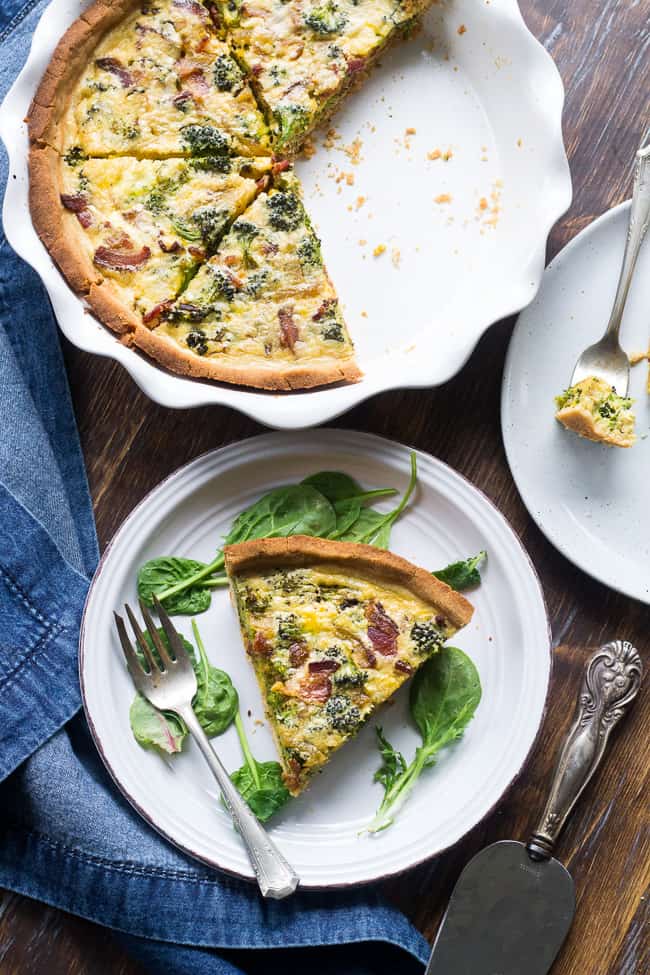 What more is there to say, other than are you guys getting as hungry as I am right now?  Actually, I've been in a permanent state of hunger since I finally started running again after a 4 week break.  Seriously, it's easy to forget what a running appetite feels like when it's gone, but it's come back, and that means all of a sudden we have less food in our house.   If I weren't a food blogger and didn't have perpetual "day after Thanksgiving syndrome going on in my fridge, I might start to worry.  Not joking at all!
But anyway, I hope you're already frying your bacon, and, yes, you do need to include ALL of that bacon in the recipe.  No room for nibbling!  Now let's make this broccoli quiche 🙂
Paleo Broccoli Quiche with Bacon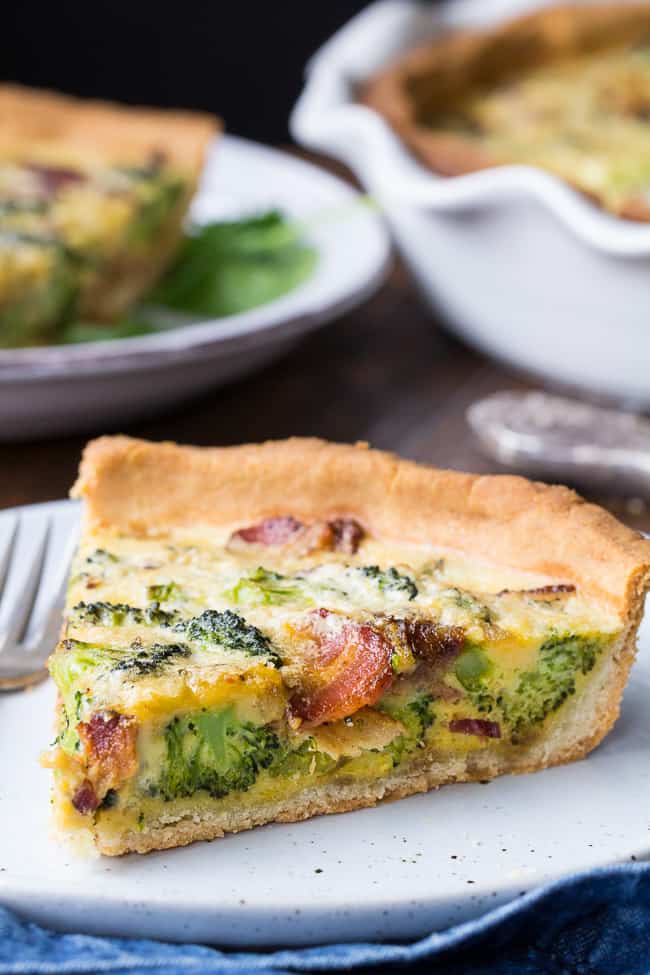 Paleo Broccoli Quiche with Bacon
This Paleo broccoli quiche is easy to make and perfect as a make ahead breakfast or to bring to brunch! It's loaded with caramelized onions, savory sautéed broccoli and crisp bacon, plus has a secret "cheesy" ingredient while remaining dairy free!
Prep Time: 15 minutes
Cook Time: 50 minutes
Total Time: 1 hour 5 minutes
Course: Breakfast/brunch
Cuisine: Paleo
Servings: 8 servings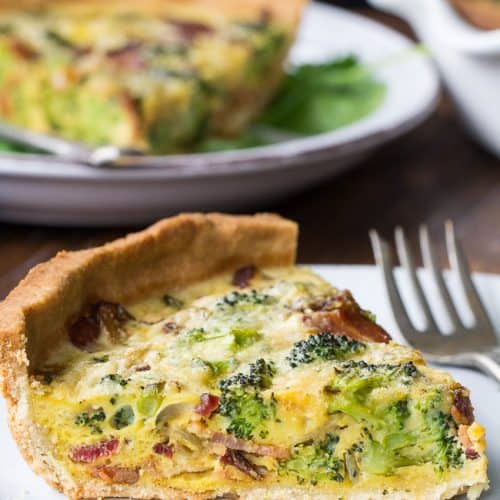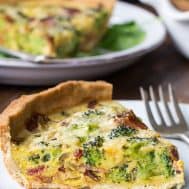 Ingredients
1 Paleo Pie Crust recipe baked for 7 minutes (until just set) OR Sweet Potato Crust(for Whole30)*
5 slices bacon nitrate free, cooked and crumbled, OR cooked ham, if preferred
3 Tbsp cooking fat of choice bacon fat, coconut oil, ghee, etc, divided
3-4 cups fresh broccoli florets chopped into small bite-size pieces (2 small-ish bunches)
1 small onion sliced thin
2 cloves garlic minced
Sea salt to sprinkle on onions and broccoli
1/2 tsp sea salt for the egg mixture
1/3 cup canned organic coconut milk full fat is ideal, though you can get away with the light version
2-3 tbsp nutritional yeast***
1/2 tsp mustard
Instructions
RECIPE NOTE: PREP TIME does not include the time needed to prepare your selected crust.

Preheat your oven to 400 degrees. Cook your bacon until crisp and set aside to drain.

In a separate skillet, heat 2 Tbsp bacon fat or cooking fat of choice over low heat, add the sliced onions and stir to coat. Sprinkle with salt, and continue to cook over medium-low/low heat for 15 minutes, stirring to avoid burning, until a deep golden color**

Meanwhile, heat the remaining Tbsp of cooking fat in a separate skillet over med heat (I used the skillet where the bacon was cooked) and add the broccoli. Toss to coat and cook for about a minute, add the garlic and continue to stir and cook until the broccoli is bright green and slightly softened and garlic is soft, then remove from heat.

Drain excess fat from caramelized onions and add them to the broccoli and garlic.

In a large mixing bowl, whisk or blend together the eggs, coconut milk, nutritional yeast, salt and mustard

Fill the partially baked crust with the broccoli mixture plus the cooked and crumbled bacon, then pour the egg mixture over the top, careful not to let it overflow.

Bake in 400 degree oven for about 25-30 minutes until center is set. You may need to use a foil tent to avoid over-browning the crust halfway through.

Allow to sit at least 15 minutes before slicing and serving. Enjoy! Store leftovers covered in the refrigerator for up to 4 days.
Recipe Notes
*If you opt for a sweet potato crust, follow the instructions in the linked recipe for pre-roasting the crust prior to adding the filling.
**This might take longer if you keep the heat very low. The lower and longer the onions cook, the better they truly caramelize.
***Nutritional yeast is a seasoning that's Paleo & Whole30 friendly, has a "cheesy" flavor and adds flavor plus a nutritional boost to many recipes!


Want more Paleo quiches and delicious egg recipes?  Try one of these!
Spinach Mushroom Onion Quiche with Sweet Potato Crust
Chorizo Sausage Sweet Potato Frittata with Caramelized Onions
Tell Me!
Do you sneak extra bacon when you cook it like I do?  Is is even possible to NOT do this?!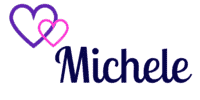 Note: This post contains affiliate links. This means that if you click on a link and make a purchase, I will receive a small commission at no cost to you. Thank you for supporting Paleo Running Momma!