This Paleo and Whole30 Spinach Quiche combines all your favorites in one healthy, filling recipe!  An easy sweet potato crust topped with a savory mixture of spinach, bacon, onions, mushrooms and of course eggs!  Grain free, dairy free, gluten free, Paleo.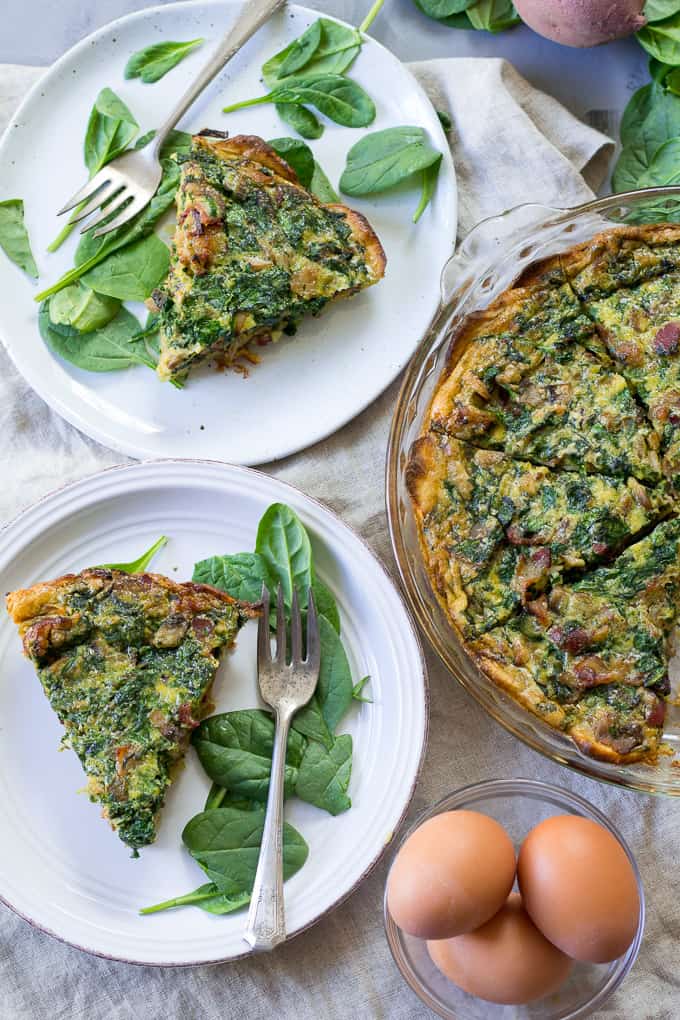 I'm wildly distracted right now from writing this post.  Like full-blown can't think straight, due to the fact that we're leaving for CA later today for a week for a jam packed trip – wedding and Disney.   Have I mentioned that traveling with the kids makes me anxious?!
So there's that.  And then there's the whole packing issue, which gets me every time.  More this time, because we won't be doing laundry for the entire week and have some formal attire thrown into the mix too.  Sometimes I think I was probably not meant to travel much because it brings out my scatterbrain-edness in the worst way.  Plus other less-than-desirable qualities that I probably should just keep to myself.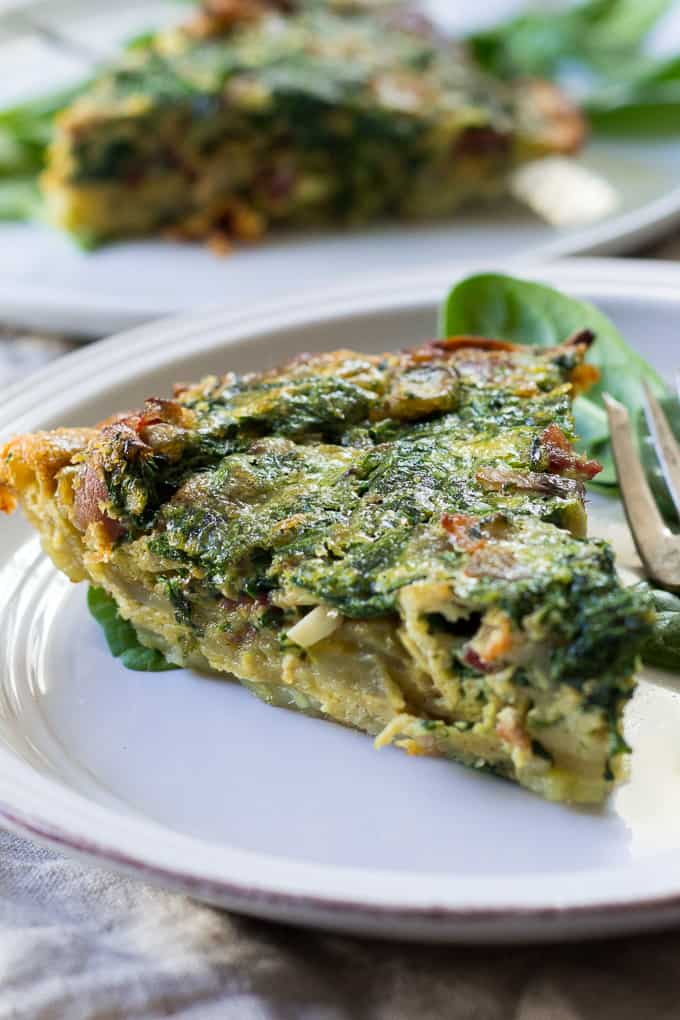 But, this post is about the quiche, after all.   You probably want to know what makes this Paleo and Whole30 spinach quiche better than all the others on the internet.  WELL.  This, I can handle.
To begin, we make the crust by roasting thinly sliced Japanese sweet potatoes, so you know it's going to be good.  And I promise, it gets way better!  If you happen to have trouble finding a Japanese sweet potato to make the crust (see recipe notes), you can go ahead and use whatever sweet potato you have available to you, and, I promise that it will still be delicious.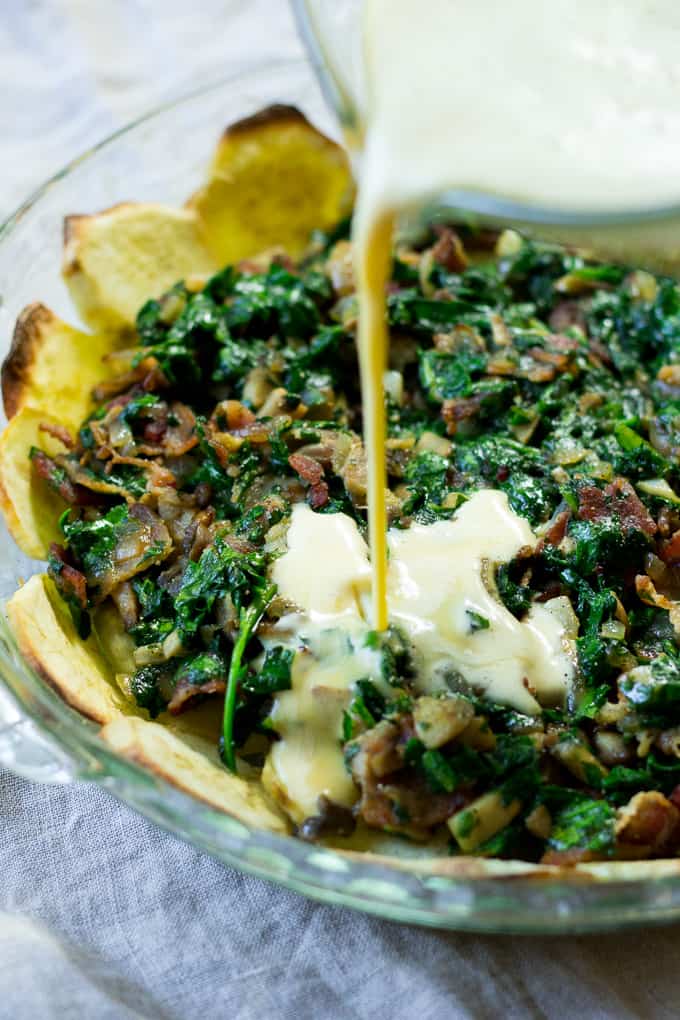 Second, we have bacon cooked together with onions, mushrooms and garlic.  I know, it's good stuff!  Does anyone NOT like this combo?  I avoided ALL of these for awhile due to them being high FODMAP, but have found lately that I can handle a whole lot more now, perhaps after a few years of healing.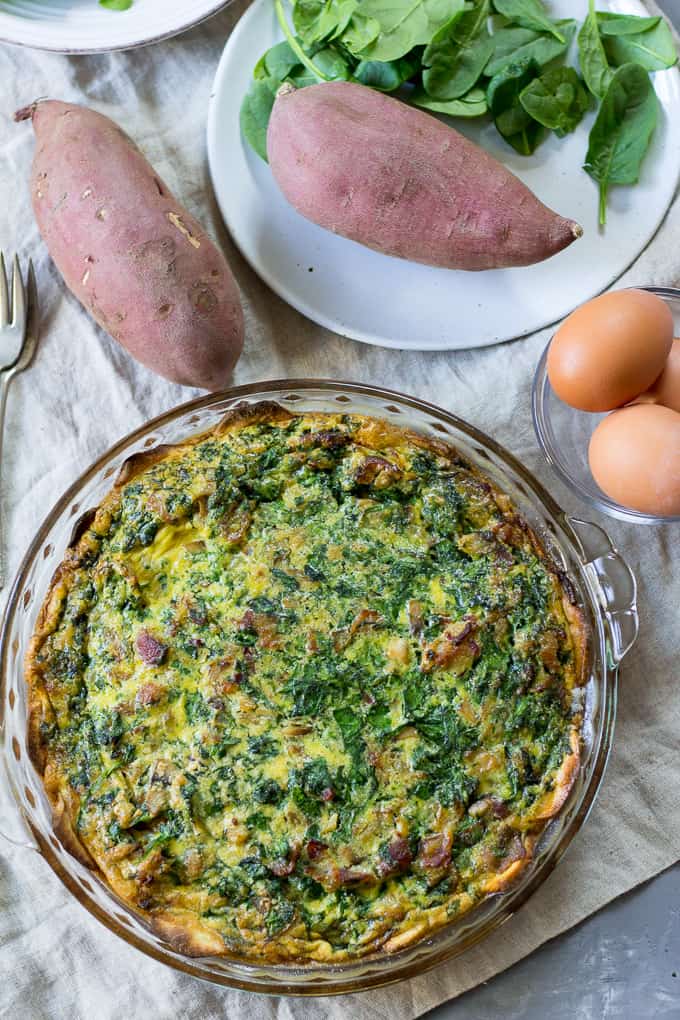 Anyhow, now that I'm mostly good to go with all 3, I had to go ahead and put them in a spinach quiche.  Spinach has always been a favorite – since I was about 7 and tried spinach pie at a diner.  Let's not even talk about the whole phyllo dough issue since I still miss it like mad.  But anyway, luckily we don't need it to make this quiche as delicious as it is!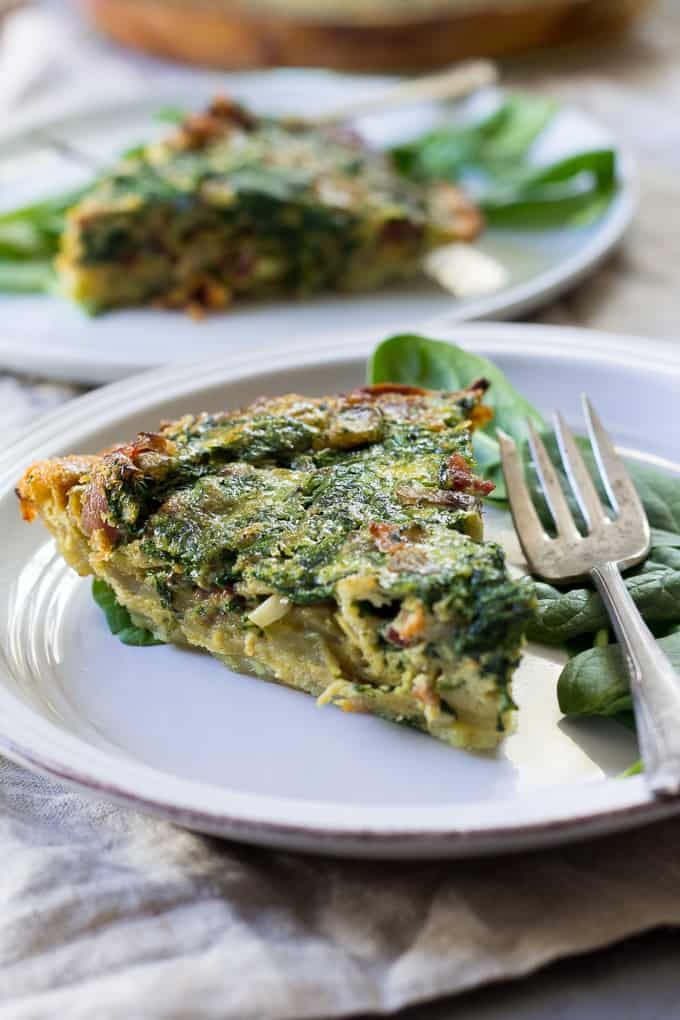 If you haven't yet made a sweet potato crust like this one, trust me – it's easy!  Sure, the egg mixture will sort of leak through the "crust" but you still get the feeling that you're eating something with a crust, if that makes sense.  I recommend slicing the sweet potatoes really thin and overlapping them while the crust bakes, since they'll shrink and there will be space.
Other than the sweet potato crust, the rest of this recipe is very straightforward and is a great make-ahead meal when you're doing the Whole30.  You can even double it if you wish, and make it in a big 9 x 13 dish as I did with my breakfast casserole.  Let's get started!
Paleo & Whole30 Spinach Quiche with Bacon, Mushrooms & Onions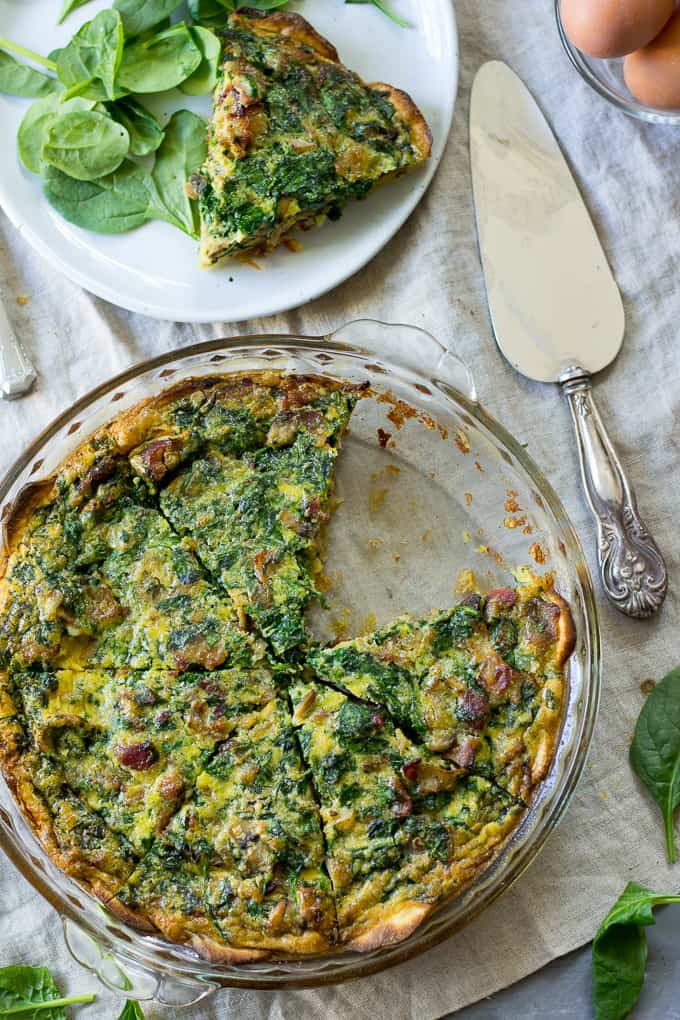 Paleo & Whole30 Spinach Quiche with Bacon Mushrooms and Onions
Prep Time: 15 minutes
Cook Time: 50 minutes
Total Time: 1 hour 5 minutes
Servings: 8 servings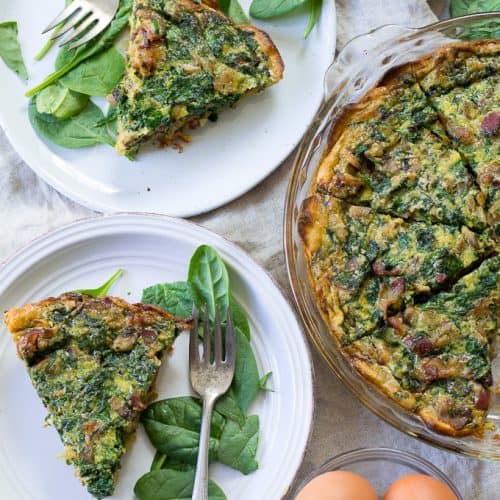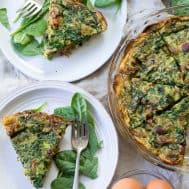 Ingredients
For the Crust
1 large Japanese sweet potato my variety of choice, but use what's available to you*
1 tbsp olive oil for greasing/roasting sweet potato crust
generous pinch of fine grain sea salt for crust
Instructions
Preheat your oven to 425 degrees F. Peel your sweet potato and slice it into very thin rounds - these rounds will form the crust. Toss the rounds with the olive oil and arrange in a 9.5" pie dish, overlapping, along the bottom and up the sides. The smaller rounds near the ends of the potato work well for the side crust.

Sprinkle the crust with salt and roast in the preheated oven for about 25 minutes, or until soft and beginning to brown.

While the crust bakes, make the filling. Heat a large heavy skillet over medium-high heat and add the bacon pieces. Cook the bacon until about 3/4 of the way done, drain a little bit of the fat, and add the onions and cook with the bacon, stirring.

Once the onions are translucent, add the chopped mushrooms and garlic and lower the heat to medium. Continue to cook and stir about 2 more minutes until softened and toasty.

Stir in the chopped spinach until it wilts, then remove from heat.

In a large mixing bowl, whisk together the eggs, coconut milk, salt, and nutritional yeast.

Remove the sweet potato crust from the oven once done and lower the heat to 400 degrees F. Add the spinach mixture to the crust, then carefully pour the egg mixture over the top and allow it to settle in. You might have a bit extra - it's okay if the egg mixture "leaks" through the crust but don't allow it to get too close to the top of the dish.

Bake in the 400 degree oven for 25 minutes or until the center is set and the sides begin to brown. The quiche will puff up in the oven but settle once done.

Allow the quiche to cool and set for about 15 minutes before cutting into slices and serving. Leftovers can be stored covered in the refrigerator for up to 4 days. Enjoy!
Recipe Notes
*Japapnese sweet potatoes have a purple-red skin and white-yellow inside. They can be found at Whole Foods, Asian markets and many local supermarkets as well. The recipe will still work with any sweet potato, however.
**My favorite Whole30 friendly bacon - and the one I've been buying for 3 years is from U.S. Wellness Meats
***The nutritional yeast gives the filling a bit of "cheesy" flavor but can be omitted
What I Used to Make My Paleo & Whole30 Spinach Quiche:
Want more Whole30 friendly breakfasts?  Try one of these!
Paleo & Whole30 Breakfast Casserole
Sweet Potato Bacon and Kale Hash for One
Chorizo Caramelized Onion and Sweet Potato Frittata
Tell Me!
Have you tried a sweet potato crust? 
Did you like spinach as a kid?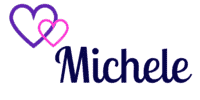 Note: This post contains Amazon affiliate links. This means that if you click on a link and make a purchase, I will receive a small commission at no cost to you. Thank you for supporting Paleo Running Momma!